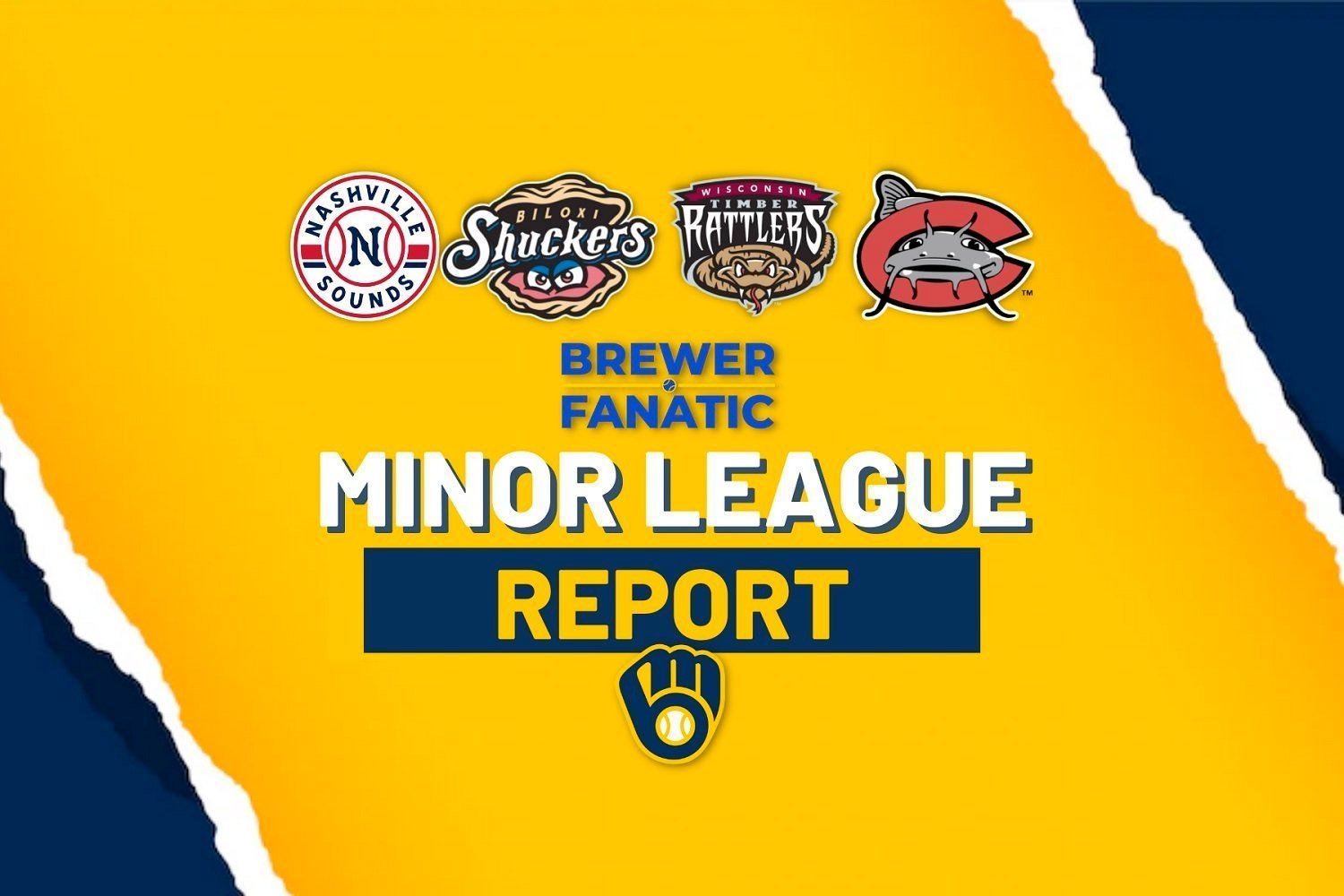 Image courtesy of BrewerFanatic
Transactions:
C/1B/LF Alex Hall released by High-A Wisconsin
The 24-year-old Aussie has had a six-year run in the Crew's system (includes the 2020 pandemic year) and would have qualified for minor league free agency at the conclusion of the 2024 season.
In 1002 career plate appearances, Hall wraps up his Brewers stint with a .231/.308/.368 line (.676 OPS). His 2002 was particularly rough, seeing him demoted from High-A Wisconsin to low-A Carolina, posting a combined .499 OPS. He bounced back with the Timber Rattlers this past summer (.729 OPS), but the organization determined it best to say goodbye at this time.
Hall's "claim to fame" will remain his one-day June 2022 call-up to MLB, though he didn't make a formal appearance (Adam McCalvy's story).
With Hall's release, there are only a few remaining position players left from the final season of the advanced rookie-level Rocky Mountain Vibes in 2019 - Cam Devanney, Joe Gray, Nick Kahle, pending free agent Ernesto Martinez, and Carlos D. Rodriguez. By the way, a prominent current big-league Brewers pitcher was on that team.
Best wishes to Alex.
---
Final: Nashville 10, Jacksonville (Marlins) 9
Sounds Secure Thrilling Victory in Seesaw Contest - Sounds have last say in gutsy come-from-behind 10-9 win
Good job as always by the Sounds on the linked write-up.
LHP Adam Seminaris' AAA debut proved shaky - nine baserunners allowed in three innings (5 ER).
RH reliever James Meeker allowed eight baserunners in his three subsequent frames (3 ER).
Veteran LH reliever Fernando Abad retired five batters but allowed four to reach base.
That left Clayton Andrews to clean up Abad's two-out, men on 1st and 2nd situation, and after a wild pitch for additional drama, Andrews got his K.
Check out the game log to see how an eventful, but thankfully scoreless, top of final inning went down. It ended thusly:
Here's the Sounds' Twitter / "X" Media feed.
Not only are there multiple additional game highlights, but the team also announced their Team MVP, Pitcher of the Year, Fan Favorite of the Year and Community Player of the Year. Had you forgotten about who might be the Team MVP? (Out of sight, out of mind a bit, perhaps...)
---
This concludes my own minor league daily reporting journey for 2023. Hard to fathom that I kicked off this process (as a solo venture for many, many years, what was I thinking?!) back in 2001. Couldn't even consider taking this on now without the incredible contributions of my partners @damuelle and @Joseph Zarr. Thanks for spending time with us each morning.
Sunday's Nashville finale has first pitch scheduled for 12:05 Central.
Organizational Scoreboard including starting pitcher info, game times, MiLB TV links, and box scores
Current Milwaukee Brewers Organization Batting Stats and Depth
Current Milwaukee Brewers Organization Pitching Stats and Depth
1