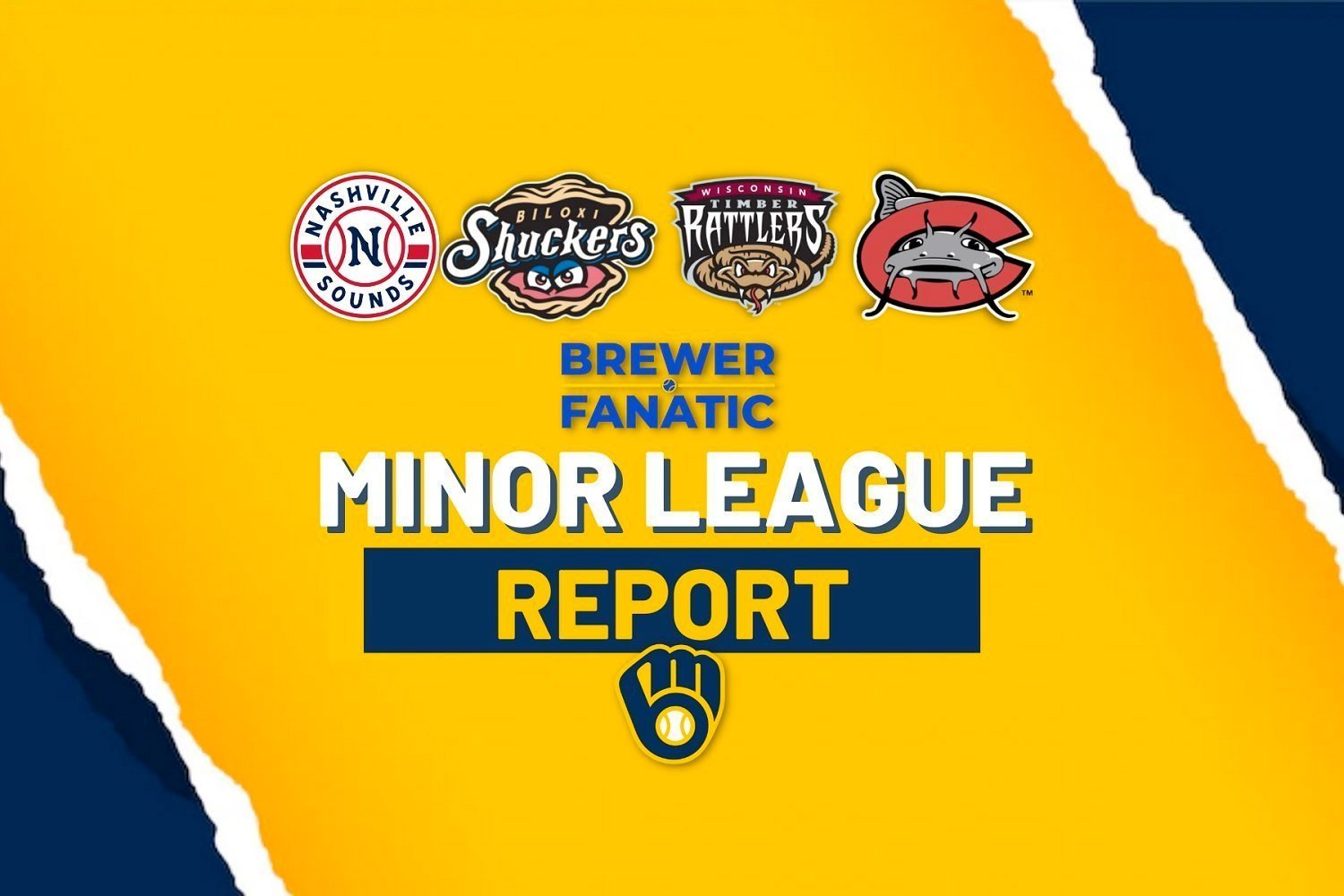 Image courtesy of BrewerFanatic
Josh Lindblom covered six scoreless innings for the Sounds, Victor Castaneda delivered six innings of one-run ball for the Shuckers and Alexander Cornielle provided five innings of one-run ball for the Timber Rattlers in a winning night on the farm.
Doston's two homers tripled his career long ball production, as the speed-first 21-year old outfielder demonstrated his mettle and potential in a three-hit, four-RBI game for AA Biloxi.
Thursday's Game Balls go to the aforementioned Cornielle, Castaneda, Lindblom and Doston, as well as Pedro Severino, with an honorable mention to Patrick Dorrian.
Transactions:
---
Game Action:

Nashville Pre-Game Media Notes
Final: Nashville 10, Charlotte 6
Box Score / Game Log
Via the Sounds' website, game details, and we encourage readers to review each of the affiliate write-ups as part of their Link Report routine: Lindblom Stellar as Sounds Top Knights
RHP Josh Lindblom (6 IP, 0 R, 2 H, 1 BB, 8 Ks) gave Nashville the lift it needed with six scoreless, two-hit innings (95 pitches), his fifth straight solid start, exiting with a comfortable 5-0 lead.
Offensively, the team pounded out 17 hits, with four hits in the 1st inning producing two runs on RBI singles from 1B Jon Singleton (2-for-5, double, RBI) and OF Joey Wiemer (2-for-5, 2 RBIs).
Four more hits in the 5th inning extended the lead to 5-0, with Singleton (double), Wiemer (RBI single) and C Pedro Severino (RBI double; 2-for-5, HR, double, 2 RBIs, SB) in particular coming through.
However, things tightened up in the bottom of the 7th inning, as RHP Hobie Harris had a rare rough outing, conceding three runs before being ejected alongside Manager Rick Sweet and hitting coach Al LeBoeuf with the score narrowed to 5-3. Leave it to the legendary Mr. Sweet to get ejected in the game which earned him his 2,181st victory, moving him into 6th all time in the history of minor league baseball.
Thankfully, the hits just kept coming for the Sounds, who brought in three runs on four hits in the top of the 8th inning to get back to a more comfortable 8-3 position, including 3B Patrick Dorrian (2-for-4, HR, double, walk, RBI) hitting his ninth dinger of the season.
The win cuts this week's series deficit in Charlotte to 2-1, but with Columbus also winning the Sounds first place advantage remains just 3.5 games.
Three Quick Strikes:
Friday's outlook: 23-year old LHP Robert Gasser (3.82 ERA in High-A/AA) will make his second-ever start in AAA ball, as Nashville strives to even the series 2-2 and keep second place Columbus at bay.
---
Biloxi Pre-Game Media Notes
Final: Biloxi 5, Mississippi 3
Box Score / Game Log
Via the Shuckers' website, game details: Doston's Career Night Drives Shuckers 5-3 Victory

In your daily reminder that everyone in the system is a legitimate prospect, speedy OF Terence Doston (3-for-4, 2 HRs, 4 RBIs, SB) smacked two home runs and drove in four runs in a breakout performance for the 21-year old former two-sport high school star.

Each of Doston's hits was of the clutch variety, starting with a 5th inning solo shot to give Biloxi a 2-1 lead, an RBI single in the 6th inning to extend it to 3-1 and then a two-run homer in the 8th inning to provide much needed insurance after the Braves had clawed back to 3-2.
On the mound, RHP Victor Castaneda (5 IP, 1 R, 3 H, 5 BB, 3 Ks) brought his season ERA back down to 3.97 with a much-needed effort on Thursday, winning his fourth game of the year and exiting after five innings with a 2-1 lead. The walks will obviously worry him, but sometimes you have to bulldog your way through.

The Shuckers win cuts their series deficit to 2-1, aided by four stolen bases (including 2B Felix Valerio's 29th of the year and burly-looking yet fleet-of-foot 1B Thomas Dillard's 13th) with nobody caught stealing.
Three Quick Strikes:
Friday's outlook: LHP Brandon Knarr gets the call to start on Friday, with Biloxi needing a win to even the series 2-2. Solid work in Knarr's last few outings have lowered his ERA in AA ball to 3.87 (76 2/3 IP), with a season ERA of 2.89 when including his early season domination for Wisconsin.
---
Wisconsin Pre-Game Media Notes (link goes to roster instead)
Final: Wisconsin 5, Beloit 1
Box Score / Game Log
Via the Timber Rattlers' website, details: Wisconsin Beats Beloit 5-1 for Third Straight Win

As always for Wisconsin home games, nothing beats the video recap from the Timber Rattlers' exceptional media team: 
21-year RHP Alexander Cornielle (6 IP, 1 R, 4 H, 2 BB, 7 Ks) continues to cement his prospect status, throwing six innings of one-run, four-hit ball in the Timber Rattlers third straight victory over the Sky Carp.

However, it was a tight contest, 1-1 going into the bottom of the 8th inning after reliever RHP Joey Matulovich (2 IP, 0 R, 1 H, 0 BB, 4 Ks) followed up Cornielle's work with two shutout innings of his own.

After a 2B Jose Acosta walk and OF/2B Zach Raabe (1-for-2, double, walk, RBI) double to open the bottom of the 8th inning, OF Arbert Cipion broke the deadlock with a two-run single which somehow found its way through the drawn-in infield, followed by a run-scoring error and SS Eduardo Garcia providing the final run with an RBI single.
Three Quick Strikes:
Friday's outlook: 20-year old RHP Carlos F. Rodriguez (2.89 season ERA; 1.44 ERA in High-A ball) will make his 7th High-A start, as Wisconsin aims for a fourth straight victory in this week's series.
---
Carolina Pre-Game Media Notes
Final: Myrtle Beach 8, Carolina 2
Box Score / Game Log
Via the Mudcats' website, game details: Moore Hits Second Home Run in 8-2 Loss to Pelicans
On the RHP Jacob Misiorowski-front (1 1/3 IP, 0 R, 1 H, 3 BB, 1 HBP, 3 Ks), the good news is that his second outing went much better than his debut, but the bad news is that he walked the last three batters he faced and needed RHP Trevor Tietz to bail him out of that bases loaded 2nd inning jam with consecutive strikeouts.
RHP Max Lazar entered in the 3rd inning to continue his rehab work, but conceded three runs (two earned) on three hits in that frame before settling in with the Mudcats trailing 3-0.
A SS Eric Brown Jr. (1-for-3, double, walk, SB) double and 2B Robert Moore homer cut the lead to 3-2 in the 4th inning, but Carolina would get no closer. In fact, these were two of Carolina's measly three hits on the evening.
The loss puts Carolina down 2-0 in this week's road series.
Three Quick Strikes:
Friday's outlook: 19-year old RHP Yujanyer Herrera (6.63 ERA in ACL/Low-A) is scheduled to make his fourth appearance (third start) for the Mudcats, eager to improve on his last two outings (5 2/3 innings pitched, 13 earned runs allowed).
We hope that you enjoy the Minor League Link Report. Good luck on Friday to all teams!
Organizational Scoreboard including starting pitcher info, game times, MiLB TV links, and box scores
Standings and sortable stat pages
Current Milwaukee Brewers Organization Batting Stats and Depth
Current Milwaukee Brewers Organization Pitching Stats and Depth
Think you could write a story like this? Brewer Fanatic wants you to develop your voice, find an audience, and we'll pay you to do it. Just fill out this form.
MORE FROM BREWER FANATIC
— Latest Brewers coverage from our writers
— Recent Brewers discussion in our forums
— Follow Brewer Fanatic via Twitter, Facebook or email
1