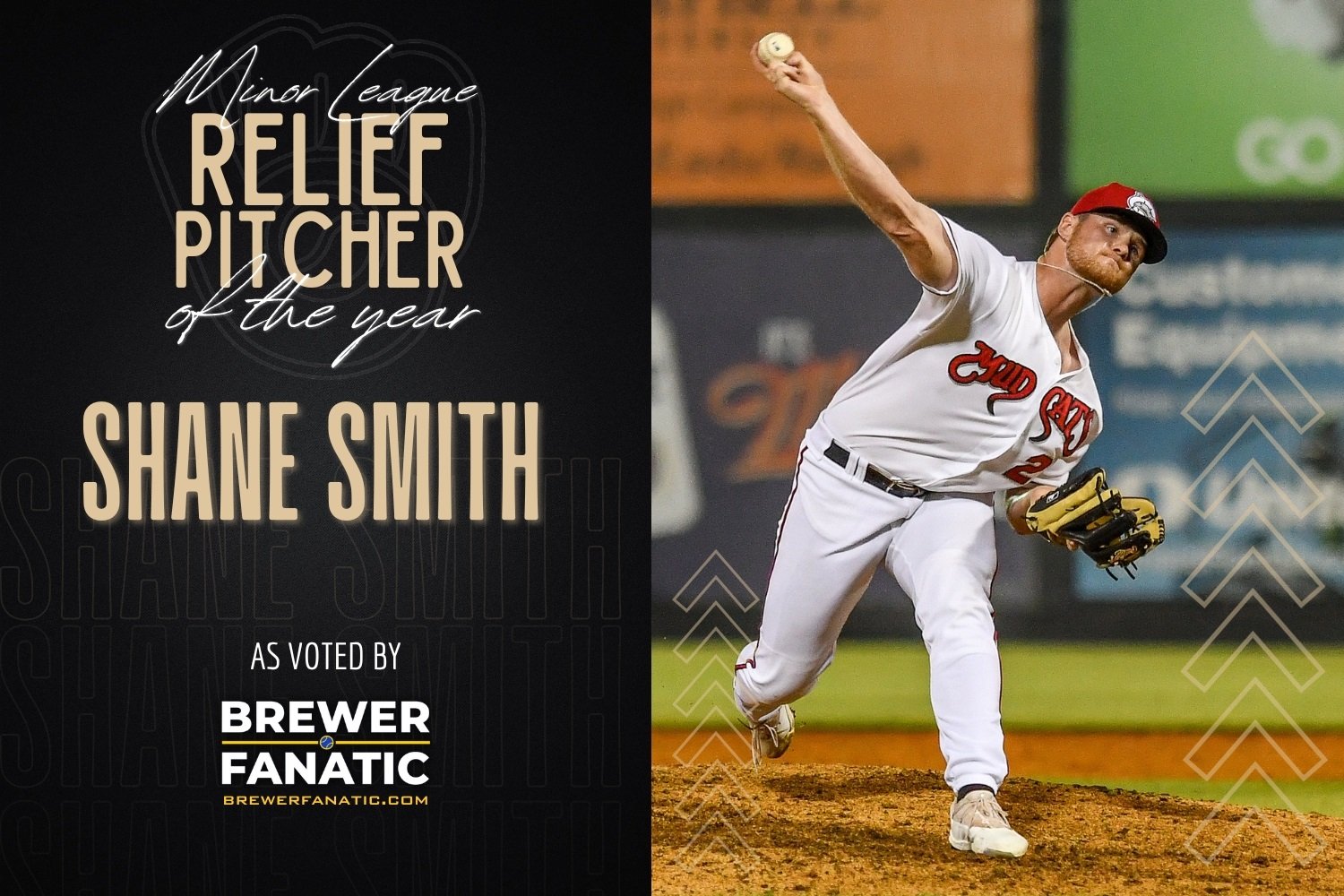 There were a handful of notable performances this season. With every organization putting such a premium on developing pitching, having players stand out early at the lowest level is a must. Being able to continue to foster that growth throughout their experience in professional baseball is what hopefully will translate to major-league success. Coming off a year with no minor-league action, these guys really stepped up when returning to the mound.
Before getting into the top three, here are a couple of others that received votes. .

Honorable Mention
Brewers Minor League Relief Pitcher of the Year
Here are the top four vote-getters for Brewers Minor League Relief Pitcher of the Year.

4. LHP Clayton Andrews, 26, (Nashville)
**Unranked by all major publications**
Drafted in the 17th round in 2018, Andrews stands in at only 5'6, and if we're being honest, that might be a bit generous. Despite his stature, his ride through the minor leagues has been an exhilarating one. In 2019, he was not only pitching, but also playing center field and racking up a batting average hovering around .300. After COVID he did get a few more plate appearances during the 2021 season, but would undergo Tommy John surgery shortly thereafter. He returned from the surgery during the 2022 season to mixed results. He was striking out nearly two batters per inning. Unfortunately he was also walking close to a batter an inning and had an ERA over nine. He had become an afterthought for many.
That changed a bit when he came into a spring training game this year and immediately caught a lot of people's attention when he touched 96 MPH and sat in the 94-95 range. For a left handed pitcher, that type of velocity will always create some intrigue. When that left handed pitcher is 5'6 or shorter? Then it creates a lot of intrigue. He also throws a 3000 RPM slider and a very interesting changeup as his secondary pitches. 
His April in Triple-A did nothing to slow down the excitement he had generated in spring training. Again striking out close to two batters an inning, Andrews did a much better job of limiting his walks, and baserunners in general, this time around. He struck out 14 in 8.1 innings and only walked three, on his way to a 1.02 ERA for the month. He followed that up with a strong May and June where he posted a 1.85 ERA between those two months to go with striking out 10 per nine. He did however walk nearly five per nine during that stretch. The command was an issue at times all season long, and in July it really showed in the results. In nine appearances Andrews pitched 7 1/3 innings and walked nine. His ERA that month was 7.36. In the midst of this month he made his MLB debut which unfortunately did not go as he would've hoped either. 
After a really tough month of July, it was great to see Andrews bounce back with a strong last two months. In his final 17 innings he posted a 2.12 ERA and struck out over 11 per nine. He also appeared in a couple more MLB games during that stretch. Unfortunately his other MLB appearances did not go much better than his debut and there will be some questions about the quality of his stuff as he moves forward. While the fastball velocity is pretty fun for a guy as short as he is, the shape and movement of the pitch are not what you'd want and for hitters, the fastball is extremely hittable. One has to wonder if the Brewers might attempt to teach him a sinker or something other than the four seam fastball this offseason. If they can, it's possible we will see the fantastic Triple-A results start to translate a bit better to MLB.
3. RHP James Meeker, 28 (Biloxi/Nashville)
**Unranked by all major publications**
Meeker was signed out of independent ball in August of 2021. Meeker has moved from Low-A to Triple-A since signing and has done it with the use of a five-pitch mix. He throws a four seam fastball, a sinker and a cutter. The fastball and sinker sit in the 91-93 range and he may end up settling on one of them, as they can blend together at times. His cutter is a pitch he uses to get a lot of soft contact, coming in around 88 MPH regularly. He also throws a curveball and a changeup. The curveball comes in around 78-81 and has been a good swing and miss pitch for Meeker against right-handed hitters. His changeup is in the mid-80's and is his best strikeout pitch against left-handed bats. In a lot of ways, there are some Matt Albers similarities with Meeker's repertoire and that is the type of pitcher we could see Meeker becoming in MLB. Meeker is able to land all five pitches for strikes and throughout 2023 he used all five of his pitches to keep hitters off balance, landing himself third place on this list.
He began the season on a tear out of the bullpen in Biloxi. Over the course of his first 34 1/3 innings pitched, Meeker had struck out 44 batters and only walked three, for an otherworldly 14.67 K:BB ratio. At that time his ERA sat at 2.62 and he seemed to be on his way to an incredible season. Unfortunately for Meeker, some injuries in the Shuckers rotation actually forced him into a starters role for eight starts. He made his first start on June 23rd and his final start on August 6th. In that time he posted a 5.14 ERA over 35 innings and he only struck out 17 batters. That stretch really tanked his season long numbers, as he went right back to his dominating ways while being used as a reliever again. 
He finished his Double-A season with 19 1/3 innings out of the bullpen, allowing only one earned run, which was good for a 0.46 ERA. He struck out 19 batters and only walked four during that stretch. He sacrificed to help the team by starting games, but it was clear that his future lies in the bullpen and the numbers show it.  Meeker did make two appearances at Triple-A to close out the season and they did not go very well. Allowing four earned runs in four innings while walking three batters to only one strikeout. It may take some time to adjust to the highest level of the minors, but assuming he does eventually get there, Meeker will be right on the fringe of contributing to the 2024 Brewers bullpen shuttle.
2. RHP Tanner Shears (Carolina/Wisconsin):  
**Unranked by all major publications**
An Independent league signing by the Brewers this past offseason, Shears had to work through some command issues all season, walking nearly eight batters per nine innings. Despite the command issues, he got fantastic surface level results. This is due, in large part, to having arguably the best stuff of any relief prospect in the system. His splitter is an elite pitch that completely kills spin and sits around 83-86. His fastball has arm side run, but sits mid-90's and touches upper 90's. It does a great job riding up in the zone and plays well with the big splitter. He mixes in a slider  that gets some sweep in the mid-80's as a pretty strong third pitch as well. Shears' stuff is pretty ridiculous to watch. It's so nasty that catchers struggle to catch his pitches, even when they're in the zone. Because of that, it's not hard to believe that he would have fewer walks if there was an automatic strike zone in place. That said, the inability to command his pitches is a real concern and the walks really caused his peripheral stats to look quite a bit worse than his ERA.
Shears began the season in Carolina where his stuff was just overpowering for the hitters he was facing. He struck out nearly 15 per nine in his 20 innings at Low-A, and only allowed an opponent batting average of .171 at the level. He was promoted to High-A after his June 9th appearance and would finish the rest of the season there. 
Shears would get off to a strong start at High-A as he posted a 2.21 ERA from the time of his promotion, through the end of July. He struck out 12.7 per nine during that stretch, and while the walks were still up, he was showing that he belonged at that level. In August though, he turned things up a notch. Shears did not allow a single earned run in his 9 2/3 innings and struck out over 12 per nine once again. He would finish the season with three September outings, in which he struck out seven in 3 1/3 innings and only allowed one earned run.
In the end, Shears posted very similar numbers at both levels and showed signs of being a potential shut down reliever. It will come down to his ability to rein in his command and nothing more. When he is around the zone consistently, hitters are going to struggle. As he reaches the upper levels though, hitters will become even more patient and he will need to work even harder to avoid the walks. Shears has a wide range of outcomes, from a possible MLB reliever in 2024 to someone that walks too many to stick around in pro ball. Based on the glimpses of dominance that he showed this season, let's hope it's closer to the former.
1. RHP Shane Smith (Carolina/Wisconsin):  
**Unranked by all major publications**
Smith was a member of the undrafted class following the 2021 draft, signed out of Wake Forest, where he had been their closer in 2020. Unfortunately for Smith, he was in the midst of Tommy John rehab during the draft, which played a big role in him not being selected. Prior to this 2023 season he had only thrown three professional innings, all of which had come at the complex level. This season he was able to move from Low-A all the way up to Double-A, using his three pitch mix. Smith comes equipped with a mid-90's fastball that he uses up in the zone, and pairs extremely well with his sharp curveball that he often goes to as his "out" pitch. He also mixes in a cutter that shows good shape and life as well. It's possible that he also sprinkled in a slider at times, but those could have been cutters that are generating a bit more movement than average.
Starting his season at Low-A Carolina, Smith struck out an impressive 14.4 per nine while only walking 2.87 per nine at that level. He ended up with a 2.59 ERA, which was a really strong number. However, he finished his time at Low-A with a bang, throwing 14 1/3 inning scoreless while posting a 19:3 strikeout to walk ratio in that time. That stretch earned him a promotion to High-A where the scoreless streak would be extended one more inning, before Smith allowed one earned run in his second appearance at that level. Following his promotion, Smith kept showing improvement and hitters continued to be mystified by his fastball/curveball combination. While his strikeout numbers weren't quite as ridiculous as they were in Carolina, he still ended up with a very strong 11.6 per nine number with the Timber Rattlers. His ERA actually dropped quite a bit at the more advanced level, going down to 1.37 over the course of his 26 1/3 innings. 
His performance at both of the Class A levels did end up getting Smith a cup of coffee in Double-A, where he made two appearances for the Biloxi Shuckers. He threw a total of two scoreless innings, allowing one hit, one walk and striking out two. When Smith was closing games at Wake Forest, he was once considered one of the better relief prospects in college baseball. Tommy John obviously ended up hurting Smith in more ways than one, but his loss at the time may have ended up being a positive for both him and the Brewers. Smith landed with one of the best pitching development organizations in baseball and the Brewers took a flier on a pitcher who now looks like somebody that could be a high leverage reliever at the major league level as soon as the next year or two.
Smith is part of the eight-player Brewers contingent in the Arizona Fall League. Congratulations to Shane Smith and each of the Brewers minor league relievers that have been recognized today. Please join us in congratulating them and discussing them in the Comments below. 
Think you could write a story like this? Brewer Fanatic wants you to develop your voice, find an audience, and we'll pay you to do it. Just fill out this form.
MORE FROM BREWER FANATIC
— Latest Brewers coverage from our writers
— Recent Brewers discussion in our forums
— Follow Brewer Fanatic via Twitter, Facebook or email
1