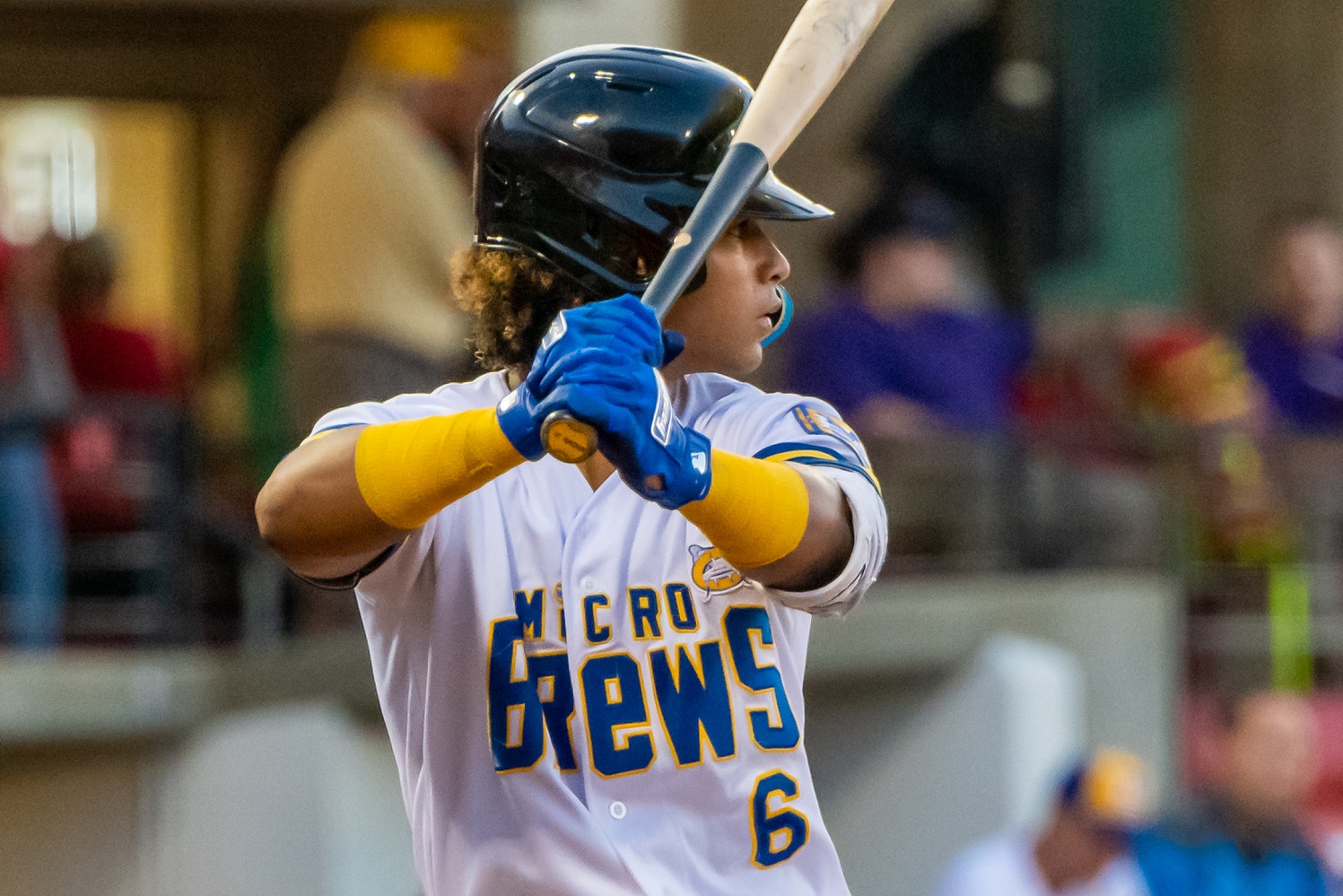 Image courtesy of Neal Hock, Carolina Mudcats
Eric Brown spent 23 years in the military. In December of 2000, the family lived in Arizona when his wife gave birth to a son, Eric Brown, Jr. Two months later, the family moved from Arizona to Alabama, and then they moved to Georgia and finally to Northwest Louisiana in 2008. 
He said, "I was always the new kid. Moving to new places was fun to me, always being the new kid."
Baseball has always been his first love, and it grew with the support of his family. While his favorite player was Yankees legend Derek Jeter, Brown acknowledged that he is a big fan of the sports teams in Philadelphia, at least until he was drafted by the Brewers, of course. The Phillies are now a distant second to the Brewers as his favorite organization. 
Before the draft, Brown had a workout at Citizens Bank Park. "It was an awesome experience."
He is a big 76ers fan, and he predicted good things for the now 7-0 Eagles very early in the season. 
At Parkway High School in Bossier City, LA, Brown played other sports in his early years. He knew football wasn't for him because you need to be "a little psycho." In his first basketball game, the 5-10 guard saw that the opponent that he was guarding was 6-5. It wasn't part of his future. 
Baseball is where Brown stood out. He played four years on the varsity baseball team and saw his team get better each year. 
He received his first college offer as a sophomore. In fact, after his junior year, he called Louisiana Tech, ready to verbally commit. But when he called, he was told they had received six commitments, but they would call him back at the end of the season. Brown said, "Don't worry about it," and hung up. He bet on himself. He told himself that he "would make every college team pay for it." 
He went to a wood bat tournament the next week and "played the tournament of my life." 
He walked away from that tournament with 17 offers. 
Brown felt that it was a big eye-opener for him and his family and their Christian faith. "We believe strongly in God's timing. You want to do something right now, but God's plan makes for something else. When that got stripped away, I really had to lean strong on my faith and that helped me out a lot."
Going into his senior year, he had two college offers and was talking with three MLB teams. He admits that he was a bit gullible and wanted to believe what the teams were telling him about potentially being drafted out of high school.
"I'm grateful those teams didn't take me out of high school. I wasn't ready for it mentally or physically. I'm so glad I got to experience everything I did through college. 
In the summers, he played in Mississippi with the East Coast Sox, coached by Joe Caruso. 
A theme for Brown often involves having a chip on his shoulder. "I didn't get any invites to any Area Code games. Growing up in my baseball career, I was never the top of the top. I always had that grit of 'alright, they didn't select me this time, but I'm going to make sure they select me next time.' It just kept happening every year. So none of the years did I get selected for Area Code. I didn't get Perfect Game All-American, I wasn't Under Armour All-American. I wasn't any of that. I use that as motivation." 
Brown has a great family support system around him. 
His dad provided that military toughness. "My dad is the tough one, where he pushes me to the brink of breaking, but I need that. Everybody needs that. Then you also have to have that other end." 
"My mom, she is my backbone. She is my rock. I would do anything in this world for her, and I know she would do anything in this world for me. Without her, there's absolutely no way I could have accomplished half of the things in my life without her. She's been my motivation. She's the one when I'm feeling down, she picks me up." 
His sisters have always been very supportive. His brother played at Texas Tech, and "he kind of laid out a road map." 
A year ago, he also met his girlfriend Lauren. "She's always been there for me emotionally. She's been there supporting me, and helped me get through the ups and downs of the draft, and the draft year." 
In Part 2 tomorrow, we will discuss his time at Coastal Carolina, the draft, and the beginning of his professional career with the Brewers.
Think you could write a story like this? Brewer Fanatic wants you to develop your voice, find an audience, and we'll pay you to do it. Just fill out this form.
MORE FROM BREWER FANATIC
— Latest Brewers coverage from our writers
— Recent Brewers discussion in our forums
— Follow Brewer Fanatic via Twitter, Facebook or email
2