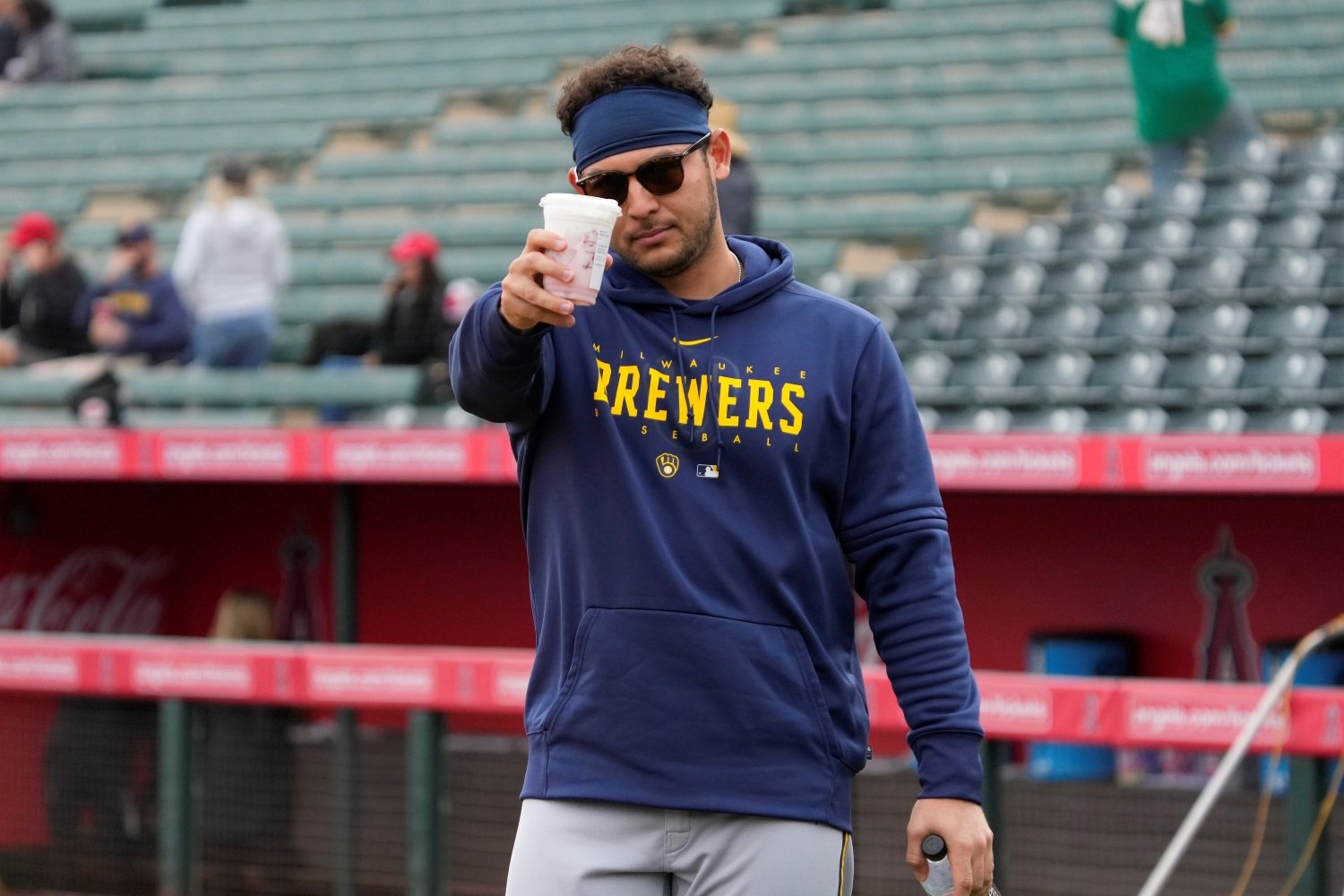 Image courtesy of © Rick Scuteri-USA TODAY Sports
Nashville Sounds
The three-headed monster of Alex Jackson, Payton Henry, and Brian Navarreto are not just holding down catcher in Nashville; each has also seen at least nine games at DH. Henry and Jackson are also proving to be solid with the bat. With this wealth of short-term options, Caratini's pending free agency means he will likely head elsewhere after 2023, but the Brewers could benefit from good continuity with Henry and Jackson as solid secondary catchers familiar with the Triple-A pitching staff.
Biloxi Shuckers
Jeferson Quero has been delivering the power, and his OBP skills have improved as well (21 walks in 189 ABs in 2023, compared to 30 in 367 last year). Add to that superb defense at age 20, and he will likely be in Nashville to start 2024. There is no rush--he is only 20 years old--but he could bump Contreras to DH. Otherwise, the Crew could flip Contreras for a haul around the 2024-2025 offseason, or just keep both behind the plate, utilize them at DH or first base for partial days off, and keep them both more fresh. That said, Wes Clarke has also been superb as the backup catcher, and has also held down first base when called upon. Nick Kahle and Jason Lopez have also chipped in behind the plate.
Wisconsin Timber Rattlers
Darrien Miller is rebounding from an early-season slump, providing doubles and walks galore. The offense usually has been there for the 2019 ninth-round pick, but the question is really about his defensive home. Miller's situation got more complicated when Matthew Wood was promoted to Wisconsin, after posting dominant numbers with the Mudcats. Wood has also flashed OBP skills, but the power he had in Carolina seems to have stayed there. Alex Hall has become the third catcher, who also sees time in left field and first base and delivers OBP and power from both sides of the plate.
Carolina Mudcats
With Wood's promotion, Blayberg Diaz and Jose Sibrian have held down the catching duties in Zebulon. Sibrian has flashed OBP skills and power, while Diaz has done better at hitting for average. Jhonnys Cabrera and Tayden Hall have also chipped in as backstops at times.
Arizona Complex League Brewers
The Brewers went from two ACL teams to one in 2023, and they may be regretting that decision when it comes to finding playing time for the five catchers on their regular roster (not to mention Tayden Hall, on rehab). Satchell Norman and Edgardo Ordonez are the top two, and both have very potent bats – but each has only seven starts at catcher as of July 1.
Dominican Summer League Brewers 1
Yannic Walther and Brayan Oropeza are the primary backstops, and both are hitting well. Both have also seen some time at first base, and Walther has a game as DH, while Oropeza took the mound once.
Dominican Summer League Brewers 2
Eric Martinez is the primary catcher for the second DSL squad in the Brewers system, and is flashing OBP skills and power so far. Estebano Lozano, Freider Rojas, and Roman LaTorre have backed Martinez up.
Overview
The Brewers have almost too many good prospects at catcher, especially in the ACL and DSL. Already, in the ACL, two superb catchers are seeing too little playing time, and there are three catchers in the DSL who will compete for playing time. Higher up the ladder, Quero, Miller, Clarke, and Wood look to have bright futures in MLB, although Miller's will more likely be as a DH, first baseman, or corner outfielder. Henry and Jackson could both contribute as well.