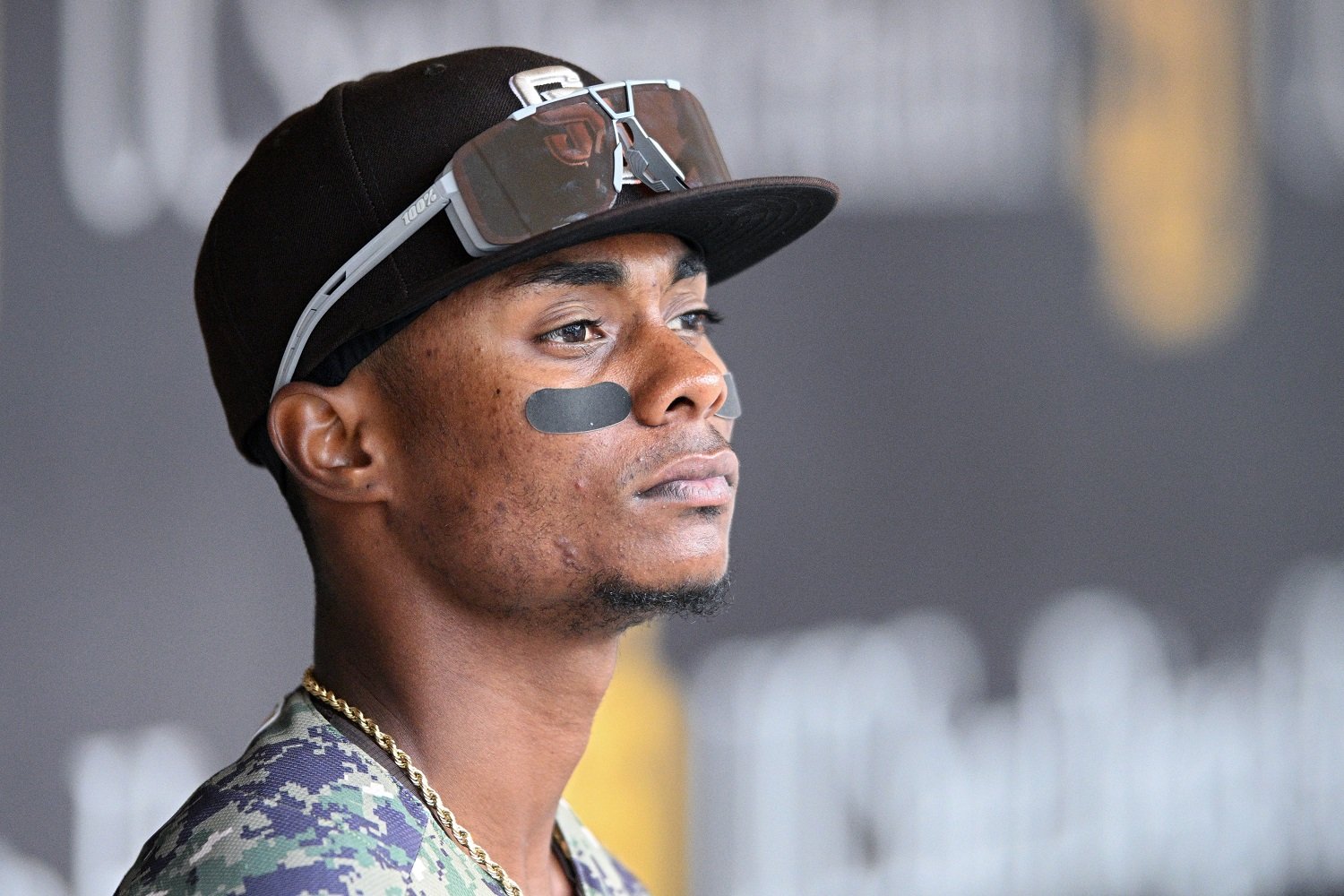 Image courtesy of © Orlando Ramirez-USA TODAY Sports
Firstly, I think it's fair to say: this isn't how any of us imagined the Brewers trade deadline kicking off. Like many Brewers fans, I was quite shocked when I saw the news alerts begin rapid firing in succession on my iPhone screen. Josh Hader has become synonymous with pretty much all facets of Milwaukee Brewers success. And, poof, just like that, our stud closer was gone.
If there's anything we've come to learn since David Stearns took the helm atop the Brewers decision-making ladder it most certainly is: expect the unexpected. Just when you think they're targeting a Josh Bell or a Ramon Laureano, they go right ahead and send out their HOF closer in the midst of a division lead and a mad dash for the playoffs. And, so here we are.
If we step back and consider what Stearns shared publicly post-trade this all starts to make a bit more sense. Take a look here:
A significant piece of the Hader trade haul puzzle is the difficult decision of letting a HOF closer go for a very good MLB replacement - i.e. staying relevant now - while also keeping a keen eye toward future competitiveness - i.e. having multiple more chances to be relevant in the future. This is an extremely difficult thing to do.
I'm unqualified to make salary prognostications but suffice to say: the Brewers saved salary NOW and have more flexibility during the next 24 hours. I commend the personnel department for their willingness to see the forest for the trees - even if it means sending out an all-time great.
They've also added a tantalizing outfield talent to an already robust outfield pool and they've acquired a very toolsy lefty to add to a pitching pool that, frankly, needs depth. I will simply say: from my vantage point, today the Milwaukee Brewers Minor League system improved considerably. The Brewers acquired two very interesting and exciting players. And, in Gasser, they may have simply acquired the best pitcher in their entire system.
---
OF Esteury Ruiz
You'll be hard-pressed to find a more dominant and improved season at any level in Minor League baseball than the 2021 to 2022 quantitative and qualitative output of OF Esteury Ruiz . It's quite obvious, the Brewers see staying power with Ruiz's improved plate output and they already love his speed. And, frankly, they aren't the only ones. Consider these examples:
Dive into that 'Prospect Larceny' list and you'll see two things: the Brewers have seven top-100 prospects offensively (list on the left) and, in this particular metric, Esteury Ruiz is the Brewers highest rated offensive player. Yes, ahead of super-phenom OF Jackson Chourio.
You can pick and choose amongst stat metrics, obviously, and I'm not going to do that here (even if I did!), but the main point is: in 2022, at least, Esteury Ruiz is really really good. Top 10 talent good. However, to simply claim he just suddenly broke out also isn't true.  This is a player who has taken a gradual path of meaningful Minor League improvement. As noted by Prospects 1500's Alex Sanchez in early June:
Quote

Ruiz has shown that he could improve on the strikeouts. It's taken four years, granted, but the progress since 2018 has gone like this: 28.6% > 26.6% > 20.7% > 17.8%. This is encouraging, consistent growth and seems to be very sustainable. To make things even better, the hard contact % is up dramatically, from 18% in 2021 to a very impressive 30% in 2022. These two pieces of data really do suggest that we are seeing what happens to a young player that is able to consistently get better each year. It's also a nice reminder that the breakout is sometimes quite prolonged. Not every prospect is going to Anthony Volpe his way into top 20 status. 
Some have pointed to his 60 stolen bases in MILB this season and offered sentiments like: "Well, he just knows how to steal bases." Ummmm, yes. And, to be frank: he's just extremely fast. See the following:
You've seen the above run-down diving catch in center field. Well, how about a chase-down extremely difficult catch in right field?
How about a running and diving catch in right field at the Major League level?
A successful steal off an obvious fastball? It would appear he's safe by a couple seconds:
Hey, guess what? Esteury Ruiz is extremely fast on a baseball field. Ruiz batted primarily lead-off and in the two-hole for San Diego. Obviously, they wanted to get that speed on the base paths. Have I mentioned he's fast? Ok, good. Phew.
So, what it would appear it comes down to with Perez is quite simple: can he maintain the batting improvements we see in his 2022 Minor League season and maintain some semblance of this at the Major League level? It's much too early to tell but, but it's easy to see why the Brewers wanted him in this deal. As for the 2022 Double and Triple-A numbers:
Quote

291 AB/ 0.333 BA/ 1.027 OPS/ 23 2B/ 2 3B/ 13 HR/ 46 RBI/ 52 BB/ 65K/ 60 SB/ 9 CS
I'm excited to see how he fares in Nashville! This is a player David Stearns believes might appear with the Brewers this season. And, certainly, this is another player in the outfield mix for the seasons ahead. Does this mean other moves are on the trade deadline horizon? Possibly. It might also simply mean a bigger apple.
---
LHP Robert Gasser
I definitely am intrigued and love what I see from Esteury Ruiz - I feel he offers an extremely enticing toolkit to an MLB club. However, if I'm being honest, I'm more excited about what Robert Gasser brings to the Brewers' organizational pitching depth. Gasser seems like a young pitcher tailor-made for the Brewers esteemed 'pitching lab'. Just look at this interview  from the beloved Fangraphs website. Notable quotes of intrigue:
Quote

"...As a pitcher, you have to evolve. You can't just stay the same. To grow, you have to change. If I stay the same person, with that same repertoire, it's almost like I've become bland. I need to keep everything sharp and always be refining my tools. If I can add a weapon, that's great. The more the merrier."
Quote

"...Now that I've come into pro ball, I've learned that the whole arsenal is valuable. Four-seams up, two-seams down and away, cutters down and in, sweepers off of that, changeups down and away. It's about using the whole arsenal."
This is a young hurler that embodies what every modern pitching program is striving to achieve: a player invested in analytic-driven tweaks, implementation, and evolution-driven results. And, there are distinct reasons Gasser won the Midwest League's pitcher of the week in late June: he's gotten better this season and he's seeing the fruits of his labor. 
Honestly, it's a shame the Brewers couldn't have placed him in High-A Wisconsin to kick off his Brewers career; the Timber Rattlers would have briefly had the 1,2,3 spots in the Midwest League strikeout leader board with Jarvis, Gasser, and Kelly. Keep in mind, Gasser has more K's than coveted LHP Antoine Kelly (now with the Rangers, it would appear?), but, half the walks. Gasser will join Brandon Knarr and T.JShook in Biloxi and help stabilize an improving starting rotation down south. And, who knows, maybe Jarvis heads south as well. 
I first became aware of this 2022 improved version of Gasser when I watched him absolutely dominate the Timber Rattlers bats on May 8th (6 IP, 0 ER, 1 H, 3 BB, 6 K). I continued to watch him peripherally as I monitored the Midwest pitching leader board - and, yes, he had some hiccups as High-A pitchers do. But, he had absolutely found aspects of his stuff in the past two months that would leave any organization wanting more:
Here's Fort Wayne's Journal Gazette writer, Dylan Sinn, sharing locally. As noted in this article, and discussed in the trade aftermath: there is more significant speed discrepancies available between his fastball repertoire and his off-speed stuff. When that speed gap widens, we'll most likely see even more swings and misses. Given his commitment to horizontal and vertical movement, I firmly believe this is in the cards. And, make no mistake, Gasser had clearly become the Tin Caps' ace:
A Double-A promotion is the obvious next step. Let's see what he can accomplish in Biloxi!
---
So where will Gasser and Ruiz land in our 'Top Prospects' lists? 
It's very easy to see, in my humble opinion, both prospects will immediately fall in the Brewer Fanatic Top 10 (Brewer Fanatic Prospect Tracker Here). I advise: don't get caught up in early-season rankings placing Ruiz #28 on the MLB Pipeline Padres list - this is an ascending player who's already made it to the Major Leagues this year which is something we can't say for Chourio, Frelick, Wiemer, or Mitchell. This being said, both players are changing organizations and with that comes an unknown period of adjustment(s). So, without further ado, I will offer you my Brewers  post-trade Top 10 as I see it:
(1) Jackson Chourio
(2) Sal Frelick
(3) Brice Turang
(4) Robert Gasser
(5) Esteury Ruiz
(6) Garrett Mitchell
(7) Eric Brown Jr.
(8) Joey Wiemer
(9) Tyler Black
(10) Hendry Mendez
Apologies to my 'Spirit Animal', but, Joey Wiemer's offensive slump is real - I'm simply waiting for an exodus into expected XBH pastures. No apologies for the talent I am sharing here. Absolutely none at all.
Think you could write a story like this? Brewer Fanatic wants you to develop your voice, find an audience, and we'll pay you to do it. Just fill out this form.
MORE FROM BREWER FANATIC
— Latest Brewers coverage from our writers
— Recent Brewers discussion in our forums
— Follow Brewer Fanatic via Twitter, Facebook or email
2