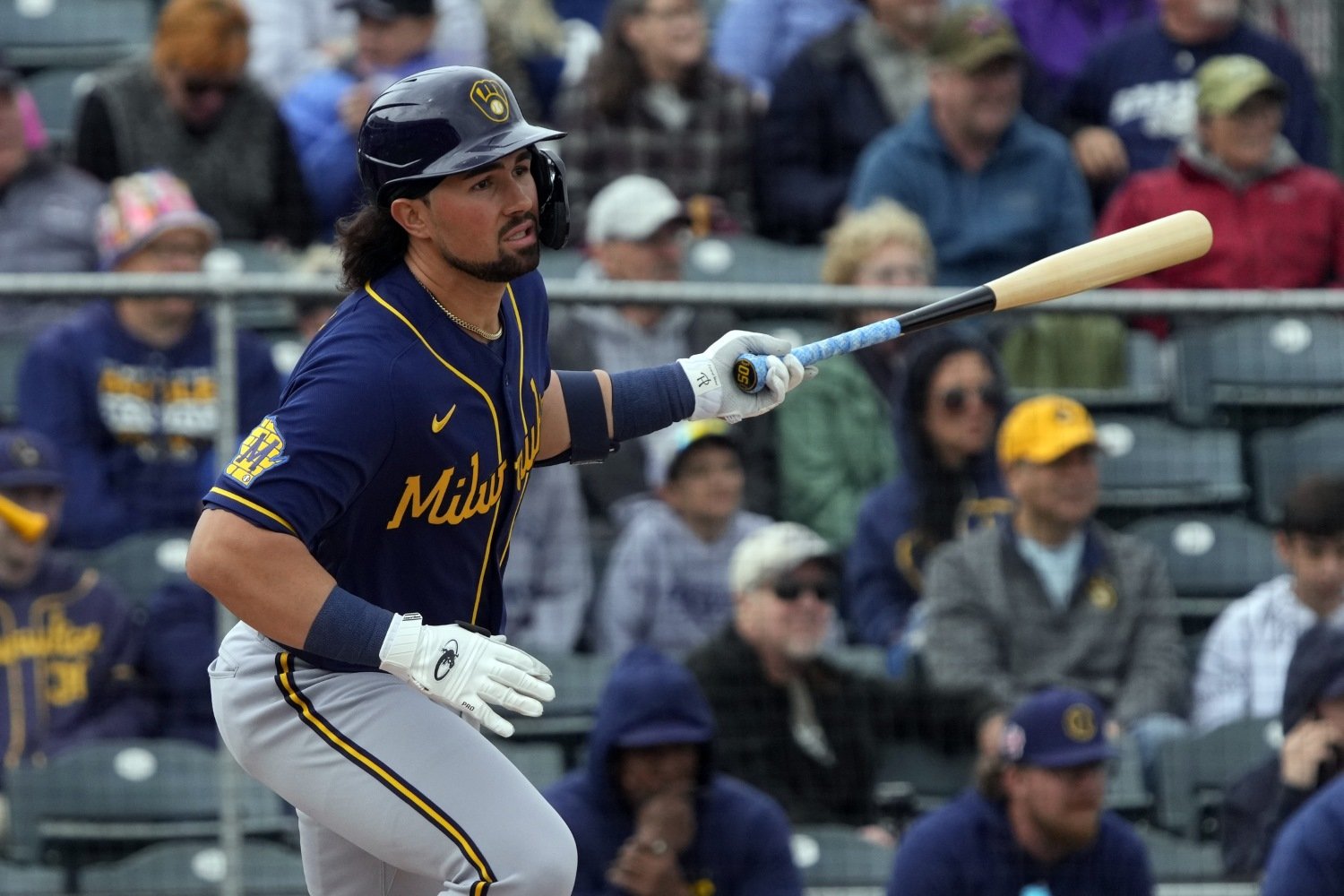 Image courtesy of © Rick Scuteri-USA TODAY Sports
Rather than go by teams as we did in midseason, we will be looking at some of the top individual prospects still in the farm system as of October 15. Some may end up as minor-league free agents, others could be dealt, but as of now, these are who the Crew could eventually turn to.
Payton Henry (Triple-A Nashville)
.294/.341/.454 with 11 doubles, nine home runs, 35 RBI, 12 walks, and 59 strikeouts in 238 at-bats
Henry was a one-time Brewers prospect who was dealt to Miami in 2021 for John Curtiss, then re-acquired in the 2022-2023 offseason. While initially on the 40-man roster, he was soon outrighted and spent all of 2023 in Nashville. Henry's defense is very solid, but in a small sample, he's struggled in the majors. He will be a minor-league free agent, but the Brewers may be well-served to bring him back for 2024. He could be a decent backup for William Contreras.
Jeferson Quero (Double-A Biloxi)
.262/.339/.440 with 12 doubles, 16 home runs, 49 RBI, 38 walks and 68 strikeouts in 336 at-bats
Quero is arguably the best catching prospect in baseball, and one of the top prospects in the Brewers system. Not only does he get high marks for defense, his bat has been very credible in 2022 and 2023. The biggest concern with Quero is his health–he had two injured-list stints and was in only 90 out of 137 games for the Shuckers this season. He is likely to start 2024 in Nashville, but could force his way to Milwaukee at any point in the future.
Wes Clarke (Double-A Biloxi)
.241/.392.,498 with 24 doubles, 26 home runs, 80 RBI, 89 walks and 147 strikeouts in 398 at-bats
There are two big questions Wes Clarke will need to answer in 2024. The first is, is he a catcher or a first baseman? When Quero missed time, Clarke had 34 games behind the plate, and didn't embarrass himself too badly. He was also a legit power bat, leading Biloxi in home runs and walks. His offensive profile is much like Russell Branyan's, as he also led the team in strikeouts. His ability to reduce the strikeout rate is the other big question he will have to answer next year.
Darrien Miller (High-A Wisconsin)
.228/.336/.364 with 20 doubles, 7 home runs, 47 RBI, 43 walks and 76 strikeouts in 316 at-bats
Miller has been an underrated prospect behind the plate since 2019. He brings superb OBP skills, solid defense, and a lot of doubles in his offensive profile. The power is not shabby, either, with seven home runs. His lefty bat should do well at American Family Field. Miller surprisingly repeated at Wisconsin following a superb performance in Brisbane, but should be in Biloxi next season.
Matthew Wood (Low-A Carolina and Wisconsin)
.253/.377/.327 with 15 doubles, 4 home runs, 63 RBI, 73 walks and 68 strikeouts in 388 at-bats
Which Matthew Wood bat is the real one? Was it the potential slugger in Carolina who posted a .956 OPS, or the OBP-heavy bat whose slugging percentage was 300 points lower? Should Wood rediscover his power, he could be an excellent fit at American Family Field. The good thing is that his OBP skills were very strong, despite the slump. He probably would be well-served to repeat at Wisconsin.
Satchell Norman (Arizona Complex League Brewers)
.308/.425/.473 with 6 doubles, 3 home runs, 20 RBI, 19 walks and 26 strikeouts in 91 at-bats
Norman probably wishes the Brewers had kept two ACL teams in 2023 – he was in 30 of the 66 games the team played. His bat was arguably second only to that of Juan Baez in terms of being a dynamic contributor to the team's success (his .897 OPS is superb for any position, particularly catcher), even though his defense was… adventurous. Norman will likely be in full-season A ball, but his bat could push him to a very high level by this time next year--even if there is a passed ball or two every week.
Edgardo Ordonez (Arizona Complex League Brewers)
.253/.384/.392 with 7 doubles, 1 home run, 7 RBI, 18 walks and 31 strikeouts in 79 at-bats
Ordonez previously flashed a power bat in the DSL. It was still evident in his short sample from 2023 in the ACL. As was true for Norman, more playing time would have been beneficial. That said, Ordonez also has a more refined defensive game than Norman, even if the bat isn't quite as dynamic. As a left-handed hitter, Ordonez is a good fit for American Family Field.
Yannic Walther (Dominican Summer League Brewers 1)
.235/.394/.304 with 4 doubles, 1 home run, 12 RBI, 26 walks and 37 strikeouts in 102 at-bats
Walther was an international free agent signing from Germany, and displayed very strong OBP skills in the DSL. His defense was also very solid, and he was able to keep baserunners from taking egregious liberties as well. Walther's bat is arguably a two-true-outcome profile, but a .394 OBP can still be very useful, even if he's currently light on slugging.
***
What do you think of the top Brewers catching prospects? Are there any you are particularly excited about for 2024? Who will be the next great Brewers catcher? Let us know!