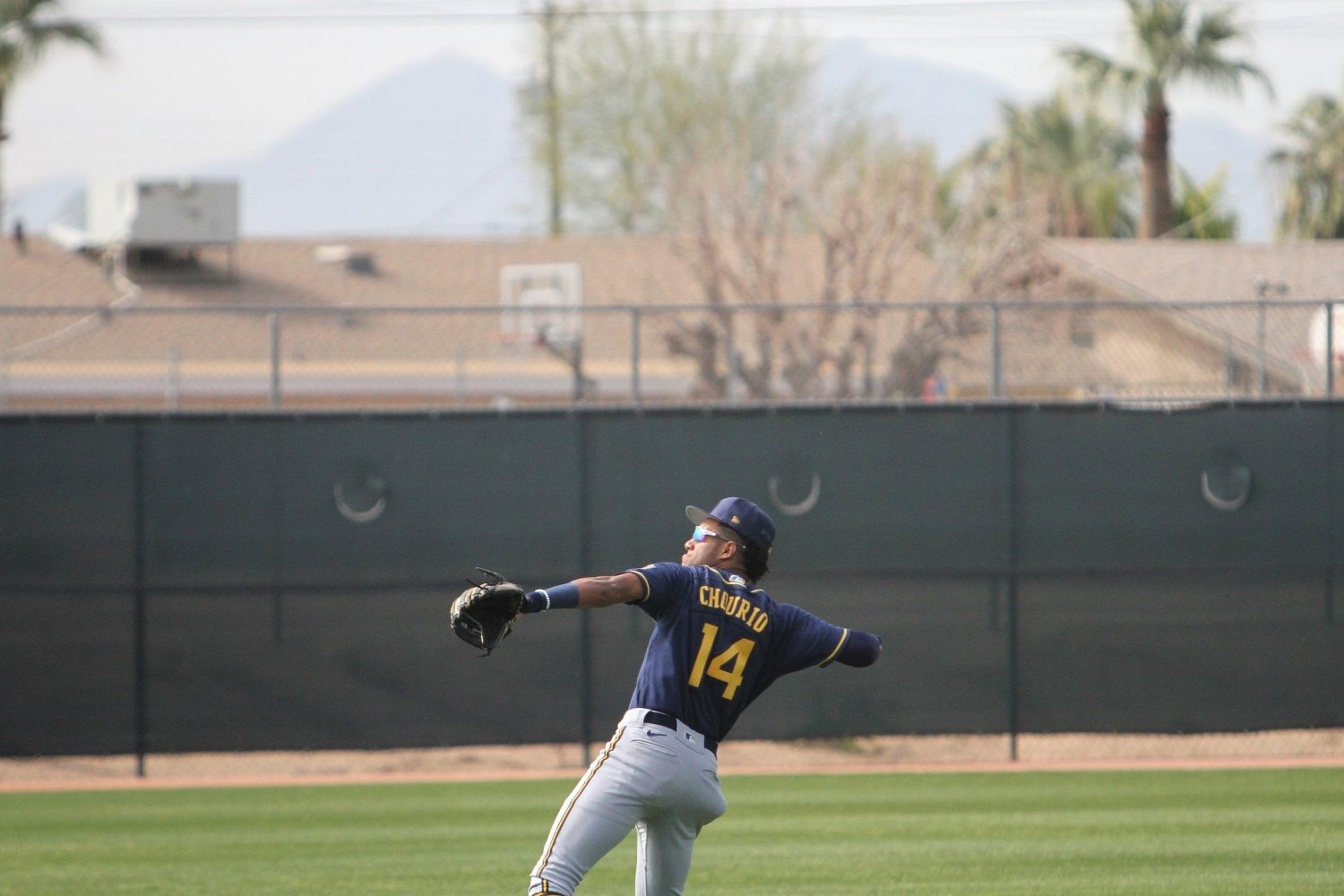 Image courtesy of © Curt Hogg / Milwaukee Journal Sentinel / USA TODAY NETWORK
The fact of the matter is that the Brewers could be "set" in the outfield in more ways than one. Let's look over the players on the farm.
Jackson Chourio (Double-A Biloxi/Triple-A Nashville)
.283/.338/.467 with 26 doubles, 22 home runs, 91 RBI, 43 walks, 104 strikeouts in 531 at-bats
Chourio is considered Milwaukee's top prospect, if not the top prospect in all of minor-league baseball. In his first full season in the upper minors, he didn't just hold his own (despite the experimental ball that skewed stats for many Biloxi players), he even improved his OBP skills over the course of the campaign. He doesn't need to go on the 40-man roster this winter, but he could force his way into the Opening Day lineup–in Milwaukee.
Chris Roller (AAA Nashville)
.364/.493/.618 with 3 doubles, 3 home runs, 20 RBI, 13 walks, 15 strikeouts in 55 at-bats in Nashville
.247/.394/.449 with 16 doubles, 15 home runs, 67 RBI, 68 walks, 109 strikeouts in 312 at-bats between AAA Columbus (CLE) and AAA Nashville (MIL)
Roller got a 40-man roster spot after a very hot finish in Nashville, and he developed more of a power stroke in 2023, making his bat a legitimate three-true outcomes threat. Roller also adds speed to his offensive arsenal (19 stolen bases). He's entangled a very crowded outfield mix, but trades and injuries could change that.
Noah Campbell (Double-A Biloxi/Triple-A Nashville)
.244/.361/.391 with 10 doubles, 8 home runs, 40 RBI, 46 walks, 77 strikeouts in 271 at-bats
Just calling Campbell an outfielder really understates things. He's played all four infield positions, all three outfield positions, pitcher, catcher, and handled DH duties in his professional career. In 2023, Campbell stood out by performing well in Biloxi and earned a promotion to Nashville. Once there, though, he didn't get the consistent playing time he'd enjoyed in Biloxi, and he struggled a little. Campbell's future could be like that of Hernan Perez, the best utility player in Brewers history–and he could top Perez with his switch-hitting and ability to catch in a pinch.
Isaac Collins (Double-A Biloxi/Triple-A Nashville)
.263/.419/.421 with 13 doubles, 10 home runs, 44 RBI, 77 walks, 56 strikeouts in 297 at-bats
A waiver-wire claim in the 2022-2023 offseason from the Rockies, Collins was an OBP god in 2023 and also developed some legitimate power and speed with the Shuckers, notching 25 extra-base hits and 29 stolen bases. While he mostly spent time in left field, he saw significant time at second base and limited action in center field, right field, and third base.
Hendry Mendez (High-A Wisconsin/Arizona Complex League Brewers)
.258/.324/.355 with 11 doubles, 3 home runs, 30 RBI, 23 walks, 40 strikeouts in 248 at-bats
Mendez missed a lot of time with injuries in 2023. The good news was that he seemed to increase his power stroke, with 16 extra-base hits in 248 at-bats in 2023 compared to 17 in 377 at-bats in 2022. At the AFL, he didn't get regular playing time, but three of his eight hits went for extra bases, and he walked six times in 33 at-bats.
Luis Lara (Low-A Carolina/High-A Wisconsin)
.286/.373/.359 with 13 doubles, 2 home runs, 29 RBI, 44 walks, 61 strikeouts in 343 at-bats
Lara didn't quite rocket up the minor-league ladder like Jackson Chourio did in 2022, but he showed legitimate OBP skills and speed (30 steals and three triples) in 2023, and made his way to Appleton. Lara has a cannon for an arm, and at 18, could develop a little more power. But the speed/OBP/hit-for-contact combo could make him a leadoff threat.
Jace Avina (Low-A Carolina)
.233/.373/.442 with 22 doubles, 14 home runs, 50 RBI, 56 walks, 118 strikeouts in 326 at-bats
Throughout his professional career, Avina has been a three-true-outcomes bat, offering power (29 homers over two seasons) and posting a career .381 OBP, which makes the 211 strikeouts in 547 at-bats tolerable. Avina also provides excellent defense, notching 16 outfield assists over two seasons. He provides some speed (14 steals and five triples in his career).
Hedbert Perez (Low-A Carolina)
.216/.288/.345 with 10 doubles, 6 home runs, 29 RBI, 22 walks, 68 strikeouts in 232 at-bats
Perez missed time with an injury in 2023, but did improve his walk rate from 2022. He was highly-touted at one point, but has been bypassed by Chourio and Lara, among others. He's still 21, and could build on his improvement in 2023, but 2024 is looking like a make-or-break season for him.
Yophery Rodriguez (Dominican Summer League Brewers 1)
.253/.393/.449 with 13 doubles, 6 home runs, 36 RBI, 41 walks, 40 strikeouts in 178 at-bats
Rodriguez looks like a left-handed Chourio, with better OBP skills. Obviously, that's an overly exuberant reading, but he's done that caliber of work in his very young career. He broke out in the DSL in 2023, leading the DSL Brewers 1 squad in hits, runs, doubles, homers, RBI, and walks, while sharing the team lead in stolen bases and finishing third in batting average among players with more than 100 at-bats. He could have a repeat of Choruio's 2022 season in 2024.
Brian Sanchez (DSL Brewers 1)
.297/.414/.446 with 7 doubles, 19 RBI, 20 walks, 23 strikeouts in 101 at-bats
Sanchez led the DSL Brewers 1 squad in batting average, OBP, and OPS while finishing a close second to Rodriguez in slugging percentage. While Rodriguez offers an intriguing package of power, speed and OBP skills, Sanchez offers more of a hit-for-contact, speed, and OBP profile. At 6'3" and 170 pounds, he could add some sneaky power to the mix.
Which of these outfield prospects could give the Brewers an even more complicated situation? Are there any you want to learn more about?
Think you could write a story like this? Brewer Fanatic wants you to develop your voice, find an audience, and we'll pay you to do it. Just fill out this form.
MORE FROM BREWER FANATIC
— Latest Brewers coverage from our writers
— Recent Brewers discussion in our forums
— Follow Brewer Fanatic via Twitter, Facebook or email