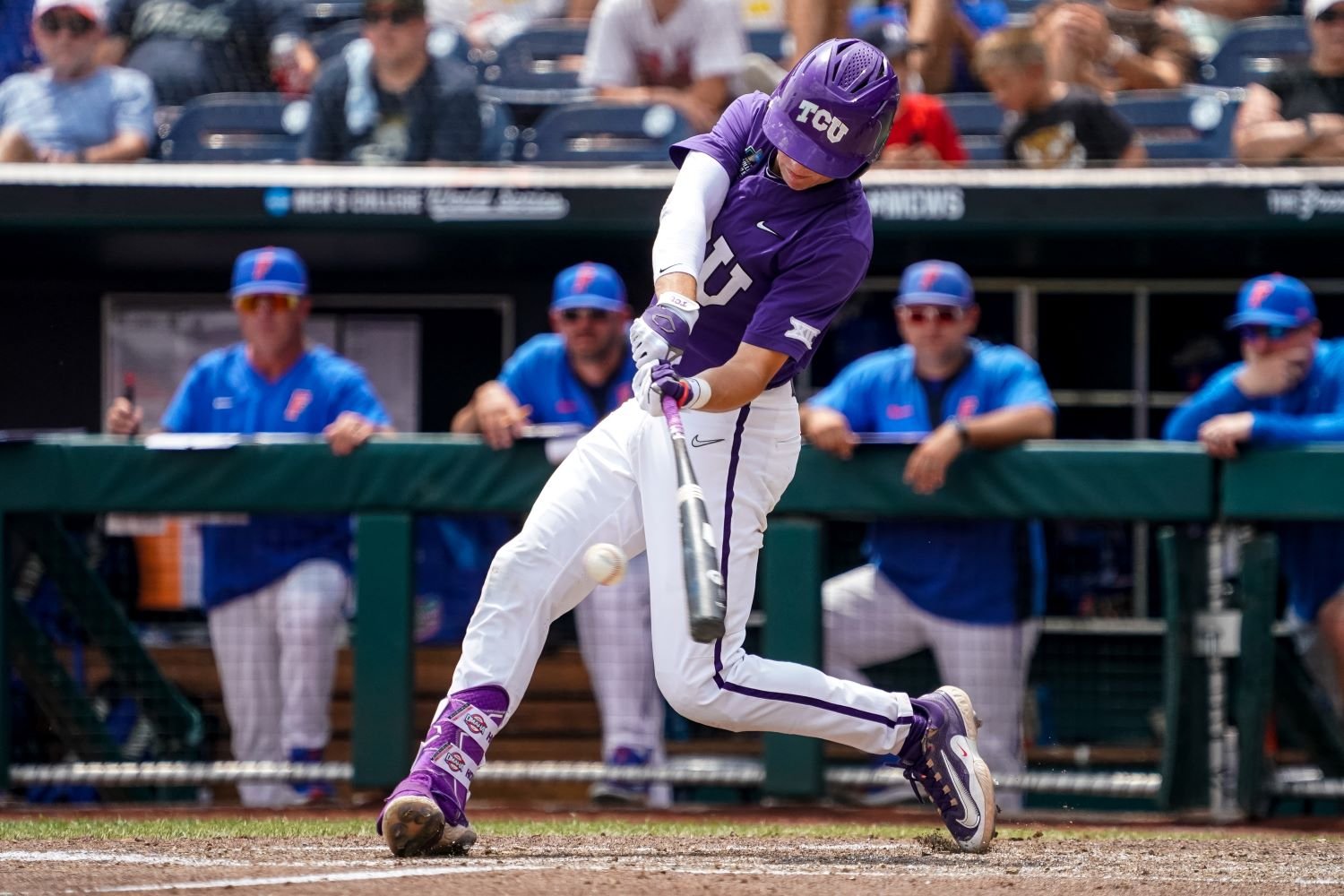 Image courtesy of Dylan Widger, USA Today Sports
The MLB Draft is fast approaching. In recent weeks, there has been plenty of steam connecting the Brewers with a bevy of college hitters. The 2023 Draft is incredibly deep in most demographics, particularly college hitters with many prep prospects opting to go to college ahead of the shortened five-round COVID-impacted draft of 2020. Brayden Taylor is a prospect likely to appeal to the Brewers and other model-heavy teams. He'll be one of the many candidates the Brewers may consider with the 18th overall pick.
Who is He?
Brayden Taylor is a left-handed hitting third baseman from TCU. Taylor was a top-ten prospect on most draft boards until an uneven, inconsistent beginning of the college season caused his stock to drop. An outstanding finish to the season, an elite approach at the plate, and plenty of analytically friendly traits should ensure there is plenty of appeal for teams drafting between 11-30 overall in July. Taylor currently sits at #20 on the Consensus Board with rankings between 16 overall and 30 overall from the inputs I use.
Why the Brewers Will Draft Him
Taylor has a really promising approach at the plate that will likely translate into success as a professional. In addition to a beautiful left-handed swing, he has excellent bat-to-ball skills and a really keen eye at the plate. While he will lay off pitches outside the zone, he's not afraid to be aggressive with pitches he feels like he can attack. Taylor does not put up some of the gaudy exit velocities of other college hitters in the class and had an inconsistent beginning of the 2023 season, in which he was perhaps trying too hard to show off pull-side power. When it was all said and done, Taylor hit .306/.430/.635 with a career-best 23 home runs (13 in 2022). Taylor's plate discipline numbers add to his promising floor as he carried a 21 BB% in 2023, although his strikeouts were up, possibly in his search for more pop. Defensively, Taylor should stick at third base. He has good actions, an above-average arm, and solid range at the position.
Why the Brewers Won't Draft Him
There's little to critique in Taylor's profile unless you want to ding a 4% increase in strikeouts in 2023. There's an argument to be made that his ceiling is limited and you can knock his batted ball data being less exciting than other college bats. Ultimately, a team drafting Taylor is getting a polished offensive profile with multiple paths to success, a good defender at a corner infield spot, and a canny base runner who stole 39 bases over three seasons at TCU to boot.
What do you think of Braden Taylor as a prospect? How would you feel about him being the Brewers pick at 18 overall? Join the discussion in the comments.
Previous Draft Articles and Profiles
Yohandy Morales 
Enrique Bradfield, Jr
Tommy Troy
Nolan Schanuel

Nygaard Mock Draft v.2

Consensus Big Board Profiles: 26-50
Consensus Big Board Profiles: 1-25