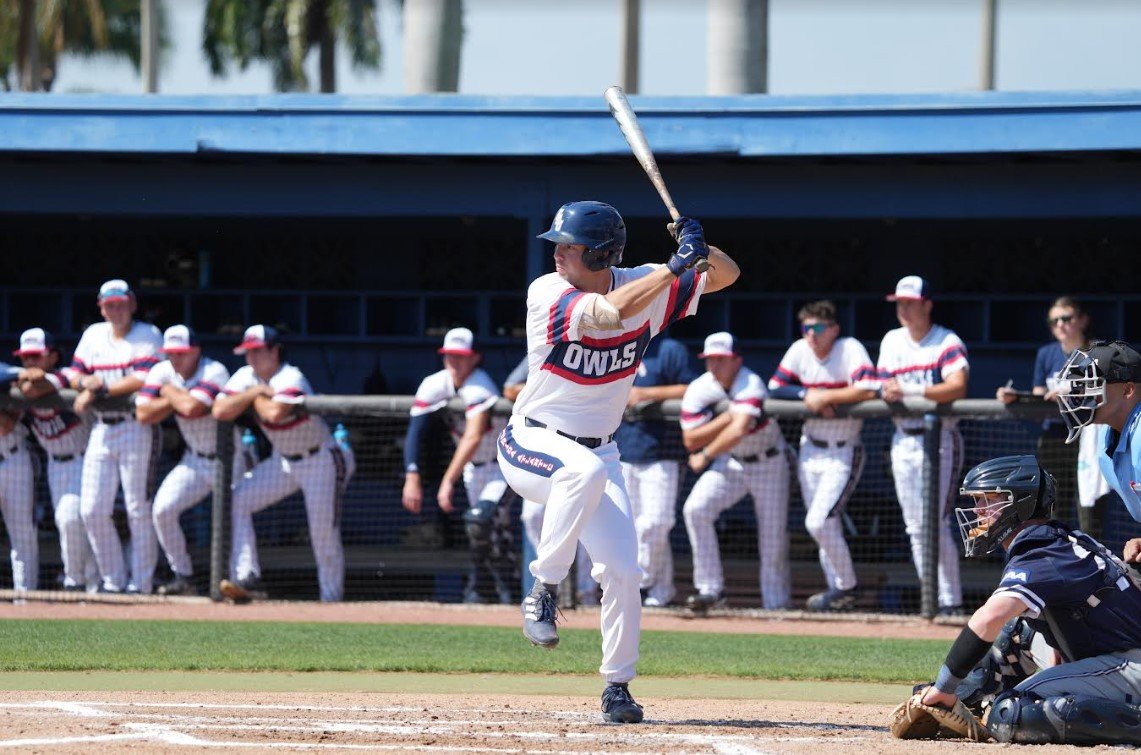 Image courtesy of JC Ridley/OwlPix.com
Over the next two weeks, we're going to be providing you with profiles of 10 players the Brewers could take with the 18th pick in the 2023 MLB Draft.
Who is He?
Nolan Ryan Schanuel is an aptly-named baseball player, but this Nolan stands out because of the damage he can do with a bat in his hands. Currently sitting at 29th on the Consensus Board, Schanuel will have his name called for the first time after spending three years raking for Florida Atlantic. He went undrafted out of high school. 
Why the Brewers Will Draft Him
Almost every player projected to be a first baseman is going to get pushed right out of the first half of the first round. Obviously, Brewers fans will remember drafting Brewers great Prince Fielder seventh overall in 2002 and great trade chip Matt LaPorta at the same spot in 2007. But, overall, most first basemen get knocked down team's boards because all of their value is tied up in their bat, as they're already on the bottom rung of the defensive spectrum. 
Schanuel's bat is special and that's why he will be in the conversation for those teams drafting in the back half of the first round. In three college seasons, Schanuel has drawn 138 walks while only striking out 57 times (including 71 walks and 14 strikeouts in 2023). Guys with that kind of handle on the strike zone don't often produce significant power when they do hit; Schanuel does. Of his 46 career long balls, 19 came in 2023 which helped support a .868 slugging percentage. Beyond that, he's put up excellent exit velocities. Stat-, eye- and analytic-driven teams should all come to the same conclusion: Dude can rake.
Also... would the manager appreciate the set-up in the box?
Why the Brewers Won't Draft Him
As mentioned, Schanuel is a first baseman and teams usually just look past them in the first round. And when they don't, they should. The last handful of first basemen drafted in the first round: Aaron Sabato (2020), Michael Toglia and Andrew Vaughn (2019) and Pavin Smith and Evan White (2016) have been disappointing at best, and relatively gross if we're being honest.
That's no knock on Schanuel, who could certainly buck the trend. But it is a trend, and teams have learned to allocate their assets better when it comes to making their first pick of the draft.
In 155 plate appearances in the wood-bat Cape Cod League last summer, Schanuel batted .200, struck out and walked 24 times each and provided very little power (one home run, .272 SLG). So it's happened before - albeit in a 36-game sample. But if it happens again, there's no defensive value to speak of. That's quite a gamble... yet an easier one to take at 18 than, say, 7. 
What do you think of Nolan Schanuel as a prospect? How would you feel about him being the Brewers pick at 18 overall? Join the discussion in the comments.
Think you could write a story like this? Brewer Fanatic wants you to develop your voice, find an audience, and we'll pay you to do it. Just fill out this form.
MORE FROM BREWER FANATIC
— Latest Brewers coverage from our writers
— Recent Brewers discussion in our forums
— Follow Brewer Fanatic via Twitter, Facebook or email
1