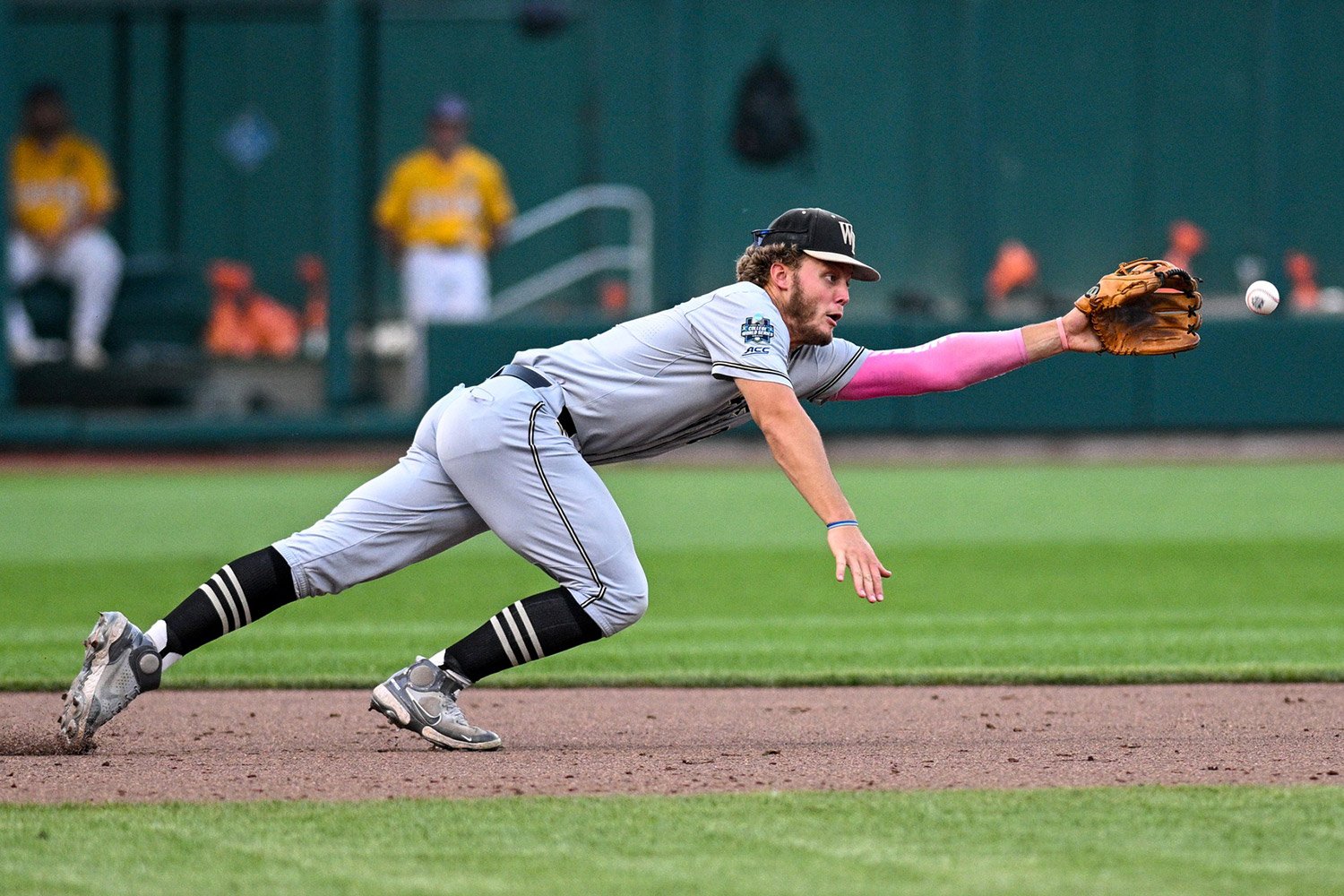 Image courtesy of © Steven Branscombe-USA TODAY Sports
Day 1 Selections
Round 1, Pick 18 overall
Brock Wilken, 3B Wake Forest
Wilken may possess the most raw power of any player in this draft class, hitting multiple balls over 115 MPH this past season. It's a relatively flat swing, which should allow him to have a decent enough hit tool, though he will likely never hit for a high average. While Wilken's strikeout numbers aren't in a great spot, you would think he was striking out at a 30% rate with how some evaluators have talked about it. In reality, it was closer to 18%, and he cut down on his whiff rate and chase rate in 2023. If there's any cause for concern, it probably lies more with the Brewers' track record of developing these power-over-hit profiles. Defensively, scouts are split on whether he can handle third base. He certainly has the arm for it, but the actions and movements do look a bit slow. The Brewers haven't been shy to play slow movers at third base before, though, and his hands seem to be decent enough to handle it.  Despite the concerns about the fit within the organization and their ability to develop him, Wilken is pretty well developed already, and he will likely be able to move through the organization relatively quickly. 
Editor's Note: If you're not following Spencer Michaelis on Twitter for Brewers prospect and draft news, you should be.
---
Round CB-A, Pick 33 overall
Josh Knoth, RHP Patchogue Medford HS 
Knoth might have the highest ceiling of the Brewers' day one selections. His profile was extremely enticing, even when he only threw his fastball in the 90-93 range (T95) last summer. This spring, however, he was up to 98 and sitting more in the 94-95 range. The fastball has good life at the top of the zone and pairs extremely well with what might be the best secondary offering in the entire system the moment Knoth signs. That offering being his hammer curveball. It's a 3000 RPM pitch with late bite and a ton of movement. He has a smooth delivery that appears to be easily repeatable. Still only 17, Knoth's upside on the mound might be second only to Jacob Misiorowski in the Brewers system.
---
Round 2, Pick 54 overall
Mike Boeve, 3B/2B Nebraska-Omaha
Boeve was a personal favorite of mine throughout the entire draft process and also felt like a profile the Brewers would be partial to. At the time of the selection, it seemed a little weird to double up at third base, but it's important to note that Boeve can also handle second base. Worrying about having too many players at one position is an exercise in futility on draft night. Get as much talent as you can in the organization, and things will work themselves out later on. There are a lot of similarities to Tyler Black with Boeve. The swing is pretty similar, and Black also was seen as much more hit-over power when he was drafted in 2021. This might be a swing that the Brewers feel good about tinkering with, having seen the results as Black tapped into more power. Boeve absolutely has it in him, posting a number of exit velocities over 110 this past season.
---
Day 2 Selections
Round 3, Pick 87 overall
Eric Bitonti, 3B Aquinas HS 
If you liked the Wilken pick, especially the power that comes with it, then you should also be very excited about the Bitonti pick. Equipped with some of the biggest raw power in the high school class, Bitonti has a sweet-looking left-handed swing. Like Knoth, he's young, even for a high schooler, as he won't turn 18 until mid-November. Despite being a pretty good athlete for his size, it's unlikely he will be able to stick at shortstop. In fact, the Brewers are already planning to have him start at third base. He should be a very strong defender at the hot corner, and he certainly has the arm to handle it as well. The question for Bitonti will come with his hit tool. He does have some holes in his swing presently, and he has struggled with making solid contact on breaking balls. His issues with breaking balls seem to be more aligned with his feel to hit them, as he doesn't chase them much. This is a good sign. It means he likely just needs to get more comfortable with his bat path against spinners rather than learning how to recognize them entirely. He crushed fastballs in the prep circuit and should have no issues handling professional velocity. There's big-time, middle-of-the-order upside with Bitonti. Brewers fans will just need to remember to be patient.
---
Round 4, Pick 119 overall
Jason Woodward, RHP Florida Gulf Coast
Woodward is a bit of a mystery, and he was likely drafted in part to save money for some of the other selections. But that doesn't mean he's a throw-away pick. Though he missed most of the 2023 season with Tommy John, he was very solid in his three healthy starts. He finished his short season with a 1.32 ERA and 18 strikeouts in 13.2 innings. His fastball is normally around 91-94, but he can get up to 96 at times. The fastball is said to have a lot of ride and plays very well up in the zone. His best secondary is a changeup that is considered a plus pitch. He generates a lot of late movement with it. Woodward will be out for most of the next calendar year while he rehabs. We will most likely see him for the first time in the Complex League next summer, around this time of the year.
---
Round 5, Pick 155 overall
Ryan Birchard, RHP Niagara County CC
Like Boeve, Birchard was a player that I was a big fan of during the process and another that just felt like he would end up a Brewer. He has fantastic pitch characteristics on all three of his main pitches and was a Junior College arm. Everyone who follows the Brewers drafts knows how much they love those Juco arms. His fastball can reach up to 98 and sits in the 94-96 range with good carry. He was using a slider and changeup as his secondary pitches in the fall, but once he had made it through his season and into the draft league, he seemed to have scrapped the changeup in favor of a curveball. The slider and curveball have different shapes and are in different velocity bands. He should be just fine without the changeup. Some think he will end up in the bullpen long-term, but I personally do believe he can make it as a starter with his three-pitch mix. If he ends up falling back to a bullpen role, it could be a high-leverage type of arm and role.
---
Round 6, Pick 182 overall
Cooper Pratt, SS Magnolia Heights HS 
When the Brewers made this choice, I actually jumped up out of my seat. By this point in the draft, I was actually thinking they were already running low on slot bonus money to spend. Frankly, I had written off Pratt as a possibility long before this sixth-round selection. Assuming they do sign him, this is probably the biggest steal of the entire draft. At 6'5, many scouts believe he will be able to stick at shortstop. Based on the little video of his defense available, I am inclined to agree. For a player his size, he moves extremely well on the dirt, and his arm is quick enough to handle short as well. Offensively he is currently hit over power, but considering his frame, there is a lot of room to grow in the power department. Even if the power never does develop, there is a lot to like in his profile. Baseball America says, "Over a 668-pitch sample, Pratt has just a 12% overall miss rate and 17% chase rate. On pitches in the zone, his miss rate falls to just 6%." Those are fantastic numbers for a player his age. He has a bit of a leg kick but an extremely smooth-looking swing that allows him to hit with some authority to all fields. It would not shock me if, later on down the road, Pratt ended up being the best player the Brewers selected in this draft class. The upside is similar to that of Gunnar Henderson.
---
Round 7, Pick 212 overall
Tate Kuehner, LHP Louisville
Kuehner was one of Louisville's most important relievers this year. He throws from a tough lefty angle. His fastball was 92–95 this year with a good amount of run. The fastball works up, as well as down in the zone. His breaking ball is a pretty nasty pitch. However, he did struggle to command it over the last few seasons. There is potential for Kuehner to be a really solid pen guy—an interesting pickup for what will likely be a well-under-slot senior signing.
---
Round 8, Pick 242 overall
Craig Yoho, RHP Indiana
Another pitcher that I was tracking as a potential Brewers pick. He seemed like an arm that an analytical front office would love, and the Brewers have been great with a profile like his. Yoho is relatively new to pitching full-time, as he was a two-way early in his college career. He's been hurt a number of times, and despite being 23 years old, he somehow has three (!) years of eligibility left and was committed to transfer to Arkansas next year. It sounds as though he will sign, though, and I find that to be pretty exciting.  According to Baseball America, "Yoho's high-70s changeup has a ton of late fade and tumble, is an effective pitch against both right and left-handed hitters, and had an impressive 61% miss rate. His sweeping slider had a 56% miss rate, while his curveball has big time depth and a 62% miss rate." While Yoho was used as a reliever at Indiana, and that was the plan at Arkansas as well. I'm not entirely convinced he shouldn't be given a shot at starting in pro ball. He definitely has a starter's repertoire. It will likely come down to durability and whether the Brewers believe he can handle a starter's workload. Yoho is an older pick, but a four-pitch pitcher with this kind of stuff and solid command to go with it is not commonly available in the 8th round.
---
Round 9, Pick 272 overall
Mark Manfredi, LHP Dayton
Manfredi wasn't one on my radar before the draft, but he does show some intriguing traits. Namely, his release point, which is coming from a sidearm slot. This helps his fastball play up a bit above the low 90s velocity that he brings. Manfredi also uses a slider, curveball, and changeup alongside the fastball to help keep hitters off balance. The slider is probably the best of the three, but none stand out as better than a bit above average. This is another senior sign who has shown some signs of development as he worked with Tread Athletics over the last few months. There may be more in the tank yet, and the Brewers do well with funky delivery types like Manfredi.
---
Round 10, Pick 302 overall
Morris Austin, RHP Houston Christian U 
There is next to no information available on Austin. I was able to find a tweet showing trackman velocity for him, where he touched 97.5 MPH, but nothing on his secondary pitches or anything beyond that. He had a 7.00 ERA this past season. However, that was in a pretty small sample, and outside of one complete blow-up where he gave up five earned runs in 0.1 innings pitched, his ERA would have been under 2.00, and he did strike out 13 per nine. The Brewers likely saw something they liked in his pitch data and an opportunity for another under-slot signing.
---
Wrap Up and Opinions
When the Brewers drafted Wilken in the first round, I was admittedly a little down on the pick. Chase Davis was on the board, and he was my dream selection (side note: screw the Cardinals). However, as the rest of the draft played out, I felt much better about it. I expect him to sign for a decent amount under slot value, which should play a big role in signing Cooper Pratt, along with the other high school selections made in the first two days, such as Josh Knoth and Eric Bitonti. 
As I mentioned in their write-ups, Mike Boeve and Ryan Birchard were two of my personal favorites in this draft class. I am guessing Boeve will be another under-slot signing. Birchard appears to be prepared to sign, but I have no idea if he will be over, under, or exactly at slot for his bonus. 
The college players selected in rounds 4, 7, 8, 9, and 10 will likely all come in under slot, if not significantly under slot. Yoho is potentially the one exception to that, as he does have quite a bit of eligibility left. Though at 23, it seems unlikely he can raise his draft stock much at an even older age.
Now, here's to clean medicals for all and no negative surprises!
Think you could write a story like this? Brewer Fanatic wants you to develop your voice, find an audience, and we'll pay you to do it. Just fill out this form.
MORE FROM BREWER FANATIC
— Latest Brewers coverage from our writers
— Recent Brewers discussion in our forums
— Follow Brewer Fanatic via Twitter, Facebook or email
3