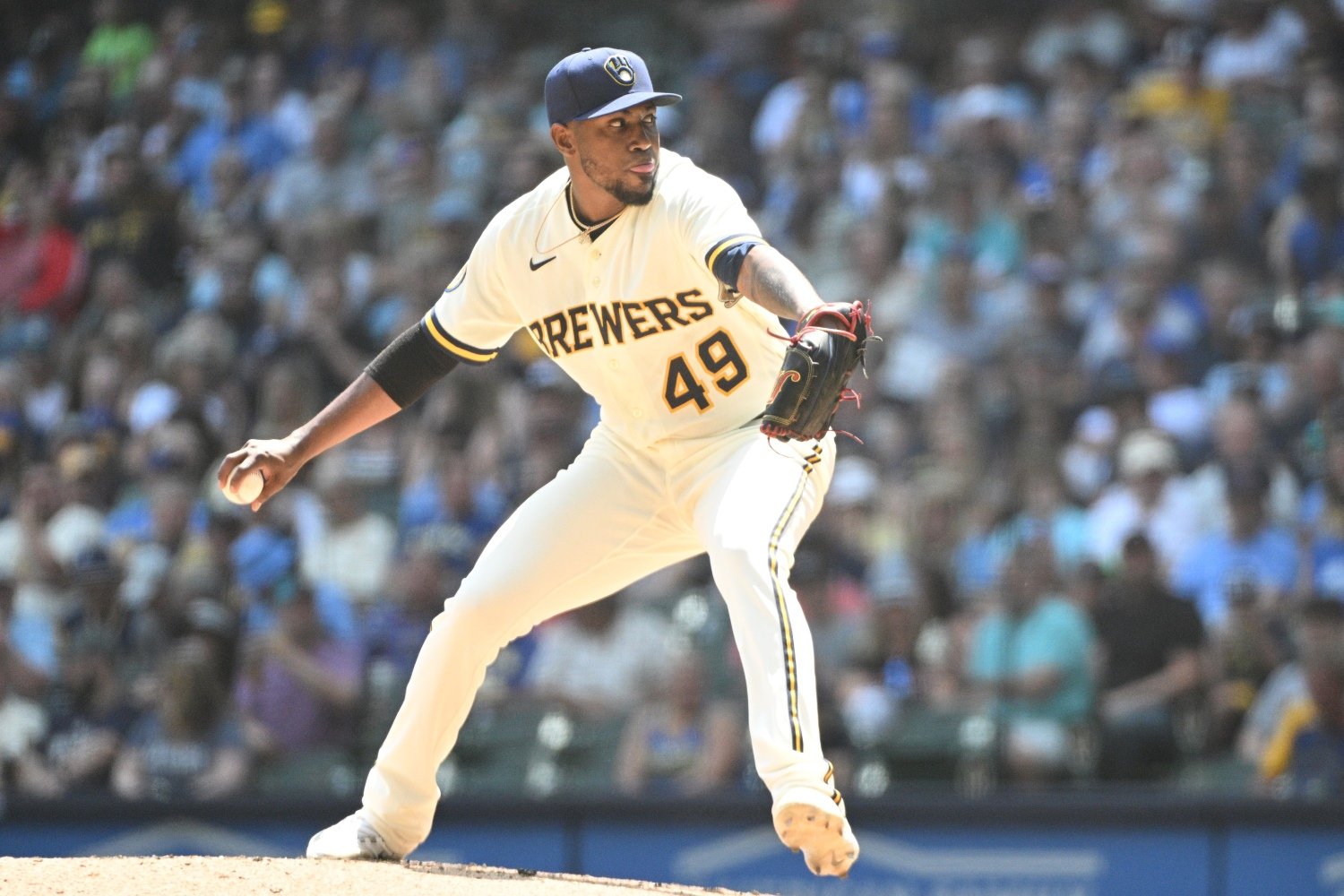 Image courtesy of © Michael McLoone-USA TODAY Sports
Funnily enough, Plan A for Julio Teheran was to be part of another massively expensive team in 2023, albeit in a market that resembles Milwaukee more closely than New York. He signed a minor-league deal with the Padres in February, marking a return to affiliated baseball. He'd spent all of 2022 playing in independent ball, the Mexican League, and the Dominican Winter League, but never signing with any of the 30 MLB organizations.
Teheran had an opt-out in his deal with the Padres, should he not be called up by early May. That time came, and he opted out, but he re-signed with them a couple days later. Another three weeks on, he still hadn't gotten a shot at the big-league rotation, and he opted out again. This time, as we know, the Brewers had a sudden and urgent need for a starter, so Teheran got an unexpected and semi-permanent opportunity.
Just five weeks later, it's hard to imagine the Brewers rotation without Teheran. He could always backslide from here, and whenever Brandon Woodruff is able to return, things will get more crowded. In the meantime, though, Teheran is a mainstay. He's posted a 1.53 ERA through his first six starts, and although neither his sheer stuff nor his peripheral numbers suggest that he's actually metamorphosed into an ace, he's also not purely smoke and mirrors. A lot of things have changed, and Teheran has found the approach and repertoire that could give his career a second act of some length.
Firstly, Teheran has added a cutter to his pitch mix this year. He actually did so during his stint in the San Diego system, but he's certainly sharpened the pitch and figured out the balancing act involved in his new arsenal with the Brewers. He's now throwing five different pitches against lefties, giving them a true kitchen-sink look against which it's hard to get aggressive.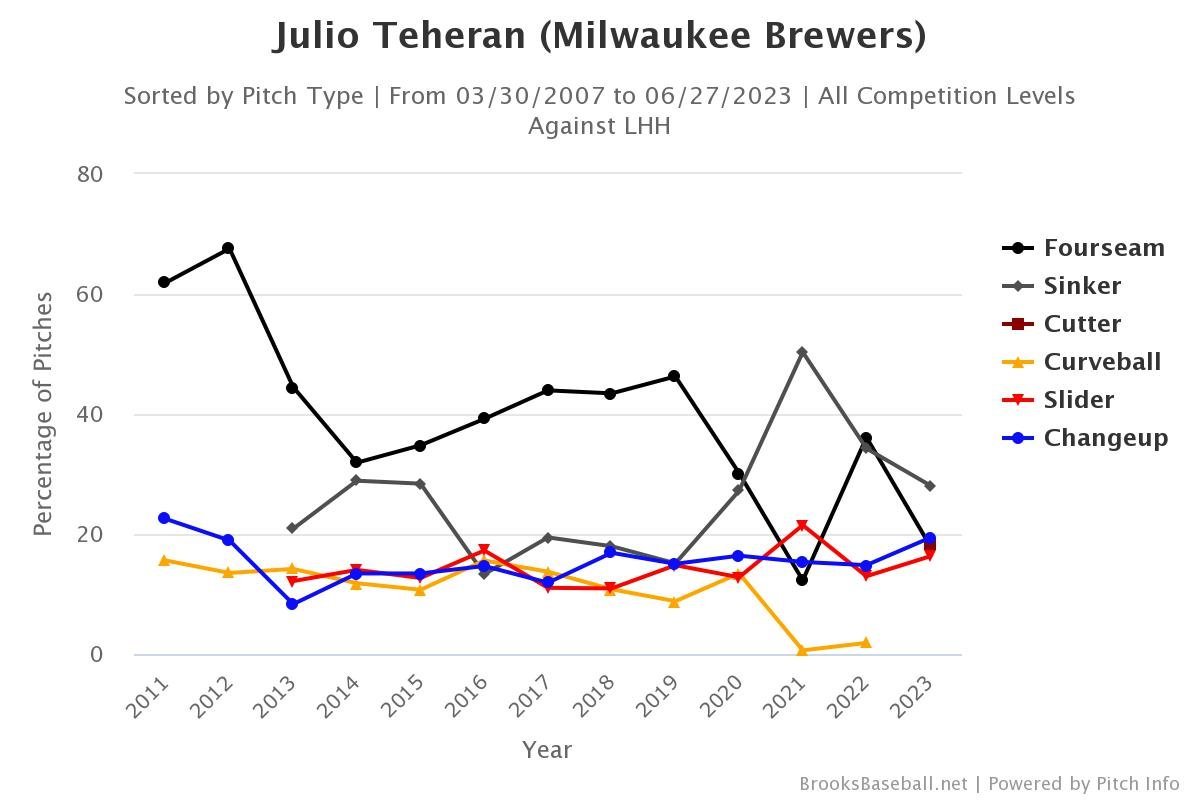 By and large, it's not a good idea to have a sinker leading your attack against opposite-handed batters, Teheran has gotten away with it, though, not only because having four other offerings he throws in even mixture keeps them from sitting on it, but because the pitch has gotten heavier this year. Its vertical movement is greater, which is always a plus against opposite-handed batters, but which especially accentuates its difference from his four-seamer and cutter.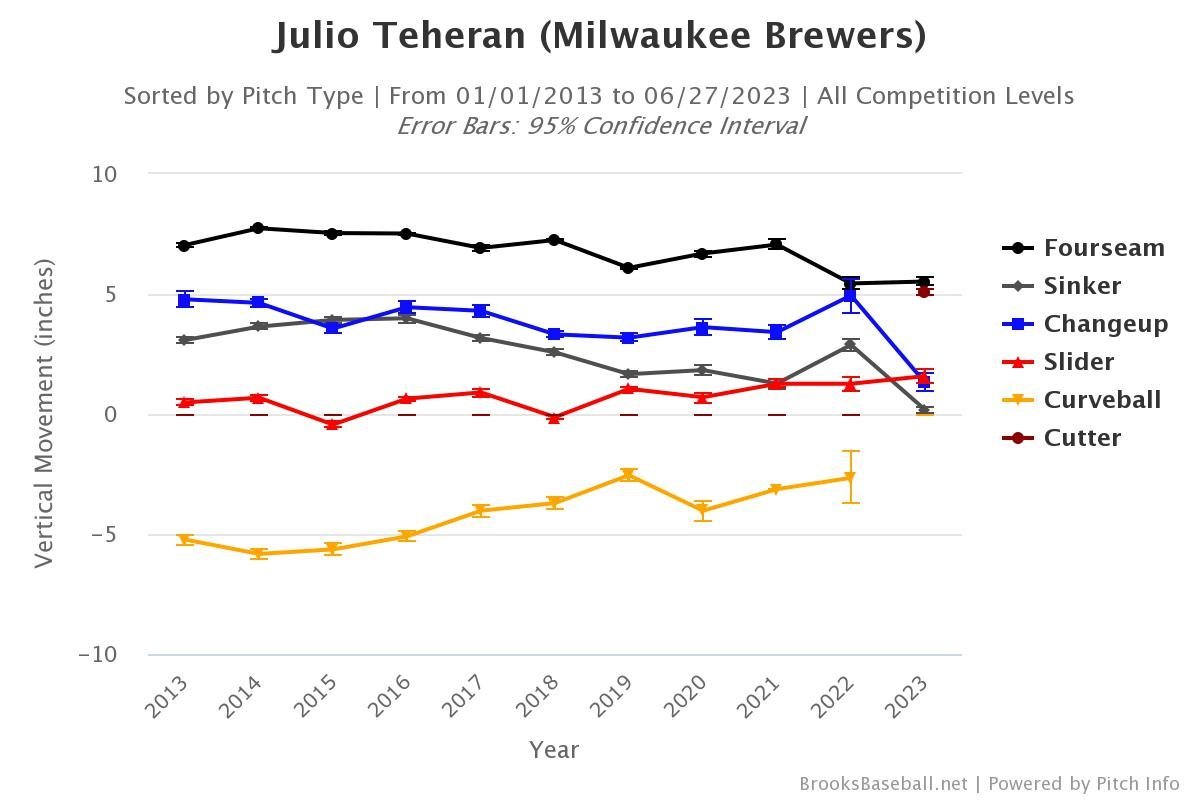 Against righties, he's equally comfortable using the new cutter as a changer of lanes and eye levels relative to the sinker and the four-seamer. For the first time in almost a decade, he's a four-pitch guy against same-handed batters.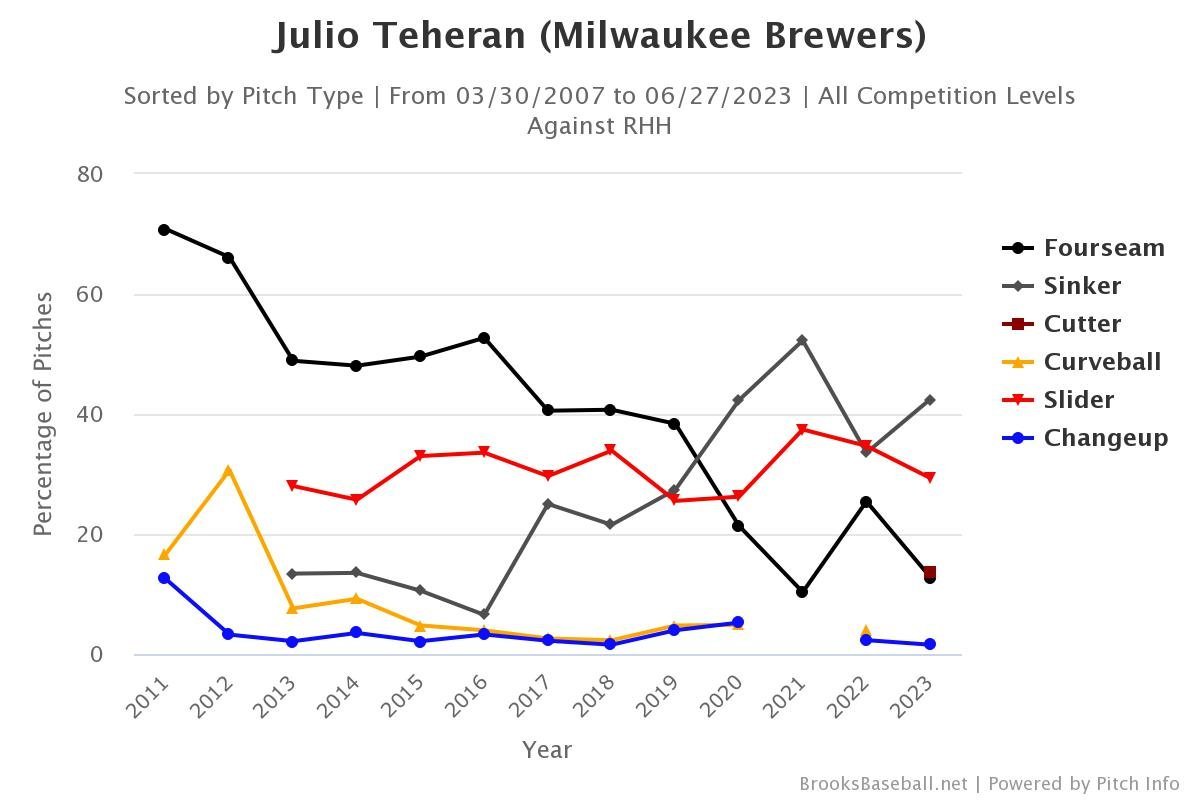 As a result of that increased unpredictability, Teheran is suddenly able to rear back and throw his four-seamer right past righties. Despite the fact that he averages just under 90 miles per hour with the heater, he's missing bats with it (in a tiny sample, we have to admit) at a career-best rate.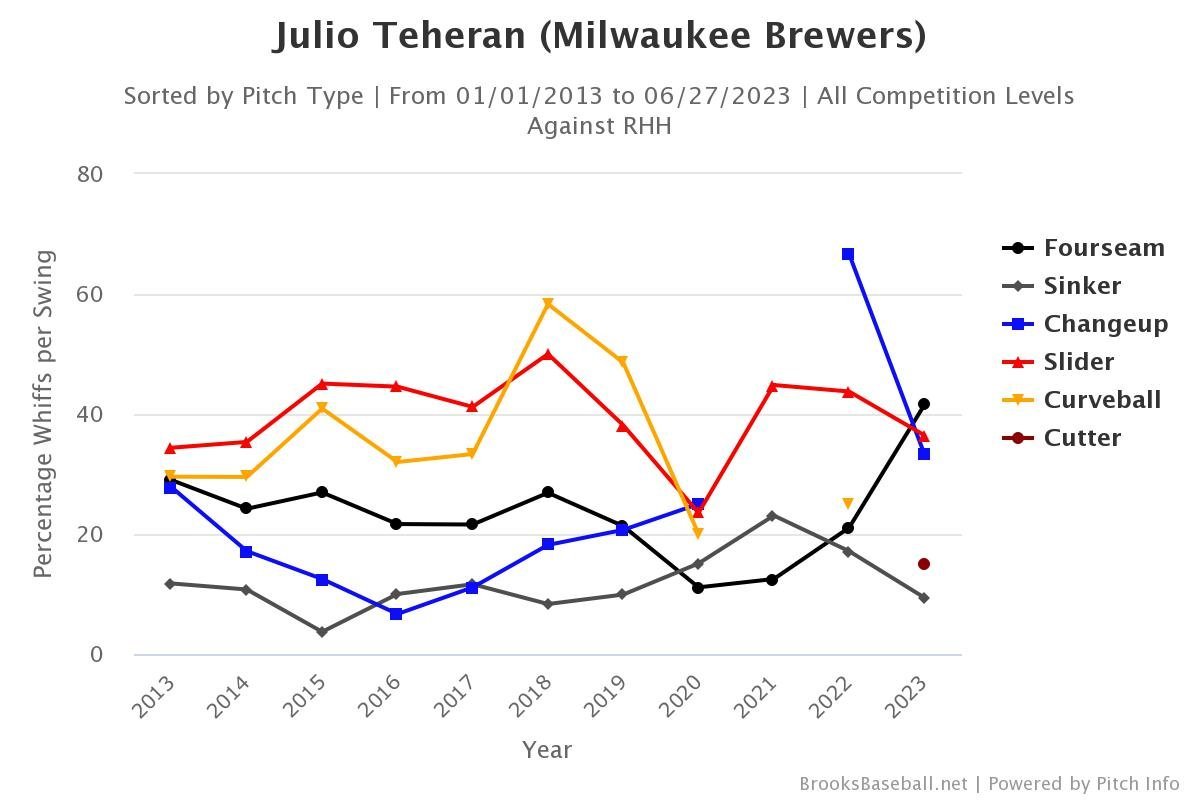 Teheran only has 23 strikeouts in 35 innings this year. He's not going to become a strikeout machine. Still, missing bats is non-optional in today's game. Swings and misses might be too rare to yield many punchouts, but they get the batter one pitch closer thereto--and thus, one pitch more defensive, less powerful, and less effective.
It's unlikely that Teheran can run even a 3.53 ERA the rest of the year, let alone a 1.53. He's already given the team as much as they could have hoped for, though, thanks to a new pitch, some small tweaks to their usage and shape, and the intelligence and poise that come with having been in MLB for a decade.
Think you could write a story like this? Brewer Fanatic wants you to develop your voice, find an audience, and we'll pay you to do it. Just fill out this form.
MORE FROM BREWER FANATIC
— Latest Brewers coverage from our writers
— Recent Brewers discussion in our forums
— Follow Brewer Fanatic via Twitter, Facebook or email