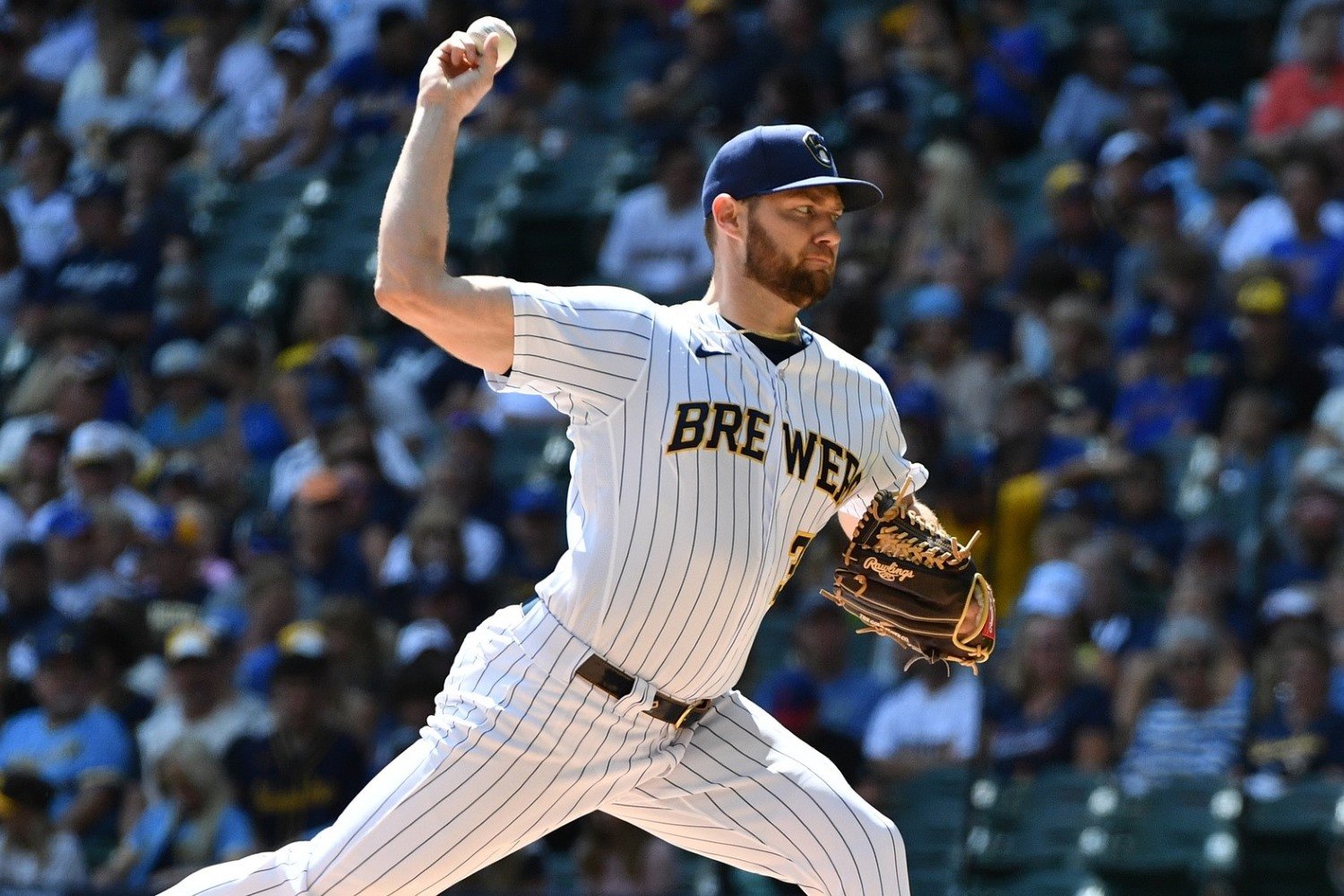 Image courtesy of © Michael McLoone-USA TODAY Sports
With 18 days left in the regular season, the Brewers still have 17 games to play. The MLB season is a grind, and the challenges Milwaukee will face are hardly unique, but they're one week into what will be 23 games in 24 days to finish the year. Adrian Houser's return to the starting rotation is perfectly timed to give a little relief to the whole pitching staff down the stretch, beginning by stretching out that rotation itself.
In electing to withhold Houser until Thursday and give Colin Rea a (slightly disguised) start Wednesday, the team bought a fifth day of rest between starts for Corbin Burnes, Brandon Woodruff, and Freddy Peralta. Burnes and Woodruff had pitch counts near 110 in their dominant outings last turn, and Peralta just pitches better and more often on five days' rest, anyway. In fact, Peralta has had at least five days between starts 13 of the last 15 times he's gone. Burnes has gone on four days just twice in his last 16 starts. Only one of Woodruff's starts since coming off the injured list was on four days, 
After the Crew had such success with a six-man rotation in 2021, it's tempting to see that as an intentional tactic, but it's just as much a product of the vagaries of the schedule. They've enjoyed eight off days since the All-Star break, tied for the most in baseball. The Cubs, Guardians, and Mariners, by contrast, have had just five. The imbalance will begin to resolve itself Thursday, as a few other teams get an off day while the Brewers finish their four-game series with the Marlins, but that's how open their calendar has been for the last two months. As a result, they've rarely needed to use the tight, five-man, five-day rotation.
Since they have a four-game lead with which to work and the depth to do it, we could see Craig Counsell and Chris Hook choose not to change that now. One option for the balance of the season is to stick with a six-man rotation the whole way. That would involve using Wade Miley, Burnes, and Woodruff this weekend against the Nationals, then Peralta, Rea, and Houser to start next week's four-game set in St. Louis, before starting the rotation again. 
It's unlikely they'll want to go all the way to the end of the season using all six. That would line up the big three to pitch the Cubs series at the end of the campaign, but that's far from ideal, because it would force them to use Miley as the Game 1 starter in the eventual Wild Card Series. Instead, they're most likely to want to drop Rea back out of the mix now, converting him to long relief. That would lead, eventually, to Peralta, Houser, and Miley starting the final three games of the regular season, which could make them fractionally more vulnerable to the Cubs winning that series. It's still unlikely the Cubs will catch them, though, and by doing things that way, the team would line up Burnes, Woodruff, and Peralta to start the three Wild Card Series on their customary five days' rest. In the meantime, they'd each make one more start on four days, but that shouldn't be a significant problem.
A rotation this perfectly balanced for a playoff push--deep enough to finish off a division title, but loaded enough at the top to be lethal in a long postseason series--is a tremendous gift. The thin schedule the team enjoyed during the slog of the late summer is another. Now, they should be fresh and in excellent shape for the final fortnight, even if that stretch will be more relentless (in terms of having to be at the park every day) than usual.
Think you could write a story like this? Brewer Fanatic wants you to develop your voice, find an audience, and we'll pay you to do it. Just fill out this form.
MORE FROM BREWER FANATIC
— Latest Brewers coverage from our writers
— Recent Brewers discussion in our forums
— Follow Brewer Fanatic via Twitter, Facebook or email