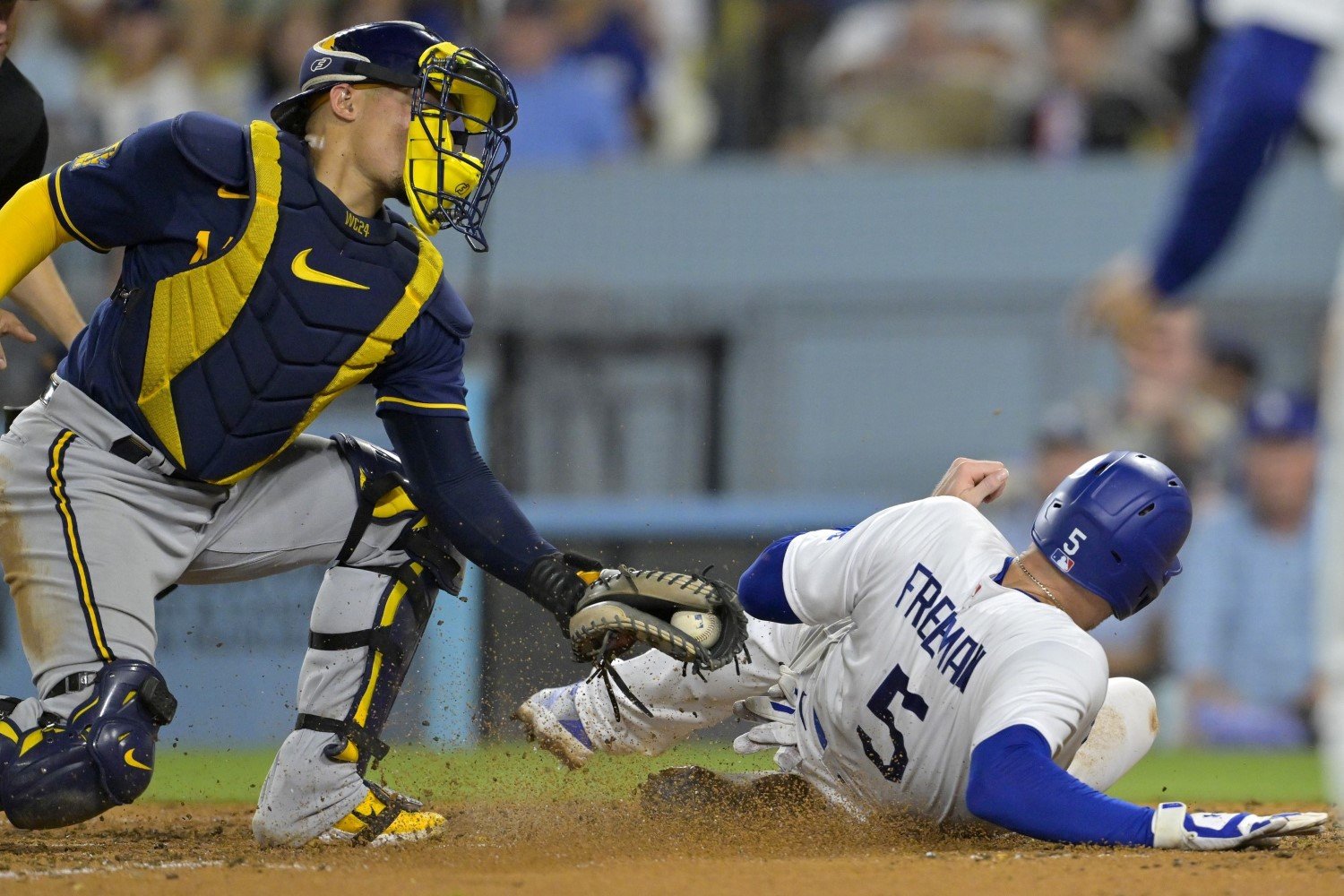 Image courtesy of © Jayne Kamin-Oncea-USA TODAY Sports
Starting Pitcher: Wade Miley - 5.0 IP, 7 H, 3 ER, 2 BB, 2 K, 82 pitches, 54 strikes (65.9%)
Home Runs: Mark Canha (7)
Top 3 WPA: Mark Canha (.073), Andruw Monasterio (.049), William Contreras (.046) 
Bottom 3 WPA: Wade Miley (-.230), Sal Frelick (-.135), Carlos Santana (-.122) 
Win Probability Chart (via FanGraphs)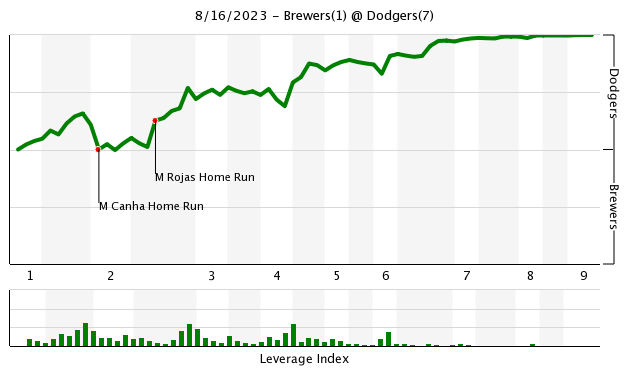 Miley Gets Hit Around, Contreras Keeps Interfering 
In his first start at Dodger Stadium since game 5 of the 2018 NLCS, Wade Miley made it through five innings while taking a little bit of damage on the way. In the first inning, after a walk and a single, a catcher interference call on Contreras loaded the bases with just one out. A groundout by Amed Rosario was enough to put the Dodgers on the board, but Miley was able to get Max Muncy to ground out for the third out.
In the second inning, he gave up a solo home run to Miguel Rojas, and Los Angeles scored again after yet another instance of catcher's interference in a bases-loaded situation brought the score to 3-1. The final run we conceded came by way of a Will Smith sacrifice fly in the fourth. 
Despite taking the loss, Miley's outing was satisfactory, and he continues to be remarkably consistent given his relatively old age and low velocity. He's currently at a 3.05 ERA and a 1.17 WHIP over 82 ⅔ innings pitched this season.
Mark Mashes a Homer But Not Much Else
Like the first game in the series, things started off pretty well for Milwaukee. To lead off the second inning, Mark Canha hammered a home run into left field to tie the game at 1-1. It was his first homer since joining the Brewers, and a pleasant surprise, given his relative lack of power throughout this season.
Also like the first game of the series, there wasn't much else that the Brewers could muster. Totaling just three hits and three walks in nine innings, the offense simply couldn't get started. 
The Return Of Gus Varland
One interesting thing that did happen in this game was the lineup facing off against Gus Varland for two innings. After making the Brewers' Opening Day roster this season, Varland performed well in his first seven appearances, totaling eight innings and posting a cumulative 2.25 ERA. After an outing on May 15 against the St. Louis Cardinals that saw him give up nine earned runs in just two-thirds of an inning, his ERA inflated to 11.42, leading to him being designated for assignment the next day.
After clearing waivers, he returned to the Dodgers organization, where he has spent most of the season in Triple A. This game was his first major-league appearance for them, and he pitched two innings, giving up just one walk and striking out three of his old teammates.
What's Next? 
In the final game of the series, Corbin Burnes will face off against Lance Lynn. The Brewers have struggled to pose a significant threat to the Dodgers throughout this whole series, but they might have a chance against Lynn. He's currently got the second-worst ERA of all qualified pitchers (5.88).
Milwaukee is 2.5 games ahead of the Chicago Cubs and the Cincinnati Reds for the lead in the NL Central.
Postgame Interviews
Bullpen Usage Spreadsheet
| | | | | | | |
| --- | --- | --- | --- | --- | --- | --- |
|   | SAT | SUN | MON | TUE | WED | TOT |
| Milner | 17 | 0 | 0 | 22 | 0 | 39 |
| Chafin | 0 | 15 | 0 | 0 | 22 | 37 |
| Uribe | 0 | 10 | 0 | 0 | 20 | 30 |
| B Wilson | 0 | 0 | 0 | 29 | 0 | 29 |
| Megill | 0 | 0 | 0 | 0 | 17 | 17 |
| Williams | 15 | 0 | 0 | 0 | 0 | 15 |
| Peguero | 4 | 0 | 0 | 0 | 0 | 4 |
| Payamps | 0 | 0 | 0 | 0 | 0 | 0 |
Tweet Highlight