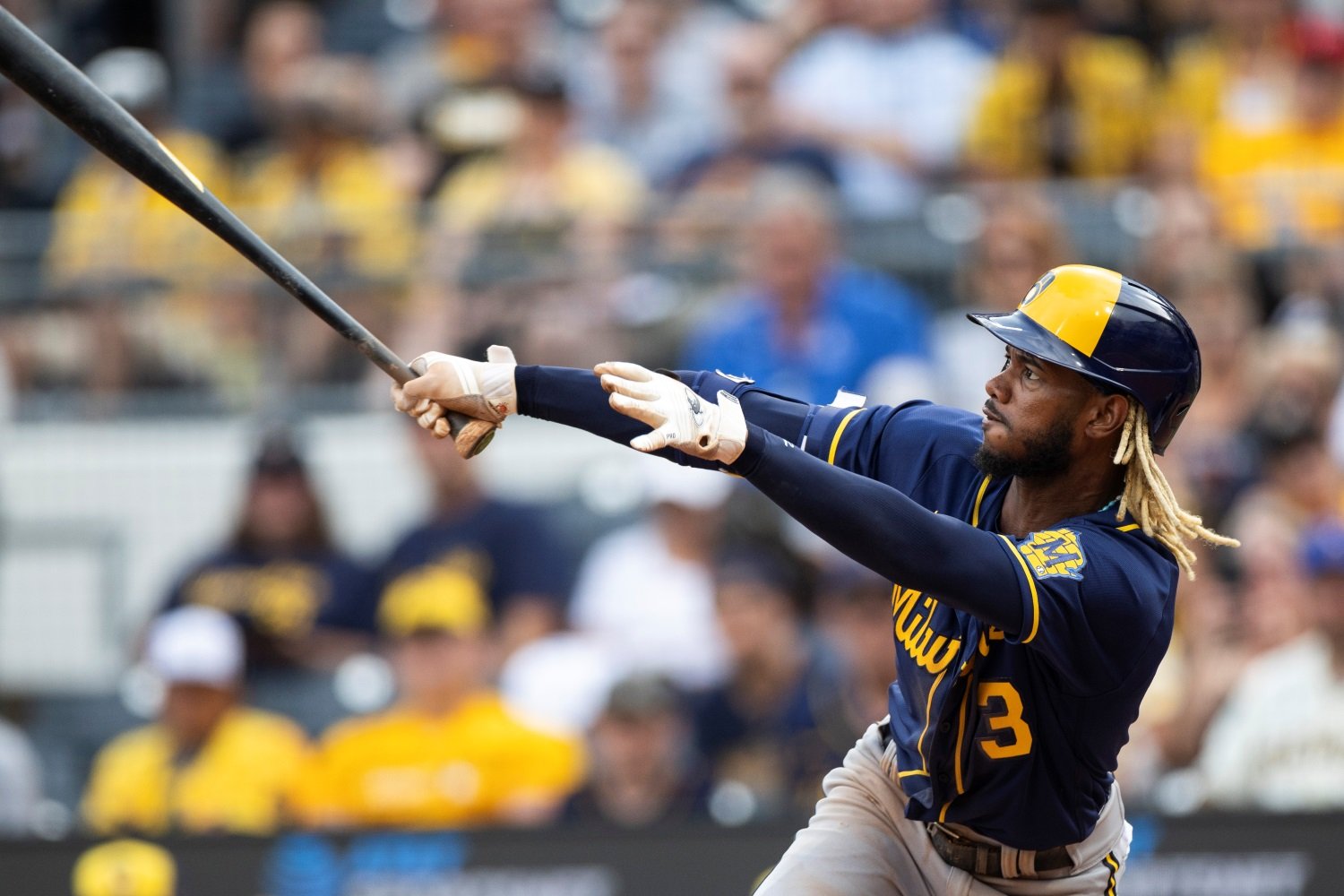 Starting Pitcher: Corbin Burnes - 7.0 IP, 1 H, 2 ER, 2 BB, 7 K, 99 pitches, 65 strikes (65.7%)
Home Runs: Christian Yelich (10), Raimel Tapia (3)
Top 3 WPA: Christian Yelich (.192), Corbin Burnes (.131), Willy Adames (.087) 
Bottom 3 WPA: Victor Caratini (-.032), Bryse Wilson (-.025), Jesse Winker (-.020) 
Win Probability Chart (via FanGraphs)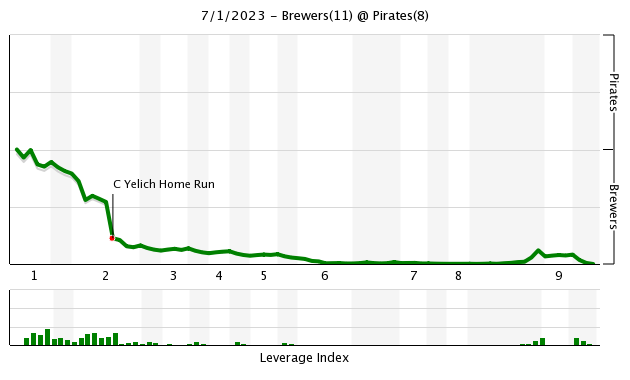 Burnes Burns The Bucs
In a strong bounce-back performance following two disappointing starts against the Guardians and Diamondbacks, Corbin Burnes tossed five perfect innings before starting to come apart in the sixth. After walking Jared Triolo and Ji Hwan Bae, he hit Andrew McCutchen with a pitch to load the bases with two outs.
Jack Suwinski hit a two-run single to end the shutout, but Burnes quickly got a groundout from Carlos Santana to avoid further trouble. He retired his last three Pirates in order in the seventh inning before departing the mound for good, turning back the clock to his former self.
It's clear the stuff is still there, and he hasn't fully regressed as an ace, but I'm sure fans would love to see these types of outings more consistently. His ERA and WHIP stand at 4.00 and 1.13, quite a bit worse than his career averages of 3.34 and 1.06.
Andrews Struggles In Big League Debut
After seven innings of two-run baseball from Burnes, Clayton Andrews was brought in for relief. A recent callup from the Nashville Sounds, he and J.B. Bukauskas will be taking over for Matt Bush and Thomas Pannone, who were both designated for assignment. 
Unfortunately for Andrews, his first major-league appearance was not the most encouraging display of his skillset. Let's see how he managed to give up five runs while recording just two outs.
Ji Hwan Bae grounds out.

Jason Delay hits a double.
Josh Palacios hit a single to score Delay. The score is 11-3 in favor of Milwaukee.

Andrew McCutchen grounds out, moving Palacios to second base.

Jack Suwinski hits a home run, scoring himself and Palacios. The score is 11-5.

Connor Joe walks
Henry Davis hits a single. Joe advances to third.

Bryse Wilson replaces Andrews

Tucupita Marcano hits a triple, scoring Joe and Davis, serving as Andrews's fourth and fifth earned runs.
Andrews has been great in Triple A this season, posting a 1.65 ERA over 32 2/3 innings. After taking some time to adjust to major-league hitting, (hopefully) he'll find his spots a little better and avoid future outings like this. 
Brewers Are Heating Up Like A Microwave Oven
Like I wrote about yesterday, the Brewers chose to do most of their scoring in two innings instead of spreading it across the board more evenly. After a sacrifice fly by Rowdy Tellez in the first inning, the second inning quickly got out of hand for Pittsburgh.
Brian Anderson hit a single and then advanced to third on a Brice Turang single. After a Blake Perkins groundball, Turang was forced out at second while Anderson safely scored Milwaukee's second run of the game and Perkins made it to first base. 
After a Raimel Tapia walk, Christian Yelich hit a crucial home run to right field to bring all three Brewers home, putting the Brewers up 5-0. A Jesse Winker walk and a Willy Adames double became the sixth run, after a Tellez groundout.
But Wait, There's More!
The sixth inning was more of the same, starting off with back-to-back singles and a walk to load the bases with zero outs. Jesse Winker's double cleared the bases, giving the Brewers an incredible nine-run lead. Wanting to express his love for round numbers, Victor Caratini hit an RBI single of his own to set the score at an even 10-0 heading into the bottom of the sixth inning.
Last but not least, Raimel Tapia hit a solo home run to drive in the 11th and final run of the game for Milwaukee.
This outburst of offense was crucial to saving the game, as even Pittsburgh's six-run eighth inning was all in vain, with the Brewers maintaining a three-run lead throughout the duration of the ninth.
What's Next? 
Colin Rea will face current oldest-player-in-the-major-leagues Rich Hill in the deciding game of the series. Both games have been somewhat close, with Pittsburgh refusing to quit in the later innings, but the Brewers have demonstrated excellent resilience and have finally figured out how to put bat to ball.
Milwaukee and Cincinnati are currently tied with records of 44-39, 4.5 games ahead of the Pirates and the Cubs, who are tied for second place in the division.
Postgame Interviews
Bullpen Usage Spreadsheet
| | | | | | | |
| --- | --- | --- | --- | --- | --- | --- |
|   | TUE | WED | THU | FRI | SAT | TOT |
| Payamps | 0 | 17 | 18 | 0 | 13 | 48 |
| B Wilson | 14 | 21 | 0 | 0 | 11 | 46 |
| Williams | 0 | 13 | 26 | 0 | 0 | 39 |
| Andrews | 0 | 0 | 0 | 0 | 30 | 30 |
| Milner | 0 | 5 | 15 | 0 | 0 | 20 |
| Peguero | 0 | 9 | 3 | 0 | 0 | 12 |
| Bukauskas | 0 | 0 | 0 | 0 | 0 | 0 |

Tweet Highlight
Think you could write a story like this? Brewer Fanatic wants you to develop your voice, find an audience, and we'll pay you to do it. Just fill out this form.
MORE FROM BREWER FANATIC
— Latest Brewers coverage from our writers
— Recent Brewers discussion in our forums
— Follow Brewer Fanatic via Twitter, Facebook or email