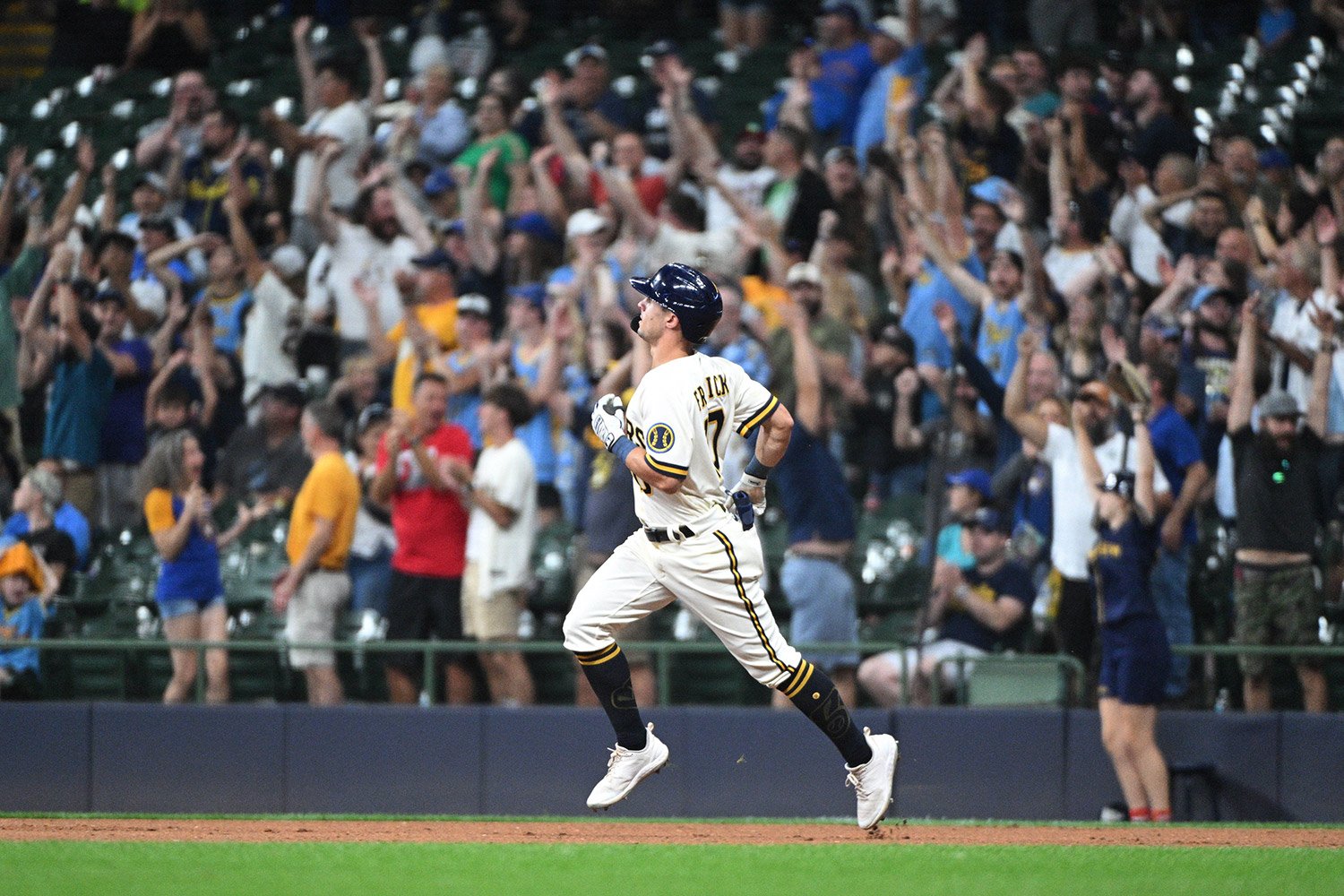 Image courtesy of © Michael McLoone-USA TODAY Sports
Starting Pitcher: Freddy Peralta - 7.0 IP, 1 H, 1 ER, 0 BB, 13 K, 94 pitches, 63 strikes (67.0%)
Home Runs: Brice Turang (6), Tyrone Taylor (4), Sal Frelick (3)
Top 3 WPA: Brice Turang (.280), Freddy Peralta (.186), William Contreras (.091) 
Bottom 3 WPA: Mark Canha (-.080), Andruw Monasterio (-.072), Carlos Santana (-.054) 
Win Probability Chart (via FanGraphs)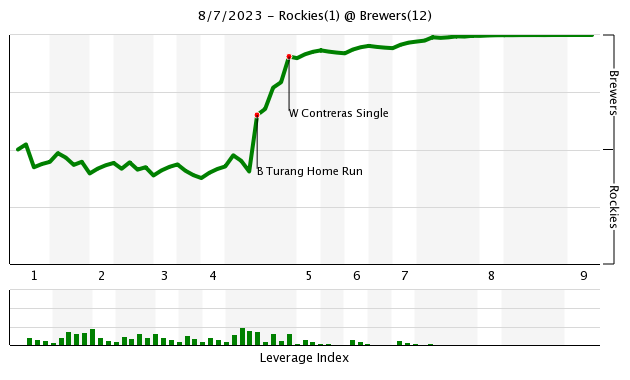 Freddy Really Loves Pitching Against the Rockies, Huh?
It's long been known that Freddy Peralta has exceptional performances against the Rockies.
In his 2018 major league debut, Peralta recorded 13 strikeouts and 19 swings and misses in 5.2 innings while maintaining a no-hitter until the sixth inning. On May 2nd of this year, he struck out ten and got 25 swings and misses. In this game, he struck out 13 batters, gave up no walks, and got an unbelievable 31 swings and misses. 
It's performances like these that show us just how exceptional Peralta's ceiling really is. While he struggles with giving up hard contact from time to time (34th percentile barrel %), his stuff at its best is undeniably on par with some of the best strikeout pitchers in the game.
Brice Gets The Party Started, Contreras and Frelick Keep It Going
After the Rockies took a 1-0 lead from an Ezequiel Tovar solo home run, the Brewers broke out in the fourth inning and never looked back.
Brice Turang hit a 2-RBI home run to right center field to score himself and Sal Frelick in the fourth inning, giving the Brewers a 2-1 lead. It ignited an explosion of Brewers offense with four consecutive hits to follow, one of which was a triple by Brian Anderson. By the time the dust cleared, the Brewers had brought the lead to a comfortable 5-1.
Contreras and Frelick would both have RBI doubles in the seventh, followed by an RBI single by Andruw Monasterio. Finally, just to seal the deal, Tyrone Taylor and Sal Frelick hit home runs in the eighth to score the last few runs of the 12-run outburst.
Bullpen Not Required, But Nice To Have
It's hard to blow an 11-run lead (even if you're the Milwaukee Brewers), especially after seven innings of one-run baseball, so it's not like the bullpen needed to perform any miracles. Nonetheless, Elvis Peguero and Andrew Chafin combined for three strikeouts and no baserunners in their respective innings of relief. The Rockies struck out 16 times, with the sole hit being Tovar's home run in the first inning. And we thought the Brewers' offense was bad!
What's Next? 
Wade Miley and Kyle Freeland will face off in a lefty duel as the Brewers aim to keep up the strong offensive momentum while the Rockies hope to redeem themselves in front of the home crowd. With this win, the Brewers are 1.5 games ahead of the Cincinnati Reds and 2.5 games ahead of the Chicago Cubs in the NL Central standings.
Postgame Interviews
Bullpen Usage Spreadsheet
| | | | | | | |
| --- | --- | --- | --- | --- | --- | --- |
|   | THU | FRI | SAT | SUN | MON | TOT |
| Mejia | 28 | 0 | 0 | 40 | 0 | 68 |
| Chafin | 13 | 0 | 22 | 0 | 11 | 46 |
| B Wilson | 0 | 39 | 0 | 0 | 0 | 39 |
| Uribe | 0 | 17 | 0 | 15 | 0 | 32 |
| Peguero | 0 | 0 | 9 | 0 | 10 | 19 |
| Milner | 0 | 7 | 0 | 8 | 0 | 15 |
| Williams | 0 | 0 | 14 | 0 | 0 | 14 |
| Payamps | 0 | 0 | 12 | 0 | 0 | 12 |
Tweet Highlight