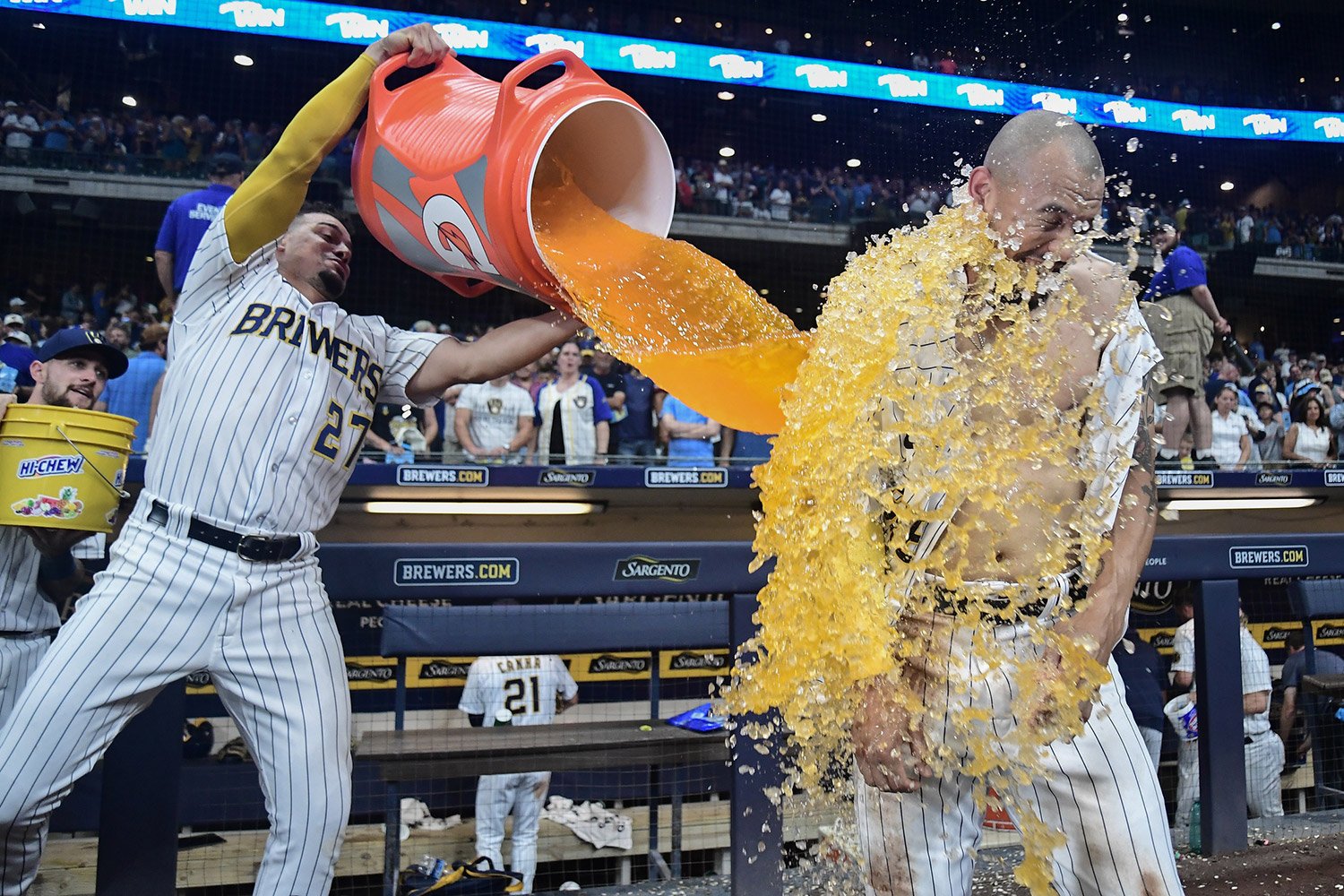 Image courtesy of © Benny Sieu-USA TODAY Sports
Starting Pitcher: Corbin Burnes - 6.0 IP, 2 H, 2 ER, 4 BB, 5 K, 107 pitches, 66 strikes (61.7%)
Home Runs: None
Top 3 WPA: Blake Perkins (.473), Sal Frelick (.246), Devin Williams (.138) 
Bottom 3 WPA: Andruw Monasterio (-.225), William Contreras (-.156), Christian Yelich (-.119) 
Win Probability Chart (via FanGraphs)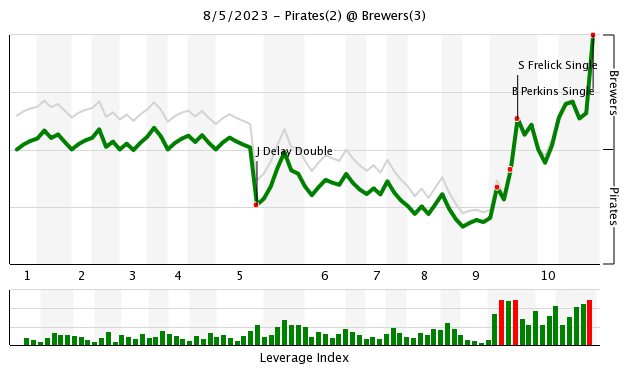 Burnes Struggles With Walks, Gives Up Two Runs
While he did ultimately manage another quality start, the Brewers' ace issued four free passes. He wasn't at his sharpest, but still looked dominant at times.
He recorded the first two outs of the fifth inning before giving up his first hit to Liover Peguero, who then stole second. Another walk by Alika Williams became the second Pittsburgh run, after a two-run double by Jason Delay.
Both hits and the walk were on his cutter, which he had a little bit of trouble placing later in counts. It continues to be his primary weapon, but this season, his curveball and changeup have actually eclipsed it in terms of effective run value.
 
Brewers Hit, But Fail To Score on, Falter
While the Brewers actually performed well from a statistical perspective against starter Bailey Falter, they failed to string enough offense together to score more than a single run. Falter gave up six hits and one walk while striking out only two, but his sole earned run came in the fifth inning, in a lackluster way. After two singles by Victor Caratini and Brice Turang followed by a wild pitch, a weak groundout by Christian Yelich allowed Caratini to score from third base.
Both bullpens were stout for a few frames. The Crew still trailed 2-1 heading into the ninth, but a clutch RBI single by Sal Frelick forced the game into extra innings after a monumental three-inning bullpen effort from Elvis Peguero, Andrew Chafin, and Joel Payamps to keep the Pirates dazed and confused at the plate. 
Blake Perkins Hits His First Career Walkoff
After Devin Williams retired the Pirates in order and stranded the automatic runner, the Brewers had a chance to seal the deal in the bottom of the 10th inning. Pirates reliever Angel Perdomo struck out Brian Anderson and Christian Yelich, but chose to intentionally walk Mark Canha and William Contreras. 
With two outs and the bases loaded, Blake Perkins hit a single into right field to score the final run of the game. 
What's Next? 
Brandon Woodruff will make his long-awaited return to the rotation and face off against Johan Oviedo in the final game of the series. With the Reds' loss, the Brewers extended their division lead to 1.5 games.
Postgame Interviews
Bullpen Usage Spreadsheet
| | | | | | | |
| --- | --- | --- | --- | --- | --- | --- |
|   | TUE | WED | THU | FRI | SAT | TOT |
| B Wilson | 0 | 21 | 0 | 39 | 0 | 60 |
| Williams | 14 | 21 | 0 | 0 | 14 | 49 |
| Uribe | 22 | 0 | 0 | 17 | 0 | 39 |
| Chafin | 0 | 0 | 13 | 0 | 22 | 35 |
| Payamps | 7 | 11 | 0 | 0 | 12 | 30 |
| Mejia | 0 | 0 | 28 | 0 | 0 | 28 |
| Milner | 0 | 11 | 0 | 7 | 0 | 18 |
| Peguero | 0 | 8 | 0 | 0 | 9 | 17 |

Tweet Highlight