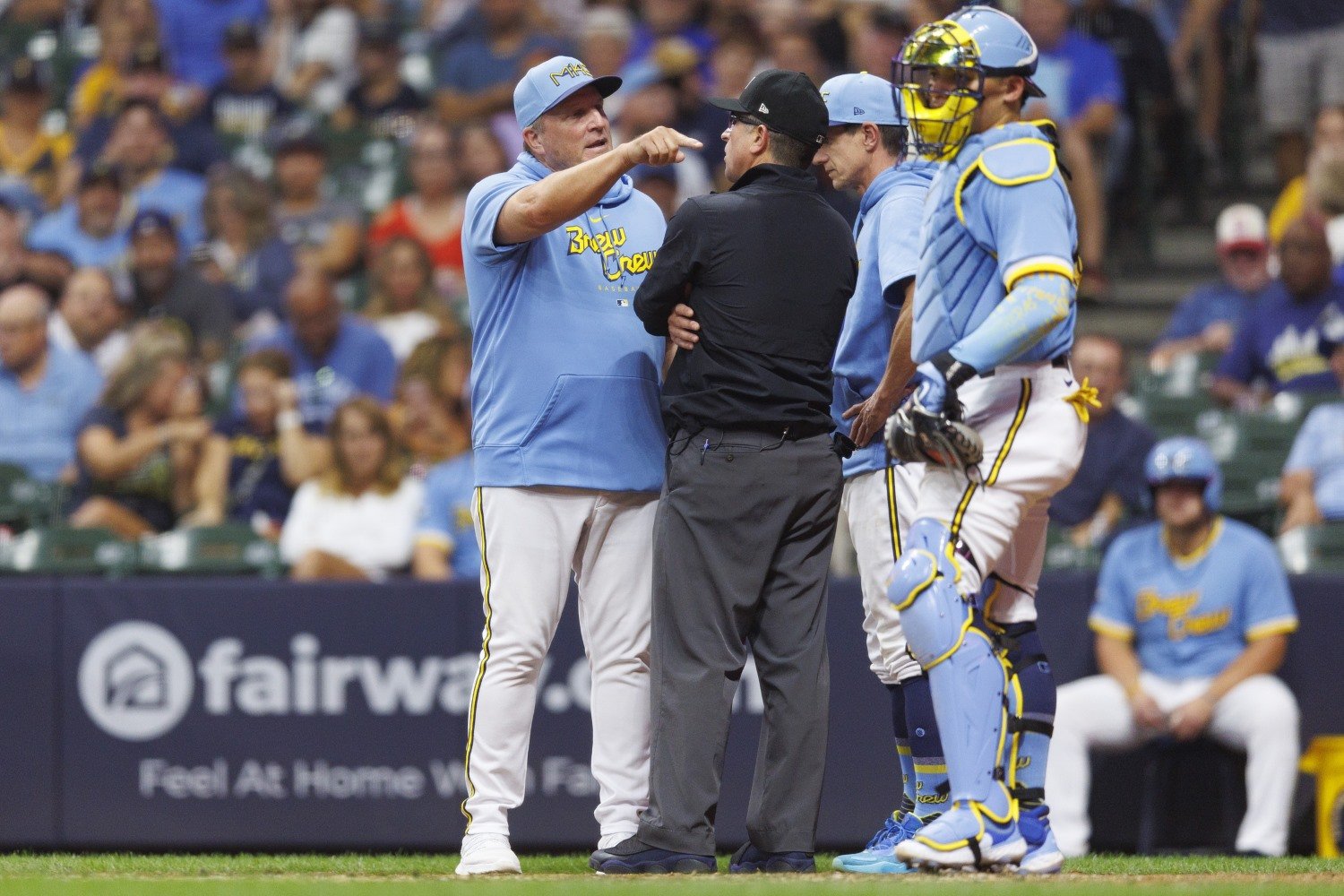 Image courtesy of © Jeff Hanisch-USA TODAY Sports
Starting Pitcher: Colin Rea - 4.0 IP, 8 H, 6 ER, 3 BB, 2 K, 90 pitches, 57 strikes (63.3%)
Home Runs: Carlos Santana (14)
Top 3 WPA: Carlos Santana (.145), Mark Canha (.092), Brice Turang (.069) 
Bottom 3 WPA: Colin Rea (-.413), Joey Wiemer (-.122), Willy Adames (-.095) 
Win Probability Chart (via FanGraphs)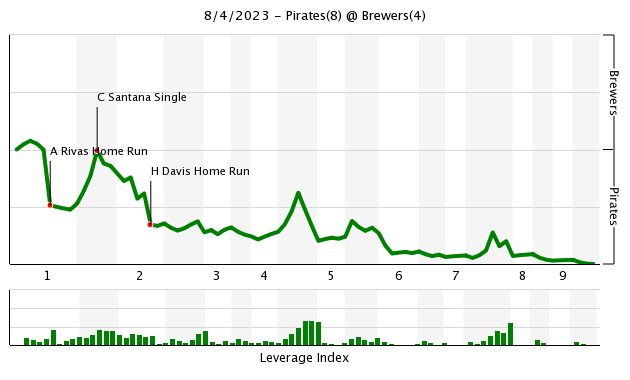 Rea Gets Rocked
It didn't take long for the Pirates to figure out Colin Rea. After recording the first two outs of the first inning, he walked Jack Suwinski, gave up a single to Henry Davis, and then yielded an opposite-field home run to Alfonso Rivas. Rea would concede another single, stolen base, and walk before finally getting Alika Williams to line out and end the inning.
After spending 35 pitches to get through the first inning, Rea's struggles continued in the second, as he gave up a walk to Vinny Capra, a double to Bryan Reynolds, and another home run to Henry Davis, bringing the Pirates' run total to six by the time he had recorded that many outs against them.
While Rea was able to pitch the third and fourth innings without further damage, the Brewers went to the bullpen from the fifth inning forward, after Rea's pitch total hit 90 with a clear dip in quality from his usual stuff.
New Guys Finally Show Up
Both Mark Canha and Carlos Santana finally showed fans what they were capable of, performing well in their own ways. Mark Canha went 3-for-5 with an RBI. His projected value was through his on-base skills, and while he usually achieves that through walks, he did it with just the bat in this game.
Carlos Santana was supposed to add some pop to the lineup, and he did so, slamming a home run to right-center field to lead off the fifth inning. It was his first home run in front of his new fan base, and hopefully the first of many to come this season. He also had an RBI single in the first inning.
Unfortunately, Sal Frelick was the only other Brewer to contribute to the scoring, as the team had eight hits in total but just one extra-base hit other than Santana's home run, a double by Christian Yelich.
Wilson Gives Up a Couple of Bombs
Bryse Wilson was the first man to come out of the bullpen. After cruising through the fifth inning and allowing just one single, things quickly got out of hand in the sixth inning. To start things off, Josh Palacios hit a 386-foot no-doubter to right field. Bryan Reynolds followed things up by hitting another solo home run, a 388-foot rocket to the same spot.
Wilson gave up another triple to Rivas, but ultimately finished his second relief inning without giving up more runs. In the chaos, Milwaukee bench coach Pat Murphy was also ejected for arguing about the strike zone.
Abner Uribe and Hoby Milner pitched the final three innings of the game without conceding any additional baserunners, but were unable to compensate for the run deficit.
What's Next? 
In the third game of the series, the Brewers will start at the top of the rotation again, with Corbin Burnes taking the mound against lefty Bailey Falter. Luckily for the team, the Cubs and Reds both lost their games as well, so the Brewers maintain their narrow but very real division lead.
Postgame Interviews
Bullpen Usage Spreadsheet
| | | | | | | |
| --- | --- | --- | --- | --- | --- | --- |
|   | MON | TUE | WED | THU | FRI | TOT |
| B Wilson | 14 | 0 | 21 | 0 | 39 | 74 |
| Uribe | 0 | 22 | 0 | 0 | 17 | 39 |
| Williams | 0 | 14 | 21 | 0 | 0 | 35 |
| Peguero | 20 | 0 | 8 | 0 | 0 | 28 |
| Mejia | 0 | 0 | 0 | 28 | 0 | 28 |
| Milner | 1 | 0 | 11 | 0 | 7 | 19 |
| Payamps | 0 | 7 | 11 | 0 | 0 | 18 |
| Chafin | 0 | 0 | 0 | 13 | 0 | 13 |
Tweet Highlight