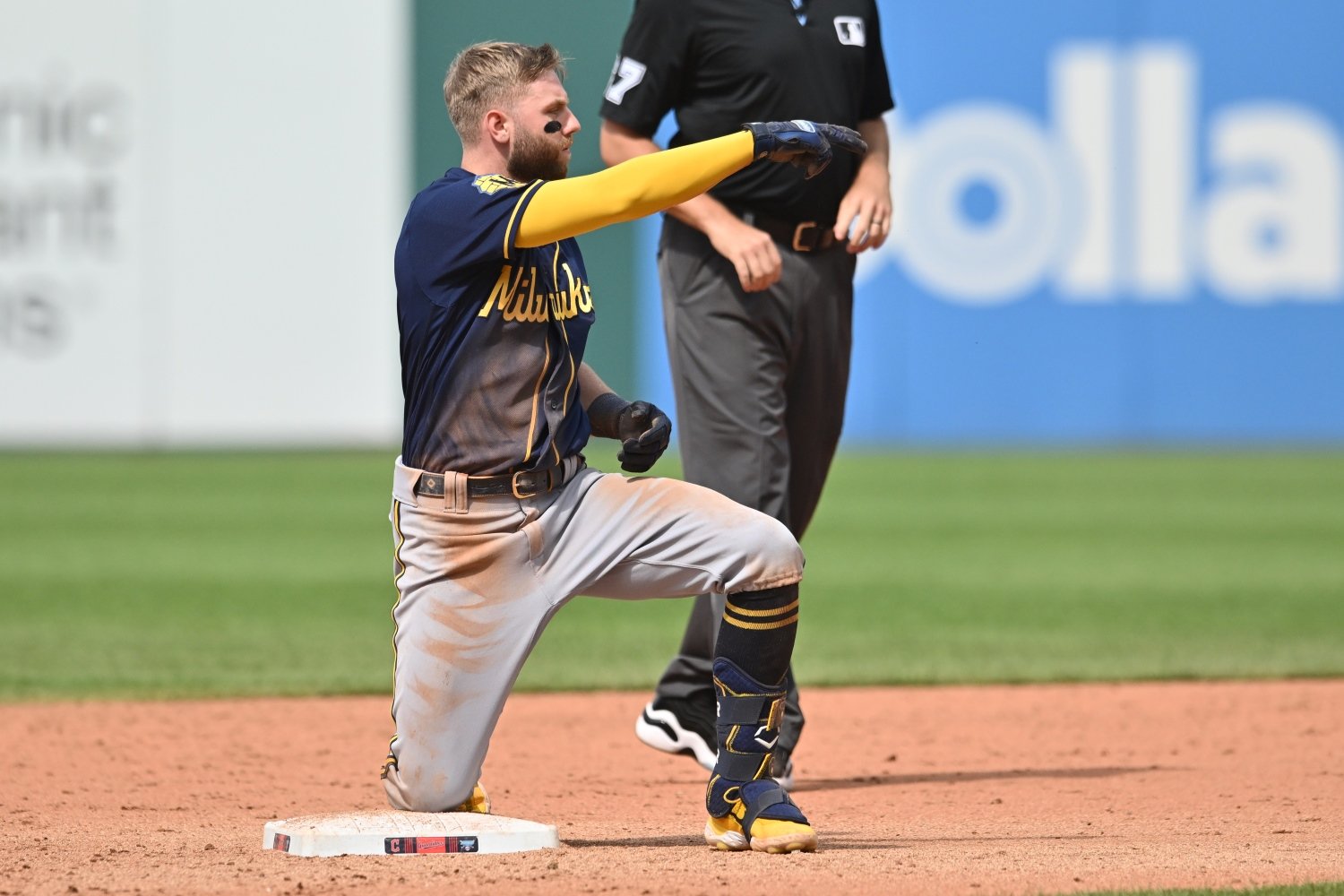 Image courtesy of © Ken Blaze-USA TODAY Sports
Starting Pitcher: Corbin Burnes - 5.2 IP, 8 H, 4 ER, 2 BB, 3 K, 99 pitches, 66 strikes (66.7%)
Home Runs: None
Top 3 WPA: Owen Miller (.314), Christian Yelich (.211), Elvis Peguero (.195) 
Bottom 3 WPA: Corbin Burnes (-.273), Brian Anderson (-.154), Willy Adames (-.136) 
Win Probability Chart (via FanGraphs)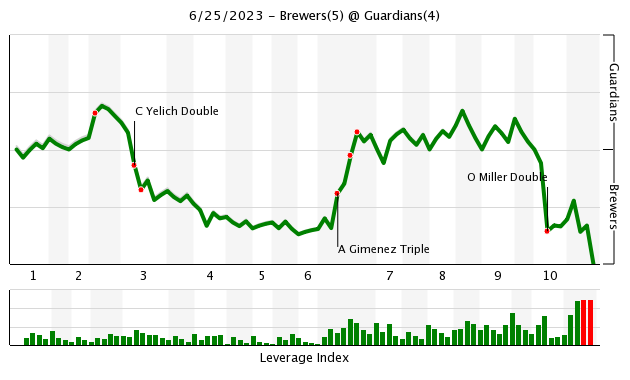 Burnes Burns Out In The Sixth
Corbin Burnes was having a fine outing, giving up just one run in his first five innings of work. In the sixth inning, however, cracks began to show. After a leadoff walk by Jose Ramirez, Andres Gimenez hit a triple to right field, allowing Ramirez to score Cleveland's second run of the game.
Burnes would then walk Tyler Freeman and throw a wild pitch, allowing Gimenez to come home and Freeman to advance to third. Next, he gave up an RBI single to Will Brennan, tying the game at 4-4. After a pop out by Gabriel Arias, he conceded yet another single to Bo Naylor, finally showing enough to prompt Craig Counsell to remove him from the game.
There were some flashes of the old Burnes, but overall, it was not the best outing from the team's ace. His ERA and WHIP for the season stand at 4.10 and 1.19, respectively, over 94 innings pitched.
What A Relief!
Despite a shaky start, the bullpen stepped up in the best way possible. Hoby Milner stepped in to face Steven Kwan and record the final out of the sixth inning, getting him to ground out. Joel Payamps would pitch in the seventh and eighth innings, giving up two hits and zero earned runs, and Devin Williams would pitch in the ninth, allowing no base runners and taking the game into extras.
With the game on the line, Elvis Peguero took the mound in the 10th, striking out two and giving up zero baserunners to close out the game after the Brewers took a 5-4 lead in the top of the frame.
Big Third, Big Tenth
After Cleveland took a 1-0 lead in the second inning, Milwaukee started getting to work in the third inning. After Joey Wiemer hit a leadoff single, Christian Yelich and Owen Miller hit back-to-back singles, giving the Brewers the lead at 2-1. With Miller on second base, Rowdy Tellez hit an RBI single to bring the lead to 3-1.
After the Guardians tied the game in the sixth, Milwaukee surprised everyone by striking first in extras. Miller hit a crucial go-ahead double to score Joey Wiemer who had started on second base. While it was the only hit they got, it was the only one they needed.
What's Next? 
Colin Rea will make the first start in a four-game series against the New York Mets, who will send Justin Verlander to the mound. The Mets have struggled all season, currently posting a record of 35-42 and having even more pitching issues than the Brewers.
With this win, the Brewers stand just 0.5 games behind the Cincinnati Reds for the lead in the NL Central and 3.0 games above the Chicago Cubs.
Postgame Interviews
Bullpen Usage Spreadsheet
| | | | | | | |
| --- | --- | --- | --- | --- | --- | --- |
|   | WED | THU | FRI | SAT | SUN | TOT |
| Strzelecki | 29 | 0 | 20 | 22 | 0 | 71 |
| Peguero | 24 | 0 | 0 | 3 | 19 | 46 |
| Bush | 0 | 0 | 9 | 19 | 0 | 28 |
| Payamps | 0 | 0 | 0 | 0 | 26 | 26 |
| Milner | 3 | 0 | 0 | 14 | 3 | 20 |
| Houser | 0 | 0 | 19 | 0 | 0 | 19 |
| Williams | 0 | 0 | 0 | 0 | 16 | 16 |
| B Wilson | 10 | 0 | 0 | 0 | 0 | 10 |
Tweet Highlight