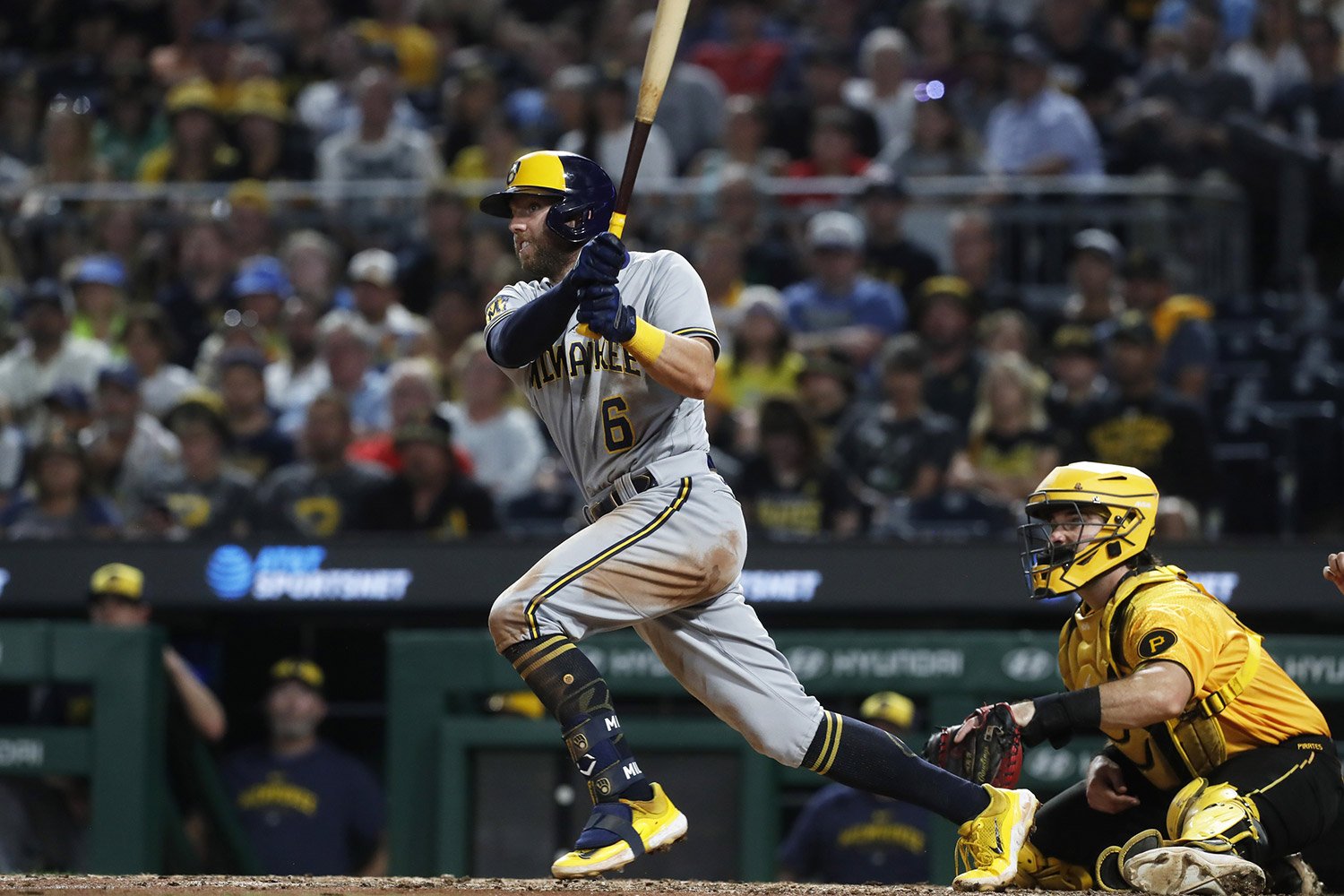 Image courtesy of © Charles LeClaire-USA TODAY Sports
Starting Pitcher: Freddy Peralta - 5.1 IP, 3 H, 3 ER, 2 BB, 8 K, 108 pitches, 64 strikes (59.3%)
Home Runs: None
Top 3 WPA: Christian Yelich (.145), Owen Miller (.083), Raimel Tapia (.065) 
Bottom 3 WPA: Matt Bush (-.909), Blake Perkins (-.079), Brian Anderson (-.061) 
Win Probability Chart (via FanGraphs)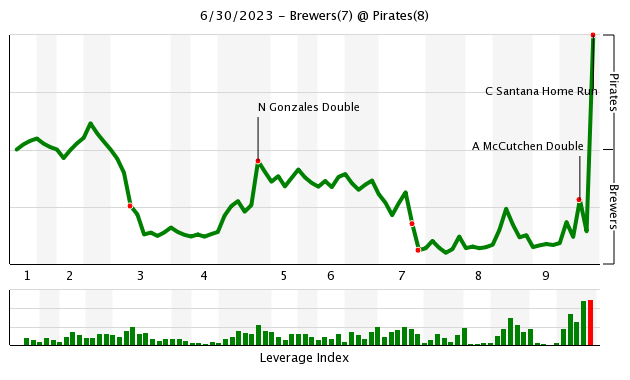 Peralta Pitches Acceptably
It feels like every Freddy Peralta start these days can be described as "meeting expectations." It's never anything extraordinary and the good aspects usually come with some asterisks.
While he struck out eight Pirates and was pumping gas like a Shell employee in New Jersey, he gave up three earned runs and required almost 110 pitches to get through a little over five innings. 
While it'd take its own article to diagnose his current shortcomings, a few key things to highlight can be found on his Baseball Savant page.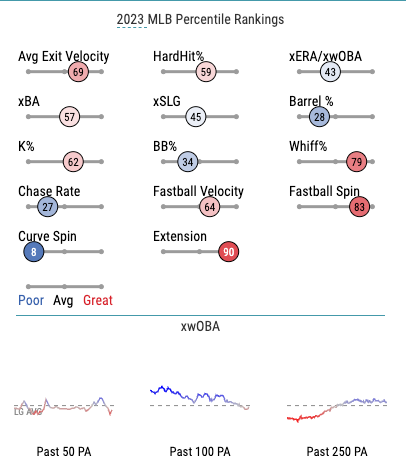 Simply put, he's giving up a lot of hard hits, walks, and not getting guys to chase pitches. He's great in the zone, but hasn't been so great outside of it this season. While his recent 50 PAs have seen his xwOBA trend in the right direction, it's still trying to correct for a steady upward trend over the course of the season. He's currently working with a 4.67 ERA and a 1.30 WHIP over 86.2 innings pitched.
Big Third, Big Seventh
Like Peralta's satisfactory starts, another trend for the Brewers this season has been how concentrated their offense is. Rather than putting up one or two runs across several innings, they typically ride the momentum from good leadoff hitting and score all their runs at once.
The third inning started with a hit by pitch by Joey Wiemer and a single by Raimel Tapia. A double by Christian Yelich (who has been hitting fantastically as of late) scored Wiemer and put Tapia at third. William Contreras would make it to first base after the Pirates failed to make a play at the plate, watching as Tapia slid across home to score the Brewers' second run.
A Rowdy Tellez single would score Yelich and move Contreras to third followed by a sacrifice fly to score Contreras, bringing the score to 4-0 in favor of Milwaukee by the end of the inning.
The seventh inning was a similar story, starting with a fielding error and a hit by pitch to put Christian Yelich and William Contreras on base. After Brian Anderson popped out and Willy Adames struck out, Owen Miller hit an RBI double to score Yelich. Brice Turang hit a double of his own to score Conteras and Miller, giving the Brewers a comfortable 7-3 lead heading into the bottom of the seventh. Surely a winnable game, right?
The Ninth…We Don't Talk About The Ninth
Before the Greek tragedy that was the final inning of this game, Thomas Pannone made his season debut, pitching 2.2 innings and giving up two earned runs while striking out four. While not the most inspiring outing, he posted a 2.70 ERA over 53.1 innings while primarily pitching as a starter in AAA this season, so we've yet to see if he's truly an improvement over Peter Strzelecki.
As we headed into the bottom of the ninth, the score was 7-5 in favor of the Brewers and Milwaukee had a 90.9% chance to seal the deal. In stepped Matt Bush to record the final three outs.
Ji Hwan Bae hit a single followed by a groundout by Josh Palacios. As the tying runner, Andrew McCutchen hit a clutch double to score Bae and bring the score to 7-6. Henry Davis grounded out, and with the tying run in scoring position and two outs on the board, Carlos Santana hit a crushing home run to right field, walking off the Brewers while wearing some of the worst City Connect uniforms the league has ever seen.
Matt Bush currently has a 9.58 ERA and three blown saves. In his current state, he will likely be moved from the team either by being traded designated for assignment.  
What's Next? 
Corbin Burnes will face Johan Oviedo in a chance at redemption. While the Pirates will undoubtedly be riding the momentum of the home crowd following an impressive walk-off victory, the Brewers have shown that their offense has made the necessary adjustments to succeed against Pittsburgh's pitching staff.
The Brewers now trail the Cincinnati Reds by a full game and lead the Pirates by 3.5 games. The Cubs are only 4.0 games behind the Brewers and the Cardinals are still trying to relearn the sport of baseball, lagging behind Milwaukee by 9.0 games. 
Bullpen Usage Spreadsheet
| | | | | | | |
| --- | --- | --- | --- | --- | --- | --- |
|   | MON | TUE | WED | THU | FRI | TOT |
| Pannone | 0 | 0 | 0 | 0 | 59 | 59 |
| Williams | 6 | 0 | 13 | 26 | 0 | 45 |
| Payamps | 0 | 0 | 17 | 18 | 0 | 35 |
| Milner | 15 | 0 | 5 | 15 | 0 | 35 |
| B Wilson | 0 | 14 | 21 | 0 | 0 | 35 |
| Peguero | 6 | 0 | 9 | 3 | 0 | 18 |
| Bush | 0 | 0 | 0 | 0 | 11 | 11 |
Tweet Highlight
Think you could write a story like this? Brewer Fanatic wants you to develop your voice, find an audience, and we'll pay you to do it. Just fill out this form.
MORE FROM BREWER FANATIC
— Latest Brewers coverage from our writers
— Recent Brewers discussion in our forums
— Follow Brewer Fanatic via Twitter, Facebook or email