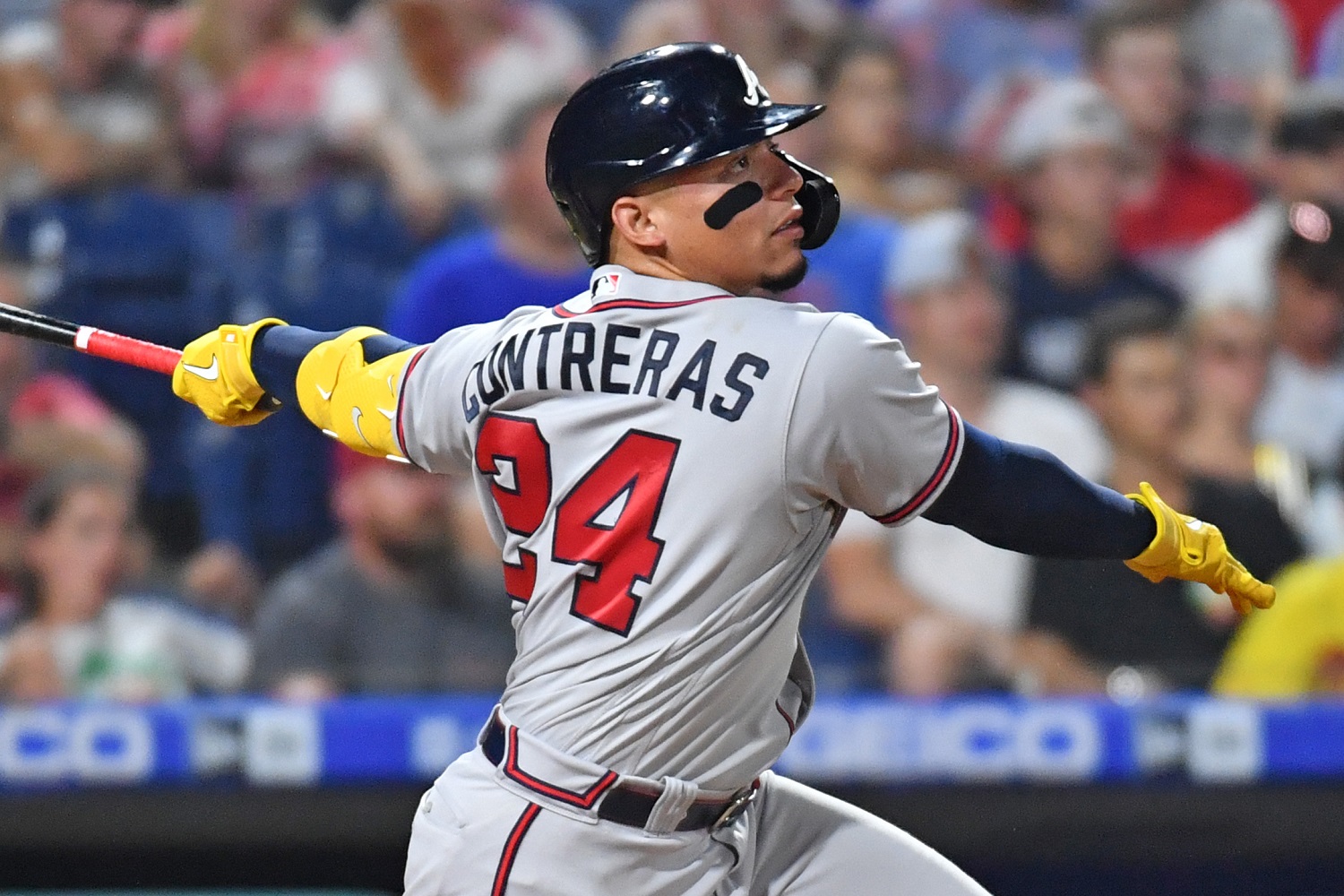 Image courtesy of Eric Hartline-USA TODAY Sports
In a somewhat surprising move, the Atlanta Braves were the team to acquire catcher Sean Murphy from the Oakland A's on Monday. 
The Braves already had a couple of All Star catchers on their roster. Veteran Travis d'Arnaud has been an All Star, and William Contreras was an All Star in 2022, his first full season in the big leagues. A month ago, @Nate Palmer discussed the possibility of the Brewers finding a catcher from Atlanta, and today that has happened. 
Less than a week after his brother, fellow catcher Willson Contreras, signed with the St. Louis Cardinals, the Brewers brought in William. The 24-year-old played in four games for the 2020 Braves. In 2021, he hit .215/.303/.399 (.701) with four doubles and eight homers in 52 games. He broke out in 2022. In 97 games, he hit .278/.354/.506 (.860) with 14 doubles, 20 homers, and his first All Star appearance. 
Now, how much will Contreras actually catch is to be seen. He is not a great defensive backstop, but he's solid. He caught in 60 games for Atlanta in 2022. He threw out just 14% of would-be base stealers. However, in 49 games in 2021, he threw out 37% So, he will be a work-in-progress, but he can also provide a right-handed DH option to the Brewers. 
In addition to Contreras, the Brewers will receive Joel Payamps and Justin Yeager. Right-hander Payamps is 28 years old and has already pitched for the Diamondbacks, Blue Jays, Royals and A's since his big-league debut in 2019. In 2022, he posted a 3.23 ERA over 55 2/3 innings between the Royals and A's. He had just 16 walks and just 41 strikeouts.
Justin Yeager is a right-handed relief pitcher. The 24 year old was the 33rd round pick of Atlanta in 2019. He split 2022 between High-A and AA. Combined, he worked in 52 1/3 innings over 49 games. He had nine saves. In 52 1/3 innings, he walked 32, but he had an impressive 81 strikeouts(13.9 K/9). 
While we will find out that there are more pieces, we know right now that the Brewers are sending Esteury Ruiz to the A's. Ruiz came to the Brewers at the trade deadline from the Padres in the Josh Hader deal. Or maybe not??
Is it really possible that the Brewers acquired a young catcher with great family ties and an All-Star season already under his belt, an MLB reliever, and intriguing minor-league reliever for speedy outfielder Esteury Ruiz?? 
Former Brewers catcher Manny Pina is heading to Oakland in the deal. 
What we know so far: 
Oakland to Atlanta: Sean Murphy
Atlanta to Milwaukee: William Contreras, Justin Yeager 
Atlanta to Oakland: Manny Pina, Royber Salinas,  Freddy Tarnok (24 year old RHP), Kyle Muller (Braves #1 prospect). 
Oakland to Milwaukee: Joel Payamps
Milwaukee to Oakland: Esteury Ruiz 
Think you could write a story like this? Brewer Fanatic wants you to develop your voice, find an audience, and we'll pay you to do it. Just fill out this form.
MORE FROM BREWER FANATIC
— Latest Brewers coverage from our writers
— Recent Brewers discussion in our forums
— Follow Brewer Fanatic via Twitter, Facebook or email