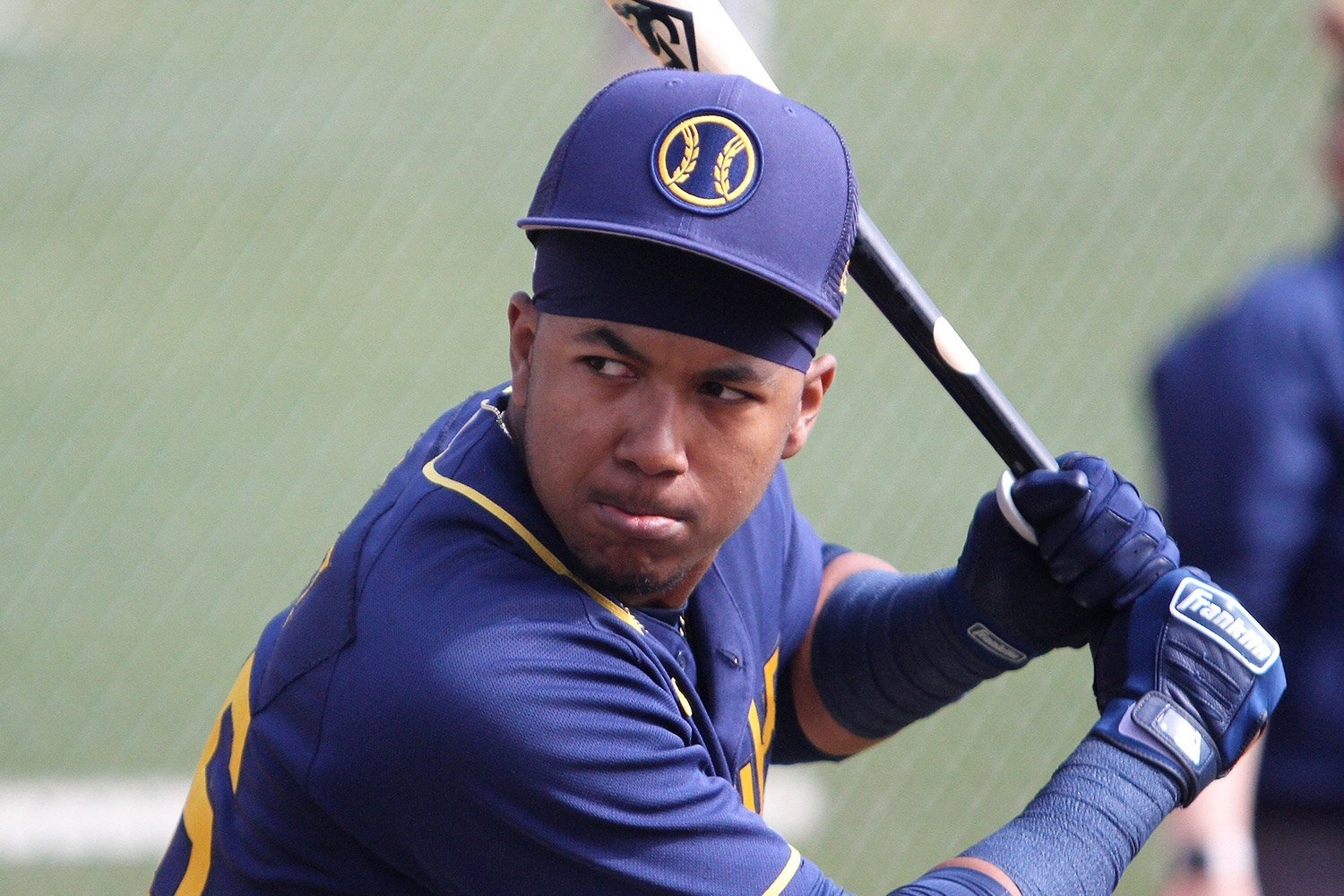 Image courtesy of © Curt Hogg / Milwaukee Journal Sentinel / USA TODAY NETWORK
Game Results
Monday, 10/2 | Mesa 8, Surprise 13
Tuesday, 10/3 | Peoria 9, Surprise 0
Wednesday, 10/4 | Surprise 1, Glendale 7
Thursday, 10/5 | Surprise 5, Salt River 8
Friday, 10/6 | Surprise 9, Scottsdale 6
Saturday, 10/7 | Surprise 7, Glendale 2
After a strong start against the Mesa Solar Sox, the Saguaros lost three games and were outscored 24-6 over that same span. Nonetheless, the Brewers' prospects performed well, with standout performances from position players and pitchers alike.
2B Eric Brown Jr. 
Week: 5-for-18, 2B, 3B, BB, 2 RBI, 5K (4 games)
Eric Brown Jr. split his time evenly between shortstop and second base across four games this week, gradually moving up in the lineup to the leadoff spot. 
He played a role in the Saguaros' first win of the week, netting two RBI and hitting a triple. Throughout the remainder of the week, he accumulated three more hits and a double across the last three games. He's currently slashing .278/.316/.444.
1B Wes Clarke
Week: 6-for-16, 3B, 2 HR, 3 BB, 9 RBI, 6 K (4 games)
Wes Clarke had an exceptional week, posting an OPS of 1.349, the fourth-best across the entire AFL thus far.
His momentum started in the team's first win over the Mesa Solar Sox, accumulating eight total bases and four RBI. In the last game of the week, Clarke had a similar performance, accumulating five total bases and hitting a three-run homer on his way to another four RBI. 
OF Hendry Mendez 
Week: 2-for-11, 2B, BB, 3 K (3 games)
Lefty outfielder Hendry Mendez patrolled both corners of the outfield while hitting two doubles in three games. He received a slightly smaller sample size of at-bats but is working on finding his swing and refining his approach at the plate. 
Mendez is currently slashing .182/.250.364.
RHP Joseph Hernandez 
Week: 2.1 IP, 1 H, 1 R, 4 BB, 2 K
Joseph Hernandez appeared in one game, pitching 2 ⅓ innings in relief in the Saguaros' 7-2 victory over the Glendale Desert Dogs. He gave up just one hit and threw 59 pitches, 31 of which were strikes (52.5%). 
He struggled a bit with control, walking four batters, hitting two, and throwing a wild pitch, but despite the slightly increased traffic, he held Glendale to just one unearned run, allowing him to keep his spotless ERA at 0.00. 
LHP Justin King
Week: 1.1 IP, 1 H, 1 R, 1 BB, 1 K
Justin King earned the final four outs for the Saguaros in the team's third game of the week, taking the mound in the eighth inning. His one earned run came from a double by Rowdey Jordan that scored Corey Rosier, who had stolen his way into scoring position. Despite falling behind early, King was able to retire the next three batters in order.
King threw 22 pitches, 12 of which were strikes (54.5%).
LHP Adam Seminaris 
Week: 4.0 IP, 1 H, 0 R, 0 BB, 7 K
Adam Seminaris had one of the best pitching performances out of all the Saguaros this week. In the week's final game against the Desert Dogs, Seminaris entered the game in the second inning and allowed just one baserunner over four innings while striking out seven. He tossed 52 pitches and 36 strikes (69.2%).
Seminaris had the second-greatest workload this week, trailing only the Blue Jays' Ricky Tiedemann. He's currently tied with Tiedemann for the most strikeouts on the team. 
RHP Shane Smith
Week: 1.1 IP, 1 H, 0 R, 0 BB, 2 K
Shane Smith kept it simple this week, appearing in the ninth inning of the Saguaro's 9-0 loss to the Peoria Javelinas. Despite not being in a save situation, Smith pitched like a top-tier closer, conceding just one hit and striking out two in 1 ⅓ innings of relief. He threw 19 pitches, 15 of which were strikes (78.9%). 
Like teammates Hernandez and Seminaris, he's kept his 0.00 ERA for the week.
RHP Justin Yeager
Week: 1.0 IP, 4 H, 4 R, 0 BB, 0 K, L
Justin Yeager worked through a tough inning against the Glendale Desert Dogs. After four consecutive hits, including a double and a leadoff home run, Yeager got a flyout and two groundouts. Despite the amount of baserunners, he was surprisingly efficient and used just 18 pitches, 14 of which were strikes (77.8%). 
2