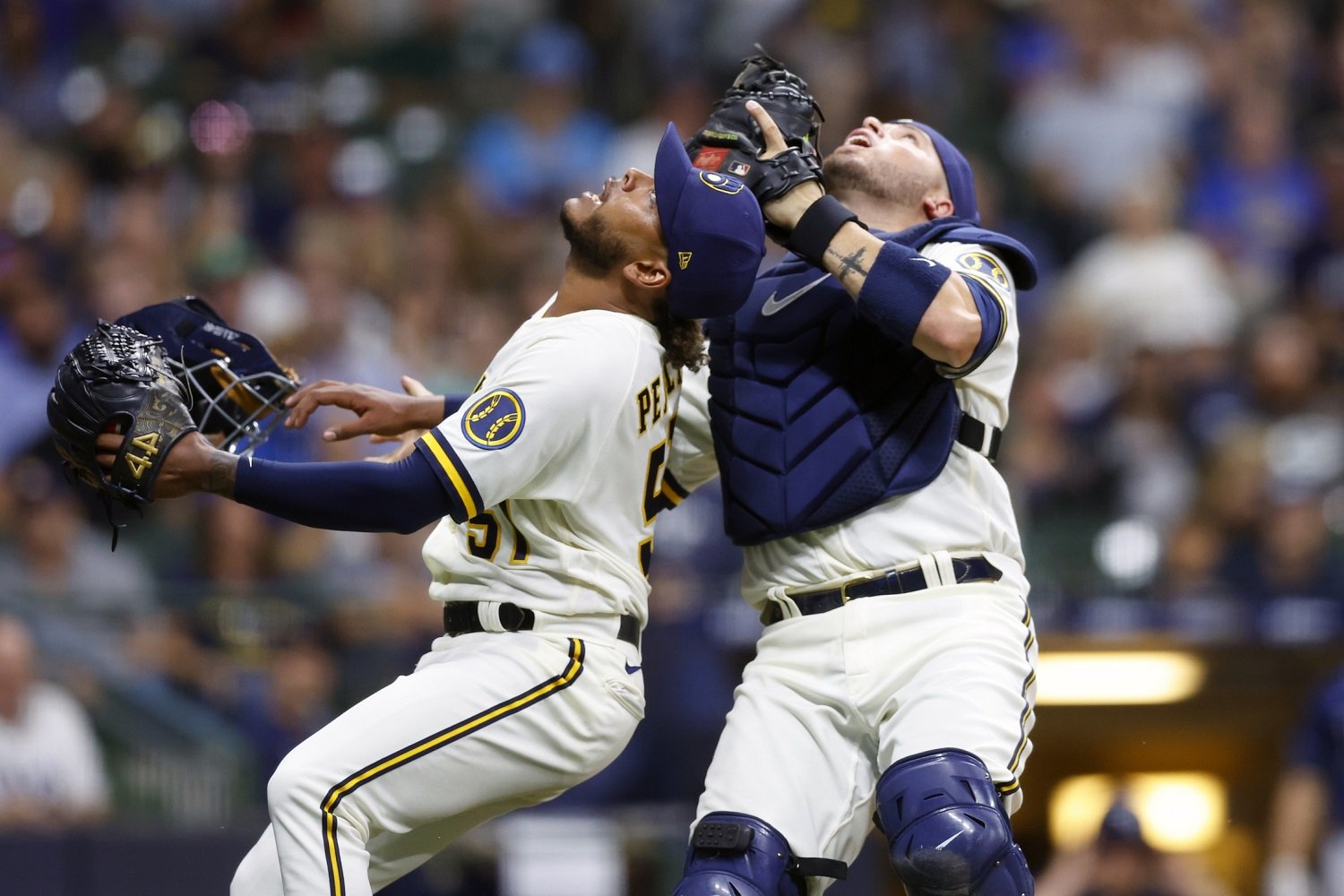 Image courtesy of © Jeff Hanisch-USA TODAY Sports
In a sport where measurables are vital, the immeasurable parts of baseball often go overlooked or undervalued. Some even feel a bit uneasy giving credence to the idea that human thought and emotion can impact professional athletes. We're not talking about a death in the family or other extremes, but regular occurrences players might experience. It's certainly been a factor with the Brewers.
We were all surprised by the trade that sent all-world closer Josh Hader to the San Diego Padres while the Brewers sat in first place in the NL Central. It turns out that the guys in the Milwaukee clubhouse were just as stunned, perhaps due to the failure of management to properly communicate. That's also not to say that it was the wrong move to deal Hader now (his struggles continued in San Diego on Tuesday). Either way, you could hear the authentic disappointment in the voices of Devin Williams and Corbin Burnes.
Here is Devin Williams' reaction to Josh Hader being traded by the Brewers. pic.twitter.com/ziSJaXBzaI

— Adam McCalvy (@AdamMcCalvy) August 2, 2022
Corbin Burnes says he looks at the Josh Hader trade two ways. One, it hurts to lose his best friend on the team. Two, it's business, and neither Burnes nor Hader were particularly shocked. "Even the best reliever in baseball can be traded." pic.twitter.com/EMheoOB1Td

— Adam McCalvy (@AdamMcCalvy) August 3, 2022
Why wouldn't it affect a person to see a best friend traded away and a close bullpen partner no longer around? Those may be the two most impacted - initially - but each player may have felt like the Brewers were "selling" at a time they should be "buying." When David Stearns made no other significant moves, including the failure to pick up a hitter, it may have deflated the hearts and minds of the team. What happened immediately after the trade deadline could be seen as a coincidence, or maybe humans performing at a high level can falter when they aren't entirely focused.
The quick facts:
The Brewers were 7-2 after the All-Star break and before the Hader trade. They were then swept by the Pittsburgh Pirates and lost a series at home to the Cincinnati Reds - two of the three weak teams in the NL Central.

Burnes walked a career-high five Pirates batters in his first start after the trade. Burnes had a 3-0 lead and allowed four runs in the sixth inning against the third-worst offense in baseball for the loss.

The next day, Williams, facing his first batter since the deal, gave up a walk-off home run to the Pirates. That ended Williams' streak of 30 consecutive outings without allowing a run.

In the six games after the deadline, Milwaukee had four errors and allowed five unearned runs. Poor defense, bad decisions, wild pitches, and passed balls were prevalent. In fairness, the Brewers' defense has had issues all season, but lack of focus certainly affects little things in the field.
That's a lot to take in over a short period. It also didn't help that newcomer Matt Bush struggled in a couple of appearances in Pittsburgh and Taylor Rogers gave up a big run Sunday. Rogers came over in the Hader trade, while Bush was acquired to deepen the bullpen. Everything seemingly converging at once felt like something more than simply the ebb and flow of baseball. At the very least, most people would have to acknowledge the big trade had some effect on the team; how much is up for debate. Hopefully this is just a short-term impact on the club.
But that's not the only place the Brewers have seen a difference in a player based on factors other than skill or stats. In this individual case, it's been a positive for Milwaukee for a longer stretch. The move to put Christian Yelich into the leadoff spot changed his season and made him a far more impactful weapon in the lineup this year.
Yelich hitting first: .301/.412/.419/.831 (222 plate appearances)

Yelich hitting third: .214/.312/.339/.651 (221 plate appearances)
I fully believe some hitters are better or worse depending on their spot in the batting order, and most of it is a mental battle.
Realizing I have only coached youth players, high schoolers, and the lower level of college guys, it's something I have always paid attention to with certain players. Some hate batting leadoff because of the first look at a pitcher. Some don't want to bat cleanup because of the perceived pressure and expectation in that spot. Others hit better in the bottom of the order and wilt as they get moved up in the lineup. No, these aren't the best hitters in the world like in MLB, but it still speaks to the human element.
I wrote before the season that the leadoff spot would be perfect for Yelich. He clearly doesn't show the power anymore, and he would be better served to focus on his strengths of working counts, getting on base, and using his fantastic base-running skills. Batting in the three-hole, where expectations are to drive in runs and display power, Yelich looked uncomfortable. Maybe he was pressing to find his MVP form again. Perhaps Yelich felt he couldn't hold down that spot in the order anymore. It could be that he didn't feel like he could take walks hitting third. Whatever it was, his comfort level and production have been leaps and bounds better at the top of the order.
Some will argue that he would have hit his stride anyway, that it just took him time to find his stroke, and that his improvement had nothing to do with where he hit in the lineup. All I can point to is what happened since the move, as opposed to what we've seen the past few years from Yelich. He is human, not just a stat line or measurables based on his swing. It's similar to how people say batting order doesn't matter when it comes to a team's run-scoring. Well, if hitter "A" is better leading off and hitter "B" is more productive at cleanup, that could definitely change the outcomes. The algorithms don't account for those human elements. 
This doesn't only apply to the numbers. You see scouts and coaches fall in love with a player's physique, his "beautiful swing," or perfect mechanics on the mound. Those all can matter, of course, but baseball has repeatedly proven that there is more to the story. The physical specimen who can't judge a fly ball or find the plate while on the mound is useless. A hitter with an excellent cut doesn't help the club if he can't make contact or find his way on base. As was a theme in "Moneyball," there is often too much of an emphasis on how a player looks versus what he produces. Maybe the player with an unorthodox style or "ugly" swing gets the job done better for other reasons. Not a perfect comparison, but Keston Hiura's season somewhat applies. Despite his solid production when given at bats with the Brewers, he has found himself in the minors and on the bench quite a bit. But regardless of his seing that may worry management, he owns a 134 OPS+ with 10 homers in just 151 plate appearances. Results outweighing the "look."
Former Boston Red Sox and Chicago Cubs GM Theo Epstein started touching on this in terms of finding the new market inefficiency, such as how does a player compete, what does he do when he struggles, and how does he adjust to the opposition? Again, almost impossible to measure, but a factor at all levels of baseball. 
That said, it is time for the Brewers to show what heart and mental strength can do for a ballclub. That is part of being a major leaguer. They need to move on from the shock of the Hader trade, find ways to utilize their strengths and compete daily. Whether you eke out a 1-0 win or hang on in a 10-8 slugfest, wins and losses are the only measurables that will matter when the regular season ends.
Think you could write a story like this? Brewer Fanatic wants you to develop your voice, find an audience, and we'll pay you to do it. Just fill out this form.
MORE FROM BREWER FANATIC
— Latest Brewers coverage from our writers
— Recent Brewers discussion in our forums
— Follow Brewer Fanatic via Twitter, Facebook or email
1