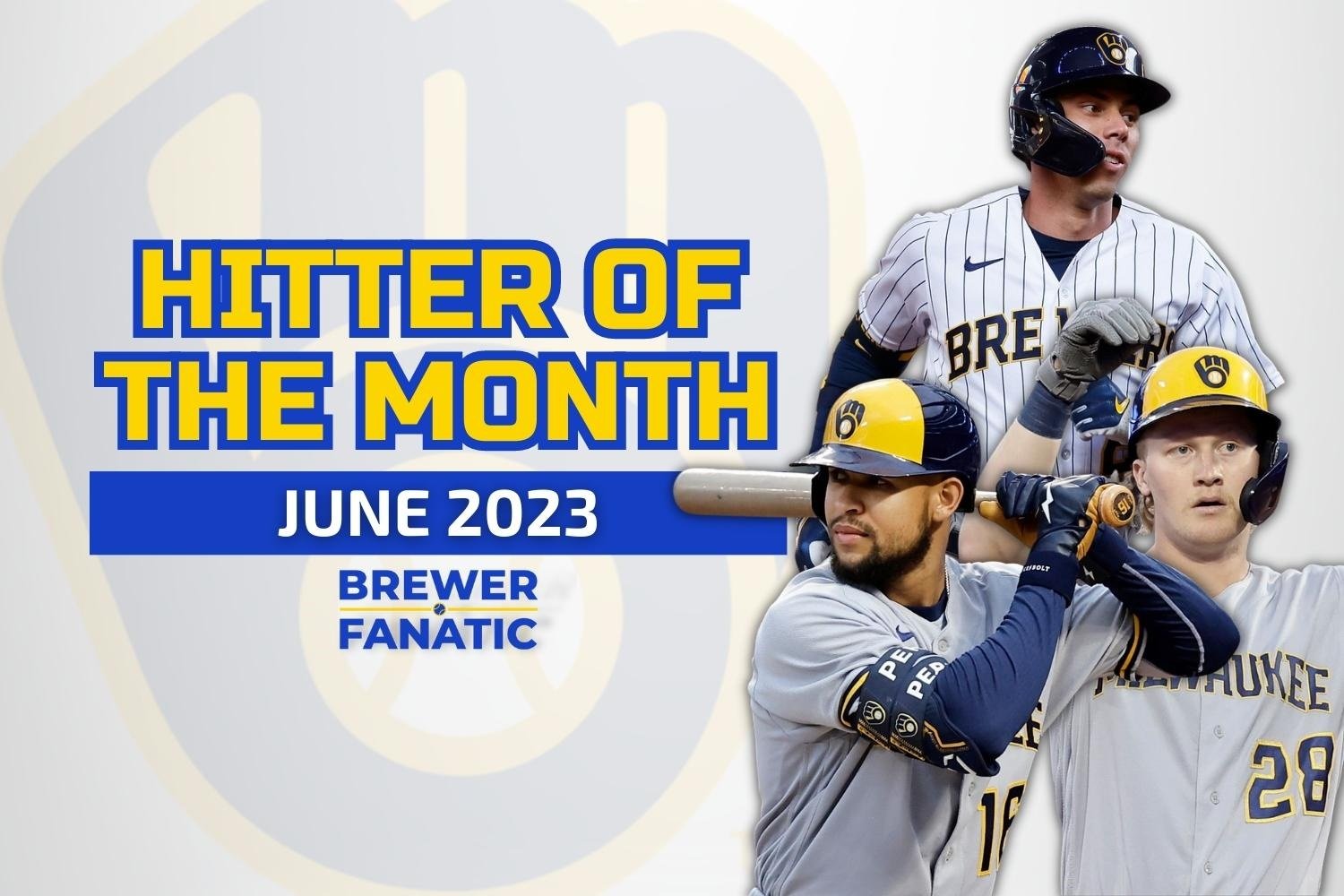 Somehow, despite a five-game losing streak to the Twins and the A's, the Brewers have made June a winning month of baseball through some timely hitting from a few individuals on the hitting side, dragging the rest of a struggling offense kicking and screaming into the month of July. I'm sure it'll be no surprise, but this month's hitting award goes to... 
Well, we're not just going to tell you right away. We're going to do a bit of a countdown starting at #3. 
#3: OF Blake Perkins
Understandably, some eyebrows were raised when Blake Perkins got a 40-man roster spot in the offseason, and a major-league contract. However, our minor-league experts here at Brewer Fanatic lauded his smooth swing and smooth actions in the outfield. He made his big-league debut and played 10 games for the Brewers in April.
Since he came back up to the Brewers on June 3rd, he has hit a strong .288/.351/.423 (.774). He has had high-quality at-bats with a double and two home runs and a propensity to get on base for the likes of Joey Wiemer and Christian Yelich. Unlike these two though, most of his damage comes against breaking pitches with a .317 xBA against the changeup and .290 xBA against the curveball. It's a small enough sample size, and he'll need harder contact to continue his stay in the big leagues, but he's been more than what the Brewers could have hoped so far.
#2: OF Joey Wiemer
Wiemer has reinvented himself to care a little less about strikeouts. Now he is just looking to find a pitch and do damage. That's exactly what he did in June, striking out just barely over 30% of the time, but with an ISO of .279, he mashed the ball for a .233/.337/.512 slash line and an .849 OPS. He hit six doubles, six home runs, and 16 RBI across the month. A lot of this is due to getting the ball in the air more, with a GO/AO of 0.79, and when he connects, the ball goes a long way. His center field defense has been outstanding to boot, and as he adjusts his approach and fine tunes at the plate, he's only going to get better.
Hitter of the Month – OF Christian Yelich
Yelich was in sublime form for the Brewers in June. In 27 games, he hit .311/.408/.485 (.893). He used his speed to great effect in stretching out 10 doubles, a triple and mashing a couple of home runs. He's been about as effective a leadoff hitter as you can get, and it's not just due to good BABIP fortune or the shift being removed (though this undoubtedly helps his profile).
His expected batting average is in the 91st percentile, compared to the 68th percentile last season, and a lot of this is due to an improvement in the number of extreme low launch angles (say less than -10 degrees). Due to the power with which he hits the ball, any uptick in launch angle will make a huge difference, and he's currently hovering around a five-degree angle on the season, up about 1.5 degrees over last year. This may not sound like much, but it's allowed the power to play a bit more, with increased line drives, and a propensity to go to the opposite field and swing slightly later on the fastball.
Two of his swing metrics in particular seem to follow his success at the plate:
Notice in 2018/19, Yelich was extremely successful at making contact when chasing, even while trying to do damage. And even more importantly, his percentage of first-pitch swings went up drastically. When he feels comfortable with his body at the plate, he's more aggressive and it pays off in the form of a higher batting average and more hits, something we're really seeing so far this season.
One thing that did frustrate fans last season was how often he took pitches over the heart of the plate. Not anymore. He swung at just 73.6% of meatballs last season. He's having a go at 86.3% this year, a career high, and something that's certainly helping him at the plate.
While he has many detractors, this version of Yelich is a joy to watch, and maintaining it through the second half, or even improving further with his launch angles, can keep this team in the playoff hunt.
So what do you think of our top three Brewers hitters in June? Do you agree with the choices? Is anyone missing? Leave a comments in the Forum below.