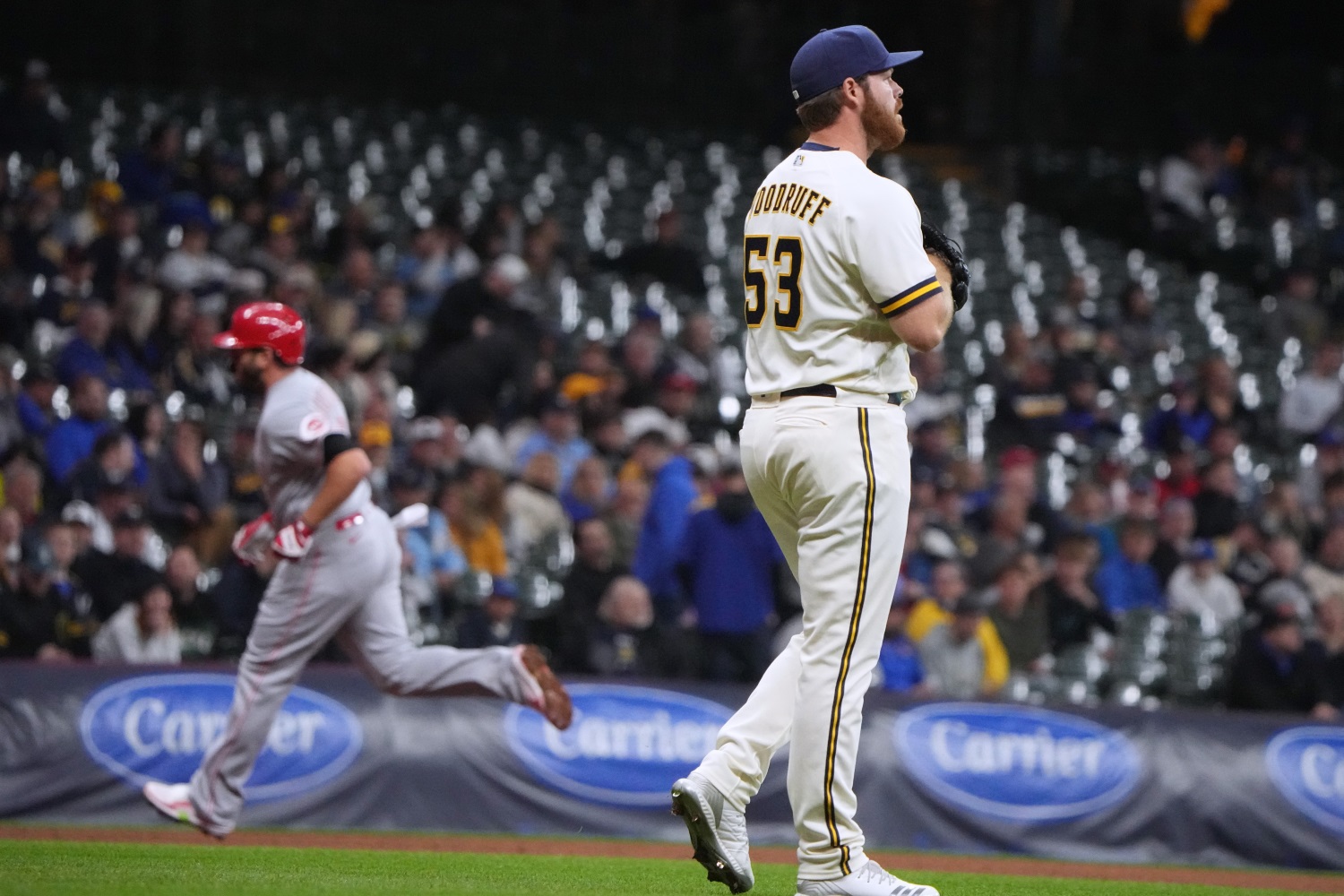 Image courtesy of © Milwaukee Journal Sentinel-USA TODAY NETWORK
Home runs were down significantly across MLB in 2022, compared to 2021. Unfortunately, the Brewers' starting pitchers took a sharp turn in the opposite direction. The bullpen only minimally improved in two key statistics: Home runs allowed per nine innings (HR/9) and the percentage of fly balls allowed that left the park (HR/FB).





Going from the fifth-best staff in limiting home runs to the sixth-worst group is an enormous dive in the rankings. That happens when the league's HR/9 drops 0.17 points, but your hurlers see their HR/9 rise by 0.13 overall. The HR/FB percentage and subsequent Brewers' statistical ranking is extremely telling of the home run environment. Though Milwaukee's HR/FB ticked up just one-tenth of a percentage point, they went from the middle of the pack to third-worst in that category. Is there a rhyme or reason to the Brewers' relatively steep increase in homers allowed, or is it a fluke?
The first thing that jumps out is seeing where the most significant problems arose. Let's narrow our focus to the Brewers relievers' stats over the last two seasons.





As you can see, the bullpen arms improved statistically in HR/9 and HR/FB from 2021 to 2022. While the numbers paint a slightly rosier picture, the group still ranked second-worst in those two vital categories. Still, the relievers' year-to-year change wouldn't account for the ugly overall change in 2022. Take a look at the starters.





And there you have the frightening turn of events with the home run ball among the starting pitchers. Their HR/9 worsened by 0.31, dropping them from the second-best rotation in baseball to average. Somehow, their HR/FB percentage rose substantially, despite a clearly deadened baseball in 2022. That 1.6-percentage point increase took the starters from number one to the fifth-worst group. When your starters give up home runs more frequently, they put the team in a hole regularly. It also tends to mean starters fail to shut down lineups when the club needs a "stopper" during a rough stretch.
So where did things go wrong? It was a widespread problem for the starters.
The issues last season were a combination of circumstances, career trends, and unlucky flukes. That doesn't necessarily give a clear picture of what the starters' performances will look like in 2023, but there are some basic thoughts to focus on.
Burnes: Last year looks like a fluke. He was due to give up a decent amount of homers after barely allowing any the previous two seasons.
Woodruff: Dealt with an injury early on after a career high in innings in 2021. A combination of fatigue and learning to pitch with Raynaud's Disease may have been factors.
Lauer: His numbers indicate home runs will likely continue being a problem. He'll need to limit runners or make adjustments to cut down the dingers (such as not throwing so many meatballs)
Peralta: The health of his shoulder will be the number one factor. Even if his HR/9 increases in 2023, it helps the Brewers if Peralta throws 130+ innings as a starter.
Ashby: Unfortunately, he will miss time in the first half of the season. This might make it more likely he pitches primarily in relief in 2023.
Alexander: The Brewers added a lot of depth with their pitching. This should limit Alexander from taking the mound as a starter - if at all.
Wade Miley: The veteran has a career 0.98 HR/9 rate. He only threw 37 innings with the Chicago Cubs last season but had a 0.94 HR/9 in 163 innings in 2021.
Adrian Houser: He might make some starts again this season. Home runs have never been his issue (career 0.88 HR/9), but general ineffectiveness is the concern.
Overall, the Brewers should see a sizable decline in home runs allowed this season, at least among the starters. There are still concerns in the bullpen, but 2021 showed that if the starting staff keeps the ball in the yard, the relievers' dinger problem is less impactful. 
Some of the worst culprits out of the pen last season are gone or should see less time on the bump: Taylor Rogers, Trevor Kelley, Miguel Sanchez, Trevor Gott, and Josh Hader (just saying).
Meanwhile, returning relievers who did a good job limiting the long ball last season need to do it again: Devin Williams, Hoby Milner, Peter Strzelecki, and Ashby.
One holdover from 2022 that many will keep an eye on is Matt Bush. He owns a 1.3 HR/9 for his career, but it skyrocketed to 2.3 when he pitched for the Brewers last season. It was a small sample size, but Milwaukee will need Bush to lock down high-leverage innings ahead of Williams in 2023.
Where is your confidence in the pitching staff and their ability to keep down the home runs? It's fair to worry about the bullpen, but outside of Lauer, the rotation should be much better and see their fortunes turn in the luck department. As always, health will be a significant indicator of success for the pitchers, and they will be the keys to a potential NL Central title.
Think you could write a story like this? Brewer Fanatic wants you to develop your voice, find an audience, and we'll pay you to do it. Just fill out this form.
MORE FROM BREWER FANATIC
— Latest Brewers coverage from our writers
— Recent Brewers discussion in our forums
— Follow Brewer Fanatic via Twitter, Facebook or email