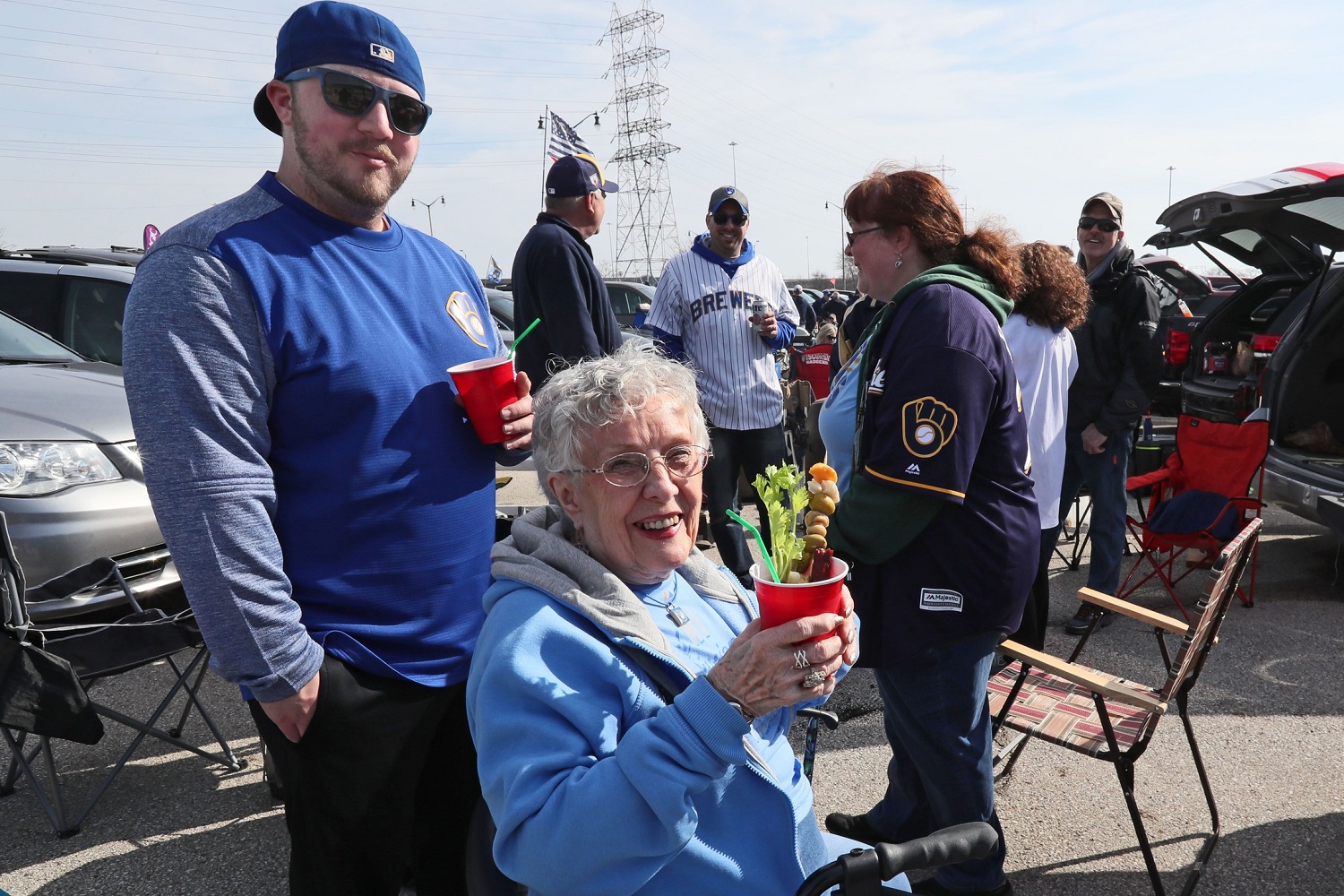 Image courtesy of © Michael Sears / Milwaukee Journal Sentinel
There's been a fair amount of gloom and doom since the trade deadline, despite Josh Hader floundering with the Padres. But Brewers fans might find some objective analysis encouraging: the top three MLB postseason projection systems all predict the chances of the Brew Crew making the playoffs at over 50%.
The top active postseason projection system in Google search is FiveThirtyEight.com, which (as of Tuesday, 8/23) gives Milwaukee a 62% chance of playing postseason baseball. Baseball-Reference is less optimistic but tilts the scales towards the Brewers at 51.6%. FanGraphs splits the difference, giving the Brew Crew a 56% chance.
However, none are particularly optimistic about the team winning the NL Central race. Baseball-Reference is giving the Brewers just a 5% chance, while Five Thirty Eight and FanGraphs are a little kinder, giving Counsell's Crew a 16% chance.
Each system has its own methodology, which explains the differences they have. Fans can take heart that the kindest of them, Five Thirty Eight, doesn't use any preseason projection systems. It strictly looks at head-to-head results, margin of victory, and quality of opponent throughout this year.
Maybe because of that, it is also the only one of the projection systems that likes the Brewers' chances of getting into the postseason more than that of the Padres, one of the teams Milwaukee is chasing in the Wild Card race. It only gives the Padres a 59% chance of making the postseason.
Five Thirty Eight relies on a projection system called the Elo system. In addition to the factors above, their system also accounts for starting pitchers, travel distance, and rest. These factors result in a measure of strength, which is compared to other teams, on a game-by-game basis, 100,000 times. The results of those simulations determine the percentages they list.
A look at the game-by-game matchups the Brewer face show one reason for us all to be optimistic – there are a lot of favorable matchups on their schedule. After they get out of this Dodger meatgrinder, Five Thirty Eight has them favored in their next eighteen games.
Let me be clear: they are not projecting them to win eighteen in a row. But overall, Milwaukee is a 61%/39% favorite in those games. Plus, they face a similar stretch of thirteen games at the end of the season.
(We won't talk about an eight-game stretch in the middle of that bunch where they face the Cardinals on the road, followed by the Mets and Yankees at home, because we're trying to keep this story family-friendly.)
So, take a little comfort at the end of this particularly brutal stretch of games. This isn't from your pie-in-the-sky uncle. This isn't based on burnings incense around a Bernie Brewer bobblehead. This is math, and it's done by computers who don't have any dog in this fight. And they are telling you: the season is far from over.
Think you could write a story like this? Brewer Fanatic wants you to develop your voice, find an audience, and we'll pay you to do it. Just fill out this form.
MORE FROM BREWER FANATIC
— Latest Brewers coverage from our writers
— Recent Brewers discussion in our forums
— Follow Brewer Fanatic via Twitter, Facebook or email