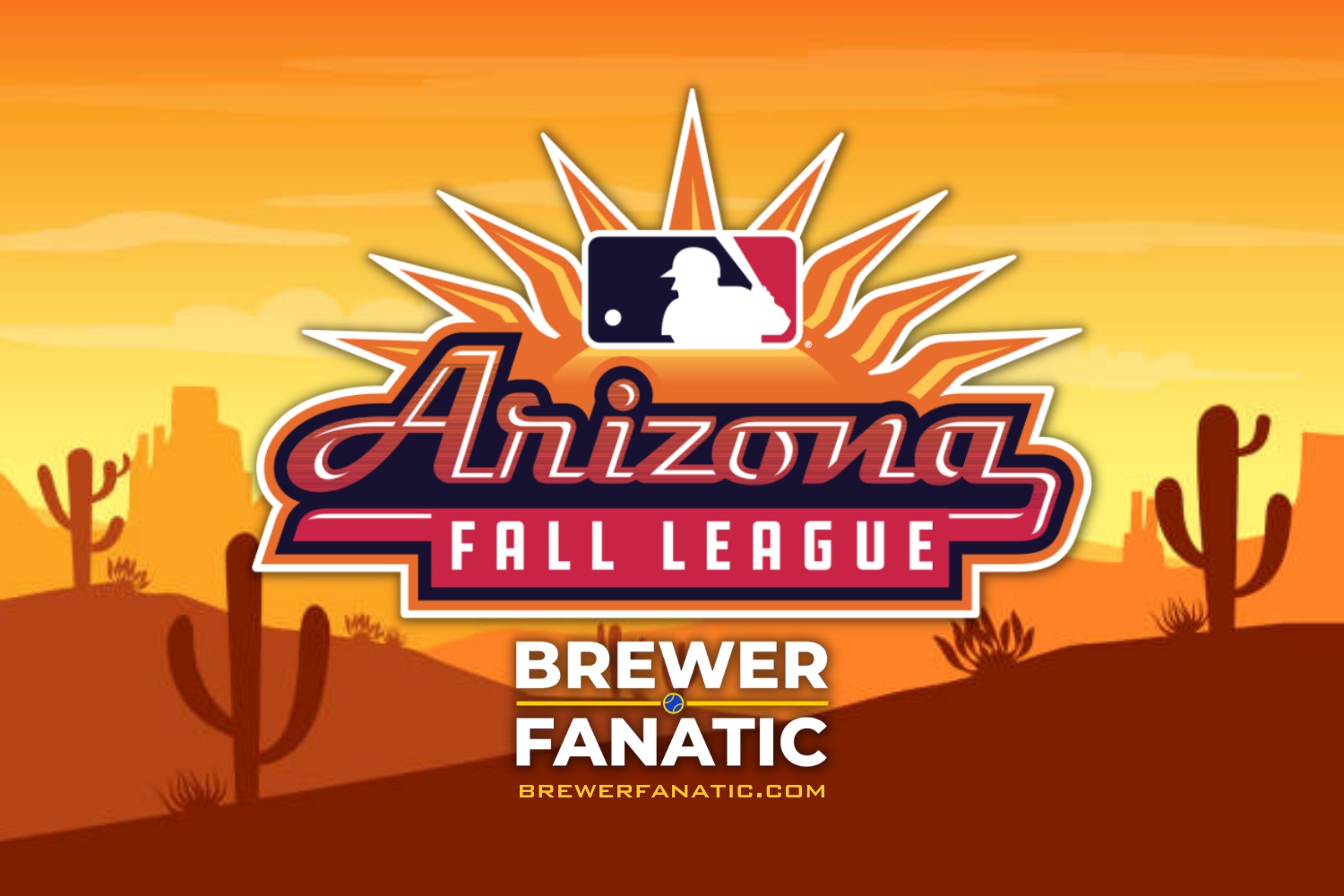 Ultimately the Brewers chose eight prospects to roster with Glendale in the Arizona Fall League. Brewer Fanatic's 7th ranked prospect Tyler Black headlines the group, but there's plenty of intrigue to look into across the participants.
Here's a bit about each:
Tyler Black (7) - 2B - A+ - 64 G .281/.406/.424 13 2B 4 3B 4 HR
Black is a native Canadian and was selected in the 1st round (33rd overall) out of Wright State by the Brewers in the 2021 MLB draft. He posted a .748 OPS in his first pro season across 26 games. Playing the entirety of 2022 at High-A, Black has actually walked more than he's struck out, and while power hasn't played, he's shown a good deal of plate discipline. Milwaukee is certainly looking to get him more game action with him logging so few this year. He's coming back from a left scapula fracture over the summer.
Jeferson Quero (9) - C - A/A+ - 95 G .286/.342/.439 22 2B 2 3B 10 HR
The Brewers signed Quero out of Venezuela as an international free agent back in 2019. He debuted in the Arizona Complex League last season, and has been playing in full-seasons leagues for the duration of this year. Quero earned a promotion after posting a .757 OPS with Low-A Carolina, and while the sample size for High-A Wisconsin is just 20 games, he's held his own with an .860 OPS.
Russell Smith - LHP - A+ - 15 G 68.1 IP 4.87 ERA 8.2 K/9 3.6 BB/9
Drafted in the 2nd round of the 2021 MLB draft, Smith was taken from Texas Christian University. He didn't pitch after being selected last season, and made his professional debut at High-A this season. Strikeouts have dropped a bit from where he was as a collegiate arm, and he just barely surpassed 100 innings over the course of three seasons with the Horned Frogs. Milwaukee is certainly looking to build up his arm a bit more before the offseason.
Logan Henderson - RHP - Rk/A - 7 G 13.2 IP 3.95 ERA 15.1 K/9 4.0 BB/9
Taken in the 4th round of the 2021 MLB draft from McClennan Community College, this is Henderson's first season of professional baseball. He's been eased into action throwing less than two innings per start on average. The 23 strikeouts are impressive, and he'll look to continue refining command against some solid competition.
Abner Uribe - RHP- AA - 2 G 3.0 IP 0.00 ERA 4 K 4 BB
A 22-year old reliever, Uribe is working his way back from injury. He tore his meniscus back in April and underwent surgery to repair his knee. Uribe pitched for Salt River last season in the Arizona Fall League, and will return again this year. Just recently turning 22-years-old, Uribe threw 33 2/3 innings for Carolina last season and could be an option for a longer Double-A stint in 2023.
Ryan Middendorf - RHP - Rk/A/A+/AA - 21 G 41.1 IP 2.18 ERA 13.1 K/9 2.4 BB/9
Middendorft went undrafted out of Lake Erie College and was playing with Schaumburg in the Frontier League when the Brewers signed him. He's made stops at four different levels of the Milwaukee system this season, and although he struggled most at Double-A, the strikeout numbers alongside command are encouraging. Purely a reliever, the Brewers are allowing him to test stuff against stiffer competition.
Je'Von Ward - OF - Has not played in 2021
Milwaukee made Ward their 12th round pick back in 2017 and his career has been a bit stunted. Not playing at all in 2020 due to the pandemic canceled minor league season, and now having not appeared in 2022 due to injury, he'll look to get in game action during the Arizona Fall League slate.
Zavier Warren - INF - A+/AA 125 G .224/.304/.367 28 2B 2 3B 11 HR
Taken in the third round of the 2020 MLB draft by Milwaukee, Warren has exclusively played first and third base on the farm this year. He's struggled quite a bit offensively, although his plate discipline has actually been better since the move to Double-A. He has played 20 games at catcher during his pro career, and there's some thought he may benefit from a switch back behind the plate.
Who are you excited about seeing represent the Brewers in Arizona? Were there any prospects not invited you were disappointed about?
Think you could write a story like this? Brewer Fanatic wants you to develop your voice, find an audience, and we'll pay you to do it. Just fill out this form.
MORE FROM BREWER FANATIC
— Latest Brewers coverage from our writers
— Recent Brewers discussion in our forums
— Follow Brewer Fanatic via Twitter, Facebook or email