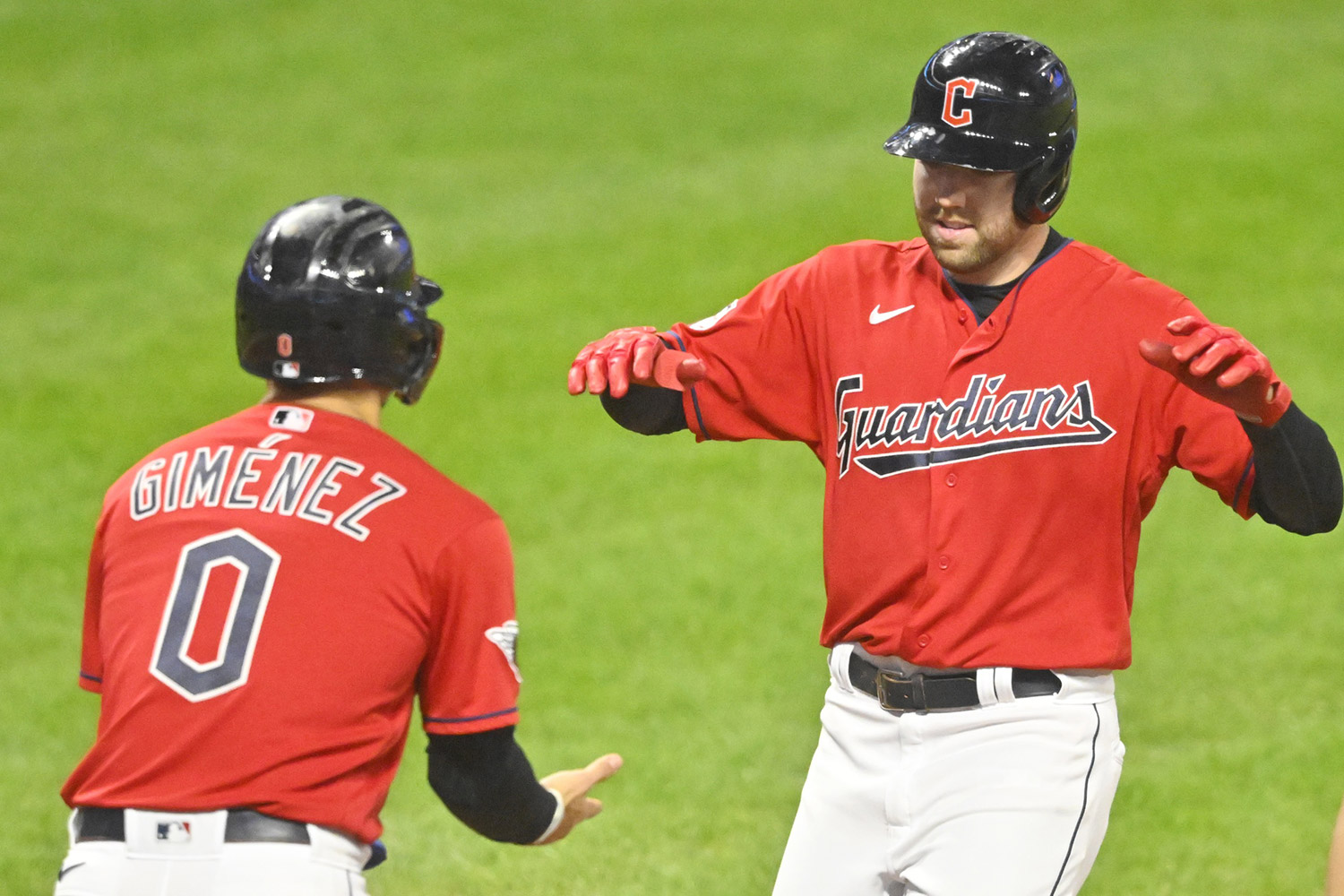 Image courtesy of © David Richard-USA TODAY Sports
Earlier this week, the Milwaukee Brewers completed a trade with the Cleveland Guardians to acquire Wisconsin native Owen Miller. At first glance, it may look like a feel-good story with a hometown kid coming home to play for his favorite team. There may be more to the trade than just that. 
After being a third-round draft pick in 2018, Miller saw his first major league action with Cleveland in 2021. Since then, he has played 190 games in the majors but hasn't flashed much with his bat yet. Miller has slashed .231/.283/.338, good for a 74 wRC+. 
What isn't seen strictly by the numbers may be something the Brewers see in Miller. That is the process and the journey the 26-year-old is on as a hitter. A recently published interview with David Laurila over at FanGraphs sheds some light on that process. In the interview, Miller tells Laurila how he was a contact hitter in college and the minors and had his hands very involved in his swing. 
Looking through his minor league numbers, we see that approach produced some pretty good results for Miller. He always posted an above-average wRC+, posting 135 in low-A, 145 in High-A, 121 at Double-A, and 132 at the highest level Triple-A. So even though the infielder produced well in the minors at every level, when 2020 came around, Miller recognized he needed to make changes to his swing if he wanted to perform his best at the major league level. 
As Miller tells Laurila, there was one significant change he wanted to make with his swing, "I went from thinking of my hands at all times to thinking of my hips firing. It was about understanding the bat path and keeping your barrel in the zone as long as possible. That allows you to hit the ball harder and also helps you to see the ball longer." 
Since 2020 Miller has been trying to refine his swing, which tells me one thing. As he has been adjusting to major league pitching and the major league schedule, he has also been tinkering with the foundation of his swing. If hitting wasn't hard enough already, Miller was adding in another wrinkle to get better results in the long term. Maybe the Brewers have picked up on that process and are willing to wait for the reward. 
Miller has already proven to be very good at leading with his hands in his swing. That was noticed about him as a prospect but had him pegged as a doubles-type hitter. If he combines that with the ability to drive with his hips through the ball, the Brewers may have just acquired a hitter that will surprise and add more power along with a better bat path. Miller is attempting to add a new wrinkle to some impressive minor-league numbers.  
The Wisconsin native played all over the diamond for the Guardians in his two seasons. He most likely fits in at first or second for the Brewers, but he could also become a utility-type player spelling the whole infield if needed. The right-hander provides a platoon option for first base with Rowdy Tellez or another option if Brice Turang isn't able to take the reigns at second for some reason. There is even the ability to send Miller to the minors with his remaining options so he can refine that approach at the plate. 
Miller joins a group of infielders the Brewers have acquired, each with their questions but also with flexibility like Miller. If the Brewers trust and see something in the process that Miller is working on, they could find themselves a better player than one often expects in a "player to be named later" trade. If that happens, while the hometown story will always be incredible, the field results will be much more enjoyable.
Think you could write a story like this? Brewer Fanatic wants you to develop your voice, find an audience, and we'll pay you to do it. Just fill out this form.
MORE FROM BREWER FANATIC
— Latest Brewers coverage from our writers
— Recent Brewers discussion in our forums
— Follow Brewer Fanatic via Twitter, Facebook or email