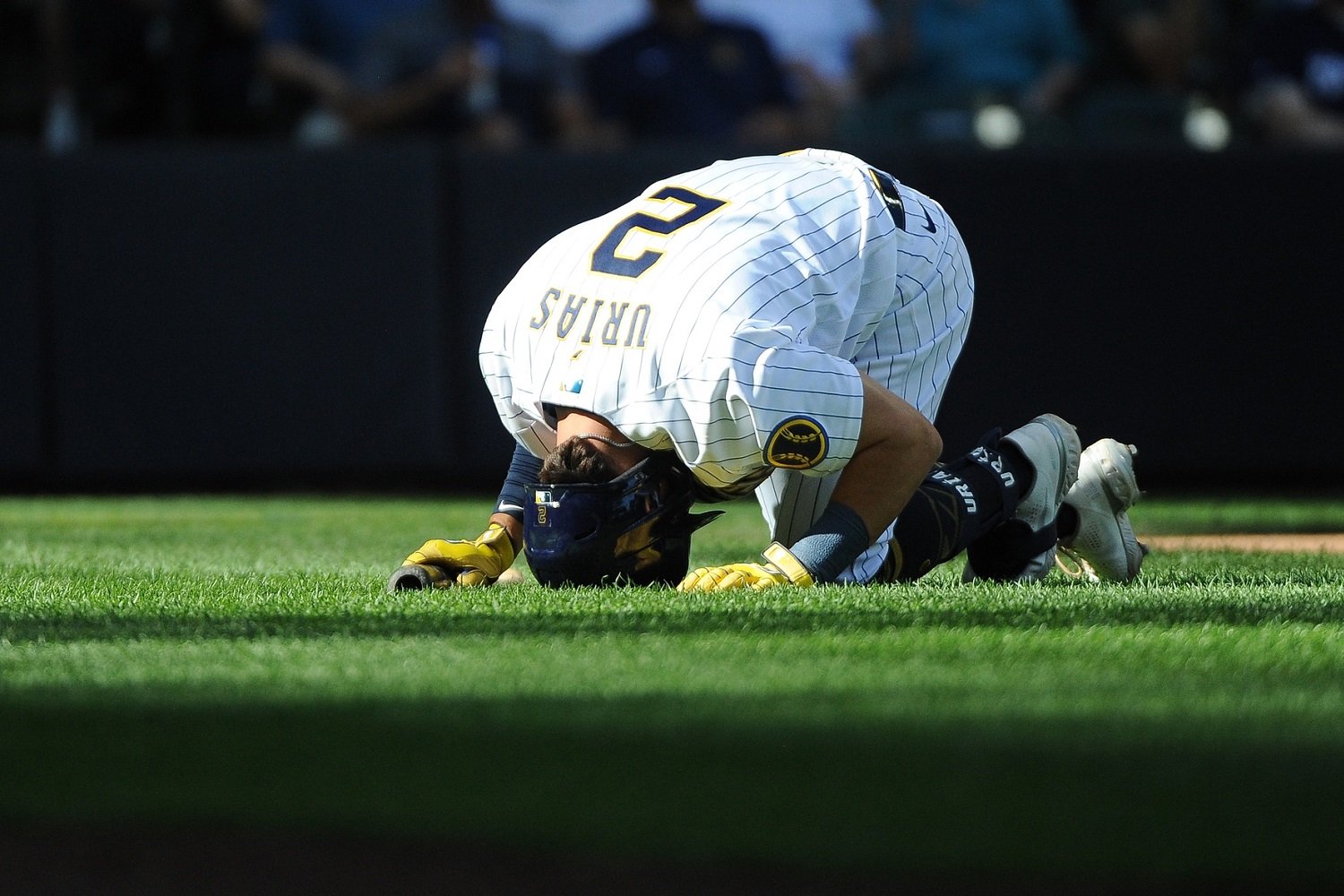 Image courtesy of © Michael McLoone-USA TODAY Sports
At a glance, it appears the Brewers' offense isn't a concern at all. Milwaukee entered play Tuesday ranked 7th in MLB in scoring at 4.65 runs/game. They're 8th in OPS+ (106) and OBP (.320), which likely would surprise most fans. And yet, each night, it feels like a toss-up if the offense will actually show up. David Stearns, President of Baseball Operations, recently told reporters he was comfortable with their hitters.
"And so if we are going to do something that impacts our position player group, it may require some level of creativity or some complementary piece. Or we may decide that ultimately what we have right now is better than what we can get elsewhere."
Despite the surface-level stats favoring Stearns' comments, the lineup has holes, lacks depth, and always relies on hoping certain guys reach their supposed ceilings. A prime example of Milwaukee's issues showed up Tuesday night in a 5-3 loss to the Pittsburgh Pirates.
Trailing by a pair in the 7th inning with the tying runs aboard, Craig Counsell pinch-hit for his number three and five hitters in Rowdy Tellez and Kolten Wong. Not exactly a sign of confidence when you remove two of your middle-of-the-order hitters. How often are teams taking out their three and five guys because of a platoon disadvantage? That inherently tells you the lineup has plenty of room for improvement.
Compounding the issue, Wong was replaced by Pedro Severino, the third catcher on the club. If you're going to pinch-hit in the five-hole in a high leverage situation, your backup to your backup catcher shouldn't be part of the plan. If that is how they "drew it up," then the Brewers will need a lot of help from luck and randomness to make a postseason run.
How can Milwaukee's front office believe this offense is set? There are clear areas where the Brewers could improve without selling the farm for top talent. There are several things to consider:
Milwaukee currently has a four-man bench, with two of those position players being catchers.

The Brewers have the 6th-worst OPS (.663) and 5th-lowest SLG (.357) versus left-handed pitchers.

Wong has a terrible .127/.238/.127/.365 line against lefty pitching this season.

Tellez owns a .324 SLG and .626 OPS versus southpaws in 2022.

Until his recent hot streak, Luis Urias was an up-and-down hitter with a .379 SLG and .690 OPS.
These issues show that Milwaukee easily has at least two spots they could fill with a relevant hitter. No one is talking about a top position player, but guys that fill a need. First of all, they could have benefitted greatly from a right-handed infielder who could compete for time with Urias at third base and get starts over Wong against lefties. A guy like Brandon Drury (1.016 OPS versus left-handers this season) would have been a perfect fit. He ended up in San Diego for an 18-year-old shortstop.
Tellez could also use a right-handed complement. Josh Bell and Trey Mancini were dealt on Tuesday. While their asset cost may have been higher, they both would have been an upgrade as a 1B/DH and pinch-hitter against lefties like the Brewers needed Tuesday. Is keeping another mid-level prospect going to make or break the farm system?
And how about a left-handed outfield stick to counter the three non-Christian Yelich outfielders? A couple of these guys were moved a few days earlier (David Peralta, Tyler Naquin), and a handful of other teams had available players. None of these players could have cost much. It wouldn't have been a center field solution by any means, but it would have created more options and matchups, which Counsell and Milwaukee love.
Even looking at it from a practical standpoint should have screamed "must add bats" as the clock ticked down. Having only four bench players - with only two of them non-catchers - again fails to take advantage of platoon strategies that the Brewers are built around. Not only should Milwaukee have a fifth position player as a sub, but they should also have a legitimate option that isn't primarily a catcher. This deadline was the ideal opportunity to build up their bench and strategic choices, but instead, the Brewers did nothing. Especially since there are no longer waiver-wire trades after the deadline, Milwaukee has put itself in a precarious position with its depth. If they suffer an injury or two to the position player group, the Brewers would need to rely on rookies and inexperienced minor leaguers who are likely unprepared for prime-time games. 
For a team with postseason and World Series aspirations, it's incredibly frustrating that the Brewers did not improve one iota offensively at the trade deadline. Fans can hope that one or two current players take a step forward and lead the lineup to consistent success. However, all signs point to another season of needing a lot of luck to score enough runs against the best teams in the league.
Think you could write a story like this? Brewer Fanatic wants you to develop your voice, find an audience, and we'll pay you to do it. Just fill out this form.
MORE FROM BREWER FANATIC
— Latest Brewers coverage from our writers
— Recent Brewers discussion in our forums
— Follow Brewer Fanatic via Twitter, Facebook or email
5

1