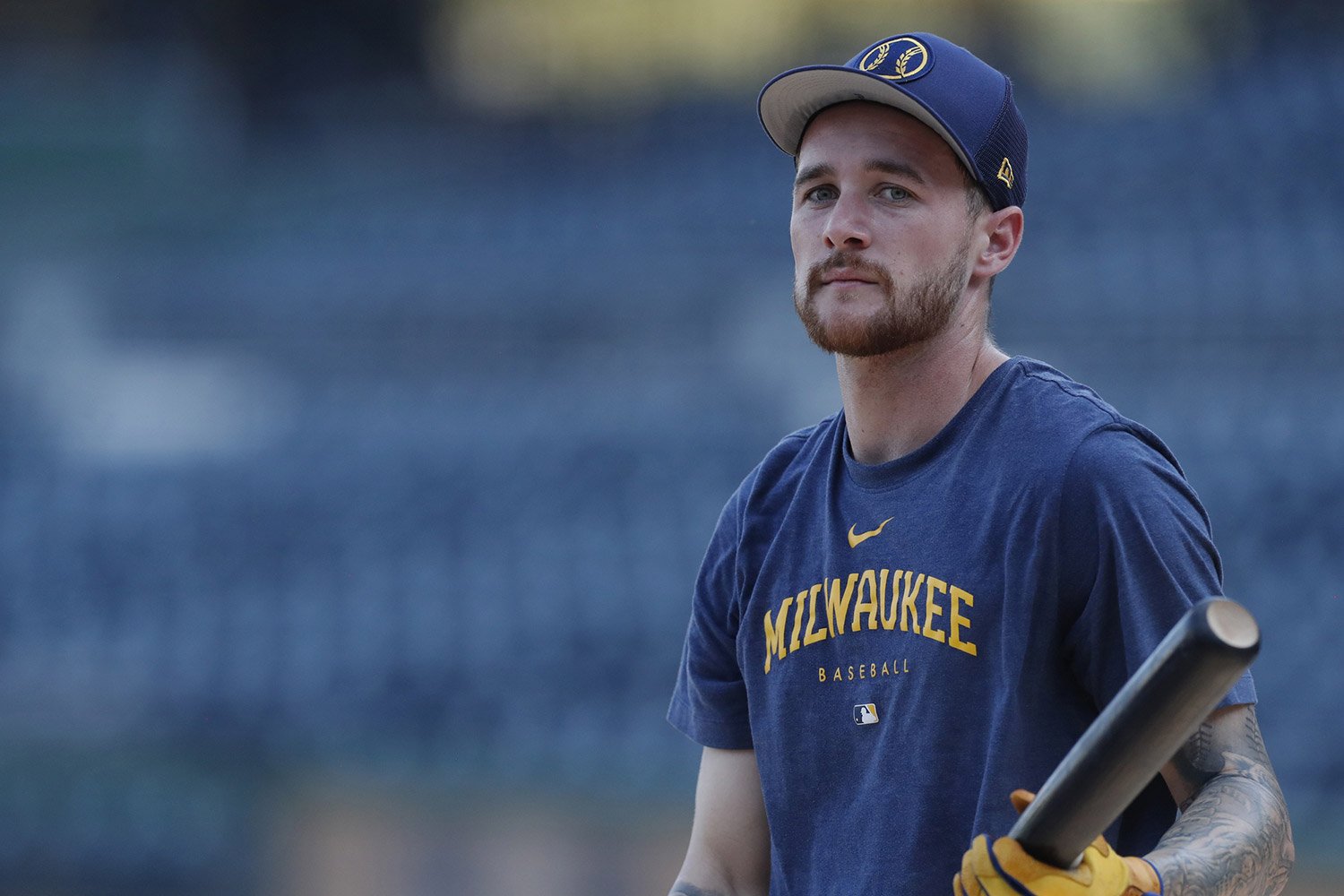 Image courtesy of © Charles LeClaire-USA TODAY Sports
The Brewers made one critical mistake in setting up for game one, which cost them. During the best offensive outputs of the season, the batting order has been notorious for limiting the dead at-bats of the first half's offense. Notably, when Brice Turang went on a hot streak, the whole offense looked superior; however, of late, he's been reduced to a hopeful bunt here and there, with an almost unplayable approach at the plate.
The Brewers Need More from Second Base
In his last 30 games, Turang has hit .205/.259/.218, with just one extra-base hit. Narrow that to his last seven games, which becomes .167/.211/.167. If you wanted a black hole that sucks all potential offense in, you have it, sitting in the eighth slot of the Brewers lineup ahead of the "en fuego" Tyrone Taylor. There's a great case for the defense of Turang being a run-saver for extreme ground ball pitchers like Wade Miley, but when you have strikeouts galore with Freddy Peralta, that infield defense becomes less critical. He made a key tag on Corbin Carroll, but other than that, he had fairly routine plays at the keystone.
Andruw Monasterio has two defensive runs saved in 197 innings at second base and seven at third base. He's a plus defender, if not at Turang's level, but more importantly, he can make contact with the ball.
Turang was bunting in his first at-bat, giving himself up to move Donaldson to second before the Taylor home run, and it's tough to quibble this without hindsight, but part of the issue is that his only use in that situation is to lay down a bunt. He was never going to attempt anything else. Someone who could hit may have meant two men on base when Taylor mashed a ball out but could have hit into a double play.
His next at-bat, however, was a poor matchup for him. With men on second and third and two outs, the Brewers needed someone to drive them in. Turang did manage to take a walk, but this was a potential pinch-hit situation early in the game for Monasterio, who has been quite adept against left-handers.
In the fifth, the final nail in the coffin, Turang approached with bases loaded and nobody out. The brief hope of a hit by pitch was extinguished by his foot moving away from the ball, and he struck out swinging on three very hittable fastballs. The Brewers needed someone to make contact here but failed, and the lining into a double play next up hurt all the more.
Turang isn't trusted to hit with a man on base. His only value for now is his defense, particularly given the Brewers seemed loath to challenge Gabriel Moreno's arm behind the plate. Monasterio, on the other hand, has an above-average ability to
Hit the ball in the air with a 17.7-degree average launch angle and 41.3% sweet spot rate

Above average strikeout rate of just 21%

A walk rate of 9%, around average

Unlike Turang, he can hit fastballs, with an xBA of .287 this season
Monasterio may not be a flashy name, but his quality plate appearances, ability to play good defense, and ability to get the ball into the outfield are going to be far more valuable than Brice Turang's range at second base, especially because of how little ground balls Freddy Peralta generates.
It's critical to this Brewers offense that everyone in the lineup can keep the line moving. Turang came up in two ample run-scoring opportunities last night, and it's safe to say neither time was there confidence in him coming through. They need more, and Monasterio can provide that.
Should Zac Gallen be feared?
Firstly, despite one illness-fueled start where he was hit around in his last appearance, Freddy Peralta has been the best pitcher on this staff for several months, with some of the top offenses in baseball having no answer for him. His budding confidence, his improved command when getting ahead, particularly with his off-speed stuff, and that incredible four-seamer has made him the best strikeout pitcher in the big leagues. Since the start of August, he's averaged 12.5 strikeouts per nine, comfortably leading the likes of Spencer Strider and Blake Snell. He's capable of generating the swing-and-miss that Burnes struggled with last night.
Gallen has been a very good pitcher in that same stretch of games. However, he's over 25 innings past his previous career high, and some cracks showed in September. Overall, on the year, he's in the 3rd percentile for average exit velocity, being hit hard 46% of the time and an expected ERA of 4.16. He has a premium defense behind him, which helps, but this is a very different Gallen from the one that started the year with insane scoreless streaks.
The issue he's found in August and September has been how well hitters have gone on his fastball, which would usually be as effective as Peralta's. His main two pitches have average 90mph exit velocities in August and September, and while still being above average, the swing and miss on his curveball has dropped as the year progressed, from 47.8% in June to 30% in September.


Since the all-star break, Gallen has a 4.03 ERA with a 1.21 WHIP and a 4.42 ERA away from home, where he's struggled this season. He's pitched 210 innings this season with no time to recover at the end, given the tightness of the wildcard race. He can be got to, and so can the bullpen, as the Brewers showed last night.
The plan is simple. Let Peralta do his thing and ensure the lineup avoids the black holes. The difference it made in changing Santana, Canha, and Frelick for Wiemer, Tellez and Winker showed how much of an upgrade average production can be. It's a pitching matchup that, on form, favors the Brewers. In a do-or-die situation, can they step up to the challenge?
Think you could write a story like this? Brewer Fanatic wants you to develop your voice, find an audience, and we'll pay you to do it. Just fill out this form.
MORE FROM BREWER FANATIC
— Latest Brewers coverage from our writers
— Recent Brewers discussion in our forums
— Follow Brewer Fanatic via Twitter, Facebook or email