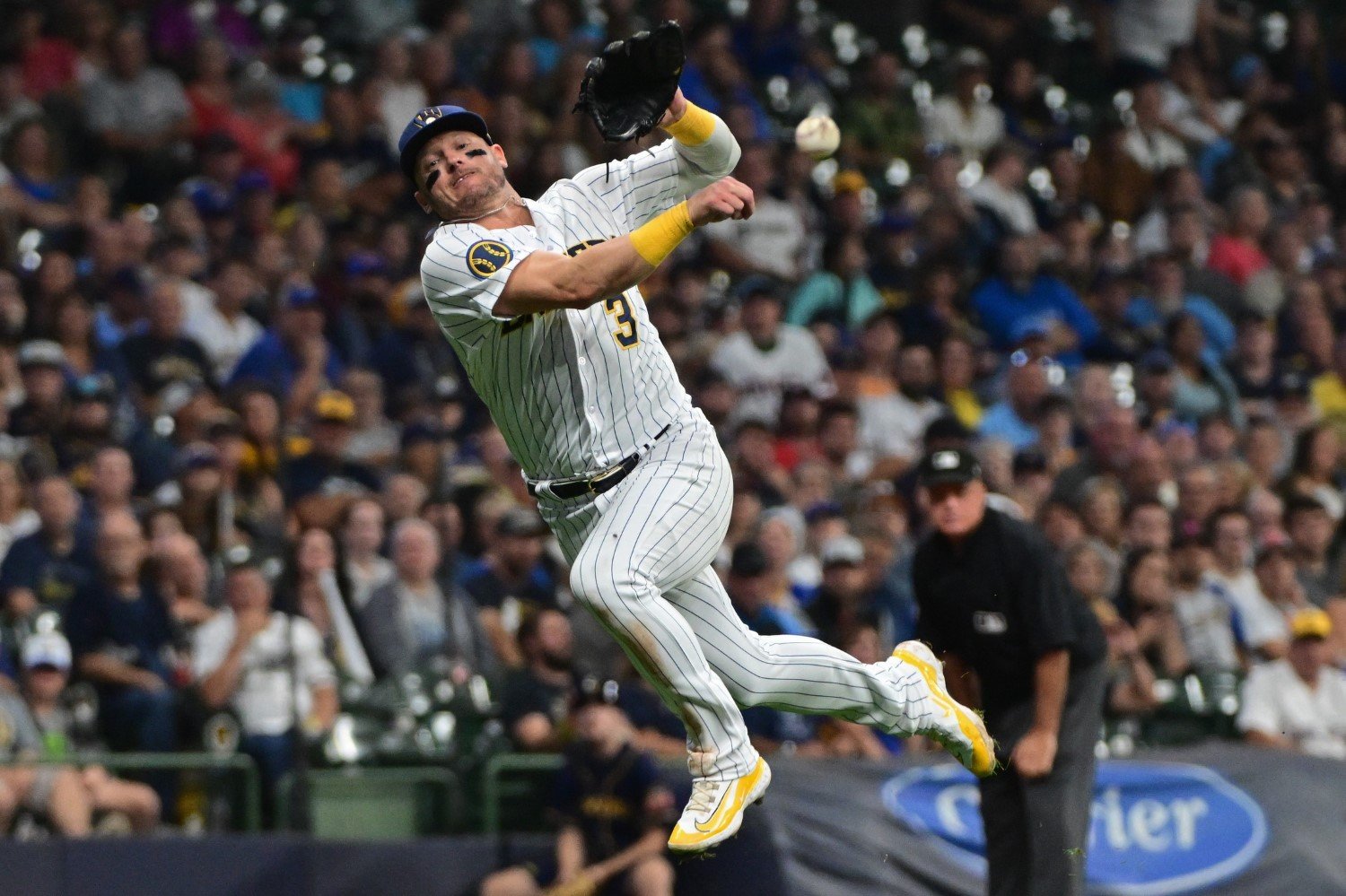 Image courtesy of © Benny Sieu-USA TODAY Sports
The Brewers and Diamondbacks have some matched strengths, but overall, they play different brands of baseball. That means that they might benefit from different gameflows and types of showdown–and that makes it hard to predict what a given game might look like. For instance, it's hard to guess when it might happen, but it's a good bet that the bunt will come into play this week.
No team in MLB attempted more sacrifice bunts than did the Diamondbacks this season. It's a favorite stratagem for Torey Lovullo–or at least, it's one to which he turns more often than the average modern manager. Twenty years ago, his league-leading use of the bunt would have been just about the lowest rate in baseball.
Arizona doesn't just attempt the bunt often, though. They get it down and move that runner over with above-average consistency. Thanks to the speed of their chief bunters, they also pose a real threat to reach base and deny the defense any outs, if that fielding unit isn't careful and ready.
Let's talk, therefore, about the corner infielders for the Brewers. It's a safe bet that Carlos Santana will be in there in all three games of this series at first base. The other options (Mark Canha and Rowdy Tellez) are worse defenders than he is, by a mile. Santana is sure-handed, smart, and fairly quick for a first baseman in his late 30s. He also has the arm of a converted ex-catcher, even if it's gone mostly to seed.
On the other side of the diamond, Craig Counsell faces a bit more of a dilemma. Josh Donaldson is as old and experienced as Santana, but nowhere near as competent athletically, at this stage of his career. Donaldson has made all the routine plays in his brief time at the hot corner for the Crew, but we're not talking about routine plays here. We're talking about how well he'd charge and make the fast play on a bunt.
This season, Donaldson is playing (on average) a step deeper than he has even over the last two years, in a concession to his diminishing range. In sacrifice situations, you can pull him in quite a bit, but it's still notable that he defaults to starting deeper, because the Diamondbacks also bunt for hits at a higher rate than the average team. Certainly, it's easy to imagine a Geraldo Perdomo or an Alek Thomas trying to steal a hit against the Brewers' supernal pitching staff with a bunt if they catch Donaldson laying back.
When he does have to come in on ground balls, Donaldson is one run worse than average, according to Baseball Savant's Outs Above Average directional breakdown. Andruw Monasterio, by contrast, is good at coming in on the ball and getting it over to first. He's quicker and more comfortable with the straightline charge than Donaldson is at this point. To thwart a bunt, it's Monasterio the Brewers want at third.
The question, though, is whether Counsell feels like he can afford to start Donaldson at designated hitter at any point in this series, or even to lose his bat for part of a game by making Monasterio a mid-game defensive sub. It seems unlikely, both because the Brewers might need more offense than initially expected to win this series and because Monasterio might be needed at second base. It might be one of those small weaknesses a team recognizes, but can't fully ameliorate.
The broader question of how to balance the need for Donaldson's bat and that for Brice Turang's glove at second with the liabilities they each bring to the other side of the ledger is one of the most interesting Counsell has to tackle during this series. He won't want Turang batting anywhere but the bottom of the order, and even then, he'll rarely allow him to see a left-handed pitcher. However, he probably shouldn't make his decisions based solely on the offensive matchup, especially now that Brandon Woodruff is down.
Donaldson has always been exceptional at going to his left from third base. He's especially good and comfortable, therefore, when playing closer to the line. Monasterio is dreadful going to his left, and does his best when initially positioned more up the middle. If Wade Miley gets a start in this series, the Diamondbacks are unlikely to be bunting much against him, and they're probably going to load up on right-handed hitters--for instance, putting in Evan Longoria or Emmanuel Rivera at third base, instead of Jace Peterson. In that contest, Donaldson should definitely be the third baseman.
When Arizona is hungrier for offense and a shade more left-leaning in the lineup, though, Monasterio might be the better play. The Brewers, like most teams, position the third baseman further toward shortstop with lefty batters up, so Monasterio would be more comfortable and adroit there. There's a knock-on effect to consider, then, because playing Monasterio at third means either benching Donaldson or slotting him in as the DH, pushing Mark Canha to the outfield. Either way, it seems to preclude using Victor Caratini behind the plate in his usual pairing with Corbin Burnes, but that might not have been in order, anyway. After all, the team used William Contreras as Burnes's catcher twice down the stretch for just this kind of eventuality. Contreras is also the better catcher for slowing down the Diamondbacks' incredibly potent running game, although even he seems an inadequate match for it.
There are always cascades in the playoffs--chains of decisions and outcomes and surprises that make the series wildly unpredictable, but also lots of fun. This year, and this series, will be no exception. At the hot corner, the Brewers have a tough call on their hands right away.
1