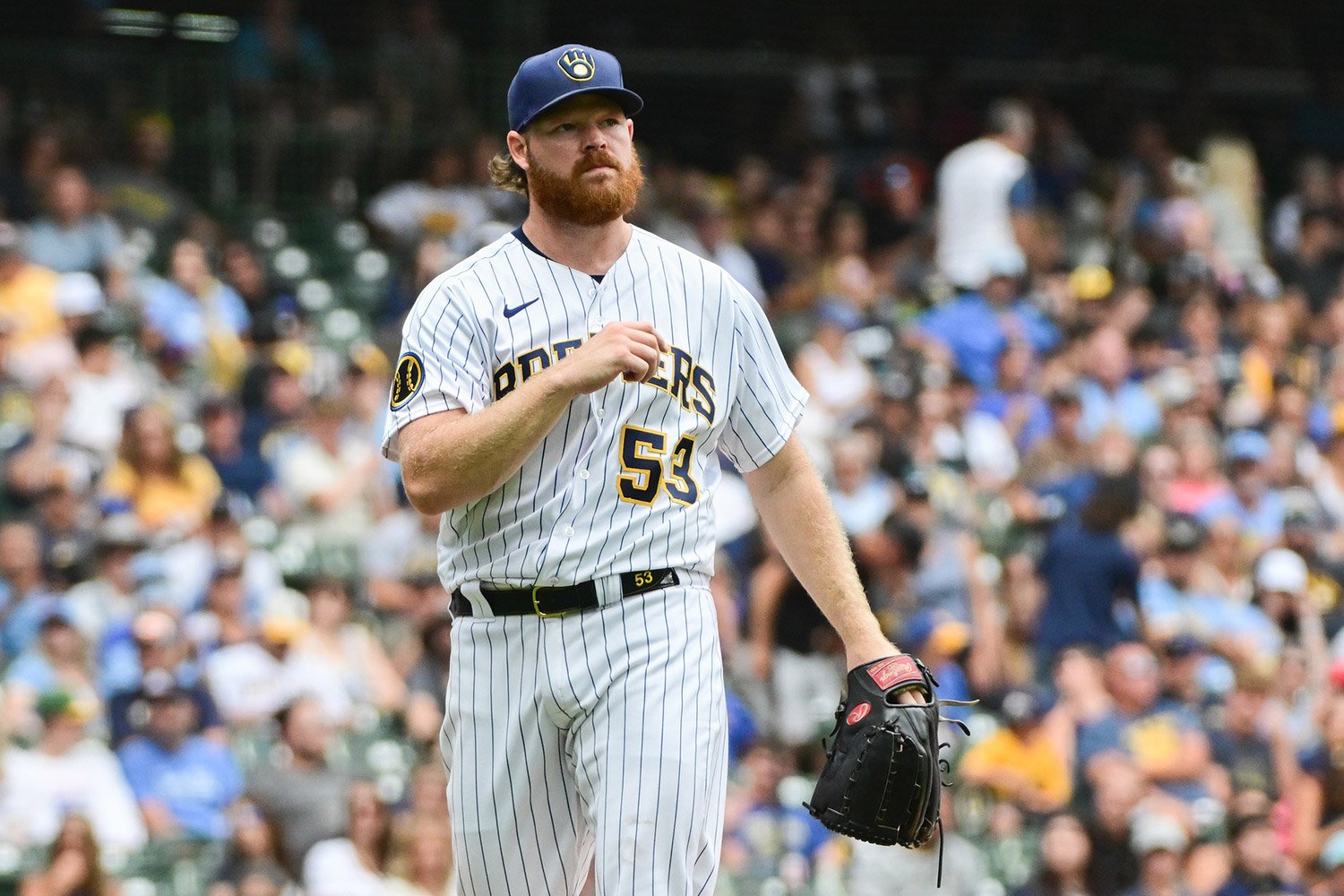 Image courtesy of © Benny Sieu-USA TODAY Sports
The One-Two Punch
After an inconsistent first half that saw him finish with an uncharacteristically high 3.94 ERA across 107.1 innings pitched, Corbin Burnes' second half has been exceptional thus far, posting a 1.69 ERA over 32.0 innings pitched. July was his best month, making six starts and showing off the Burnes we all know and love by notching 10.8 K/9 and a 0.718 WHIP. Whatever struggles he faced before the All-Star break are hopefully behind him now. We may see a resurgence in ability just in time for October baseball.
While the jury is still out on Brandon Woodruff, who's pitched just 16.1 innings this season following a lengthy stint on the 60-day IL, the data in his major league return start painted a positive picture. Velocity and spin rates were consistent with recent career numbers, and other than him needing to rebuild his stamina to his former levels; there hasn't been any cause for concern just yet.
The Middle of the Pack
Freddy Peralta and Wade Miley have been backing up the third and fourth spots of the rotation but could not have more different styles. Other than Miley being the only lefty starter on the Brewers, he's earned his 2.90 ERA through crafty pitching and soft contact, logging a measly K% of 17.5% (14th percentile). His primary pitch, the cutter, averages just 87.2 mph, and his four-seam fastball is a blazing 90.3 mph. 
In comparison, Freddy Peralta has a K% of 29.7% (88th percentile) and has an average four-seam fastball velocity of 94.6 mph. His ERA of 4.28 isn't quite as appealing as Miley's, but he's got a much higher ceiling and is nine years younger. 
The Fifth Spot
As of now, Adrian Houser occupies the final spot of the rotation. After missing the first month of the season, he's hovered around his current 4.19 ERA without much deviation up or down. He's exactly what one might think of as a great back-of-the-rotation guy. He's solid, consistent, and doesn't fall painfully short in any particular area, but he likely won't be winning any Cy Young votes any time soon.
Assuming he returns to the roster fully healthy, Julio Teheran proves an interesting competitor for Houser's spot. Originally brought on to be an innings-eater, he had an outstanding first two months with the team, posting a 2.85 ERA over 41.0 innings pitched through the end of June. However, after a disastrous July that saw him concede 20 earned runs in 21.2 innings, his stats began to regress to more realistic expectations. His strong suits are his elite command (4.3% BB%, 96th percentile) and his curveball, which has an xwOBA of .179. 
Because his skid was so sharp and sudden without a real chance at retribution, we've yet to see if he can return to his first-half form. His somewhat poor/average peripherals would suggest that he likely won't, but there is the possibility he can recover enough to be a serviceable fifth starter. 
What About A Six Man Rotation?
With more and more pitchers getting injured every year, discussion surrounding the implementation of a six-man starting rotation has been suggested as a possible solution, providing more rest for each starter. One common criticism of the six-man rotation is that it's hard to find six good starting pitchers, but the Brewers do indeed have seven serviceable starters (assuming Teheran recovers). 
Colin Rea would likely be left out either way since instead of keeping him, he was optioned in exchange for Clayton Andrews (who was then promptly optioned to create room for Brandon Woodruff), leaving six on the current depth chart. Ultimately, it depends on how Teheran will be treated on his return from the IL, but a six-man rotation could be a novel way to utilize the Brewers' pitching wealth to its fullest. In the worst-case scenario, the rotation is kept as is. It's the tenth-best rotation in MLB by ERA (4.14) and definitely not as much of a problem as the team's continued offensive struggles. 
Think you could write a story like this? Brewer Fanatic wants you to develop your voice, find an audience, and we'll pay you to do it. Just fill out this form.
MORE FROM BREWER FANATIC
— Latest Brewers coverage from our writers
— Recent Brewers discussion in our forums
— Follow Brewer Fanatic via Twitter, Facebook or email