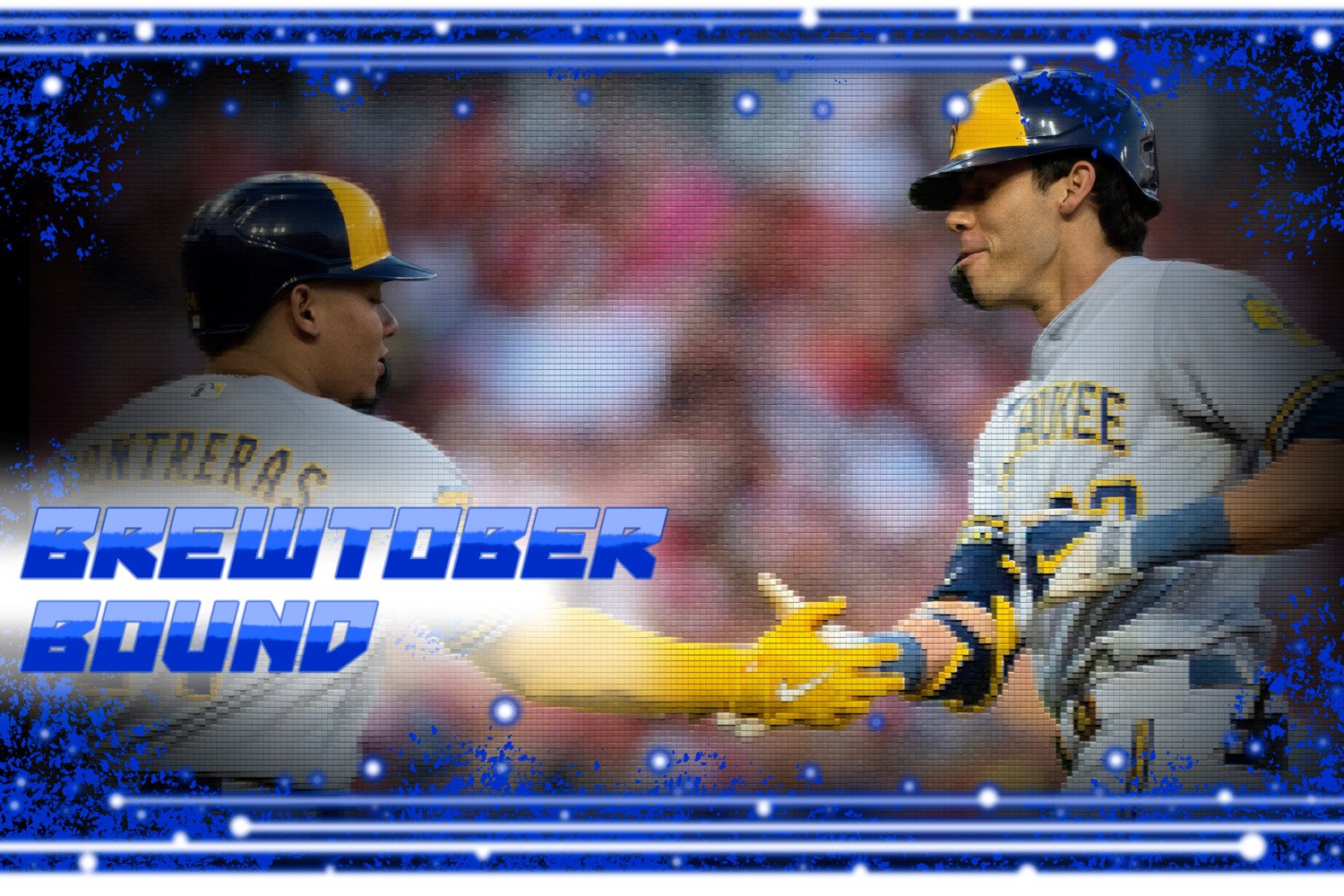 Image courtesy of Brock Beauchamp & Brewer Fanatic
The Brewers are, offensively, a unique team. Their two best hitters, Christian Yelich and William Contreras, are both extreme ground-ball guys. That sounds like a relatively small quirk, but often, power wins out in October. Can a team fueled by two guys who so consistently hit the ball on the ground carry a team deep into October? History gives us little in the way of an answer.
Over the last 20 years, there have been 153 player-seasons in which a batter who played enough to qualify for the batting title had a ground-ball rate at least 25 percent higher than the average one for his league. Of those, a little over half (79) have been above-average offensive seasons overall. That might sound surprisingly high, since hitting the ball on the ground usually isn't a good thing, but it makes sense under the hood. For one thing, teams tend to give up on guys who can't get the ball in the air before they give them 500 at-bats, unless the player can do some other things well. For another, though, players who do prove themselves adept overall hitters despite ground-ball proclivities account for multiple entries on the list. Derek Jeter and Ichiro Suzuki had a handful of seasons like this, apiece.
This year, Yelich has a ground-ball rate 33 percent higher than the league average. Yet, he's also 19 percent better than an average hitter, overall, according to wRC+. Contreras is slightly less extreme, at 26 percent above the average for ground-ball rate, but he's also 26 percent better than average in general. That makes these two one of just three pairs of teammates in the last two decades to reach the playoffs while having individual seasons that meet the criteria above. Funnily enough, both of the other two came in the same season, and it was exactly 20 years ago.
The 2003 Yankees were not very much like the 2023 Brewers. They do happen to have this thread of similarity to them, though. Jeter hit grounders 30 percent more often than the league average that season, but was 29 percent better than the average hitter. Hideki Matsui was also 30 percent above the ground-ball standard, but only 9 percent better than an average hitter in total production. Still, they qualify. The separator is the fact that those Yankees got nearly 80 home runs from the right side of their infield, where Jason Giambi and Alfonso Soriano slammed the ball mercilessly, and that they enjoyed a career power year from Jorge Posada. 
In the World Series, the Yankees ran into the then-Florida Marlins, who are probably the better comparison for this Brewers group. That Florida team did get power from the traditional places, with Derrek Lee and Mike Lowell thumping at the infield corners. They had the well-rounded offense of catcher Ivan Rodriguez, and by October, they had the extra depth provided by round-faced rookie Miguel Cabrera. At the top of their order, though, they got their ignition from Juan Pierre (33 percent more grounders than average, but an average hitter, overall) and Luis Castillo (32 percent more grounders, but 13 percent better than an average hitter). Those two each batted over .300, which made up for their lack of power and walks, and they ran the bases like jackrabbits. 
The parallels are imperfect, hut there's a little bit of this Brewers team in each of those lineups--in the ways they scored runs and the lack of reliance on home runs. They kept the line moving and emphasized timely hitting, as well as good baserunning. That's what has made this Milwaukee offense a force to be reckoned with for the last two months, as they've charged ahead of the field and sewn up their playoff spot. They don't have guys who overshadow their go-to ground-ballers, the way the Marlins and Yankees each did, but when they're healthy and hitting to the top of their talent range, Willy Adames, Mark Canha, Carlos Santana, and Josh Donaldson can be good enough in their power roles to cash in the opportunities Yelich and Contreras create.
Moreover, it's notable that both Yelich and Contreras have good power, despite their tendency not to tap into it consistently. Each hits plenty of doubles, and can easily clear the fence to all fields when they get ahold of a mistake. That makes them more dangerous than your typical ground-ball hitter, which feeds into their on-base skills, as well. Certainly, they're better overall offensive players than were Pierre and Castillo, and are right on par with the 2003 versions of Jeter and Matsui. If those teams (each of whom relied plenty on their excellent pitching staffs, anyway) could meet in the World Series, there's no reason not to believe that this Brewers team can do the same thing, fueled by Yelich and Contreras.