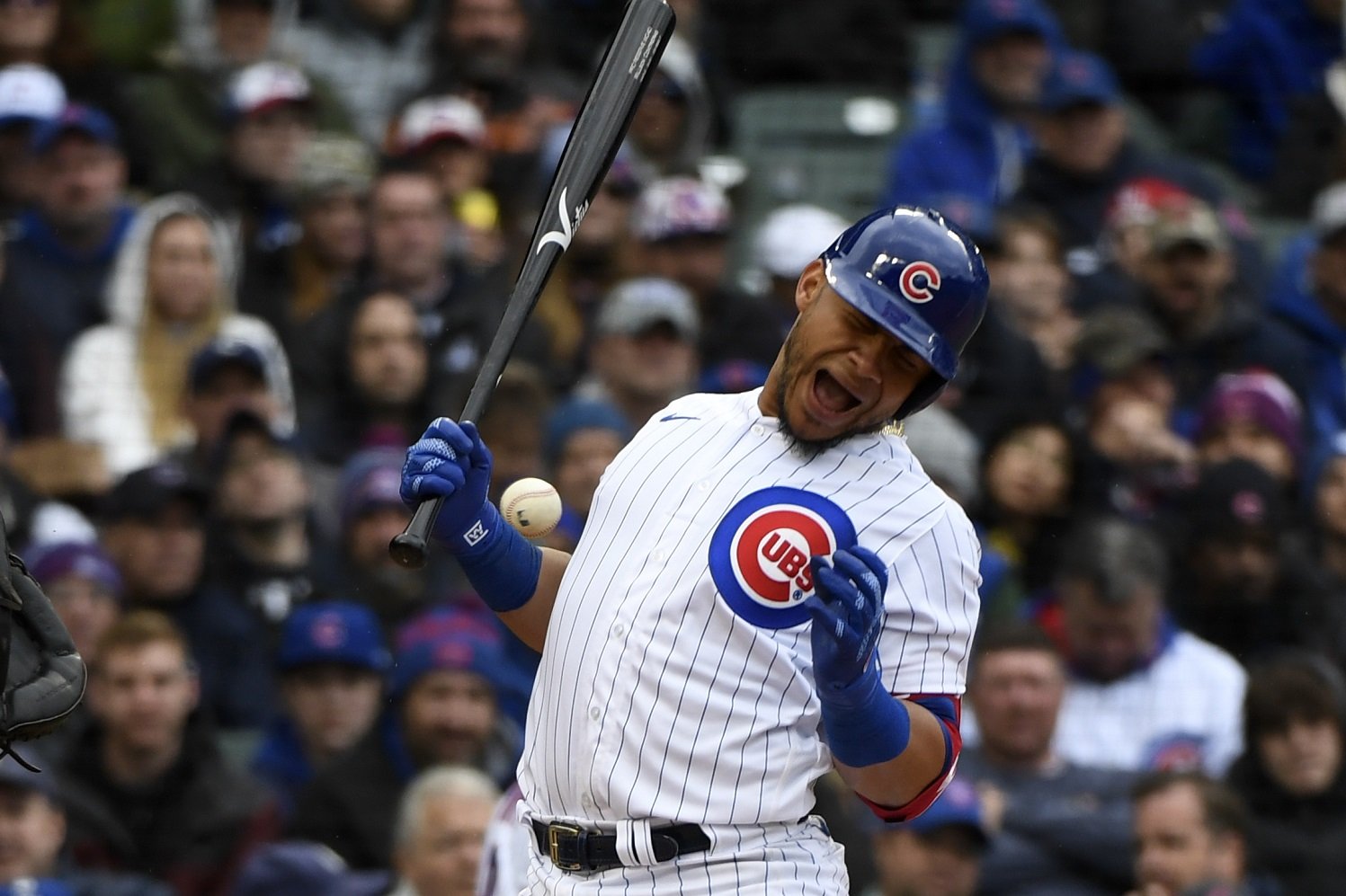 Image courtesy of Matt Marton-USA TODAY Sports
There is nothing inherently wrong with a baseball player willing to take pitches off his body to earn a free pass to first. However, when that is a regular strategy he employs, he forfeits the opportunity to complain except for rare circumstances. As has happened in previous seasons, Brewers' pitchers plunked Contreras multiple times already this year. That was enough for Contreras and the Cubs.
In the 8th inning of a 9-0 game, Keegan Thompson threw two pitches targeted for Andrew McCutchen, with the second hitting him flush. It was clearly an intentional message that many with the Brewers believed came from Contreras himself. Watch how Contreras puts his mask back down when things get heated – like he was expecting to get punched.
Benches clear in the Brewers-Cubs game after Andrew McCutchen is hit by a pitch.

(via @BallySportWI)pic.twitter.com/NulQskRSVP

— FOX Sports: MLB (@MLBONFOX) April 9, 2022
The problem with Contreras getting upset about hit-by-pitches is that he is a proactive participant. He dives in toward home plate for his swing and often throws his elbow out to make contact with the ball. There's a reason he wears an elbow pad on his left arm. Below, you will see him stick his elbow into the strike zone in a game last season.
To all the Cubs fans crying in my mentions because I called Willson Contreras soft for getting upset over non-intentional HBPs and fake charging the mound, your boy is out here trying to get hit on purpose. You kinda lose your right to complain there. pic.twitter.com/Ll43VJtNcH

— Jared Carrabis (@Jared_Carrabis) April 7, 2021
Later in that contest, he does not attempt to get out of the way of a pitch moving toward him.
Since 2017, Contreras' first full season in the majors, he has been hit 55 times. That ranks 9th in all of baseball. Milwaukee has plunked him on 15 occasions during that span. If you take away the times the Brewers have hit Contreras, he would still rank 21st in that category. He also has more plate appearances against Milwaukee than any other team in his career.
The Brewers aren't throwing at him; they are pitching inside to tie up his hands when he dives toward the plate. Contreras is also willing to stand in and take the ball to his body, so he's more likely to get drilled compared to other hitters. It is ridiculous for him to continue chirping about it and complaining that pitchers should have better command. It's going to keep happening, just not intentionally.
The actual "Bush League" move came from Thompson and the Cubs. Many don't take issue with a message-sending retaliation pitch, but there is a right and wrong way to do it. McCutchen talked about this briefly in his postgame comments.
Just got done talking to Andrew McCutchen about the hit by pitch from Keegan Thompson that led to the benches clearing between the Cubs and Brewers this afternoon. Here's the first part of what he had to say. pic.twitter.com/pSoocmTSI0

— Curt Hogg (@CyrtHogg) April 9, 2022
Starting off a hitter with an outside pitch, especially anything that has movement away from the batter, is dangerous and cowardly when you plan to throw at the hitter. That initial delivery can get the batter leaning more toward the plate anticipating more pitches outside. If that pitcher then fires a fastball inside, it's tougher for the hitter to protect himself, particularly if it's near his head.
These types of incidents go away quickly when players police themselves. The issue drags on when guys do things the wrong way and create more animosity in a back-and-forth battle. Milwaukee and Chicago will see each other 16 more times in 2022; this isn't the last you'll hear about possible shenanigans. The odds are excellent that Contreras will be hit at least one more time this season; how the Cubs react will indicate what they have learned.
1