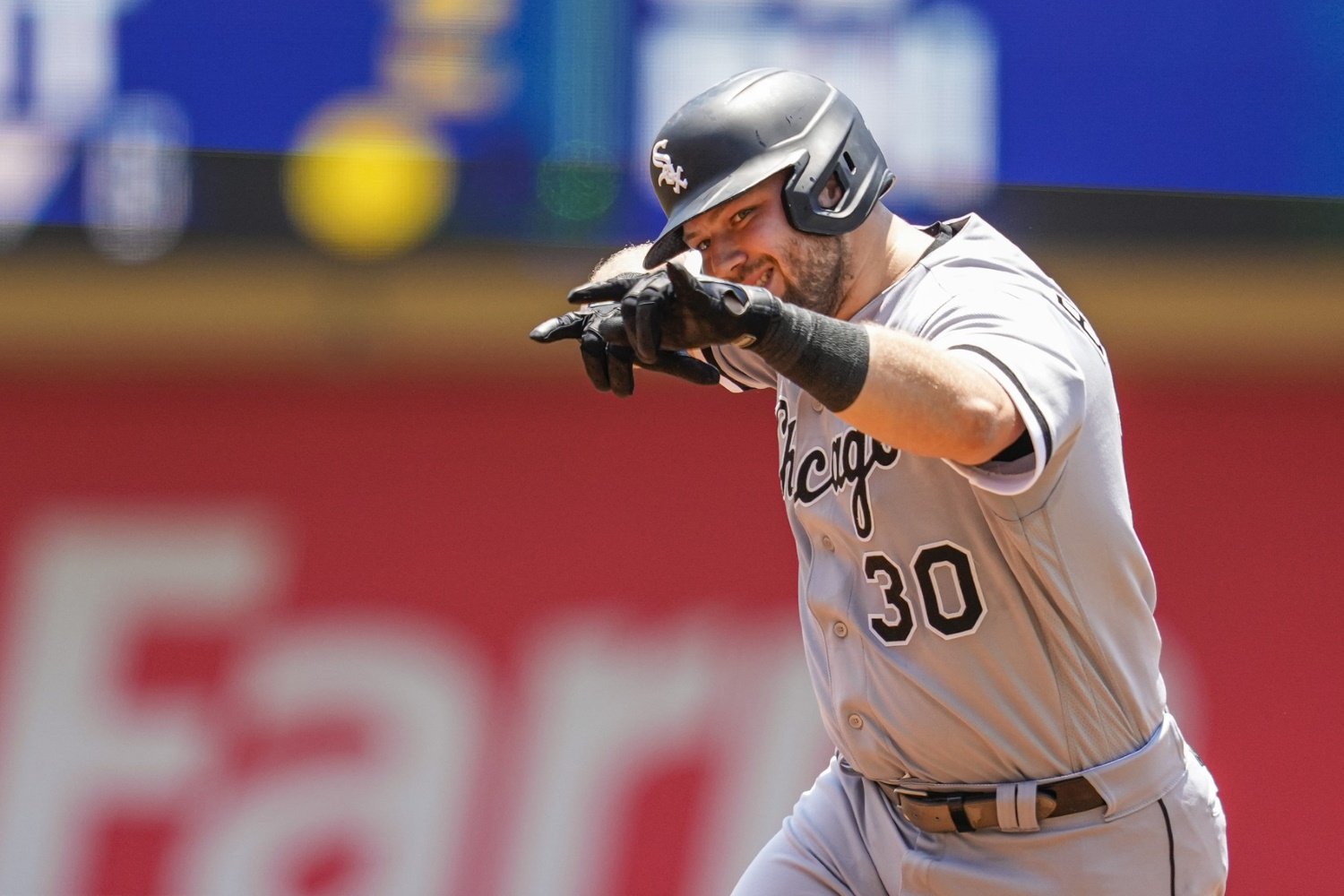 Image courtesy of © Dale Zanine-USA TODAY Sports
With the Chicago White Sox 21 games under .500, they've already begun trading away their rentable assets. Lucas Giolito, Joe Kelly, Reynaldo Lopez, Kendall Graveman and Lance Lynn have already been moved. Names like Dylan Cease and Eloy Jimenez have been rampant in rumors lately, too. It's no secret that the Brewers have needed an offensive boost all year, and there may be no better team to trade with than the White Sox.
2023: .245/.286/.293  (-0.7 fWAR)
Anderson is 30 years old and is having the worst offensive season of his career. He's in the final year of his contract, with a $14-million club option for 2024 that is no longer looking very team-friendly. His power has all but disappeared, and his on-base ability was always dependent on making at least some solid contact. The good news is, it really can't get worse, and the Brewers would be buying low on the erstwhile All-Star.
Why Anderson? Like I mentioned, the Brewers would be buying low. He's proven he can be a capable hitter, and has had his fair share of clutch hits. However, the Brewers may also be looking to take some burden off the shoulders of Willy Adames, who's struggled offensively. Anderson wouldn't be brought in a replacement, but he could play shortstop if Adames needs some time off. On days they'd both play, expect to see Anderson as a DH or at second base, as he's seen time at both in the past. It may not be far-fetched to imagine Anderson could play third base in a pinch, either, but it's unlikely he'd see time at the hot corner primarily.
It is worth noting that Anderson has been heating up offensively in the second half, where he boasts a .351/.413/.439 slash line, good for a wRC+ of 142. During that 14-game stretch, Anderson has cut down on the strikeouts, too, fanning less than 18 percent of the time. Of course, the sample there is small, but no team is trading for the player Anderson was in the first half of the season.
So would the White Sox be willing to part ways with Anderson? It's hard to tell. From a purely baseball standpoint, Anderson is a tradeable asset that an underperforming team would seem wise to move at the deadline. However, the White Sox could feasibly compete in the AL Central as early as next year, and they might view Anderson as a valuable part of their plans. On the other hand, they may simply see the writing on the wall, and move Anderson for a younger player they can pair with star outfielder Luis Robert Jr. in a few years.
Brewers Receive:
SS Tim Anderson (2025 UFA)
White Sox Receive:
For my trade, I'm proposing a one-for-one swap. The Brewers receive Anderson, and the White Sox receive 24-year-old infielder Freddy Zamora. Zamora's age might seem high for a Double-A player, but he's been battling injuries his whole career. In 2023, he's managed to stay healthy, and a call-up to Triple A could come quickly if he's traded to a new organization. His game is similar to Anderson's as well, but he's six years younger and is much more controllable.
2023: .216/.279/.533 (1.4 fWAR)
Jake Burger has enjoyed a bit of an offensive breakout with the White Sox this year, but he does come with some concerns. While Burger has shown excellent power, hitting 25 home runs, he's also hit for a low average and gotten on base at a clip below .300. Burger would likely man the hot corner and assume some DH duties for the Brewers, but could also play first and second base in a pinch.
Burger is only 27 years old, and comes with five more years of control. He may very well be an untouchable player in Chicago's mind, but they may also believe they're selling high on Burger. Should his power decrease significantly, Burger would just be a below-average bat and defender, a risk the Brewers would need to be willing to take.
Brewers Receive: 
3B/DH Jake Burger (ARB eligible 2026)
White Sox Receive:
Eric Brown Jr. is the highest-rated prospect in this potential deal; the Brewers' 2022 first-round draft pick has excellent contact skills and good speed. His power tool remains the biggest question, but if Brown keeps hitting, he could be in the big leagues as early as late 2024.
Daniel Guilarte's signing may have been eclipsed by the rise of Jackson Chourio, but his talents haven't gone unnoticed. At a young age, he's already showing a keen eye at the plate, with good contact skills. The promising part of Guilarte is his seemingly high floor, and he wouldn't represent much of a risk for the White Sox.
Hedbert Perez signed as an international prospect at a young age, and hasn't developed like the Brewers may have hoped. He still boasts incredible raw power, but there are concerns that both his speed and fielding ability have already started to regress. If Perez is able to live up to his potential, he could become a star, but he's very much a lottery ticket in this deal.
The fact is, the White Sox don't really have a good reason to trade Burger unless they believe he's at his peak. He's a controllable asset in every sense of the word, but if the White Sox are looking to inflate the farm system, a 27-year-old Burger doesn't exactly fit the bill.
Eloy Jimenez
2023: .285/.330/.477 (0.8 fWAR)
We've already covered the topic of acquiring Jimenez extensively here, but the quick rundown is this: He can hit when he's healthy. He doesn't play much defense, and likely would be a DH-only player if he was a Brewer. His moderately expensive contract hurts his value, but it does come with team options for the next two years.
Again, there's already a potential offer we've written about here, but the Brewers could want to acquire more than just Jimenez in the trade. 
The Blockbuster
What if the Brewers went out of their way to acquire all three? It's unlikely, but here's what the trade could look like.
Brewers Receive: 
3B/DH Jake Burger (ARB eligible 2026)

SS Tim Anderson (UFA 2025)

OF/DH Eloy Jiminez (2027 UFA)
White Sox Receive:
C Jefferson Quero (MIL #3 prospect)

SS Eric Brown Jr. (MIL #6 prospect)

SS Daniel Guilarte (MIL #14 prospect)

SS Freddy Zamora (MIL #20 prospect)
It's hard to pinpoint the value of each individual player, but together it's near impossible. It's almost certain the White Sox would ask for one of the Brewers' top prospects in a deal like this, and Jeferson Quero fits the bill perfectly. William Contreras looks to be the Brewers' catcher for the foreseeable future, while the White Sox have an aging Yasmani Grandal who would be a natural transfer to first base. Trading for the three young shortstops would almost guarantee to fill the void at short left by Anderson, and free up potential options for future infield spots as well.
If the White Sox are looking for pitching, their options could include RHP Jacob Misiorowski (MIL #4), but it's hard to imagine the Brewers would be willing to part ways with the young flamethrower. Other options could include fringe MLB players like Keston Hiura or Ethan Small, depending on what the White Sox are looking for. If the Brewers want to do even more of their shopping in one stop, reliever Keynan Middleton could come right along with any of the Chicago hitters. Again, it's hard to imagine a trade of this magnitude happening between these two teams, and it's even harder to imagine exactly what it might look like.
What do you think of the White Sox as a potential trade partner? What do you think it would cost? Let us know your thoughts in the comments below!
Think you could write a story like this? Brewer Fanatic wants you to develop your voice, find an audience, and we'll pay you to do it. Just fill out this form.
MORE FROM BREWER FANATIC
— Latest Brewers coverage from our writers
— Recent Brewers discussion in our forums
— Follow Brewer Fanatic via Twitter, Facebook or email
2