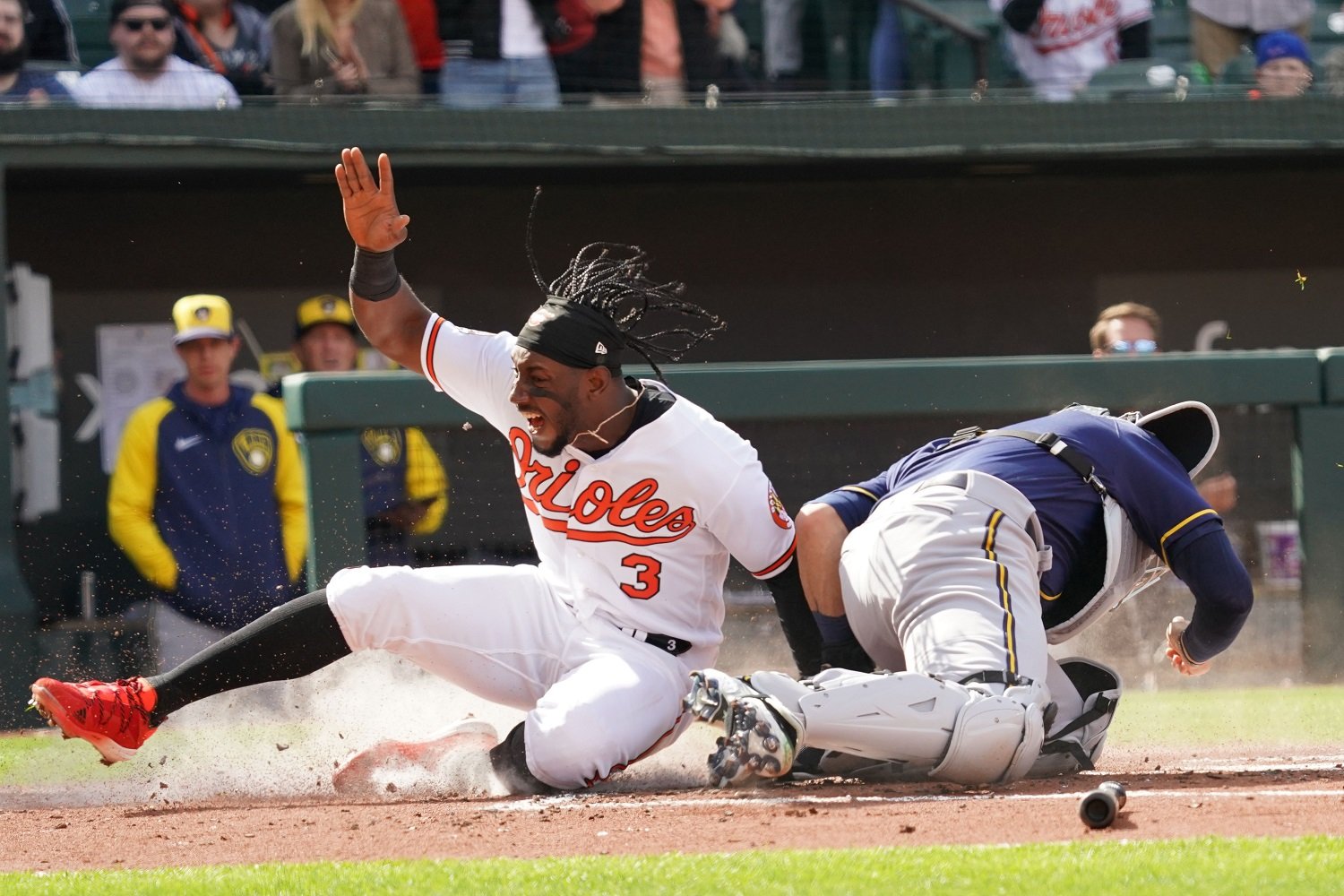 Image courtesy of Mitch Stringer-USA TODAY Sports
Good teams can start slow. It's why they play 162 games in a season and don't crown a first-half winner. A quick run down memory lane, both in Brewers history as well as other recent teams with slow starts.
To quote Hunter Renfroe, "It's game four."
Brewers historical early results and how the season turned out
The most successful Brewers team in its history, the 1982 squad, started the season at 3-6. They ended with 95 regular-season wins en-route to the World Series before the Cardinals' devil magic prevented Milwaukee from coming home World Champions.
In 1987, the Crew opened with a scorching 13 game win streak, only to lose 12 straight in May. That team won 91 games, but it was only good for third in the division (there were only four divisions, but the point remains).
Most recently, the 2021 Milwaukee Brewers opened the season at 1-3 against the Twins and Cubs, neither of which impressed as the season wore on. Milwaukee, on the other hand, went on to handily win the NL Central with 95 wins - even after the wheels fell off and they finished 6-12 to end the regular season, due to injuries and resting players for the postseason.
Okay, so the Brewers have seen this before, but what about other teams? Teams that have gone on to win something bigger, more important than a postseason birth? Glad you asked.
How have other teams fared?
In 2019, the Washington Nationals started their season with a 1-3 record and went on to a whopping 24-33 through May. Without intentionally salting our collective wounds as a fanbase, we had a front-row seat to the start of their World Championship postseason run. The Nationals rode their pitching staff straight through the postseason and World Series, something Milwaukee is equipped to replicate.
That's just one you say? What about (again, sorry about the salt) the 2021 Atlanta Braves, who started their season 0-4 before climbing to 4-8. After that, they rose to a 38-41 record through May before ascending to a wholly unimpressive 52-53 to close July. They rode an impressive pitching staff and a streaky offense to the World Series, picking up their most recent World Championship.
It's going to be okay
With that quick reminder that it's a long season and the first handful of games mean very little, what is actually happening on the field? The Brewers are all around playing sloppy baseball and not executing. It's really simple to break it down, and it's actually a good thing. If the team was losing games while players were performing at expected levels, that doesn't leave room for improvement. As it is, they've nowhere to go but up.
World-class pitching is missing their spots, failing to execute in key moments. We saw it with Corbin Burnes, Brandon Woodruff, Freddy Peralta, and Adrian Houser in their starts. Aaron Ashby and Jake Cousins out of the pen have shown both their potential and their hazards. Flashes of upside mixed with poor execution. Even on defense, they are botching plays we've come to expect them to make. Willy Adames has fumbled a few balls at shortstop, Kolten Wong missed a backhand up the middle (most 2B won't make this play, but he usually does), Tyrone Taylor got a bad jump and a ball fell in front of him, and Mike Brosseau bobbled a slow roller before throwing it away.
The same is true of the offense. Christian Yelich is looking much better, albeit not to his MVP form. He's hitting and getting on base, it's great to see. Let's be honest, we'll all be thrilled if Yelich hits .375/.538/.500 with an OPS of 1.038 all year. He won't, of course, but he is showing good signs. The double against the Cubs was particularly promising, as his approach to go with that pitch and take what was given is a major increase over his approach during his draught. The offense is currently ranked 14th in the league by OBP, but just 2-for-22 with Runners in Scoring Position. There have been a lot of guys drawing walks, taking good swings, working counts the right way, and there have been a few loud outs to end innings. They will get better. As fans, we need to be patient and let the team come around.
P.S. It looks as if these guys, the Brewers, in particular, could have used another few weeks in Spring Training. Give them time to round out. The Brewers organization, based on everything we know, is all for one and one for all. This team needs to just keep playing and working hard. Success is coming, it's still spring. Hope springs eternal, and tomorrow is another day. Get your grills ready, the home opener is approaching.