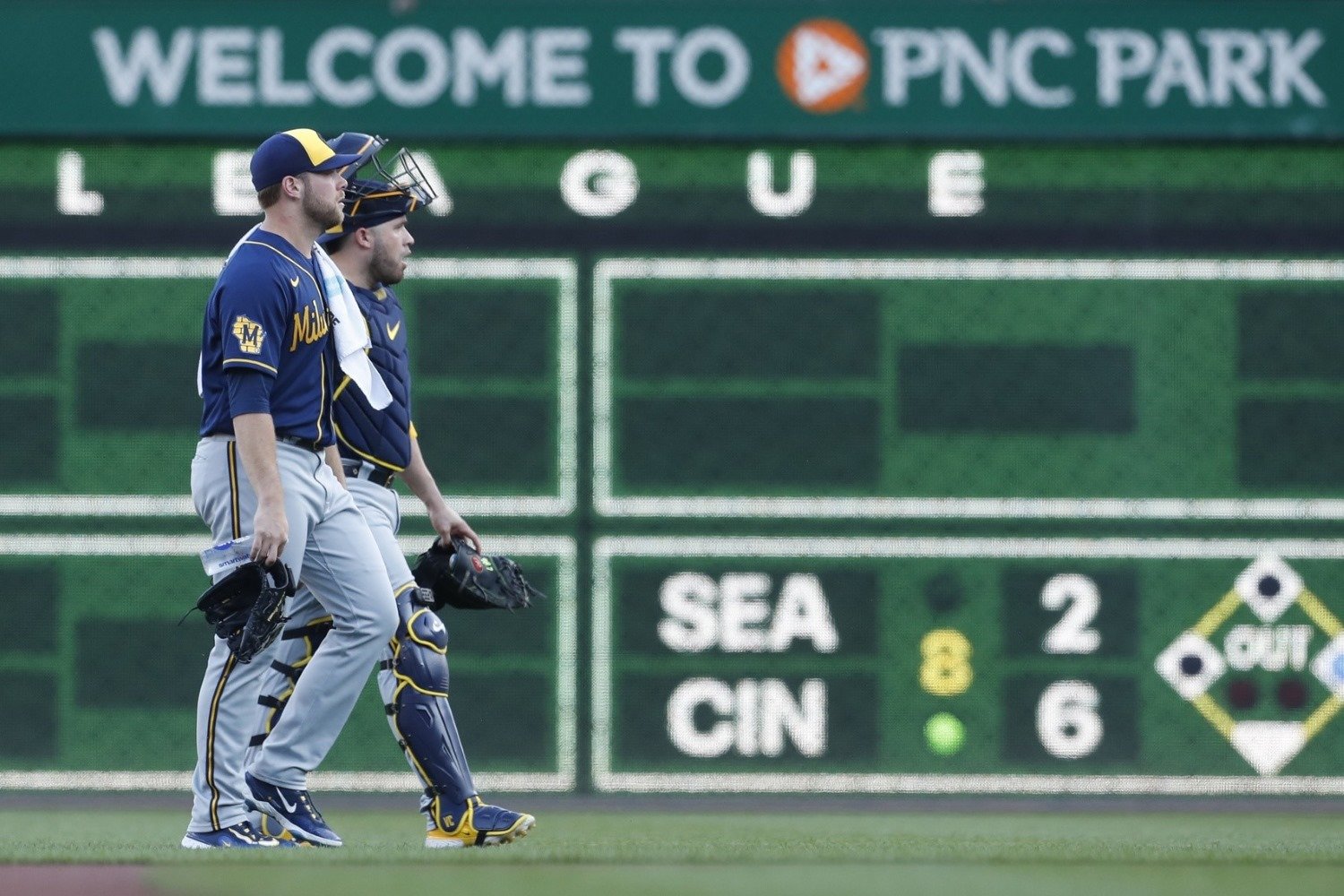 Image courtesy of © Charles LeClaire-USA TODAY Sports
Make that three times in the last four seasons that Victor Caratini has caught at least nine innings of no-hit ball. The Brewers' backup catcher is one of the unheralded heroes of this playoff-hopeful team, and continues to look like one of the better game-callers and handlers of pitchers in baseball. He shepherded three Brewers pitchers through 10-plus no-hit frames, before the Yankees were able to break through against medium-leverage hurlers pitching in high-leverage spots.
Corbin Burnes deserves a huge share of the credit, of course, after he worked eight spotless innings and racked up seven strikeouts. It was vintage Burnes, in MLB's most visible venue and at a critical juncture for the team. His season hasn't been as consistent or dominant as his 2021 was, but he's finishing strong, and leading a rotation that looks dangerous in almost any prospective playoff series. Ever since turning the corner at the end of July, he's shown better command and location on his cutter, the linchpin of his attack. 
Burnes had a 4.10 ERA entering July, but has been a run better than that since. His strikeout rate was a pedestrian (by modern standards) 22.6 percent through June, but has been just shy of 28 percent since July 1. It's what aces do when playoff races heat up, and that's certainly what Burnes is. Caratini has been his constant partner, though, and deserves some praise for the work he's done in support of Burnes and the rest of the Milwaukee staff.
Of the 57 catchers who have played that position most this year, only three have seen opposing hitters post a lower average exit velocity on batted balls. We tend not to think of catchers as drivers of limiting hard contact, but that's exactly what good receivers do. They call pitches and sequences that put hitters on the defensive, and they establish enough trust with their pitchers that when they set a target on the edge of the strike zone, the pitcher gets the ball there, unconcerned that a fringe strike will be called a ball or that the hitter will pounce on a mistake.
It certainly helps that Caratini is Burnes's personal catcher, given that Burnes excels at inducing weak contact. Burnes's 179 innings this year barely represents 40 percent of the 432 innings Caratini has caught, though, so that falls far short of explaining the phenomenon entirely. Caratini is an exemplar of the backup backstop. He's intelligent, dedicated to the work that happens behind the scenes and away from the field, and just competent enough in all other aspects not to hurt the team. Caratini's .330 OBP ensures that there's no free out in the batting order on days when he spells William Contreras. He's a switch-hitter, so there's no glaring matchup deficiency about which to worry. 
As he showed Sunday, Caratini also has the durability a backup catcher needs, and which seems especially important to this team. With Contreras acting as the designated hitter on most of the days when he doesn't catch, Craig Counsell never wants to make a substitution behind the plate, lest he lose the DH. Sometimes, that means long days behind the plate for Caratini, but he bears up admirably under that strain. There, too, being a switch-hitter comes into play, because not needing to sub him out even in high-leverage plate appearances avoids that potential pitfall.
On Sunday, 12 innings of brilliant pitching wasn't quite enough, and the Brewers lost a game that they sorely wanted to win, especially once Burnes had such a sterling day. Nonetheless, the contest was a reminder that this pitching staff--and both catchers who support it in their turns--can give the team a chance to win against any potential competition, throughout the balance of September and into October.
Think you could write a story like this? Brewer Fanatic wants you to develop your voice, find an audience, and we'll pay you to do it. Just fill out this form.
MORE FROM BREWER FANATIC
— Latest Brewers coverage from our writers
— Recent Brewers discussion in our forums
— Follow Brewer Fanatic via Twitter, Facebook or email