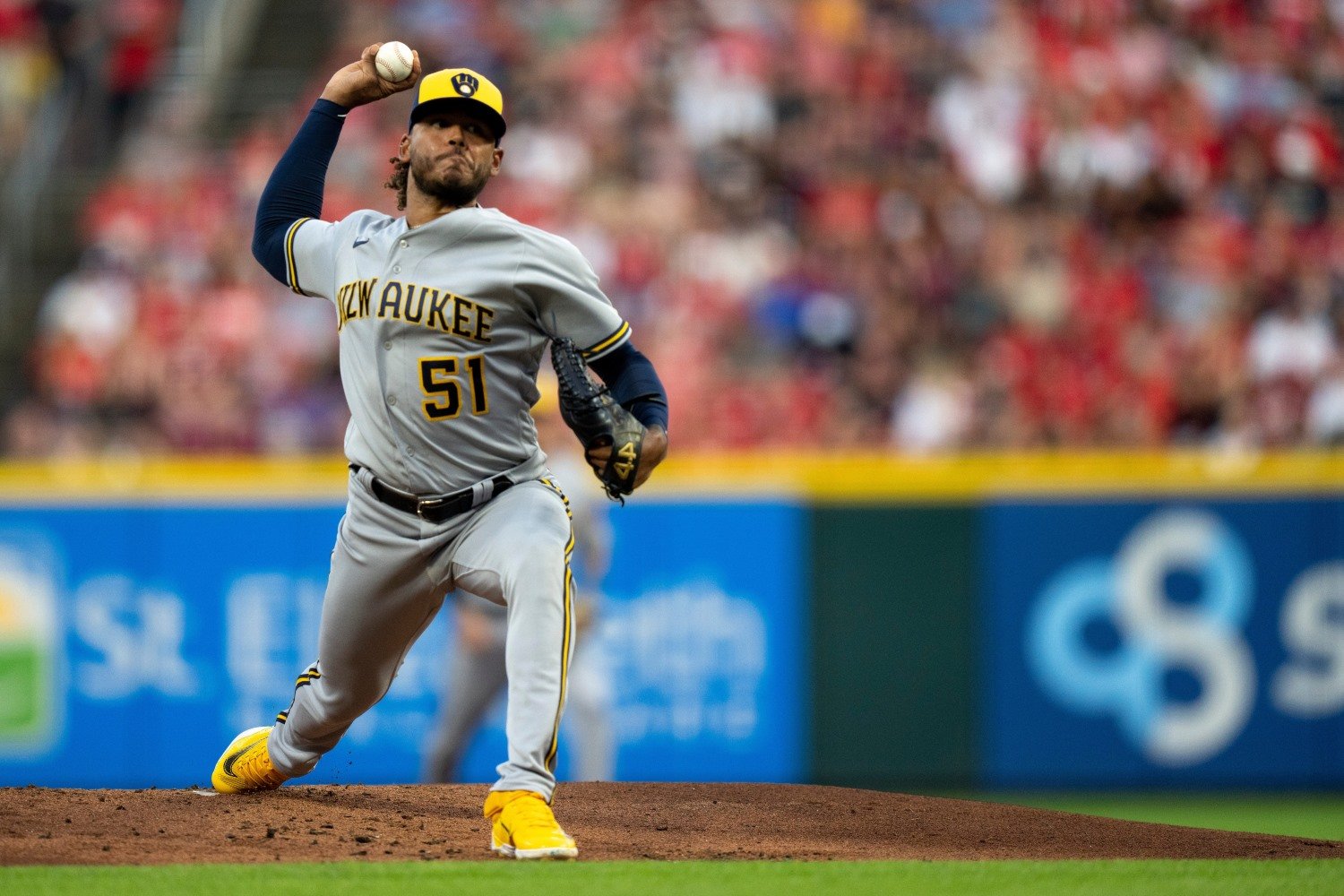 Image courtesy of © Albert Cesare / The Enquirer / USA TODAY NETWORK
By this point, we know what Freddy Peralta has in his locker, and it's enough to mesmerize and overpower any offense in the league when he's got some semblance of command. The lack of control, however, brings about an inconsistency from game to game, and even a slight improvement in this area will bring marked improvements in his performance.
So far this season, Peralta has shown with a healthy shoulder the type of velocity we used to see from him only as a reliever, but it hasn't shown much in the way of added value, in part because of how poorly he has located either it, or his secondary pitches. It has become a regular thing for Peralta to get ahead 0-2 and throw multiple uncompetitive pitches in the at-bat, leading to excessively deep counts, high pitch counts, and a lot more pressure in games wherein he should have the stuff to wipe out opposing hitters.
He has 22 2/3 innings pitched in 0-2 counts this season, and 28 innings pitched with a 2-2 count. Contrast this with Corbin Burnes, who has 29 2/3 innings in an 0-2 count and just 26 innings in a 2-2 count, because hitters are forced into making decisions behind in the count, and generating much more swing-and-miss.
Typically, in an 0-2 count, a pitcher will try to reset the hitter's eye, and throw an uncompetitive pitch--something to set up the following sequence. Then, the 1-2 pitch will be used to generate a chase off of that. So let's compare Burnes and Peralta in this way:
As you may notice, Burnes has three pitches (the changeup, curveball and slider) all with chase rates around 50% in this count. Peralta has just one pitch (his curveball) with a chase rate above 30%. It's a big reason why he struggles to go late in games, and also why he gets forced into the zone more than he would like, when hitters are doing damage. In 3-2 counts, hitters have a .300/.539/.540 slash line against him, which just can't happen when you get into these situations as often as he does.
During his career-best 2021 season, Peralta ignored walks for the most part, and tried to stay nibbling around the zone, getting a lot of strikeouts and limiting the number of hits against him to the point where he had a .179 batting average against him. In fact, Peralta has had three straight seasons of BAA being under .200. That's changed this year, and is a large part of why he hasn't been as effective.
So what has changed in July that's made him so good, so far? It's really simple:
He's landing his breaking pitches on the edges of the strike zone, in particular the curveball. There are slight increases in the changeup and the slider, but he's landed his curveball around the edge of the zone 50% of the time across his three starts this month, a significant improvement on the 35.5% mark he had in June, and landing it in the strike zone 57.1% of the time overall. However, interestingly, opponents' in-zone swing rate has dropped from 68% in June down to 37.5% in July, meaning he's stealing strikes.
In doing so, Peralta is forcing batters to chase significantly more on his slider and his changeup, and more on all four of his pitches in two-strike counts in July.
Hitters will eventually adjust, and he'll have to keep tweaking his pitch mix as he goes along, but landing these pitches is so crucial to his success. Hopefully, we'll see more of it in his next start.
Think you could write a story like this? Brewer Fanatic wants you to develop your voice, find an audience, and we'll pay you to do it. Just fill out this form.
MORE FROM BREWER FANATIC
— Latest Brewers coverage from our writers
— Recent Brewers discussion in our forums
— Follow Brewer Fanatic via Twitter, Facebook or email