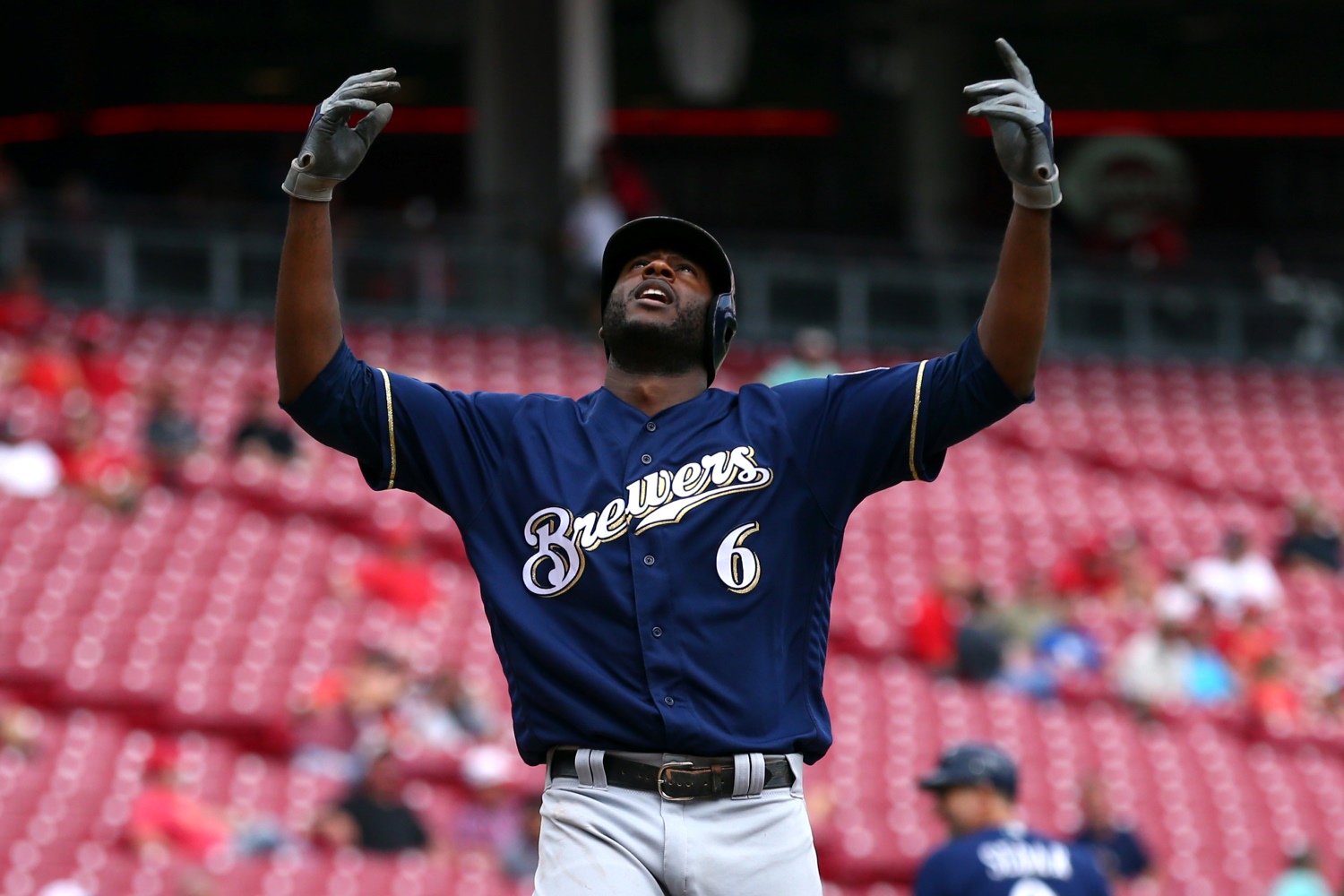 Image courtesy of © Aaron Doster-USA TODAY Sports
Twelve pitchers and catchers reside in the Sheets Region, as they fight to make it to the next round. Once voting finishes here, the Favorite Brewers Bracket will pick up steam in the round of 32, where decisions will get tougher. Which of these 16 Brewers will you push through with your vote?
#1 Corbin Burnes vs. #16 Jonathan Villar
The only pitcher who earned a top seed, Burnes was great in relief in 2018, awful as a starter in 2019, and is now among the top few pitchers in MLB. The 2021 Cy Young's popularity took off the past three seasons, with dominating numbers like a 2.60 ERA, 11.83 K/9, and 14.3 fWAR, all tops among MLB starters since 2020. He even had fans on his side regarding money, amid his and the Brewers' arbitration case. Villar was an exciting player in his first year in Milwaukee, with 62 stolen bases and 32 doubles. The tide turned quickly over the next two seasons, with fans frustrated by his baserunning blunders and defensive struggles. He even took some heat for being a part of the Jonathan Schoop trade fans bemoaned in 2018.
#8 Manny Piña vs. #9 Yasmani Grandal
There was a buzz in 2019 when the Brewers signed Grandal as a free agent, though it was a one-year deal. His power and on-base combo as a catcher, along with his framing skills, gave the Crew a legitimate backstop. He hit 28 homers (career high) with a .380 OBP in his one season in Milwaukee. Piña is the other side of the position, a consummate professional and great teammate whose defensive skills kept his career alive. He played six years for the Brewers, cutting down base runners and coming up with enough clutch hitting for fans to take notice. Piña hit 13 home runs with a .439 SLG in 2021, his last year in Milwaukee.
#5 Zack Greinke vs. #12 Chris Capuano
It was huge news when GM Doug Melvin traded for Greinke, who won the American League Cy Young Award two seasons earlier. Greinke was solid in his one-and-a-half seasons, with a 3.67 ERA and 9.9 K/9. His quirky personality endeared some fans, but he might have gained the most significant following when he called out St. Louis Cardinals ace Chris Carpenter: "His attitude out there sometimes is like a phony attitude...a lot of guys on our team don't like Carpenter," he famously said.

Capuano pulled in some nostalgia votes to earn a 12-seed, especially since his best years were before 2010. He threw over 215 innings in back-to-back seasons and won 18 games in 2005, leading some to believe he was better than his numbers showed in six seasons with the Brewers.
#4 Freddy Peralta vs. #13 Chris Narveson 
Narveson spent five seasons with the Brewers, with average-at-best results. He did make 28 starts for the 2011 squad, with a 4.45 ERA. That wasn't terrible for a fifth starter throwing 161 innings at the time. Like a number of recent Brewers, Peralta is loved nearly as much for his personality as his ability. He owns a 3.18 ERA the past three seasons, with an All-Star output in 2021 (147 ERA+) that garnered true Cy Young talk early in the year. The flair, the fun, and the fastball have made Freddy a sneaky favorite among the fans.
#6 Chase Anderson vs. #11 Jhoulys Chacín
Chacín was terrific in the Brewers' 2018 season, posting a 3.50 ERA in 35 starts. His unexpected success boosted the club's push for a division title. However, things went off track fast in 2019, and he was released in August. Anderson was the Opening Day starter in 2018 after a phenomenal 2017, with a 2.74 ERA (160 ERA+) and 1.09 WHIP. He struggled some down the stretch and, surprisingly, was left off the playoff roster. Anderson followed a similar path in 2019. Overall, he was a solid four-year starter in Milwaukee with a 3.83 ERA in 118 appearances (112 starts). 
#3 Lorenzo Cain vs. #14 Chris Carter
Carter was the prototypical "slugger" in his only season in Milwaukee. He tied for the NL lead in homers (41) in 2016, but also whiffed a league-high 206 times. He owned a decent .321 OBP and quality 113 OPS+, but the strikeouts were too much for some fans to care enough about him as a favorite. Fans loved the free-agent signing of Cain before the 2018 season, bringing in a Gold Glove-caliber outfielder, World Series champ, and former Brewers farmhand. Cain was at the top of his game in 2018 with a .395 OBP, 30 steals, and elite defense to earn an All-Star nod and MVP votes. He then won his first Gold Glove the following season, offering tremendous value despite a disappointing offensive year. Cain's personality and all-out style brought him even more love. Only the awkward ending to his time in Milwaukee hurt his seeding.
#7 Nyjer Morgan vs. #10 Junior Guerra
Guerra put together a respectable résumé in his four-year run in Milwaukee. He owned a 2.81 ERA in 20 starts in 2016 as he seemed to outpitch his "stuff." It earned him the Opening Day start the next season, but he had trouble staying healthy. Guerra regained value in the bullpen in 2019, though it didn't seem fans were too attached. Morgan cemented his place in Brewers' lore for his walk-off Game 5 NLDS hit in 2011 to earn Milwaukee its first postseason series win since 1982. He was a valuable part-time player that season (.304/.357/.421) and had a special personality that came out with his alter-ego, Tony Plush. Morgan was fun and unique, making many fans smile, but others cringe. Some blamed his call-out of Albert Pujols as a reason for the Cardinals' win over the Brewers in the NLCS (a little silly). His 2012 didn't go as well, and while it was fun for a bit, his run with the Brewers ended after the season.
#2 Brandon Woodruff vs. #15 Martín Maldonado
Maldonado, a backup catcher in Milwaukee, was praised for his cannon arm and defensive skill. Fans appreciated what he brought to the table, but not enough to be anyone's favorite. Woodruff's talent and bulldog mentality had fans buying in early. He was a beast out of the bullpen in 2018 but hit star-level popularity when he blasted a home run off Clayton Kershaw in Game 1 of the NLCS. The crowd, and Woodruff, went bonkers. Since then, he has been one of the best starters in baseball. A two-time All-Star, Woodruff finished fifth in Cy Young voting in 2021 and owns a 2.84 ERA (146 ERA+) and 1.01 WHIP over the past three seasons. If he signs an extension with the Brewers, his fan-favorite status could rise further.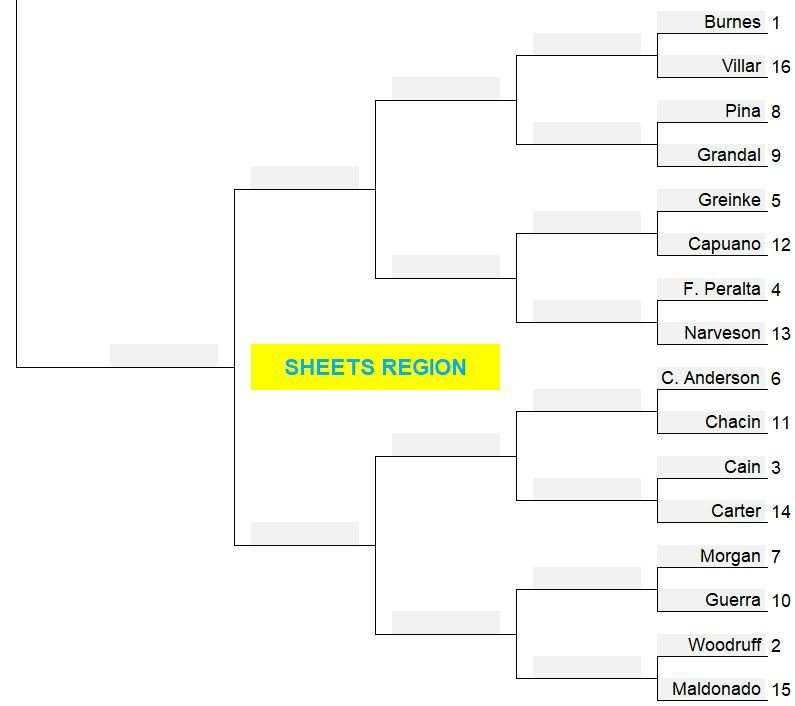 That closes out the entire first round. Get your votes in for the Sheets Region below and keep your Favorite Brewers alive. Second-round action will begin soon as we march our way to the Final Four and eventual champion! Check out the full 64-player bracket below.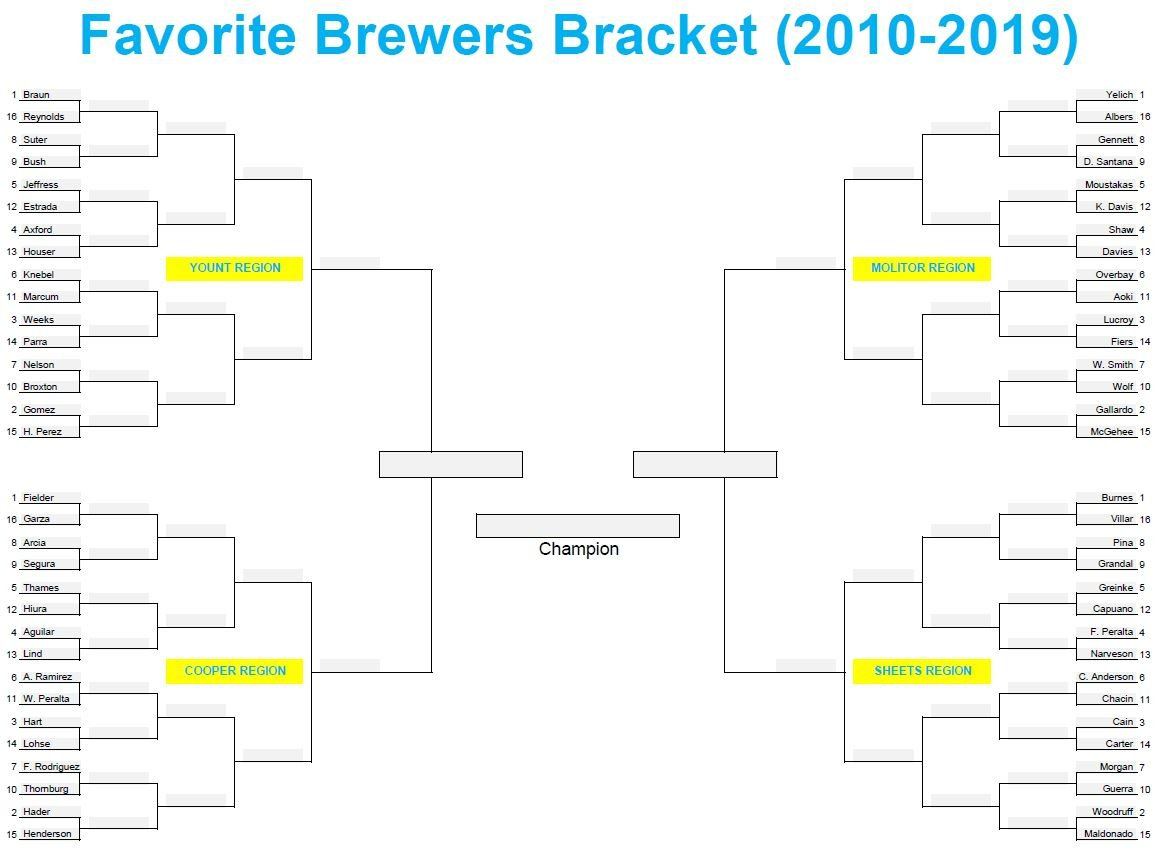 Think you could write a story like this? Brewer Fanatic wants you to develop your voice, find an audience, and we'll pay you to do it. Just fill out this form.
MORE FROM BREWER FANATIC
— Latest Brewers coverage from our writers
— Recent Brewers discussion in our forums
— Follow Brewer Fanatic via Twitter, Facebook or email