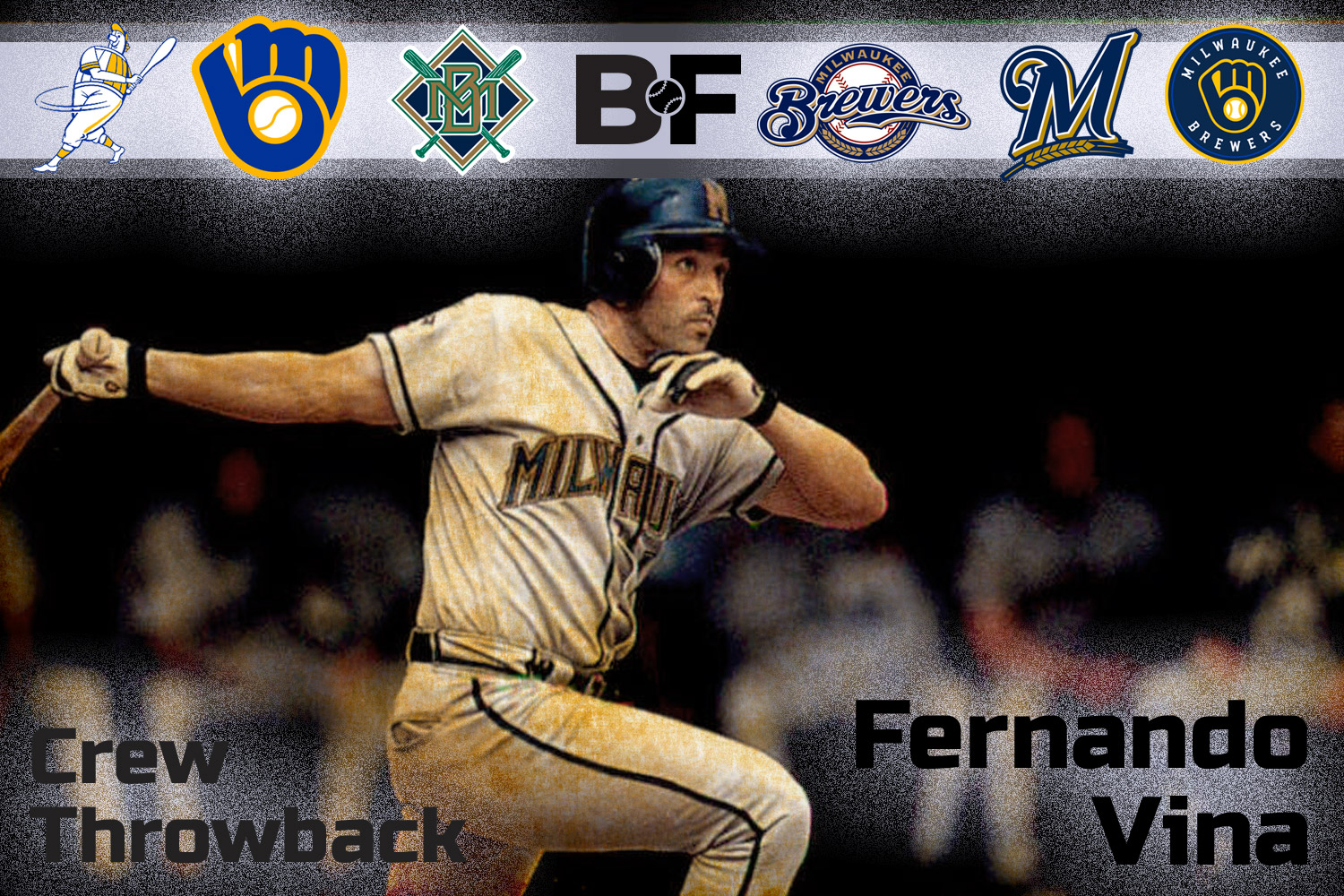 Image courtesy of Brewer Fanatic
Fernando Vina was born in Sacramento, CA, in 1969, the child of Cuban immigrants. He attended Arizona State University and was selected by the Mets in the 9th round of the 1990 draft. 
Vina quickly put together a profile that would be his calling card throughout his career: he hit for a solid average, not much power, few strikeouts, and good defense at the keystone. 
Vina was selected by the Seattle Mariners in the 1992 Rule 5 draft but was returned to the Mets the following summer. He was then traded to the Brewers in December of 1994, completing a deal as the player to be named later in the Doug Henry trade.
It didn't take long for Vina to find his niche in Milwaukee at second base and leading off. Vina hit for a good average and got on base at a 35% clip while playing quality defense. He never hit for double-digit home runs but walked fewer times than he struck out. His best year was 1998, when he hit .311 with 39 doubles and a .386 OBP - good enough to make his lone all-star appearance. His 198 hits that year are tied for the eighth most in Brewers' history.
Unfortunately for Vina, he missed three-quarters of the 1999 season after a collision with OF Jeromy Burnitz . 
In 2000 - a year away from free agency with the Brewers in need of pitching - traded Vina to the Cardinals Juan Acevedo and two minor leaguers. Vina went on to have some good years in St. Louis, winning two Gold Gloves and twice hitting .300+.
In 2004, Vina signed a two-year deal with Detroit, but due to injuries only played 29 games that year - and none in 2005. An attempt to return in 2006 ended with another injury - and signaled the end of his playing days.
For his career, Vina hit .282 and produced a.348 OBP - not far from his Milwaukee numbers of .286 and .349. He only hit 40 HRs in his career. One of the more remarkable stats is his tiny 6.2% strikeout rate - almost unheard of today. Vina had quite a few stolen bases in his day but was not an efficient base stealer (116 SBs vs. 67 CS). 
Still, when you add in his good defense, Vina had a nice career - making $26M+ over 12 major league seasons. He was not a star and never put up huge numbers, but he was a valuable complementary player. 
One of the more memorable moments of Vina's career happened on May 31, 1996. While attempting to tag a runner (Albert Belle) and make a throw to first to complete a double play, he was slammed into by Belle. Belle received a 5-game suspension for his actions. Vina laughed about the incident good-naturedly, claiming, "that put me on the map." Check out the video of the incident.
There was controversy after Vina's career was over when his name came out in the Mitchell Report in 2007. A Mets clubhouse attendant said he had given Vina steroids in the early 2000s. Vina said he took HGH to recover from injuries - but denied ever buying or using steroids.
After retiring, Vina worked for ESPN for several years. He now works teaching and promoting baseball to America's youth - including underprivileged children. 
Vina was inducted into the Arizona State University Hall of Fame in 2011 and the Milwaukee Brewer Wall of Honor in 2014. 
Please share your memories of former Brewer Fernando Vina.
Think you could write a story like this? Brewer Fanatic wants you to develop your voice, find an audience, and we'll pay you to do it. Just fill out this form.
MORE FROM BREWER FANATIC
— Latest Brewers coverage from our writers
— Recent Brewers discussion in our forums
— Follow Brewer Fanatic via Twitter, Facebook or email