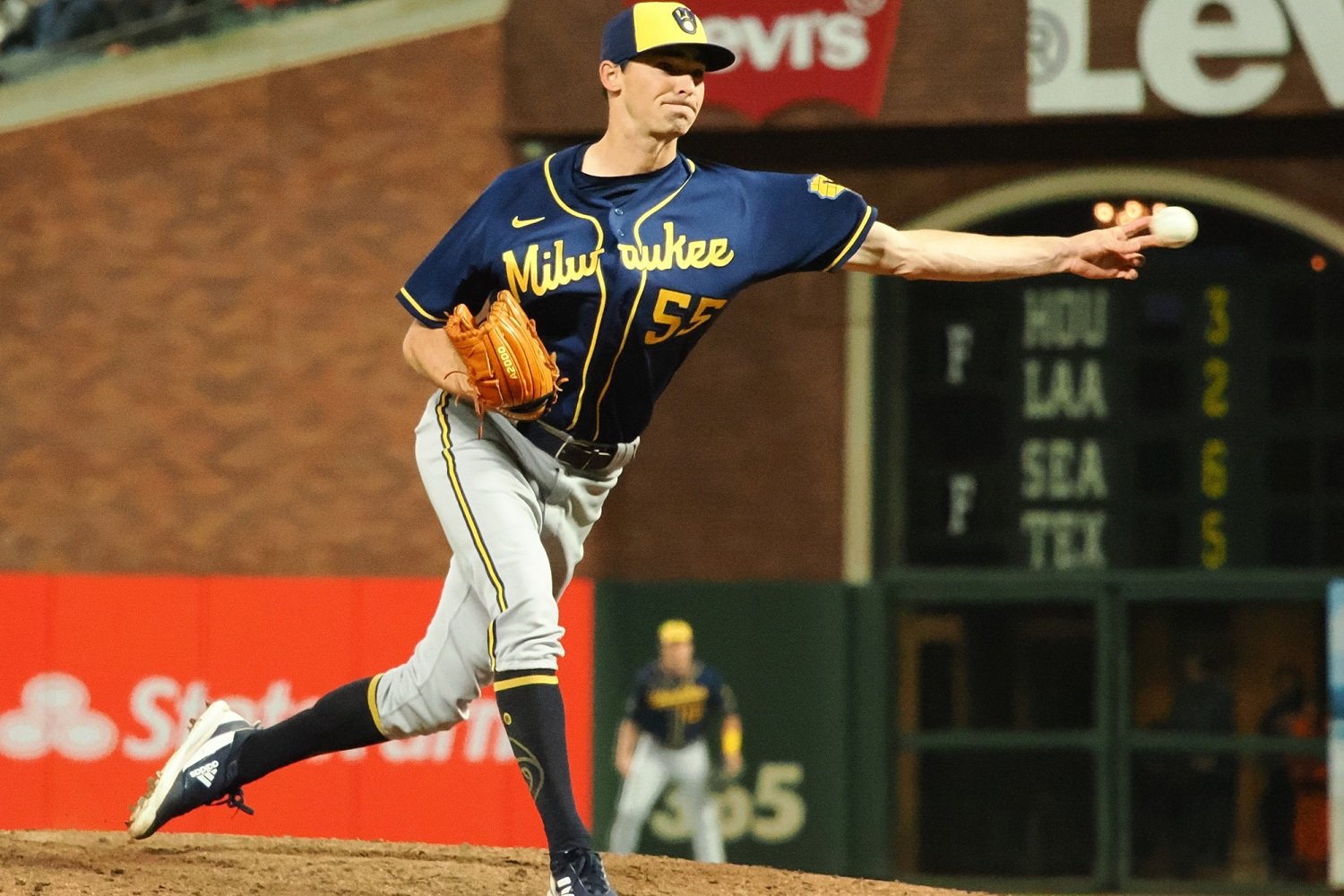 Image courtesy of © Kelley L Cox-USA TODAY Sports
Just as I expected going into the season, Hoby Milner is playing at an All-Star caliber and is the biggest snub for the midsummer classic on the Brewers since Devin Williams rightfully was named as an alternate. 
(This was not what I expected.)
Prior to this season, Milner held a career MLB ERA of 4.77 in 93 games pitched, totaling 77.1 innings. The southpaw throws sidearm and doesn't blow people away with his pitch speed. He wasn't used as the now-extinct LOOGY (Lefty-One-Out-GuY), but has certainly excelled against same-handed batters over the course of his six-year career, similar to most pitchers. It is a huge surprise to say that this veteran of six years with four different teams, who owns a career WHIP of 1.513 and allowed 10.0 Hits per 9 innings prior to this season, would be vaulted to a place in the club of dominant relievers. 
On a surface level, it is quite obvious to see where this improvement came from. Milner has struggled mightily against right-handed hitters in his first five seasons. This season, however, he has stifled those pesky opposite handed batters, allowing a batting average of .216 to them.
In the chart above, there is a palpable shift in his effectiveness pitching to right-handed hitters. There are two other seasons which are better than the career averages which is denoted by the dashed line of the appropriate color. Part of the reason for those very low numbers seen in 2019 and 2020 is due to small sample size, with only 3.2 innings with the Tampa Bay Rays then 13.1 with the Los Angeles Angels. 
Amazingly, right-handed batters have a slugging percentage lower this season than the batting average allowed over the entirety of Milner's career, culminating to an OPS of just 0.578. This means that not only is he limiting hits, but he is limiting extra base hits, and also not allowing many free passes, specifically to righties. 
How did this actually happen though?
A good place to start is pitch selection. Milner has almost entirely eliminated his usage of the four-seamer, rather using a sinker as his primary fastball which is now used 47% of the time compared to the four-seam's 5.4%. This is the only year, besides 2019 (where there is that small sample size), where the sinker is used most of any pitch. 
His offspeed selection has changed a little too, with an increased reliance on the changeup; used 17.9% of the time. This is a variant to historical usage of his non-fastball, as the curveball has been most often used as the secondary pitch. This stays true, with the curveball as his secondary pitch, but is used 29.7% of the time now. 
Milner's pitch change directly contributes to the success he has had this season against right-handed batters. In total, the above graph shows a clear shift in pitch selection, but doesn't tell the whole story.
So let's dive more into that tomorrow, as we discuss why a ton more sinkers and changeups have suddenly made Milner a devastating bullpen option. 
Part 2: Pitch Selection
Part 3: Mechanics and Strategy
Think you could write a story like this? Brewer Fanatic wants you to develop your voice, find an audience, and we'll pay you to do it. Just fill out this form.
MORE FROM BREWER FANATIC
— Latest Brewers coverage from our writers
— Recent Brewers discussion in our forums
— Follow Brewer Fanatic via Twitter, Facebook or email
1