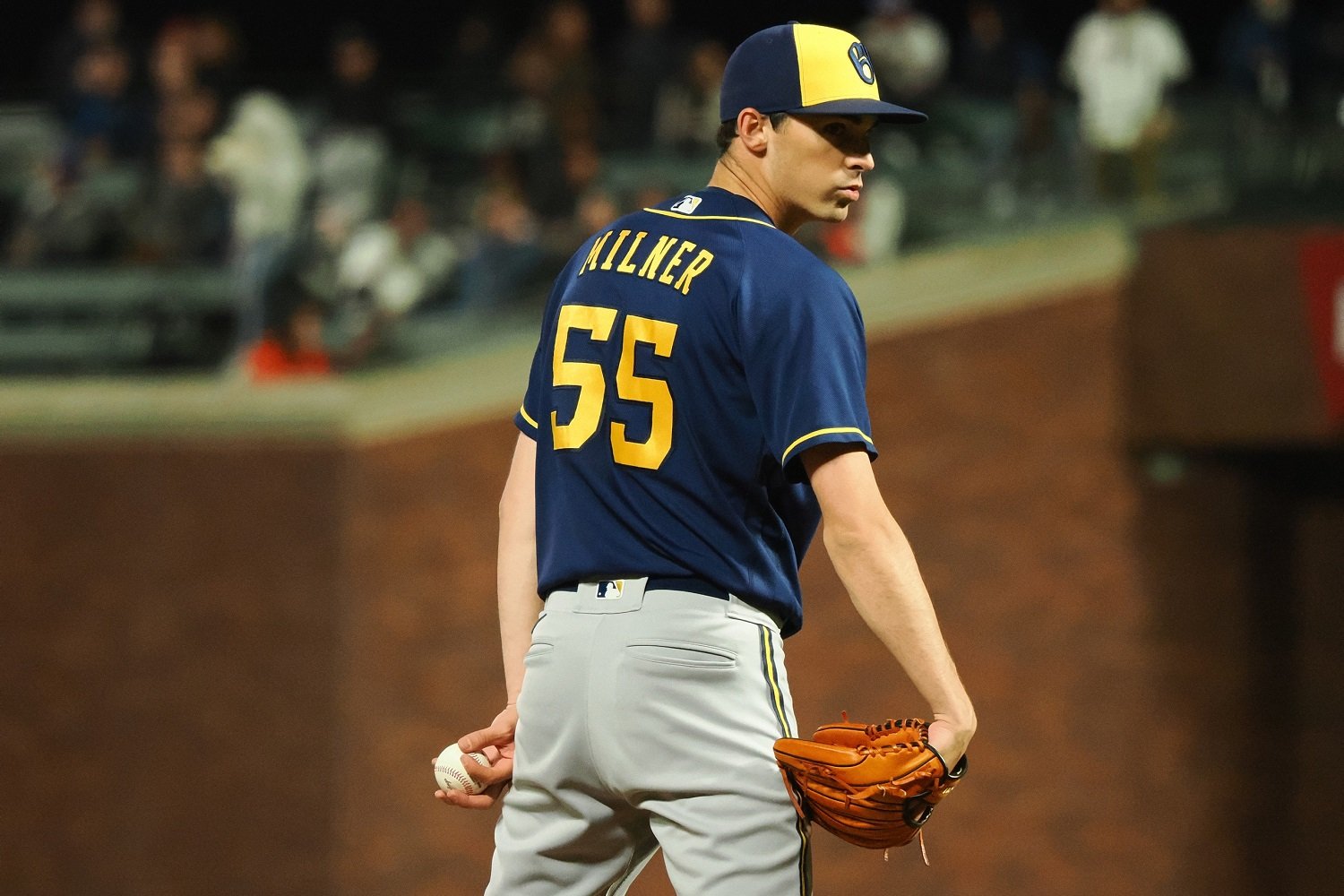 Image courtesy of © Kelley L Cox-USA TODAY Sports
As of 8/5, Hoby Milner 's ERA is at 2.93 and his WHIP is just 1.075 on the year. This turnaround is astounding, and no one is really talking about just how amazing Milner's season has been. So we've been diving into the details. On Thursday, we showed how his success reflects his newfound ability to get right-handed hitters out and a change in his pitch selection. On Friday, we dove deeper into those pitches, to see why the new mix is so effective. 
This major shift in ideology comes with an actual change in physical position when Milner releases the ball. Beginning this year, he has been setting up further towards the first base side of the rubber. This allows him to better attack batters on this East-West plane as he has been throughout this season, starkly different from throwing up in the zone to induce outs.

Obviously there needs to be a development to the pitches in order for this rapid turnaround to take place. This is where the sinker (the fastball option he has newly embraced) has changed, having more lateral movement. In 2021, the break for the sinker and the changeup were exactly the same, with 16.3 inches of movement. This year, Milner's sinker moves, on average, 18 inches laterally, thereby introducing further variance between those pitches, making them more effective together. 
Another massive development in Milner's production is the way he actually gets people out. Rather than attempting to miss the bat, part of the importance of his location change comes from the goal of an at bat. Inducing weak contact is paramount to his success, which comes from either jamming hitters by pitching inside or off the end of the bat by going away.
This comes to an absolutely incredible weak contact rate of 10.3%, much higher than the MLB average of 3.8%. He also only has had a total of 4 batted balls which were barreled, for a rate of 3.4%, almost half the MLB average of 6.7%. Yes, only 4.  All this comes to an average exit velocity of 84.4 mph, and an expected batting average of just 0.230.
As a result, there has been just one home run hit off him in his 43 appearances, and just three of the 22 inherited runners have scored. He has also earned his first career win this season, owning a record of 3 and 1.
All of these are stark improvements over the course of his major league tenure, marking a turning point in what had appeared to be an otherwise bleak career. Milner, at 31 years old, has reinvented his himself. And the more one looks into the adjustments he has made, the more it looks like his success is here to stay.
Part 1: Identifying Issues
Part 2: Pitch Selection
Think you could write a story like this? Brewer Fanatic wants you to develop your voice, find an audience, and we'll pay you to do it. Just fill out this form.
MORE FROM BREWER FANATIC
— Latest Brewers coverage from our writers
— Recent Brewers discussion in our forums
— Follow Brewer Fanatic via Twitter, Facebook or email