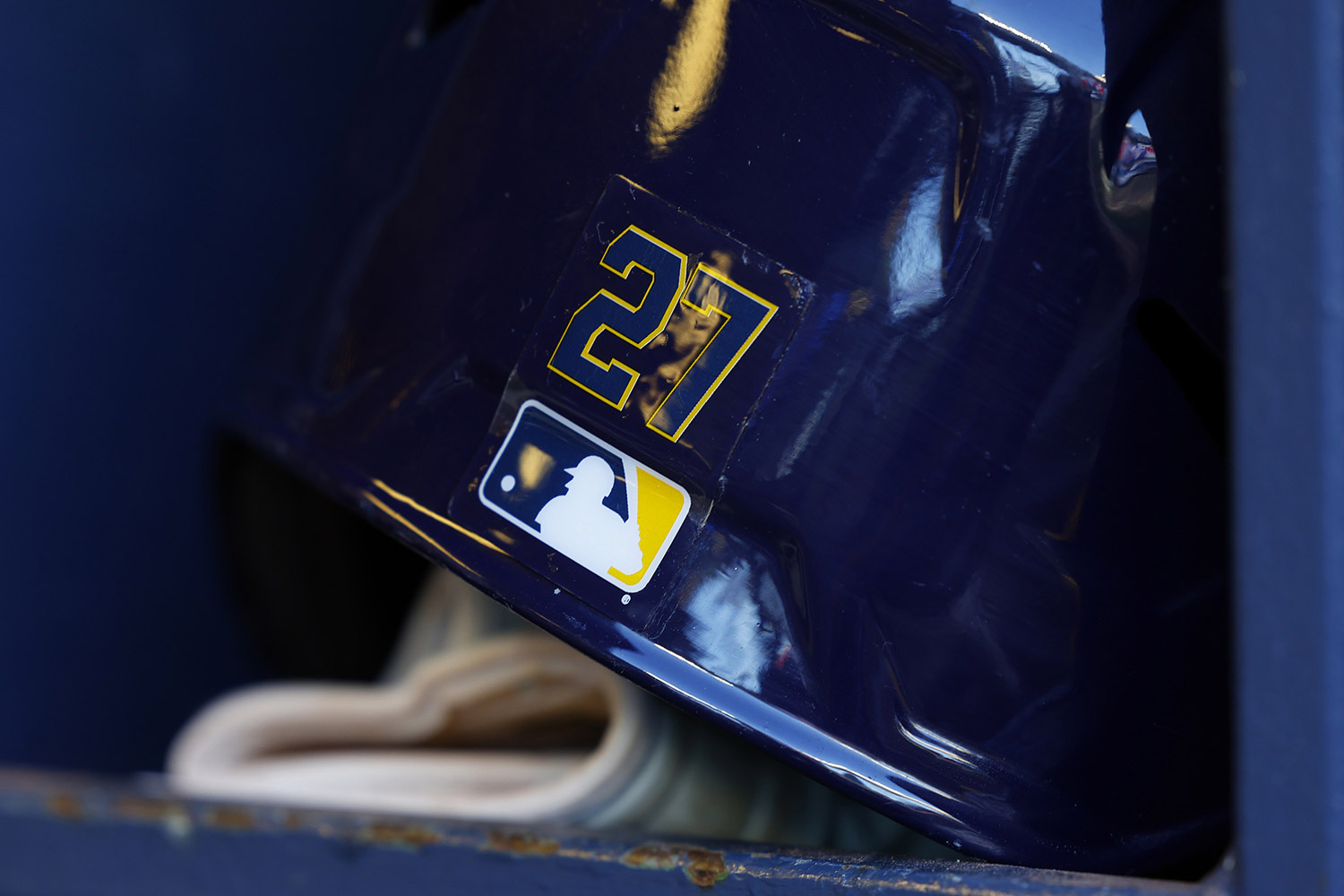 Image courtesy of © Jeff Hanisch-USA TODAY Sports
Just so you know, the data in this article is accurate as of 1:00 pm on January 9th, 2023. The details of Adam Engel's deal with the San Diego Padres have yet to be released. Contract information has been gathered from spotrac and Baseball Prospectus, while inflation data has been gathered from the United States Bureau of Labor Statistics. Ticket pricing is from official Milwaukee Brewer documents.
The Milwaukee Brewers became the last team to sign someone to a major league contract, with Wade Miley returning to the team where he had his one of his best seasons in 2018. Despite the other moves made via trades, the Brewers remain behind the eight ball in actual spending.
Ninety-six players signed major league contracts in free agency, committing over $3.6 billion without including any bonuses. Both New York teams spent the most, with eight signings for $717 million by the Mets and four for $573.5 million by the Yankees. Eight teams have committed over $100 million, and just one has spent less than Milwaukee, the Atlanta Braves.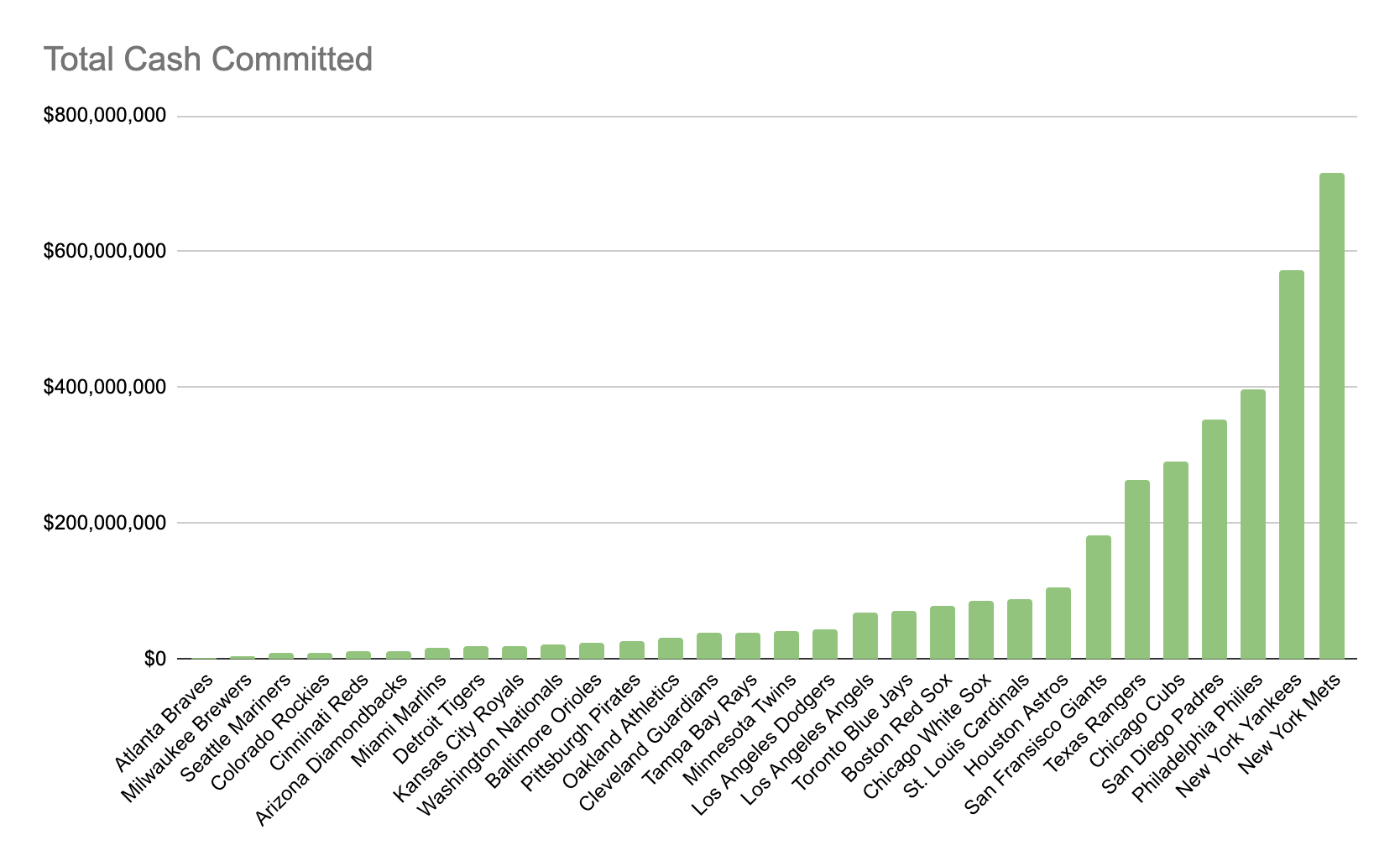 Looking at the National League Central, spending this offseason shows continued trailing efforts, with drastic improvements by the rival Chicago Cubs mainly to their shortstop of the future, Dansby Swanson. St. Louis has also been working to improve by replacing their longtime backstop, Yadier Molina, with the former Cub, Willson Contreras .
| | | | |
| --- | --- | --- | --- |
| Team | Number of Signings | Total Cash | AAV |
| Cincinnati Reds | 3 | $11,925,000 | $11,925,000 |
| Chicago Cubs | 7 | $291,520,000 | $76,055,714 |
| Milwaukee Brewers | 1 | $4,500,000 | $4,500,000 |
| Pittsburgh Pirates | 5 | $25,375,000 | $25,375,000 |
| St. Louis Cardinals | 1 | $87,500,000 | $17,500,000 |
The Brewers have done something, as all teams have, with most of the changes being made via trade. They, too, brought a catching Contreras to the team via Willson's brother, William Contreras. In addition to that key acquisition, the Brewers have traded for seven other players who have appeared in the MLB previously (Abraham Toro, Elvis Peguero, Janson Junk, Javy Guerra, Jesse Winker, Owen Miller, and Payton Henry), among other players. Esteury Ruiz, Hunter Renfroe, and Kolten Wong are the critical players lost in these trades.
These moves leave the fans wanting more, with a general feeling of contented-ness, if there would be some activity in securing one of the current stars for a long-term extension. There is room remaining to drop some money in free agency as well.
When Mark Attanasio bought the Milwaukee Brewers in 2005, he spent $223 million. The most recent valuation by Forbes of the Brewers has them at $1.28 billion, an increase of almost 500%. Despite this significant investment and fantastic recent team success, an unwillingness to spend more appears.
Source: https://www.statista.com/statistics/194623/mlb-franchise-value-of-the-milwaukee-brewers-since-2006/
The franchise record for salary was set in 2022 at approximately $130 million. As of now, there is only about $47 million officially committed for the 2023 season, but projections have them spending about $115 million after all contract negotiations and arbitration processes, which is an 11.5% decrease from the team which just missed the postseason for the first time in four seasons. 
Despite living on the verge of success, there is yet to be visible progress while other teams jump ahead. Looking at two division rivals, the Cardinals and the Cubs have revamped their roster, each having committed at or above what projections have slated for the Brewers. Their projections are $154 million for the Cardinals and $172 million for the Cubs. Across the league, the Crew looks low, with an average projection of approximately $150 million, markedly less than Milwaukee's payroll projection of $115 million.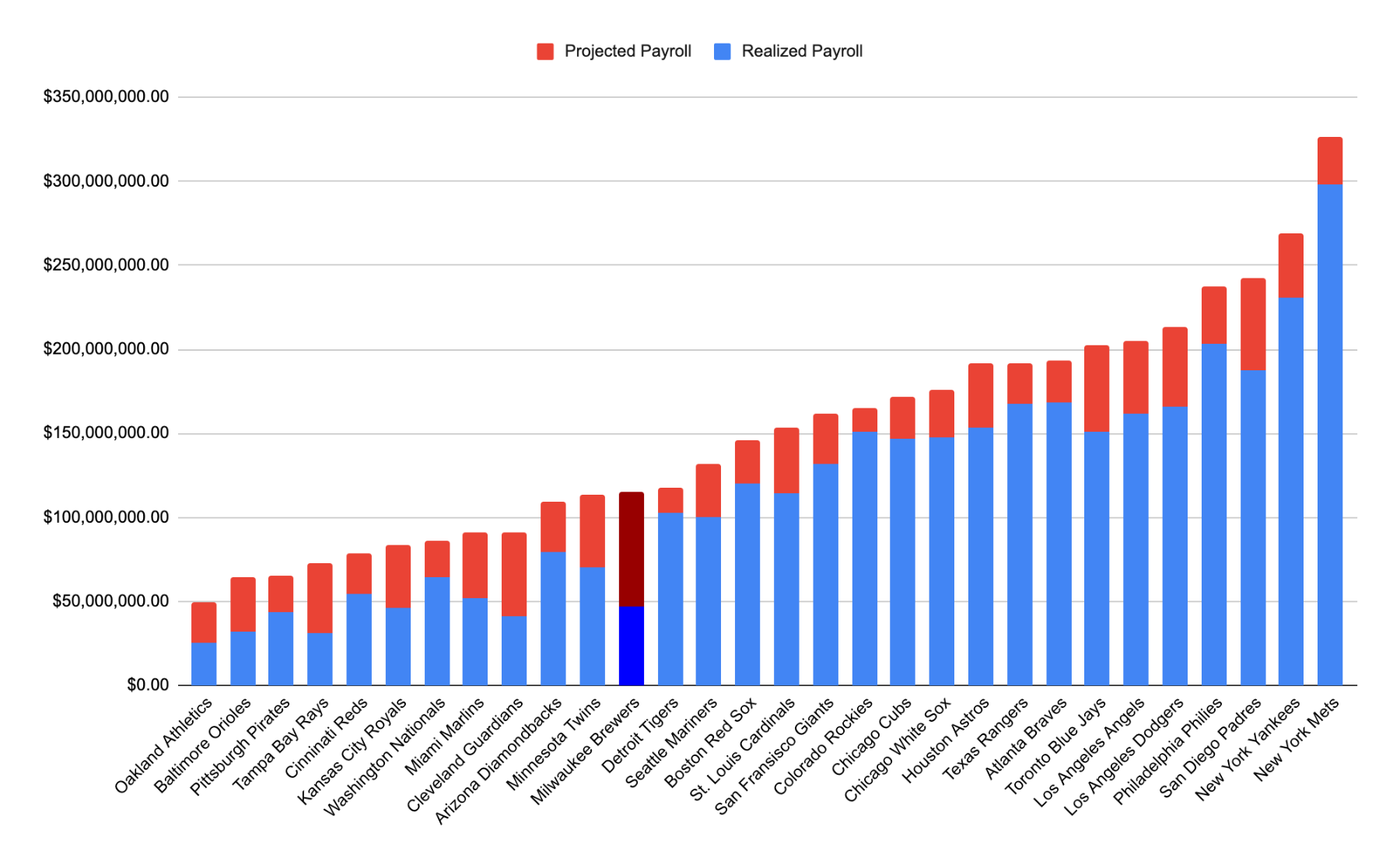 The payroll is a moving average, and projections for this year appear to match last year's average payroll of $150 million, even with the vast spending spree thus far in free agency. With this moving average, the Brewers remain below standard. They rank near the bottom third in total payroll and have met the league average once.
Milwaukee Brewers

Season

Payroll (*Projected)

Payroll Ranking

Normalized Payroll

2020

$41,434,086.00

23

0.67

2021

$99,377,415.00

19

0.76

2022

$130,769,325.00

19

0.87

2023*

$115,176,286.00

19

0.76

2023

$47,284,960.00

24

0.41
Note: 2020 season was shortened to 60 games due to the global Covid-19 Pandemic
Most disappointingly, however, is how this spending is inversely proportional to what the most die-hard fans pay to become a season seat holder. What these fans pay is marketed as a discount of up to 37% in 2023 and 35% in 2022 off the single-game demand-based rate. Since 2021, new season seat holder prices have gone up, on average, about 4% per year, with some going up as much as 8% (based on data from 2021 and 2023). For returning season seat holders, from 2022 to 2023, prices have gone up 5% on average, with some as much as 15% from the previous season. I guess one thing that fans could be thankful for is that these prices haven't grossly exceeded inflation over these periods for the most part. 
Revenue is more than season ticket sales, let alone ticket sales overall. With that being said, the Milwaukee Brewers have exploded in valuation, yet are putting out a declining product without investing more money to fix the issues despite taking more money from the consumer, the fans. 
Think you could write a story like this? Brewer Fanatic wants you to develop your voice, find an audience, and we'll pay you to do it. Just fill out this form.
MORE FROM BREWER FANATIC
— Latest Brewers coverage from our writers
— Recent Brewers discussion in our forums
— Follow Brewer Fanatic via Twitter, Facebook or email