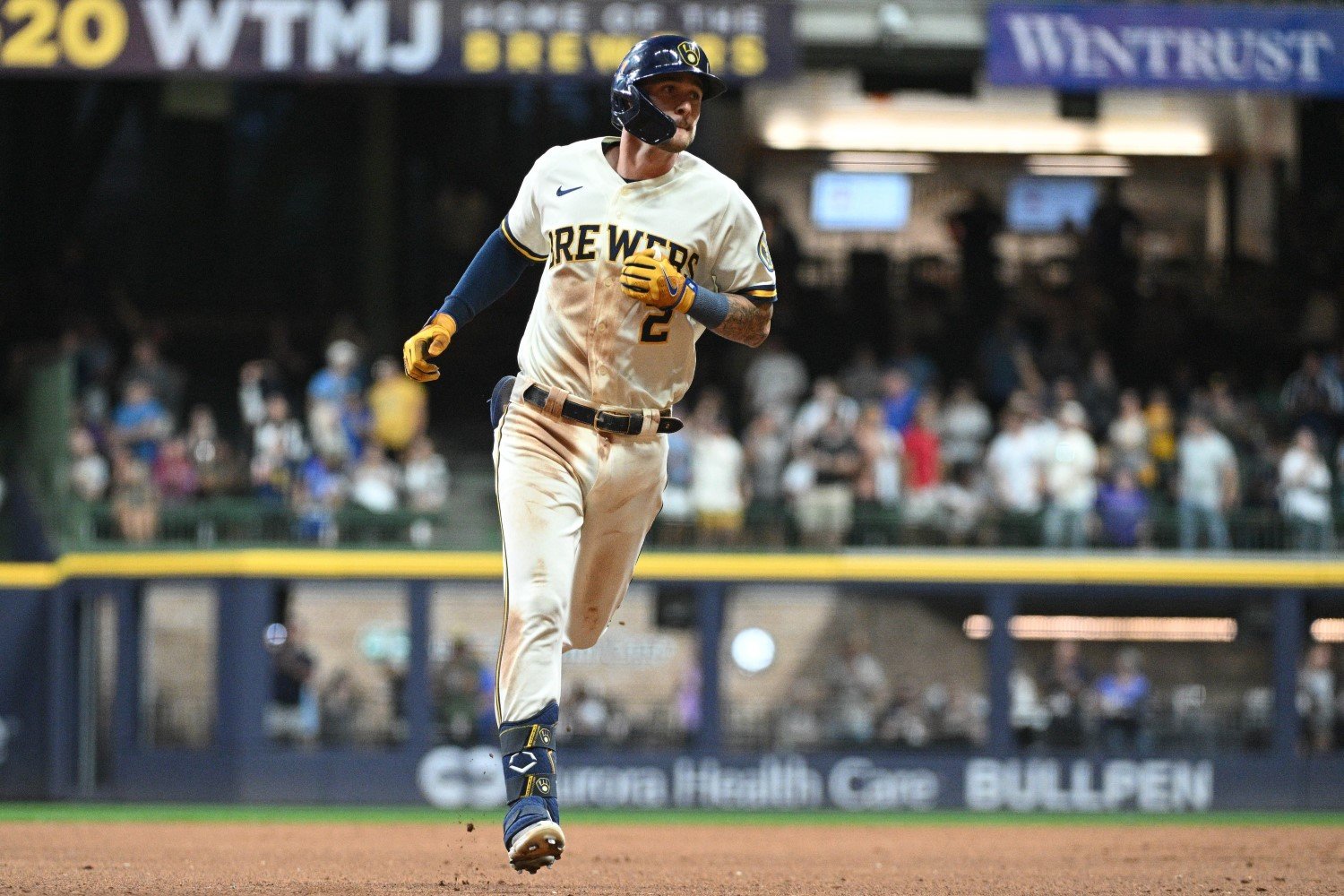 Image courtesy of © Michael McLoone-USA TODAY Sports
With his premium glove at second base and a passable OPS, Brice Turang has already provided about as much as anyone hoped for from him as a rookie. However, prior to his big night on Monday, Turang was hitting .257/.357/.378 (good for a 102 WRC+) since he returned from his three-week demotion to Triple-A Nashville, with as many walks as strikeouts over that span. All of this is actually suppressed by a .284 BABIP, which is remarkably low for someone of Turang's speed, suggesting he may even have been a little unfortunate over that span in terms of his expected statistics. By comparison, he struck out 27.1% of the time until June 6, with a slash line of .205/.254/.307, tapping into almost no power and not getting on base at a remotely acceptable clip. 
He's shown a lot of raw power at times, golfing balls out of the park, but it's mostly the quality of his at-bats that have trended upward. He seems to have a much more focused approach--a clearer idea of what he's trying to do at the plate. Some of this comes from his mechanical tweaks, which have allowed him to start the bat significantly later, and eliminated a lot of the extreme chasing and swing-and-miss we saw earlier in the season.
Let's contrast two at-bats here, the first one being the final pitch against Zac Gallen, on a curveball miles below the strike zone:
And here is a shot of his three run homer against the Pirates last Thursday:
 

Notably, he's scrapped the huge leg kick, which just doesn't seem to be cut out for the high velocity in the major leagues in this day and age. He takes a short step now, with his foot barely leaving the ground.
His starting stance is very relaxed, and very upright, with his feet together, whereas previously, his leading right foot was behind his left (similar to Ozzie Albies's wide-open stance). He's now able to create more forward momentum with the leg kick.
These little tweaks allow him to see the ball later and make better swing decision. Against Gallen in April, he couldn't get his leg down quickly enough to start his swing, and he was always rushing to catch up afterward, resulting in a very poor chase. Against Mitch Keller, his foot was down almost immediately after the ball was released, creating a good swing decision on a pitch on which he could do damage.
To enhance the quality of contact and get the ball in play slightly more often, he also seems to have his hands starting considerably closer to his body. As a result, he's been able to do a lot more damage on the inner third of the strike zone, pulling balls high and majestically out of the park. He no longer has to pull his hands in quite so much during his swing; they were almost comically extended away from him to start the season.
In short, with these three changes, he's cured a lot of his early season issues, allowing himself more time at the plate and more coverage of the strike zone to enhance his bat-to-ball skills.
What do his underlying metrics say about his performance since the recall?
| | | | |
| --- | --- | --- | --- |
|   | May | July | August |
|   |   |   |   |
| Chase Rate | 30.2% | 25.3% | 21.6% |
| Hard Hit Rate | 22.2% | 27.6% | 41.2% |
| xWOBA | .271 | .309 | .510 |
| xSlg | .267 | .344 | .654 |
 
When he came back up, Turang was still adjusting and implementing his new approach. It took until after the All-Star break before his adjustments really began to show an improvement in terms of the power potential in his bat, while before then, he was demonstrating an ability to take walks and draw out an at-bat, get on base, and use his speed and the Brewers' potent bats at the top of the order to drive him in.
The reduction in swing-and-miss has been a big boost as well. Turang was struggling early in the year with almost any high fastball; it was a massive hole in his swing. So far in August, however, he's whiffing on just 9.1% of fastballs, with an average exit velocity of over 90 mph. He has a -10 run value against four-seamers this season, and (as Jesse Winker found out) if you can't hit a fastball, you will struggle in this league. Turang appears to have sorted it out, and while I'm not suggesting he'll have an xwOBA of .510 for the rest of the season, he can definitely be a key cog in the Brewers offense moving forward--especially if Willy Adames can't orchestrate a return to form.
He's struck out just once in 24 plate appearances so far in August. This is a man who feels comfortable in the batter's box, and who might have unlocked his star-caliber potential. Throughout the minor leagues, there was always a suspicion among coaches that he had more power than he was tapping into, and it might be coming to fruition. Regardless, if his bat-to-ball skills stay where they are now, the Brewers have a productive shortstop they can count on for the next six years.
Would you consider an extension for Turang at the end of the season? And could he be a player that makes a difference down the stretch, and potentially in October?
Think you could write a story like this? Brewer Fanatic wants you to develop your voice, find an audience, and we'll pay you to do it. Just fill out this form.
MORE FROM BREWER FANATIC
— Latest Brewers coverage from our writers
— Recent Brewers discussion in our forums
— Follow Brewer Fanatic via Twitter, Facebook or email
1