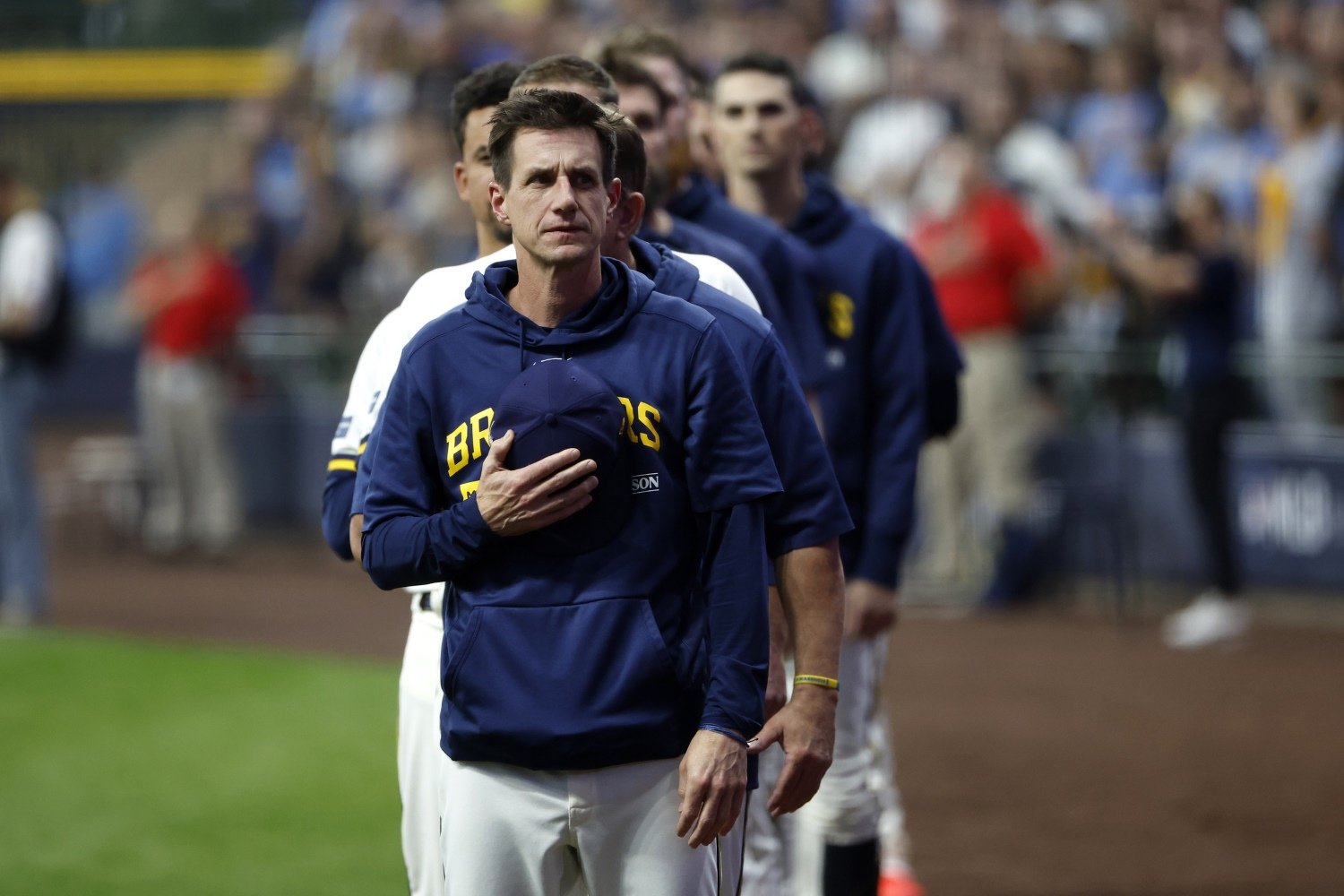 Image courtesy of © Kamil Krzaczynski-USA TODAY Sports
It's a travesty that Craig Counsell hasn't won a Manager of the Year Award to this point. However, his postseason record is equally tragic. Counsell has a 1-5 series record in the playoffs (counting the one-game Wild Card contest in 2019), with his clubs losing nine of their last 10 games overall. For all the regular-season success since 2018 (five postseason appearances and three NL Central titles), the playoff failures have become just as big a story. Many will say that playoff baseball is highly random, so blame shouldn't fall on the manager. Yet, it seems like it should at least be discussed whether Counsell is a bad (or at least below-average) postseason manager.
Obviously, players must perform, and they still have the most significant impact on wins and losses. But when the microscope focuses on these individual tilts, where the value of matchups, decision-making and leadership are enhanced tenfold, the manager's performance suddenly plays a more prominent role than it had all year long. When the head man's teams are 1-9 in the last 10 chances, that represents at least some sort of trend. Just because you can't measure it or project a manager's performance doesn't mean the impact doesn't exist.
Whether or not Counsell returns to the Brewers in 2024, the question should be asked: Is he a poor postseason manager?
First, people must understand how managing a team in the regular season differs significantly from trying to win a series (especially a short one). Having coached youth travel ball and high school for many years (I never pass up a chance to compare myself to an MLB manager), it's the same when trying to win during league play versus winning a tournament. You can be patient in league play (the amateur answer to MLB's regular season), giving players time to improve; testing guys in other positions; spreading out pitcher use; and having a "big picture" mentality.
In a tournament, like the playoffs, you need to think about today, and be ready to make immediate adjustments. The next game almost doesn't exist, particularly when a loss knocks you out. There must be less tolerance for struggles, more willingness to try something new and a major focus on winning individual at-bats and innings. There's no time for worrying about feelings or letting things play out. As long as the players and coaching staff are on the same page, the change to "win-now" mode is less jarring and more understandable. This might be an area where Counsell has struggled to be as aggressive as he needs to be. At times, it could also be the opposite, where he is overthinking so much that it has a countereffect. The best managers and coaches determine the best path in each situation. Either way, the record is the record.
Counsell does tend to stick with his guys, and often seems slow to make adjustments. He fully believes in getting his "bench players" at-bats during the season, and will rearrange the lineup in various ways. However, sticking with Willy Adames in the heart of the lineup for most of the season (when he was lost at the plate) was a prime example of abundant patience. Most would have dropped him lower in the lineup (or given him time off) sooner than Counsell did. It worked out in the end, but again, you have the luxury of time in the marathon regular season. In the postseason, a quick change can be a spark if something isn't working (for whatever reason).
Going back to the 2021 NLDS against the Atlanta Braves, the "loyalty" strategy hurt severely. Avisail Garcia was ice-cold heading into the playoffs, going 2-for-20 with seven strikeouts in his last seven games of the regular season. Leadoff hitter Kolten Wong had a .294 OBP in the two weeks leading up to the postseason. Still, Wong was leading off (with Garcia in the cleanup spot) for Game 1. The pair went 0-for-7 with four strikeouts, though Milwaukee won 2-1, thanks to a Rowdy Tellez two-run homer. Even after that, those two were in the same spots for Game 2 (a 3-0 Atlanta victory), wherein they went 2-for-8 with four punchouts. Game 3 remained the same, with the Brewers getting shut out again as Wong and Garcia went 0-for-8. In the four series games, those two hitters combined to go 3-for-30 with 13 strikeouts, yet they were never moved in the order.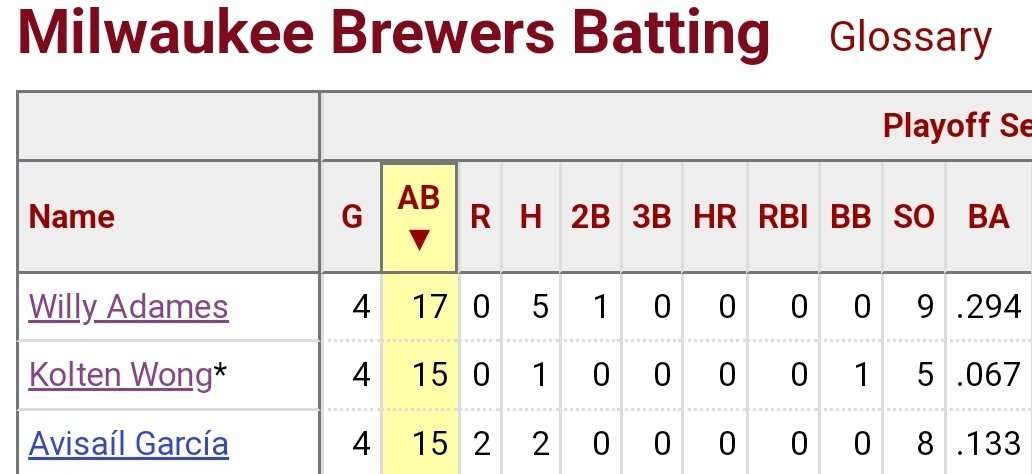 Some smirking rhetoricians asked, "What better hitters were available?" Maybe no one was "better," but other hitters could have produced more in two of the most critical spots in the lineup. Sometimes, a "hot" or "cold" hitter is real, even if you can't predict when those types of streaks will end. On a smaller scale, this season, after the Brewers scored only three runs in Game 1, the same lineup appeared for Game 2. What happened? The Brewers scored two runs. Certainly, a switch in the batting order or a fresh bat in Game 2 (e.g., Andruw Monasterio for Brice Turang) would have made sense.
A great example of willingness to take chances came in the ALDS. Texas Rangers manager Bruce Bochy, who has three World Series titles and has won 12 of his last 13 postseason series, made a curious move. In Game 2 of that series, Bochy placed Mitch Garver into the three-hole, where he went 2-for-6 with a home run, five RBI and a pair of runs scored. Garver had not played in any of the team's previous three postseason contests, and started only two games in the three-hole all year. Is it trusting instincts or going against the "numbers" sometimes? Could you imagine Counsell having anyone other than Carlos Santana hitting third in the two playoff games
Beyond the loyalty aspect, in-game decisions take on tremendous value. Of course, a manager can make the "right" call and have it fail. Still, it's ultimately a results-oriented time of the year. Game 2 of the Wild Card Series saw a pair of questionable choices by Counsell in a tight elimination game. These cemented the thought that maybe he loses something in high-pressure games, much like a hitter or pitcher might wilt or fall short of their norm when the lights are brighter.
First, not having a relief pitcher already up in the bullpen to start the sixth inning. Some thought Freddy Peralta should never have even started the sixth frame after a dip in velocity and command led to harder contact (including a home run) in the fifth. With a 2-1 lead, Peralta walked the leadoff man in the sixth, and still, Counsell let him face two more batters. A double and single later, and the Brewers would trail 3-2. The move to a bullpen arm came too slow and too late.
Two innings later, with the Brewers down by three, they loaded the bases with one out. The crowd was electric, the Arizona Diamondbacks were on the ropes, and manager Torey Lovullo called for a lefty from his pen to face left-handed hitting Sal Frelick. Instead of going to any of his right-handed options (Joey Wiemer, Owen Miller, Blake Perkins, Victor Caratini), Counsell stuck with Frelick. Four pitches later, Frelick tapped into a 1-2 fielder's choice, with the inning ending without a run one batter later. The decision made no sense for a team and manager who rely so much on matchups. In the postgame press conference, he alluded to the idea that the pitcher, Andrew Saalfrank, had trouble throwing strikes to lefties. So, they were hoping for a walk? That's not an inspiring or motivating mindset, nor is that any way to win a playoff game.
Interestingly, the best option to pinch-hit against a southpaw wasn't available at the time because of another choice by Brewers' management: including Jesse Winker on the Wild Card roster. To the dismay of nearly everyone, Winker saw two plate appearances in the two contests, despite poor production; no MLB at-bats since July 24; and an obviously slow bat that had no business getting postseason swings. Because Winker pinch-hit for Turang, Monasterio had to go in to play defense the following inning. That meant that Monasterio's .780 OPS versus lefties couldn't be utilized in that spot. So, for Counsell, if he wasn't going to use Miller to bat against a left-hander in a critical moment, he should have put Miller in at second base defensively to keep Monasterio free to hit later.
Were the Winker and Frelick decisions a couple of cases of Counsell trying to be the "smartest person in the room"? Sometimes, that is the downfall of man: a touch of arrogance. It's difficult to say those calls were based on relevant stats or trends. Regardless, they were additional black marks on the Brewers'--and Counsell's--postseason resumes. 


Many will continue to argue that randomness and variance are the real reasons the Brewers have struggled in the postseason. No one is saying those don't exist. Still, it should also be fair to acknowledge and question whether Counsell deserves the "top regular-season manager" label, while also being tabbed with the "below-average postseason skipper" title. All I ask is that you consider the possibility and let me know your thoughts on this particular subject.
Think you could write a story like this? Brewer Fanatic wants you to develop your voice, find an audience, and we'll pay you to do it. Just fill out this form.
MORE FROM BREWER FANATIC
— Latest Brewers coverage from our writers
— Recent Brewers discussion in our forums
— Follow Brewer Fanatic via Twitter, Facebook or email
1

1