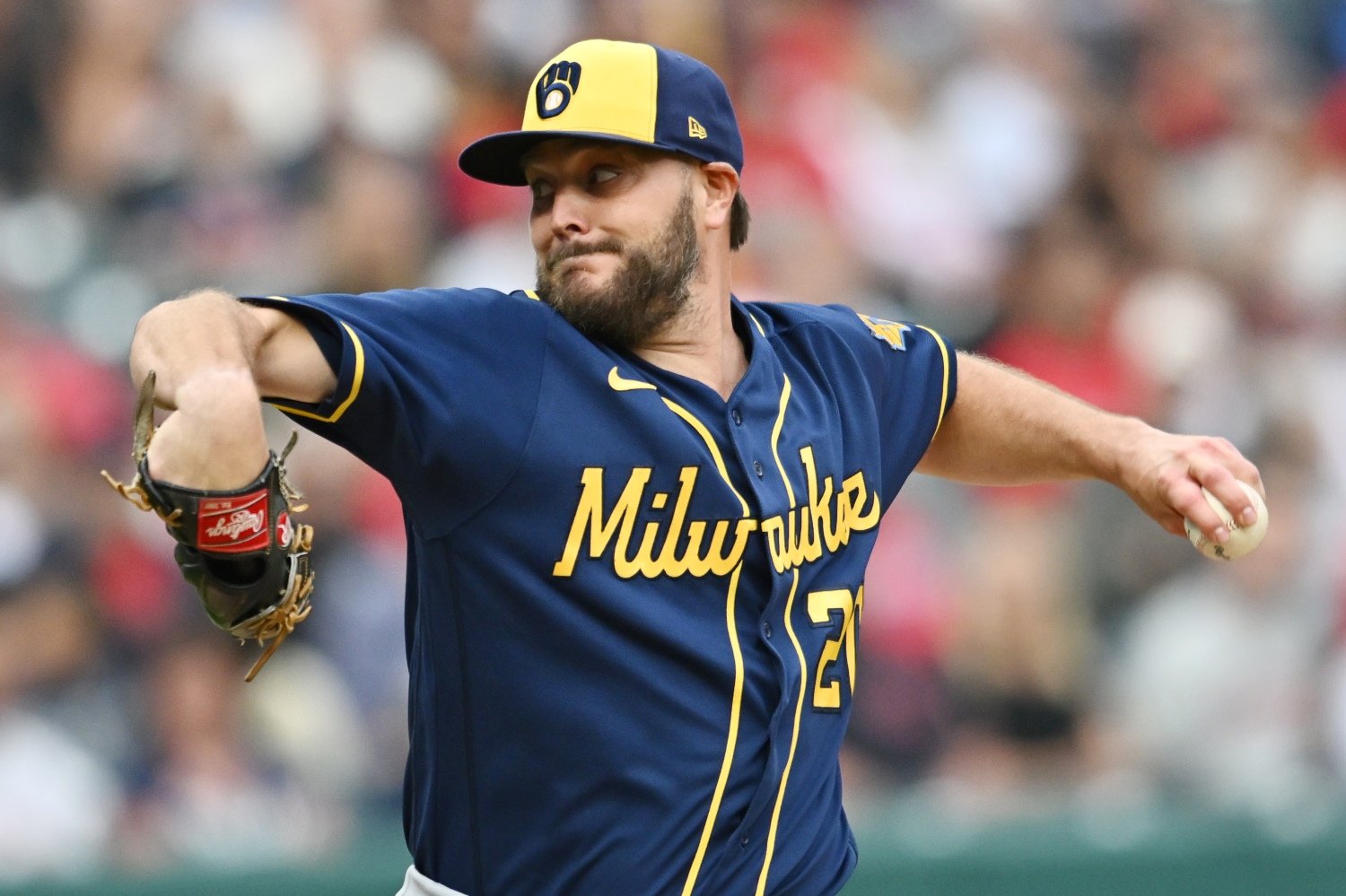 Image courtesy of © Ken Blaze-USA TODAY Sports
The Brewers have won each of Wade Miley's first two starts since returning from the injured list. The grizzled southpaw has yielded only five hits and two walks in 11 scoreless innings across the two outings. He's done it, mostly, the same way he's survived and thrived ever since adding a cutter and changing the course of his career, with this same Brewers team in 2018. The cutter is his biggest weapon, as it has been for years now.
Yet, while shelved with a lat problem, Miley didn't just work to keep his existing arsenal sharp. Even at age 36, he relentlessly seeks the next innovation that will keep him ahead of opposing hitters, despite his underwhelming velocity. This time, that meant that the erstwhile Southeastern Louisiana hurler tuned in to watch flamethrowing LSU starter Paul Skenes pitch--and realized he could learn something from the student-athlete who will be picked somewhere in the top 5 in next month's Draft.
No less an authority than Twitter denizen Pitching Ninja took note of Miley's devastating sinker, 
Wade Miley, Wrecking Ball 91mph Sinker. ? pic.twitter.com/CXVMwRWIeJ

— Rob Friedman (@PitchingNinja) June 24, 2023
Miley actually only threw the pitch four times, but on those four, he got one whiff, one called strike, and one weakly hit pop-up on the infield. It was notable not only for its effectiveness, though, but for its newness. Until his return from the shelf, Miley didn't throw a sinker, at least in 2023. He credited a college pitcher, in an instance of inspiration flowing in precisely the opposite of the direction we would expect.
Wade Miley gave a shout out after the game to LSU right-hander Paul Skenes, from whom he learned a new sinker grip off TV.

Miley toyed with it for three days, then threw it tonight and really liked the action he got with it.

— Todd Rosiak (@Todd_Rosiak) June 24, 2023
What he told the press after the game was, at least, a slight exaggeration. It's clear that Miley picked up the sinker more than a few days ago, because he also threw it four times in his previous outing--the one in which he returned from the IL, on June 17. It was easier to miss at that point, because all three swings against it led to balls in play--though all three were relatively soft contact, too. It's probably not quite true that Miley saw Skenes throw his sinker on TV five days ago and implemented it right away. It's more likely, for instance, that the soft-tossing lefty started tinkering with a sinker during his rehab assignment, and then merely spotted a slight grip variation while watching closely for sinkers sometime during the last fortnight.
Even so, it's a delightful reminder of how eagerly and persistently Miley adjusts and improves. He's defied the typical aging curve of an injury-plagued lefty without a high-octane fastball already, and there's no imminent end in sight. The same spirit that let him buy into the concept of the cutter five years ago now has him tweaking and polishing things at the edges. A few sinkers per game sounds like nothing, but in reality, it can have a major impact on how hitters see and try to attack his repertoire. The pitch has velocity and movement that differentiate it from everything else he throws, especially because he's most comfortable attacking the glove side (inside on right-handed batters) with his four-seamer. The sinker is a pitch with which he can get inside on lefties, or try to induce a weak ground ball the other way from a righty.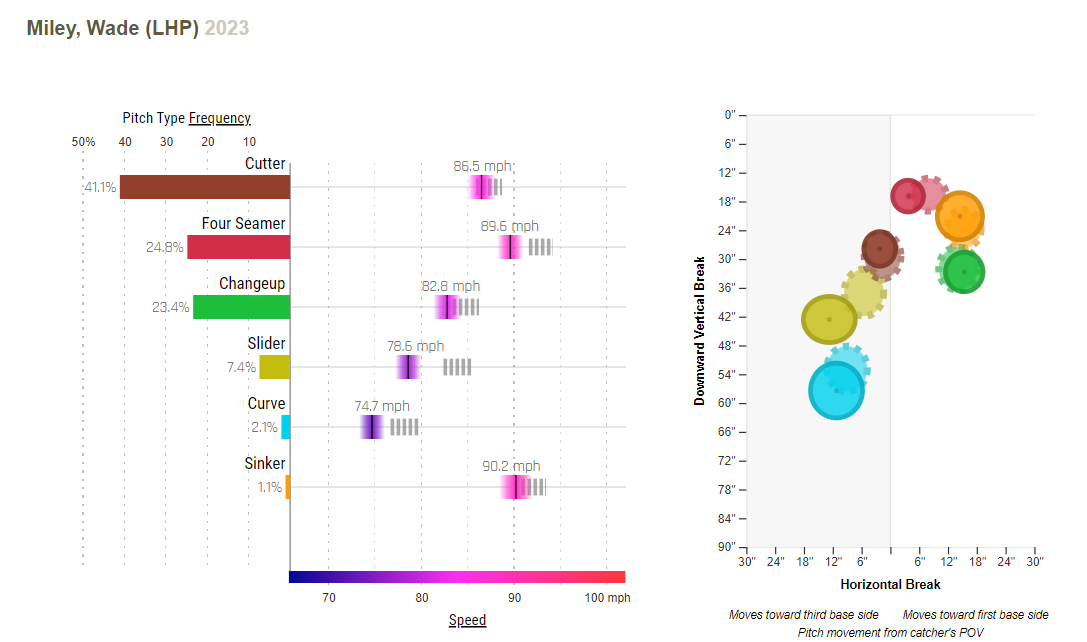 The more transparent circles on the right side, above, are the league-average movement ranges of each of those pitch types. Note that Miley's four-seamer, slider, and curve all move much more toward a righty batter than do the typical pitches of that type. For that reason, the sinker is especially helpful. His changeup moves similarly, but he'll mostly throw that pitch against righties, after setting them up inside with the four-seamer and cutter. Against lefties, he can slip in the sinker when he feels like batters are diving out too eagerly to chase what is largely a diet of stuff low and away from them. 
There are plenty of big-leaguers who, understandably, try not to take work home with them. After a long day at the ballpark, they don't want to watch baseball for fun. Plenty of players do seek out games like the College World Series, but even then, they mostly do so because of their rooting interests. Watching closely enough to pick up a subtlety in the sinker grip of a pitcher who uses the opposite hand and throws 10 miles per hour harder, and then having the audacity to utilize the same thing, speaks well of Miley, whose reputation as a teammate, craftsman, and competitor should lead everyone to expect that very type of behavior. Being a baseball rat pays off sometimes. For the Brewers, Miley's curiosity and dedication is paying off in a huge way, once again.