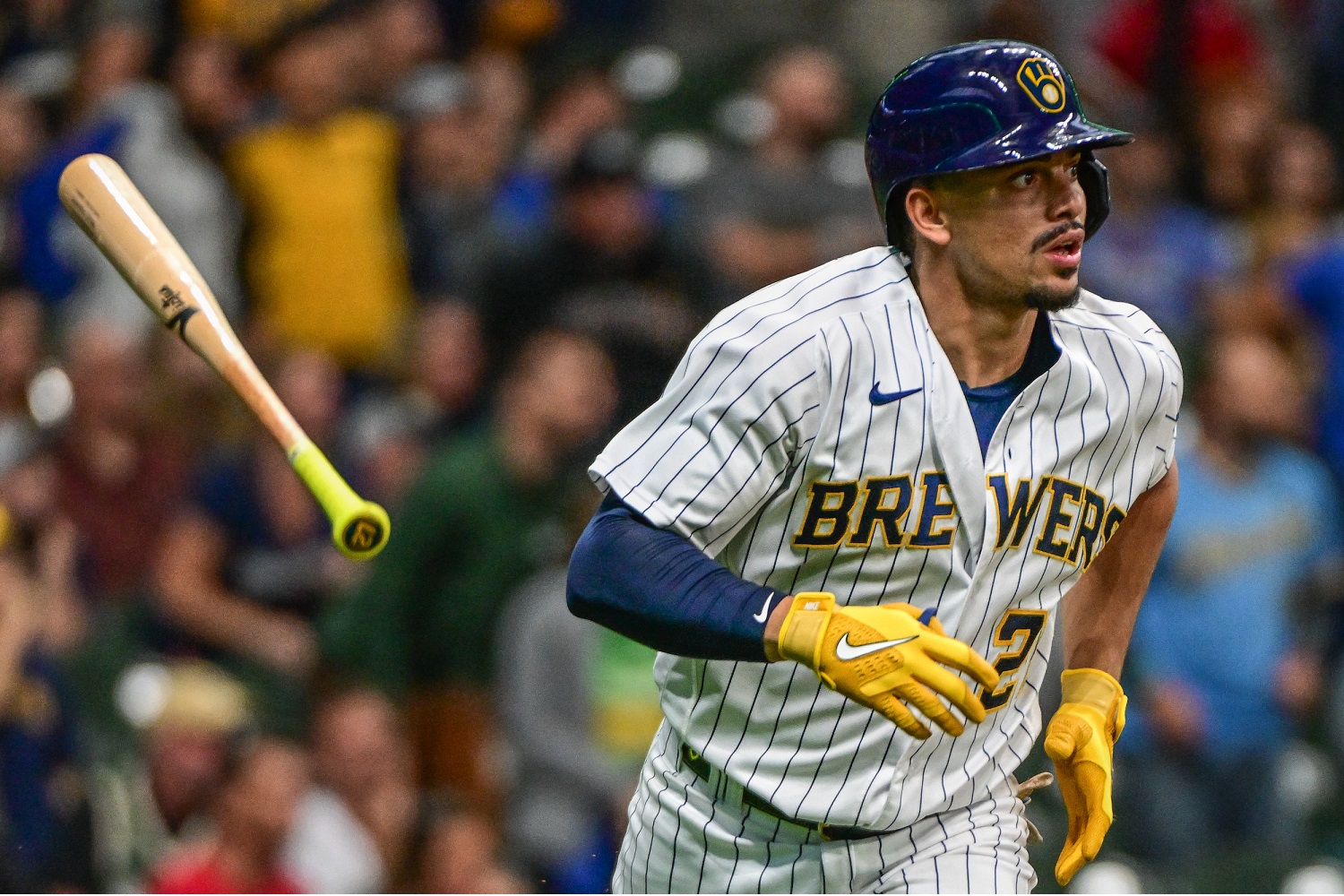 Image courtesy of © Benny Sieu-USA TODAY Sports
There are many stats one can go by to determine offense. One statistic will never tell the whole story, but some are useful for quick comparisons. Many use OPS+, but let's take a look at weighted on-base average (wOBA). This stat attempts to give hitters an all-around offensive value based on various outcomes.
Looking at what each position in the lineup produces for a team isn't a full-proof way to judge an offense, especially when players change throughout the season. However, the top of the order gets more plate appearances (PA) and has a greater impact on production than the lower half. Milwaukee has a lot of "high floor" guys versus "high ceiling" hitters, meaning no one is providing elite performances to lead the way.
Admittedly, there are small-sample issues and randomness with such an evaluation. However, it at least tells part of the story for an offense that is good but maybe isn't. Here are the rankings of the top four spots in the Brewers' order, and where they rank in MLB:
First: .312 wOBA (14th)

Second: .313 wOBA (21st)

Third: .315 wOBA (22nd)

Fourth: .329 wOBA (14th)
Value in the leadoff spot improved when manager Craig Counsell moved Christian Yelich to the top. Yelich has the most PAs at leadoff and owns a .354 in that spot. Unfortunately, the next two players who have hit first the most - Kolten Wong and Andrew McCutchen - have a .290 and .232 wOBA at the top. Clearly a problem.
The second and third slots in the lineup are even more significant problems. Willy Adames has nearly all the PAs in the two-hole (520). His .321 wOBA while hitting second ranks 20th among hitters with 250+ PAs in that spot. For those who view the second position in the lineup to be the most important, it's hard to have a consistent offense with bottom-third production from your main guy.
For the three-spot, it is tougher to parse out. Yelich spent a decent amount of time there early in the season and posted an ugly .292 wOBA there. But the Brewers have also put McCutchen in that spot for 82 PAs where his .318 wOBA, while slightly better, still falls well below average. 
Now, Rowdy Tellez is the typical three-hole hitter with 247 PAs (six more than Yelich). His overall 30 HR, 80 RBI, and 118 OPS+ show great value in providing offensive output. However, it's less impressive when comparing his three-hole production to the rest of the league's hitters in that spot. Tellez's .328 wOBA hitting third still ranks just 22nd among players with 200+ PAs in the three-spot.
As for the cleanup role, the Brewers jump back up to average as a whole. McCutchen and Hunter Renfroe own the majority of PAs batting fourth, and they've had some success. Among hitters with 170+ PAs, Renfroe's .368 wOBA ranks ninth, and McCutchen's .344 sits at 15th. Not exactly elite value, but better than other spots - at least in the first four.
What's interesting is that Milwaukee fares much better later in the order, beginning with the five-hole:
Fifth: .338 wOBA (1st)

Sixth: .306 wOBA (15th)

Seventh: .341 wOBA (1st)

Eighth: .292 wOBA (13th)

Ninth: .310 wOBA (6th)
Is there something about the five-spot that pushes Brewers' hitters to the top wOBA? Interestingly, it's Wong and Tellez who produce best in this role, despite struggles in those other spots. Wong hitting fifth has a .400 wOBA, but .290 hitting first. Tellez is at .366 in the five-hole but just .328 two spots higher in the order.
Meanwhile, Milwaukee owns the best wOBA in the seventh spot and sixth-best in the nine-hole. Again, this points toward the "high floor" strategy of President of Baseball Operations David Stearns. He may not acquire the elite hitters, but you'll find more quality with the lower-level hitters. It might also be that Counsell chooses to play more matchups down in the order where he could get more value selecting one hitter over another. The top of the lineup tends to stay the same more often.
Five different hitters with at least 20 PAs in the seven-spot own a .366 wOBA or better. Tyrone Taylor has the best wOBA (.476) through 41 PA, with Tellez, Victor Caratinie, Omar Narvaez, and Keston Hiura all contributing. As for the bottom, 17 guys have at least 3 PAs batting ninth, so it's a cumulative effort to be sixth in wOBA. Taylor has the most PAs and a .330 wOBA, while Jace Peterson owns a .341 wOBA in 103 PAs hitting ninth. There's likely more variance in this spot among the Brewers and MLB.
So considering the relative production of the 5-9 slots in the lineup, the negative vibe of the offense comes down to those top four spots. If one of those spots saw top-five value in wOBA, Milwaukee's sticks would be a more consistent, formidable force. That also goes back to the plan for Yelich to be "that guy" who mashes at the top. His power decline and dip to above-average (instead of MVP) hitter play a significant role in the struggle.
Counsell has undoubtedly tried to play more matchups at the top of the lineup in recent games, which is the only real option to see a change at this point. If he can find the right mix up front while enjoying the production of the bottom half, the Brewers could find a hot streak at the dish. Scoring eight runs against the St. Louis Cardinals Tuesday was a terrific sight. With a pitching staff burdened by numerous injuries, this Brewers lineup must carry the club more often.
Think you could write a story like this? Brewer Fanatic wants you to develop your voice, find an audience, and we'll pay you to do it. Just fill out this form.
MORE FROM BREWER FANATIC
— Latest Brewers coverage from our writers
— Recent Brewers discussion in our forums
— Follow Brewer Fanatic via Twitter, Facebook or email
1