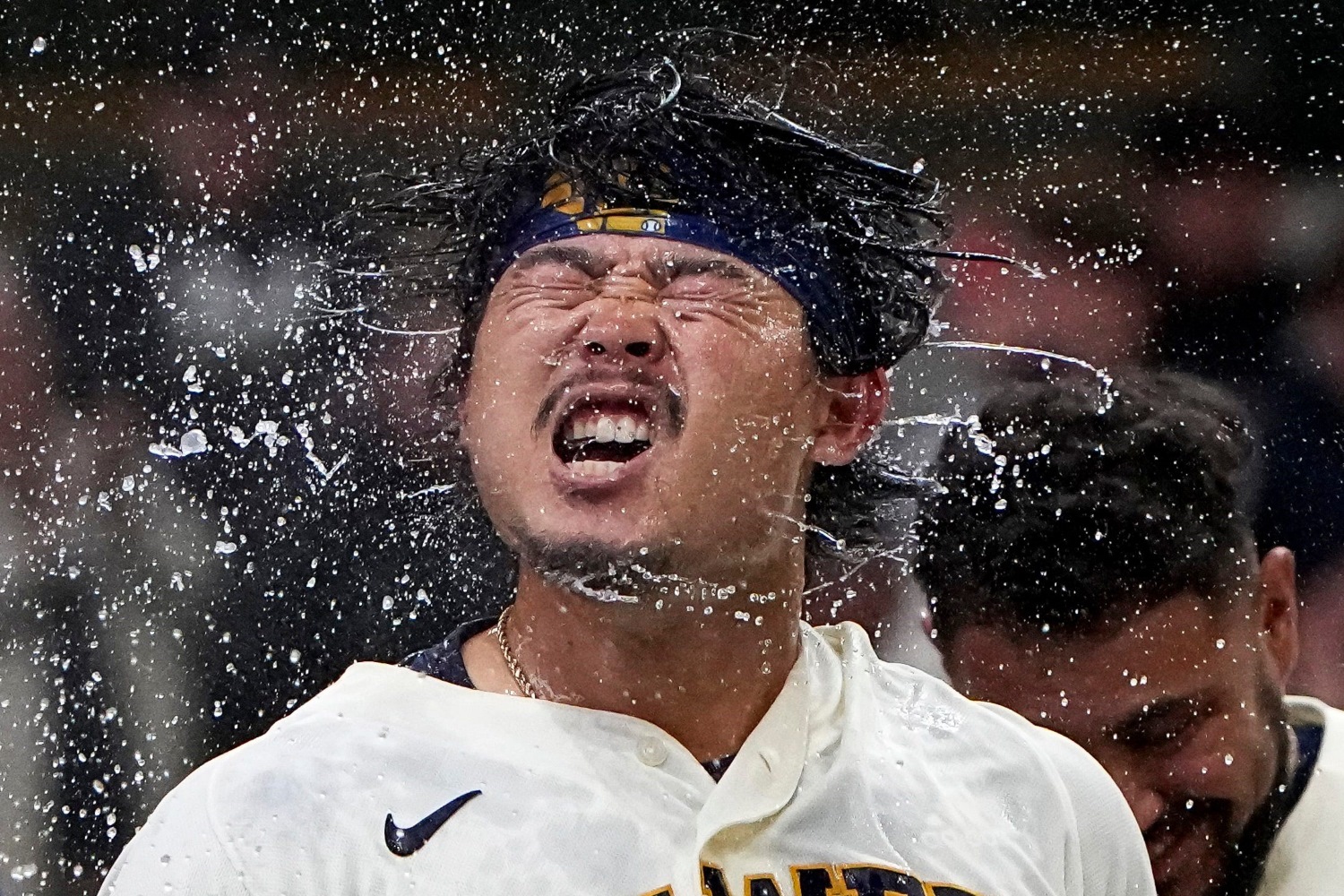 Image courtesy of © Mark Hoffman / USA TODAY NETWORK
In the modern game, most teams use the DH spot not to fit an extra slugger into their everyday lineup, but as a rotational repository for players who are already part of that lineup, but could use a rest from the daily duties of their defensive positions. Last year, the Brewers were such a team. They had Andrew McCutchen start 82 times there, but Christian Yelich also took 35 starts; Keston Hiura slotted in 24 times; and Rowdy Tellez and Hunter Renfroe fit there a fistful of times apiece.
This winter, though, Milwaukee veered in a dramatically different direction, increasing their offensive upside but adding to the risk and rigidity of their roster at the same time.
The Starter
For Jesse Winker, last season was a major career setback. It might not have been a derailment, but it certainly represented a change of tracks, and he enters 2023 trying to prove that he still has star-caliber production in him. In his lone season in Seattle, he was plagued by injuries to his knee, his shoulder, his back, and his neck, two of which required surgery after the campaign. Health has been the greatest limiting factor of his career to this point, so that wasn't surprising.
Less expected and less welcome, though, was the fact that Winker's preparation and dedication were called into question at the end of the year. The Mariners have a different set of expectations for staying ready to play than do the Reds, and Winker didn't meet the new standard.
Where was Jesse Winker last weekend? Why wasn't he introduced with his teammates before Game Three?@RyanDivish's answer does not hold back and presents a very murky picture moving forward for the team and the player.

Listen: https://t.co/53snCreri5 pic.twitter.com/OwncJ1T5w2

— Mike Salk, Seattle Sports Station (@TheMikeSalk) October 18, 2022
Even before whispers turned to shouts at the end of a frustrating year, though, Winker was tangled up in all the wrong things. He helped touch off a brawl against the Angels during the summer, which Seattle was able to use as a moment of unification and cohesion, but which demonstrated a certain lack of discipline from Winker that would become a sore spot by September. 
Of course, no one ends up popular when they arrive with big expectations and fail to deliver on them. That was the fundamental reality of WInker's season. He has a great eye at the plate. He rarely swings and misses. Neither of those things changed last year. What did change was that, whereas he hit the ball hard and on a line very often during his Reds career, he got under the ball much too often and didn't generate anywhere near the same consistent quality of contact in 2022. It's possible to see why, to some extent, by watching his tape.
In the above clip, from 2021, Winker showed why he was such a special hitter. He generated tremendous power by keeping his hands back and delaying the rotation of his trunk as long as possible, with his hips well ahead of his shoulders and hands. However, thanks to great posture and a very direct hand path, he didn't get under the ball, the way most hitters do when they try to create such torque and leverage. He could keep his bat flat even through the top of the zone, without losing the ability to elevate.
Now, check out a similar pitch from 2022.
Some of what was so good in the first swing is intact here, but the crucial, fractional things are lost. His front shoulder opens up a bit early. His back shoulder dips slightly. As a result, and in his effort to still reach the ball with the barrel despite the front shoulder carrying him away from the plate sooner, he extends his hands sooner, and the result is a ball that is slightly mishit: a bit too high, not quite hard enough.
Those are, of course, just two swings, but they nicely capture what was wrong throughout 2022. Winker hit more fly balls and pop-ups, and fewer ground balls and line drives. That can be a good thing, but because of things like the examples above, it was a bad thing for him. In 2019, Winker's average exit velocity on batted balls to the opposite field was 89.2 miles per hour. In 2020, it was 89.7. In 2021, it fell, but to a still-good 87.4 miles per hour. In 2022, that figure dropped all the way to 82.6. The reason was exactly what the above imply, even though he hit the balls in question to right-center: pulling off the ball a little sooner and taking a loopier path to it cost him the ability to drive the ball as consistently, especially the other way.
Whether all of that can be attributed to being banged up, and whether being banged up in the first place should be blamed on Winker and his suspect preparation, is impossible to know for certain. Since he's a free agent after 2023, though, he'll surely be as motivated this year as he has ever been. By all indications, he'll be ready shortly after Opening Day, if not on Opening Day itself, and the Brewers will get to find out how much of his unfortunate Seattle sojourn was just a poor fit between player and new team, rather than a poor showing by the player in a vacuum.
The Backups
We delayed publication of this installment of the preview series, on the theory that Thursday would bring clarity on the situation of Luke Voit. The ball of burl and brawn that is Voit has an opt-out clause in his minor-league contract with the Brewers that took effect when the team didn't add him to the 40-man roster by the end of Thursday. As of Friday morning, though, there's no indication that Voit has elected free agency. 
Still, the Brewers' choice not to make room for him on the roster and remove the doubt speaks volumes. If Voit does end up staying with the team and contributing in 2022, we should expect it to be in a small role. He's not part of the club's plan, per se, or else they would have taken the simple steps required to ensure that they would have him when the season begins. Instead, then, we can turn our attention to the mix of utility players and semi-resting regulars who figure to see time at DH whenever Winker isn't occupying it.
Hiura is the most obvious. His spring stats have been brutal, and he could yet be swept away in the roster machinations that will be necessary over the next fortnight, but his clearest path to any playing time is at DH. The bigger chunk of right-handed DH at-bats might go to William Contreras, though, and that might be the factor that most drove the decision not to add Voit to the roster at the mini-deadline Thursday. Contreras hasn't looked like an easy or even likely reclamation project for the team's vaunted catching infrastructure in his Cactus League showings so far. They might well feel that they will need to play Victor Caratini behind the plate more often than previously projected, and that would nudge Contreras's potent bat to DH more often. 
In addition to those two, Yelich, Tellez, and even Willy Adames could spend a few days apiece at DH, depending on the health of Winker and the composition of the rest of the roster. 
Summary and Projected Value
Projection systems still like Winker. PECOTA, from Baseball Prospectus, thinks he'll be the Brewers' best hitter in 2023, though part of that is because their offensive value metric (DRC+) privileges hitters who demonstrate consistent skills and have a down year in a particular one. Since Winker still walked often and struck out relatively infrequently during his lousy 2022, DRC+ had him as 10 percent above average, even in that campaign. 
That's a decent microcosm of the overall sense of the position, actually. While last year wasn't technically encouraging for Winker or for Yelick, and while the likelihood that Contreras will play DH fairly often this year raises as many questions as it answers, there's a high floor and considerable upside here for the Crew. They should get good production from the DH spot. It's just a matter of figuring out from whom, and whether that production will come at an undue cost elsewhere in the lineup and on the roster.
Think you could write a story like this? Brewer Fanatic wants you to develop your voice, find an audience, and we'll pay you to do it. Just fill out this form.
MORE FROM BREWER FANATIC
— Latest Brewers coverage from our writers
— Recent Brewers discussion in our forums
— Follow Brewer Fanatic via Twitter, Facebook or email