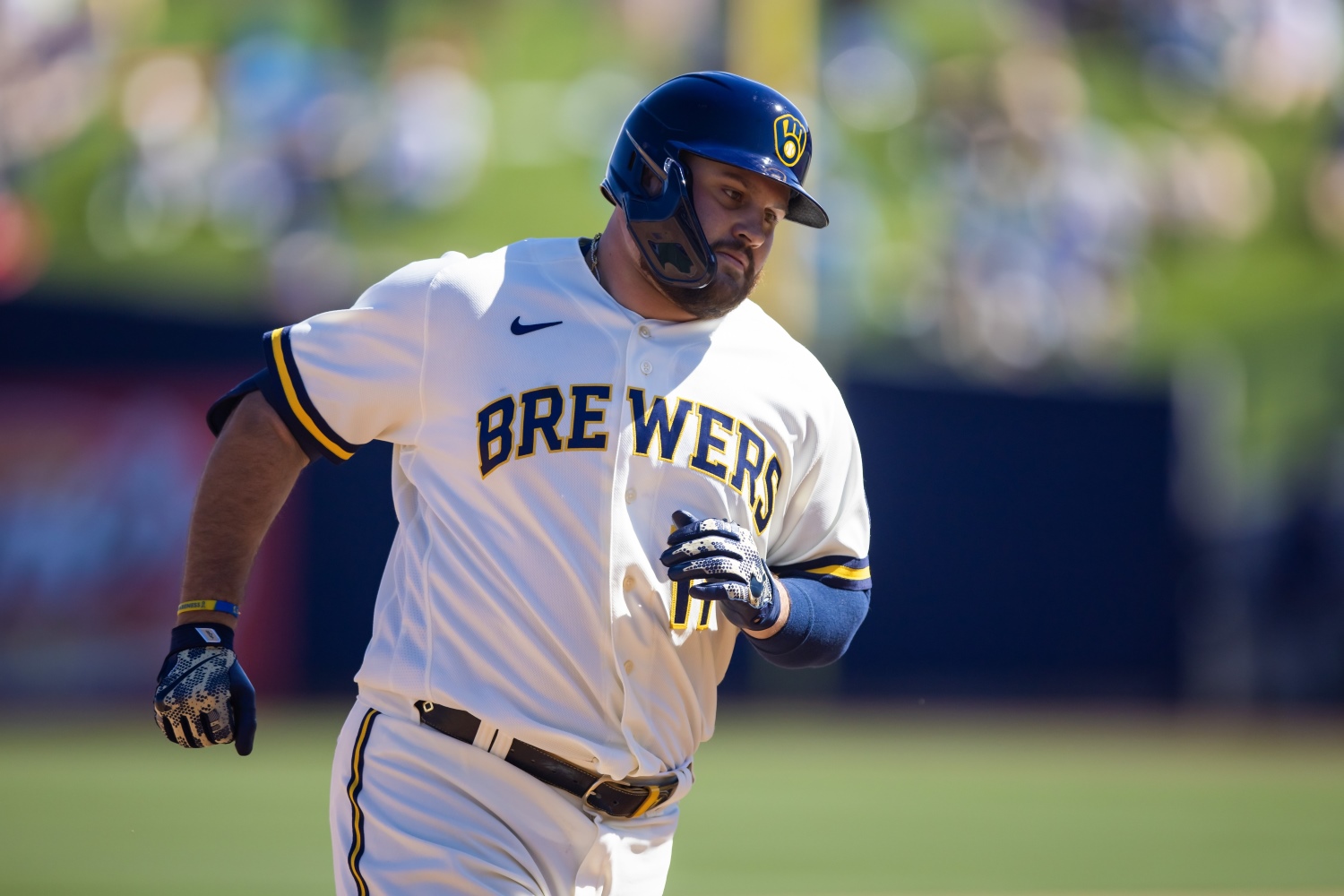 Image courtesy of © Mark J. Rebilas-USA TODAY Sports
The great challenge of being a nimble team, committed to winning on a budget and reloading on the fly, lies in finding things the organization can do successfully several times in a row, rather than just getting it right once. The current Brewers regime has demonstrated that invaluable skill, by getting strong offense from Eric Thames and Jesús Aguilar as scrapheap pickups for first base, then pivoting to Rowdy Tellez when Aguilar faded and needed to be replaced.
The Starter
As daunting and discouraging as some fans might find his numbers against southpaws to be, Tellez is a perfectly adequate regular first baseman. In this roster setting, where he can be shielded somewhat from bad matchups and where his power can play up a bit thanks to the coziness of Miller Park, he has every chance to continue being even better than that. Tellez, who will turn 28 later this month, is also primed to get plenty of help from the new rules limiting defensive shifts. 

Tellez sported a .215 BABIP last year. That's nearly unsustainable, even with the shift in place, except for extreme fly-ball hitters and those without the ability to hit it hard. Tellez is neither of those things. In the chart above, note not just the redness of the hexagons across the right side of the infield and into shallow right field (indicating how hard he hit the ball), but the size of them. He was frequently hitting it sharply into areas of the field that won't be as well-defended in 2023. 
The Brewers' offensive specialty is improving and drilling on swing decisions. They want their hitters to be patient, and not to miss their pitch when they get it. Tellez has become the perfect pupil for that approach, and he should see a better return on the investment he's made in that regard this season. For a player with his power, he strikes out shockingly little. He also accepts his walks. He's going to force opposing pitchers into the zone, and when they come in there, he's going to do damage. That should only become more true now that he'll face less optimal infield alignments.
Surely, teams will try out the loophole version of the shift the Red Sox deployed against Twins slugger Joey Gallo over the weekend (as documented by our Caswell Dommisse) on Tellez. It absolutely will not work, though. Gallo strikes out about half again as much as does Tellez, which makes the gambit theoretically viable when he comes to bat. Tellez can too easily drive the ball to all sectors of the outfield, and if the outfield is really just two very deep guys and one quasi-infielder, all of those balls will fall in for hits.
The Backup Mishmash

Thanks to the minor-league deal to which they signed Luke Voit just after camps opened, the Brewers do have a prototypical backup first baseman in the organization. It's not yet clear, though, whether they can retain him for long without adding him to the 40-man roster and making him part of the active roster. 
As I wrote when Voit first signed, the fit between him and Tellez is even better than it might superficially appear, and while he does have the nasty strikeout bug that Tellez has so far staved off, he can make up for it with his sheer power when he gets hot. The question will be whether the Brewers view Voit as a good enough complement (not only to Tellez, but to presumptive DH Jesse Winker) to justify jettisoning Keston Hiura. If so, Voit is the backup first baseman, and that's that. If not, it could be that Tellez will be buttressed by a mélange of players with some mixture of offensive thump and defensive versatility, including not only Hiura, but Mike Brosseau or Victor Caratini. Brosseau, the best prospective lefty masher in that group, is the best fit for the job, but might be needed more at second and third base, depending upon how other injury and performance questions turn out.
Summary and Projected Value
I'm a firm believer that, while the concept of replacement level is very valuable in the team-building process, it runs into major limitations when it comes to evaluating specific players and positions. By turning Thames, Aguilar, and now Tellez into above-average hitters with playable gloves at below-average salaries, the Brewers have hewed to the only really important principle imparted by replacement level thinking when it comes to first base, which is this: it's not that hard to find a good hitter who can handle first. No team with limited resources (however voluntary those limits might be) should plunge dozens of millions into that type of player.
Instead of grading first basemen against the replacement level, then, we should grade them against average. Tellez and the Brewers rank 15th on FanGraphs's depth chart projections at first base right now, so they have zero value above average, but zero is a fine number, given that they're spending less than an average regular's salary on the position. Tellez could break out this year, for all the reasons given above, but even if he doesn't, he sets a high enough floor that the team can be pretty sure they won't lose wins at the position this year. That's valuable. That inches them toward the postseason. If they go no further than that, the first basemen have done their jobs, given the way this team is constructed. However, their inability to actively carry the team up the standings puts a bit more pressure on the other positions we'll preview as the week goes on.
Think you could write a story like this? Brewer Fanatic wants you to develop your voice, find an audience, and we'll pay you to do it. Just fill out this form.
MORE FROM BREWER FANATIC
— Latest Brewers coverage from our writers
— Recent Brewers discussion in our forums
— Follow Brewer Fanatic via Twitter, Facebook or email