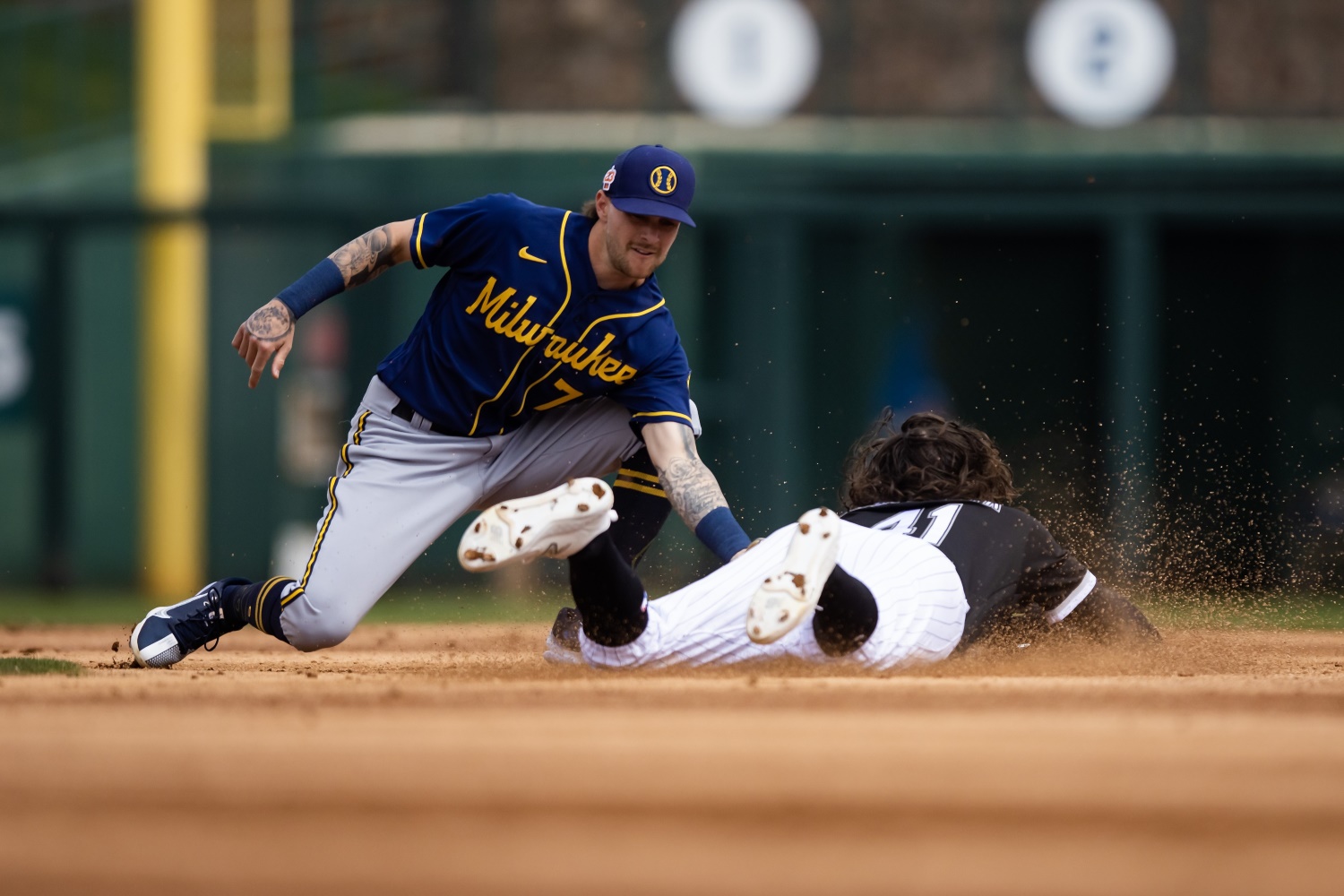 Image courtesy of © Mark J. Rebilas-USA TODAY Sports
Last week at FanGraphs, Jay Jaffe wrote about the weakest position groups on each contending team in the National League. The Brewers showed up in that piece, because according to the FanGraphs second base depth charts, they're worse off than all but five other teams at that position. The site ascribes most of the playing time for Milwaukee second sackers to Brice Turang, but he's only projected to hit .236/.307/.341. In reality, though, things probably don't depend as much on Turang as the projections think.
The Starter
Turang will have an impact on the 2023 Brewers, but the bet here is that the bulk of the playing time will actually go to Luis Urías. This spring, Urías has gotten considerable time at second base, and he's looked better there than in past looks. With the new restrictions on defensive positioning, arm strength is a bit more important, and Urías would be stretched thin at third base under those constraints. At second, though, he's an adequate defender, and his bat is more than adequate.
Luis Urías with the glove flip to start the double play pic.twitter.com/3D8oNI74Ce

— Talkin' Baseball (@TalkinBaseball_) February 28, 2023
Urías has looked really good at the plate, too. As I've written before, he could stand to make a few tweaks to his approach, but he continues to be a promising overall hitter. He can deliver power that Turang probably can't, and he draws walks at a rate that won't be possible for Turang unless and until he scares pitchers out of the strike zone a bit more. If things go right, Turang will be ensconced at second by July, and they'll just have to figure out how to make Urías viable at third, but to begin the year, it could make more sense to let him finish his development at Nashville.
The Backups
One possibility, of course, is that Turang could be a role player on the big-league roster, but one way or another, the team will want him getting everyday at-bats. It's far more likely, then, that the secondary options at the position are neither Urías nor Turang. Instead, it will be a combination of Abraham Toro, Mike Brosseau, and Owen Miller supporting whichever of those two is the starter.
Toro finally appears to be on the verge of fulfilling the promise teams have seen in him for half a decade. His skill set is a perfect fit for the Brewers' hitting infrastructure, with its emphasis on good swing decisions as an exponent of average-plus power. He's also a good enough athlete to be an above-average defender at second, but right now, his skills lag behind his tools at the position.
Brosseau figures to be an important utility option for this club. He does have a minor-league option, so he could spend time there when needed throughout the year, but he's also the kind of player who starts to make options irrelevant. If he's playing at the level of which he's capable, the team will want him on the active roster. If he's unable to do so, he's probably not worth even the 40-man roster spot. The same is true of Miller.
Mike Brosseau sneakily has two nukes this spring training.

Missed some time with injury last year. Showed a clutch gene at times. He's competing for a utility infield spot.

pic.twitter.com/RoZNwHF2Qd

— Tyler Koerth (@TylerKoerth) March 2, 2023
Summary
It would be easier to get a handle on who will open the season as the starter at second base if Urías and Toro weren't departing to play for México and Canada, respectively, in the World Baseball Classic. As it is, Turang will have ample time to show the team what he can do, but he'll probably spend much of his time at shortstop, anyway, because Willy Adames is also off to play for the Dominican Republic.
Since Turang is a left-handed hitter, Urías is a right-handed one, and Toro is a switch-hitter, the most likely outcome here is that the team has three different guys play at least 30 games at the keystone in 2023. Under Craig Counsell, the Brewers have never minded implementing platoons or timeshares, and the emergence of Adames to stabilize one infield spot makes that easier. They have some power, some on-base skills, and some speed in their grab bag, so their situation is much less dire than the FanGraphs depth charts suggest.
Projected Value
Be it FanGraphs or Baseball Prospectus, though, the projection systems think little of Turang. PECOTA is even less friendly that FanGraphs's numbers, and views Toro as a below-average hitter, too. Urías projects well, but again, where he delivers that value remains an open question.
According to PECOTA, the five players discussed above will combine for 3.3 WARP in 2023. Over half of that is Urías alone, though, and he's slated primarily for third base by BP, too. The team's chance to get that kind of production from second base itself lies largely with Turang. Statistical systems were never going to love him, given how little power he showed until reaching Nashville last year. If his physical and mental changes yield consistent, translatable power gains, though, he'll far outperform the projections. There's just no way to know whether or not that will happen, in advance.
Think you could write a story like this? Brewer Fanatic wants you to develop your voice, find an audience, and we'll pay you to do it. Just fill out this form.
MORE FROM BREWER FANATIC
— Latest Brewers coverage from our writers
— Recent Brewers discussion in our forums
— Follow Brewer Fanatic via Twitter, Facebook or email